This post may contain affiliate links. We earn from qualifying purchases. Learn More
1923 has given us a deeper insight into the backstory of the Yellowstone Dutton Ranch. In addition to expanding the Dutton family tree, we get to meet Thomas Rainwater's ancestors.
1923 introduces a new character Hank who helps Teonna Rainwater after she escapes an abusive boarding school. He vows to help Teonna find her family and protect her from the men searching for her.
Hank in 1923 is played by actor Michael Greyeyes who is an Indigenous Canadian actor, dancer, choreographer, director and educator. He was born on June 4, 1967, in Qu'Appelle Valley, Saskatchewan.
Who is Hank in 1923?
Hank is introduced in the fifth episode of 1923. He is a sheep herder on the reservation who comes across Teonna Rainwater as she is fleeing from her boarding school.
After being subjugated to horrible abuse, Teonna kills two nuns at the boarding school who had been mistreating her. She then runs away in hopes to reunite with her family.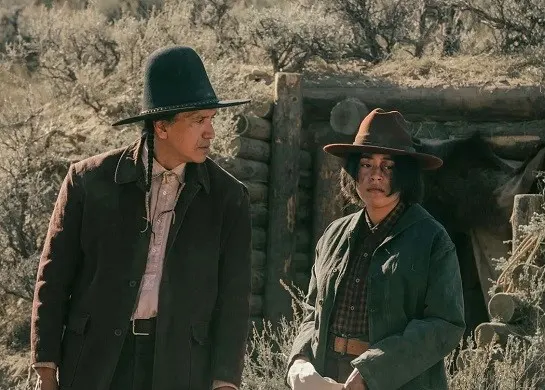 Hank meets Teonna after she takes shelter during the night and wakes up to his herd of sheep surrounding her. He recognizes that Teonna is the daughter of the Kills Many clan's leader.
In the episode "One Ocean Closer to Destiny," they burn Teonna's clothes from the boarding school, however, they don't burn the Bible.
Hank tells her not to burn it out of fear the white man's God may turn them to salt for destroying the Word of God. Instead, Teonna decides to bury the Bible as she does not want to keep it.
Teonna dresses as a boy in hopes to protect herself from being caught. Hank promises that he will send his son to find her father.
Also read: Who Plays Teonna Rainwater in 1923? Meet Aminah Nieves
Notable Michael Greyeyes TV Shows and Movies
True Women (1997) as Tarantula
Smoke Signals (1998) as Junior Polatkin
The New World (2005) as Rupwew
True Detective (2014-present) as Brett Woodard
Fear the Walking Dead (2015-present) as Qaletaqa Walker
Woman Walks Ahead (2017) as Sitting Bull
Togo (2019) as Amituk
I Know This Much Is True (2020) as Ralph Drinkwater
Wild Indian (2021) as Makwa ("Michael Peterson")
Wildhood (2021) as Smokey
Rutherford Falls (2021-2022) as Terry Thomas
Firestarter (2022) as John Rainbird
1923 (2022-present) as Hank
5 Facts About Michael Greyeyes
He is a Member of the Plains Cree
Michael Greyeyes is Plains Cree from the Muskeg Lake First Nation. His father was also from the Muskeg Lake First Nation whereas his mother was from the Sweetgrass First Nation, both of which are in Saskatchewan.
He Started His Career as a Ballet Dancer
Michael Greyeyes started out his career as a ballet dancer. He graduated from The National Ballet School in 1984 before becoming an apprentice with The National Ballet of Canada.
In 1987, Greyeyes joined The National Ballet of Canada as a Corps de Ballet member. Three years later, he moved to New York City to work with modern dance choreographer Eliot Feld.
Greyeyes performed in many of Feld's seminal works before beginning his acting career in 1993. In addition to ballet, he also has done research on the modern form of traditional dancing, Powwow.
He Has a Master's Degree in Fine Arts
After many years of working as an actor, Greyeyes completed his master's degree in Fine Arts at the School of Theatre and Dance at Kent State University. He graduated in May 2003.
He is an Associate Professor
In addition to acting, dancing, directing and choreographing, Greyeyes also works as an associate professor. He is an associate professor of theatre at York University.
He Founded the Signal Theather
In 2010, Michael Greyeyes founded the Signal Theater, which works to explore intercultural and transdisciplinary live performances. He works as the artistic director and choreographer of the theater.
Is Michael Greyeyes Married?
Michael Greyeyes is married to Nancy Latoszewski. Latoszewski is a Canadian actress and dancer best known for her role in the TV series Dancing with Spirit in 2007.
Does Michael Greyeyes Have Children?
Michael Greyeyes and Nancy Latoszewski have two daughters together, Eva Rose and Lillia Frances Jean. Eva Rose was born on May 5, 2002, and Lilia Frances Jean was born on October 1, 2004.
Both Lillia and Eva have followed in their father's footsteps. Lillia trains at Canada's National Ballet School and Eva has an interest in acting, appearing in the film Indian Horse (2017).