SoloShot and Mevos a great auto-follow camera systems to film yourself horseback riding or creating your next TikTok video.
However, both systems have their limitations and in the last year, a few new competing and better motion tracking camera systems have been released.
The SoloShot is a large investment and only works outdoors, making it not the most practical option for everyone. Fortunately, there are some wonderful video tracking alternatives that are awesome for filming your horseback riding lessons or YouTube videos.
The best SoloShot and Mevo alternatives are the Pivo and Pixio camera systems. The Pivo is a superb budget alternative, whereas the Pixio and Pixem are much better quality, but come with a higher price tag.
See our detailed reviews below of the camera systems we think are the best alternatives to the Mevo and SoloShot.
3 Best Mevo & SoloShot Alternatives
Pixio & Pixem
The Pixio and Pixem by Move N' See are wonderful options for recording your riding, as they are official training support devices of US Equestrian. Both products are designed to be used for athletes, speakers, and teachers.
They can be used both indoors and outdoors, which is great for recording lessons or sales videos. With the use of a wristband, they automatically zoom and follow you as you ride with incredible accuracy. Simply set up the three motion-tracking beacons in your arena and use the wristband to control when you start and stop recording.
The difference between the two products is that the Pixio is compatible with camcorders and the Pixem is compatible with smartphones and tablets.
Both products allow you to live stream your riding lesson, with the Pixem giving you the option to live stream to Facebook or Youtube. They each have a range from 3-330 feet, with 360 degree rotation.
They are used by many top equestrians, both trainers and amateurs alike. The Pixio and Pixem both come in at $799.99, with additional accessories sold separate. For those looking for a reliable motion tracking camera system, they are well worth the investment.
Why we like it:
Pixio is compatible with camcorders, Pixem is compatible with smartphones and tablets.
Automatically zooms and tracks as you ride, with the use of three beacons and a wristband, both indoors and outdoors.
Tracks 3-330 feet, with 360-degree rotation and live streaming capabilities.
Find out more information about the Pixio and Pixem on the Move N See website here.
Pivo
The Pivo camera mount is used with smartphones, tracking you in both portrait and landscape modes, no matter if you are indoors or outdoors. The versatile device includes face, body, action, and horse tracking, with live streaming abilities.
The horse tracking mode follows you at four different speeds. With auto zoom and 360 degree rotation, you are sure to get the best footage.
Tracking exposure is another unique feature of the Pivo that works to ensure you are in the best lighting in your video.
The Pivo does not use beacons or a wristband to track you. After you have chosen the horse tracking mode, have your horse stand in front of the camera and it will lock onto him. Once it has identified your horse, you are good to go as it will auto track you as you ride.
You can even sync your Pivo with bluetooth headphones and video call while you ride, which is an ideal feature for lessons. The unique Many Me Photo & Video feature allows you to multiply your horse up to 15 times in the same picture or video. You can also have some more fun by taking action capture or panorama pictures.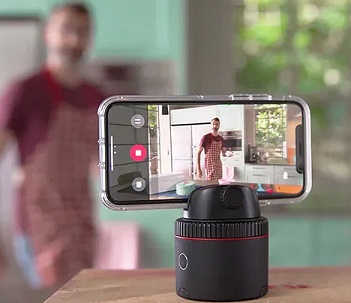 For equestrians, the Pivo Silver is the best option, as it is two times faster than the Pivo Red. The Pivo Silver retails for $199 and even comes with a remote to control your phone while you ride.
Additional accessories, like a go-pro mount that goes above your phone, are sold separately. It is a wonderful budget-friendly motion tracking camera mount that is ideal for the average equestrian.
Why we like it:
Includes auto zoom and 360-degree rotation, for both indoor and outdoor use.
Auto tracks with remote control capabilities, with no need for wristbands or tracking beacons.
Includes unique features like Many Me Photo & Video and panoramic shots, while being budget-friendly.
Also read our Pivo Pod review here.
Swivl C
Though it is primarily used in a classroom setting, the Swivl C is another option for recording your riding. It works with smartphones and tablets, to auto-track you as your move.
Designed to be used indoors, the Swivl C has 360-degree rotation and a tilt range of 25 degrees. It automatically follows you, with the ability to place up to four marker captures to enhance audio. It features a remote so you can adjust the controls while you use it.
The Swivl C has the ability to seamlessly live stream high-quality video. Though it can be used for riding, it only has a range of 32 feet. The Swivl C retails for $749, with additional accessories sold separately.
Overall, we feel the Swivl C is best suited for people recording videos for close range indoor use such as YouTubers or TikTok users rather than equestrians.
Why we like it:
Incredible live streaming capabilities, which can be great for lessons.
Markers help capture audio.
Has 360-degree rotation, with a tilt range of 25 degrees and automatic tracking.
What is the Best SoloShot & Alternative for Equestrians?
The Pixio and Pivo are the best alternatives to the SoloShot. They offer the best tracking, with the ability to follow from up to 330 feet away with 360-degree rotation and auto-zoom.
Both systems can work indoors and outdoors, with top-notch accuracy. Pixio is even an FEI Dressage Official Supplier and Official FEI Campus Sponsor.
What is the Most Affordable SolosShot & Mevo Alternative?
Pivo is the best affordable SoloShot alternative, as it offers motion tracking with smartphones. It has a specific setting for horse tracking, with 360-degree tracking and auto-zoom.
Though it does a wonderful job of tracking without the need for beacons or a wristband, users note that it sometimes loses their horse momentarily while recording.
Also read: 5 best auto-follow cameras