This post may contain affiliate links. We earn from qualifying purchases. Learn More
Matt Harnacke is one of the biggest influencers in the equestrian world. At the time of writing, he has 710k followers on his Instagram account and 393k subscribers on his YouTube channel.
Mattia Harnacke is a fashion model, dressage rider, and equestrian influencer from the Netherlands. He was born in 1997 in Milan to a German father and Italian mother. He also has a twin brother called Steve.
| | |
| --- | --- |
| Nationality: | Italian |
| Born: | 10 January 1997 |
| Height: | 1.88 m |
| Zodiac Sign: | Capricorn |
Considering his age, Matt has already achieved so much in his career. He traveled the world modeling for some of the biggest fashion brands, worked closely with the FEI, and founded several businesses.
What's more, underneath all the glamour and fame, Matt is an incredibly kind soul whose highest priority is the welfare of his horses.
Matt Started Riding at the Age of 8
According to HorseWorldTV, Matt discovered his love for horses when he was just 8 years old. Two years later, his family moved to Australia where Matt got his first horse, Chase.
As a young adult, Matt left his family behind and moved to Europe to pursue his modeling and equestrian ambitions. However, he didn't go completely alone – he took his horse Chase with him!
A few years later, Matt decided full-time modeling wasn't what he wanted to do. He was spending nine out of twelve months away from home ad missed spending time with his horses. He decided to change his lifestyle and focus more on his equestrian career, which worked out just perfectly!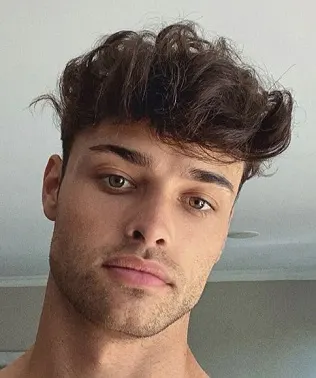 Matt Harnacke's Rise on Social Media
Matt Harnacke first became active on his Instagram account in 2014. At this point, he was just sharing his life with his friends online, posting quite a few pictures with horses. He soon realized there weren't a lot of men posting about horses on the platform, and his following slowly began to grow.
Once he started modeling, Matt found out about the importance of having a social media following. As he told Horse and Hound, casting directors often called models with the largest following on social media first! Therefore, Matt set out to increase his followers on Instagram, publishing posts about modeling and horses.
Matt Harnacke started his YouTube channel when he had around 500k followers on Instagram. He was looking for a different, more personal way to tell his stories, so he started making videos about his life.
His first successful video was about flying his horse across the world when he moved from Australia to Europe.
For Matt, his Instagram and YouTube accounts go hand-in-hand. On YouTube, he is able to connect with his followers on a deeper level, but Instagram allows him to share his life every day.
Over the last few years, Matt Harnacke grew his channel into one of the biggest equestrian accounts on YouTube. He now has sponsorship deals with several brands, which enables him to keep creating content. However, he only promotes products he genuinely believes in and would recommend to his followers anyway.
"I don't feel like I am working"
Matt Harnacke has achieved the goal so many dream of: he turned his passion into his career. His social media success has enabled him to buy his dream property at age 23, where he keeps and trains his four horses.
He's also had some fantastic opportunities along the way, like meeting TV celebrities and top riders, traveling the world, and changing people's lives. He even received invites to be on Dancing with the Stars and Love Island!
In his interview with Horse and Hound, Matt Harnacke revealed what he enjoys most about his job:
"It's the ability to be my own boss and pick my own trajectory. I don't feel that I am working as I enjoy everything I do. And it's not all on social media. Social media has allowed me to develop beyond that. I have a new business launching soon and I have various investments. What I do now is multi-layered and really interesting. And I get to share this passion with all my followers. If you can turn your passion into a job, you're very lucky."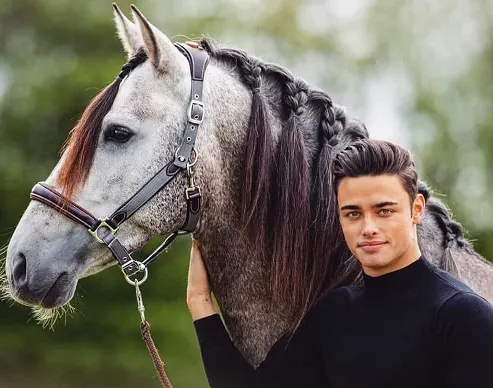 The Drawbacks of Being an Influencer
Just like any other profession, being an influencer also presents its own unique challenges. One of Matt's struggles over the years has been the lack of rules to follow for the type of industry he's in, according to Horse and Hound.
For example, there isn't a rule about how much an influencer should charge for posts and shoutouts. Lucky for Matt, his modeling career has helped him out in this as he is aware of the value his audience can bring to his client.
There's also the issue of trolls and haters writing hurtful comments that can really discourage any creator. Matt says his feedback is 99% positive, but that 1% still gets to him. Since he truly cares about what people think, he often takes things to heart.
Matt's theory is that negativity comes from ignorance, so he tries to educate his viewers instead of directly addressing hate. He makes sure viewers understand he would never do anything to hurt his horses and explains why he does things a certain way; Matt told Horse and Hound.
Matt Harnacke's Top Tips for Future Influencers
Are you hoping to one day follow in Matt Harnacke's footsteps? Then take a look at the celeb's top tips for aspiring influencers!
One of the secrets of becoming big on any social media platform is to be different. Don't try to copy your favorite accounts on Instagram or YouTube, just be yourself, be unique, Matt says.
Another key aspect is to create a schedule for posting content and keep it up! You'll also need to get comfortable in front of the camera, as if you were talking to a friend.
In Matt's words, "Be interesting, be engaging, be fun." You'll also need a fair amount of luck to take off as a small creator.
"Luck definitely plays a role, but it ultimately comes down to what you make of it. Opportunities can be presented to you, but you're not handed success on a silver platter – you have to make that for yourself," Matt told the FEI.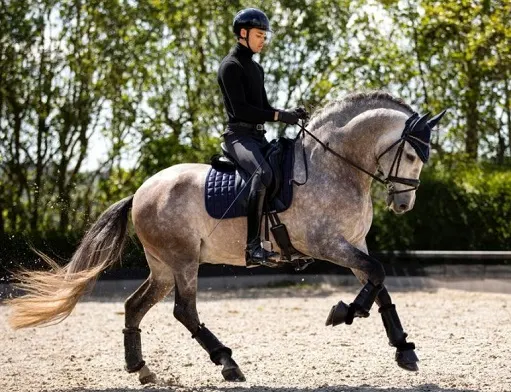 Matt Harnacke Competes in Dressage
Dressage is without a doubt Matt Harnacke's number one equestrian passion. His biggest dream is to one day compete in prestigious Grand Prix dressage competitions.
His love for dressage is well reflected in his social media posts, as most of his content shows off his horses' elegant movements. However, that doesn't mean he never does anything else with his horses. Matt enjoys the occasional jumping and liberty training, and has even tried out Western riding!
In Pony Magazine, Matt talks about how he's a perfectionist when it comes to competing. He likes to have his tack super-clean and freshly washed and his horse's plaits sewn in instead of tied up with rubber bands.
Matt likes to know he's done his best to prepare and it will all come down to how he rides in the ring.
How Many Horses Does Matt Harnacke Own?
Matt Harnacke owns four horses: Chase, Emporio, Bear, and Sureno. He trains three of his horses in dressage, and keeps Bear the miniature just for fun.
Matt's highest priority is to ensure his horses are happy and healthy at all times. He also wants to progress in dressage, so he takes regular lessons from top dressage riders.
Matt looks for compatibility when buying a new horse, rather than achievements. He likes to be able to connect with his horses and develop a good partnership with them. He also prefers horses with a strong character and breathtaking looks, so he can admire them every day.
Meet Matt Harnacke's four amazing horses!
Chase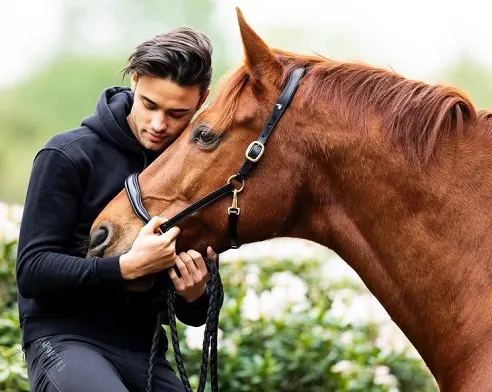 Chase is a 17.3 hand chestnut warmblood gelding who Matt competes within upper-level dressage. He was Matt's first horse when he was living in Australia.
When Matt moved to the Netherlands, he brought Chase with him and documented their journey inside the aircraft.
The 2-part series Flying My Horse Across The World was a huge success and launched Matt's channel off the ground. He was one of the first to film and produce inside a plane and showcase a horse's journey from take-off to touchdown.
The deep connection between Chase and Matt is visible in his posts and videos. The mighty chestnut is known for its laid-back nature, willingness to please, and a keen interest in learning new things.
Emporio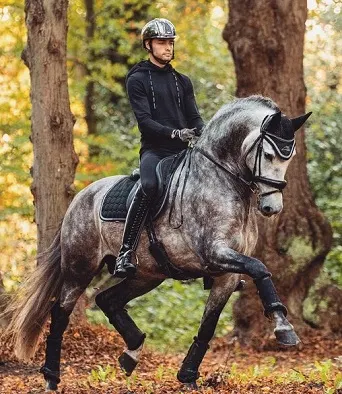 Emporio is Matt's second dressage horse. He is a 16.3 hand gray PRE stallion with big movements and gentle nature. He has the build and talent to become an elite dressage horse, and Matt is planning to train him to Grand Prix level.
Bear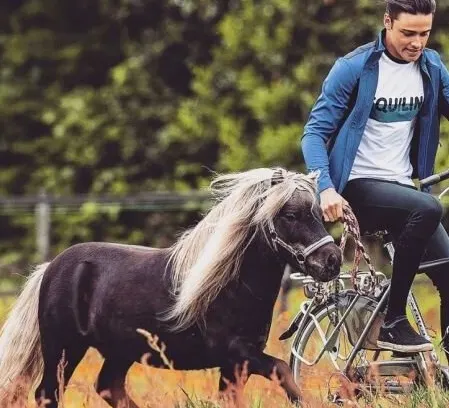 Bear is an adorable American Miniature with a big personality. After spending some time with his friend Jesse's miniature Macho, Matt purchased Bear as a companion for Chase.
The little dapple gray has since obtained his own fan club who just can't get enough of his dashing looks! Bear certainly knows how to show off and enjoys the attention that comes with it.
Sureno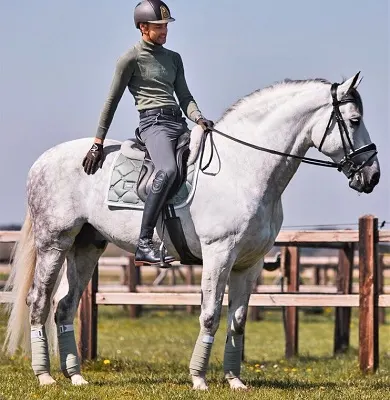 Sureno is a 17.1 hand light gray PRE stallion. Matt bought him from Spain and documented the process in his video I Bought A Huge Stallion.
Sureno is the newest member of Matt's herd and has been featured in many of his videos and posts. He has shown great potential for dressage, and knowing Matt, they won't stop until the Grand Prix.
Also read: 9 Facts & FAQs About Esme Higgs
Matt Harnacke Has Worked With the Fei
Matt Harnacke has worked closely with the FEI. He attended and spoke on international events, interviewed top riders, and promoted the federation on his social media.
Matt is extremely grateful for the opportunities that working with the FEI brought. He particularly enjoyed talking to riders at the top of their game, like Dutch Olympic showjumper Harrie Smolders.
Is Matt Harnacke Still Modelling?
Matt's modeling career started at age seventeen in Australia, where he was spotted by Chic Management. Before he knew it, Matt was modeling for some of the biggest fashion brands such as Gucci, Tommy Hilfiger, Dolce & Gabanna, Longines, and more.
Matt Harnacke is still modeling, although he has taken a step back to focus on his equestrian career. He wanted to spend more time at home with his horses, but he still goes to castings part-time.
According to his website, Matt's first modeling gig was with Emporio Armani. This became a stepping stone toward working with the world's biggest fashion labels.
Modeling also skyrocketed Matt's following on social media and enabled him to live the life he always dreamed of.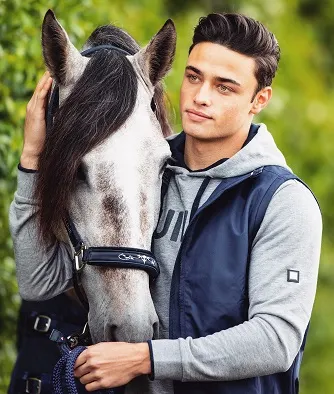 Matt's biggest moment as a model was having his face on a billboard in Times Square. He was shooting a campaign for American Eagle at the time and heard about the news from a friend.
Matt is also an official member of the Longines family and has traveled all over the world filming with them.
Also read: 7 Facts & FAQs About Britt Dekker
Matt Harnacke Founded His Own Equestrian Brand
Being a fashion aficionado and horse lover, it's not surprising that Matt Harnacke founded his own equestrian fashion brand. He designs and manufactures high-end accessories for horses, such as classy saddle pads, rugs, fleece bandages, fly veils, and leather halters.
Matt Harnacke Co-founded Horse WorldTV
Matt Harnacke recently launched Horse World TV with roommate and business partner Jesse Drent.
HorseWorldTV broadcasts exclusive interviews with top riders, online lessons, training videos, and inspirational content for all riders and disciplines. It's like Skillshare, only for equestrians!
A few years ago, Matt and Jesse realized there was a shortage of high-quality equestrian content on the internet.
After some research, they found a production company and established a platform where they would upload weekly equestrian videos.
Since its launch, HorseWorldTV has been a huge success and some of the videos have had millions of views. The streaming service offers a 3-day free trial, after which you can subscribe for $19.74/month or $15.08/month on an annual plan.
"Our mission is to bring video entertainment to the horse lover of the highest quality. We aim to become the leading entertainment distribution service in the equestrian world. We will work to set a new standard of production quality in this space, so that horse lovers can consume and enjoy content like never before. We want to bridge the gap between the amateur and the professional rider, whilst ensuring that having fun and supporting each other is at the heart of all that we do." – Matt Harnacke and Jesse Drent on HorseWorldTV.
Also read: 11 Facts & FAQs About Jesse Drent