This post may contain affiliate links. We earn from qualifying purchases. Learn More
As one of the greatest racehorses to ever live, Man o' War left an incredible legacy. Commonly referred to as 'Big Red', the chestnut Thoroughbred stallion was born in Kentucky on March 29, 1917, to breeder August Belmont II.
Man o' War was bought as a yearling by Samuel D. Riddle for $5,000 with the notion if he didn't succeed as a racehorse, he could be used as a showjumper.
Man o' War proved to be an incredible racehorse, winning 20 of his 21 starts. He often set records and in his last race, he beat the first Triple Crown winner, Sir Barton, by seven lengths in an exciting contest.
In 1920, he was awarded the American Horse of the Year, and later in 1957, he was inducted into the National Museum of Racing and Hall of Fame. The Associated Press ranked Man o' War as the greatest horse of the 20th century and Sports Illustrated ranked him the #1 greatest horse in racing history.
In 1999, Blood-Horse magazine published the List of the Top 100 U.S. Racehorses of the 20th Century, ranking Man o' War as number one.
Here are 8 Interetsing Facts About Man o' War.
Man o' War Got His Name Because of WWI
August Belmont II's wife originally named Man o' War 'My Man o' War' due to the fact he was born during WWI. Mr. Belmont was a soldier during the war and fought over in France.
The war was the reason the Belmonts had to sell Man o' War along with all their 1917 yearling crop at Saratoga. When the chestnut was bought by Samuel D. Riddle, he thought the Thoroughbred was too large for a yearling.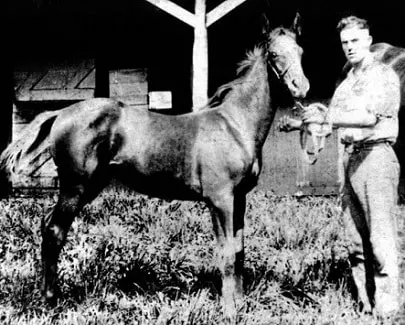 Man o' War Never Competed in the Kentucky Derby
Despite being one of the most coveted horse races, Man o' War never competed in the Kentucky Derby. Riddle thought the mile-and-a-quarter distance was too long for the three-year-old colt at the beginning of his season.
The 1920 Kentucky Derby was won by long-shot Paul Jones. That year, Man o' War went on to win the Belmont and Preakness Stakes.
Though Kentucky is famous for hosting many horse races, Man O' War never actually raced in the Bluegrass state. However, he did live most of his life in Kentucky.
The Only Race Man o' War Lost Was to a Horse Named Upset
Man o' War only lost one race on August 13, 1919, in the Sanford Memorial Stakes at Saratoga Racecourse. His big upset was to a horse ironically named Upset.
Man o' War's loss was both shocking and controversial in the racing industry. At the time, modern racing gates were not used, and instead horses would line up at tape. Once the tape was raised, the horses were off.
However, it was common for horses to break the tape early and have to be brought back. In this particular race, a horse named Golden Brown broke the barrier three times, with Upset near him trying to break it as well.
Once the tape was finally raised for the start of the race, some say that Man o' War was facing the wrong way. All accounts agree that the chestnut left the post near the rear of his seven competitors. However, he was soon able to catch up to the other horses.
"Steadily Man o' War drew up on Upset. A hundred feet from the wire he was three-fourths of a length away. At the wire he was a scant neck out of the first position and in another twenty feet would have passed the Whitney horse," a report said in the New York Times.
Many agree that if the race was fair Man o' War would have won. In addition to the chaotic start of the race, Man o' War was also carrying 15 more pounds than the winner Upset.
"On the contrary, the manner in which he ran this race stamped him, in the opinion of horsemen, as the best of his division without question…. There was scarcely a witness of this race who did not believe after it was all over that Man o' War would have walked home, with anything like a fair chance," said one Times reporter.
Man o' War Had Several Successful Offspring
Not only was Man o' War a successful racehorse, but he was also a successful sire. He sired a total of 381 registered foals.
Of his 381 named offspring, 62 were stake winners. His most famous foal was War Admiral, who was the fourth winner of the coveted Triple Crown.
War Admiral won 21 of his 26 starts and was named Horse of the Year in 1937. Among Man o' War's other notable offspring include War Hero, War Relic, Clyde Van Deusen, and Battleship.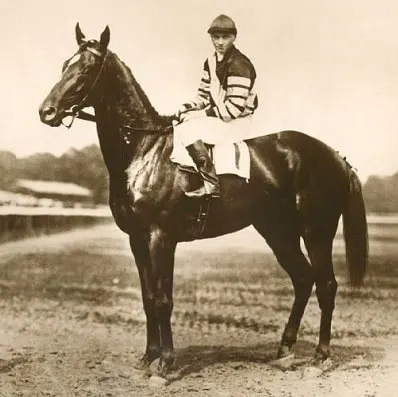 Texas Oil Millionaire, William Waggoner, Tried to Buy Man o' War
After witnessing the amazing success of Man o' War, Texas millionaire, William Waggoner offered to buy the chestnut stallion in 1921. At first, Waggoner offered $500,000 for Big Red, but Riddle turned him down.
Waggoner next offered $1 million and then even offered a blank check to buy the Thoroughbred. However, Riddle turned down all the offers stating that Man o' War was not for sale.
Man o' War's First Stud Manager Was a Women
At a time when men dominated the racing industry, Man o' War's first stud manager was a woman. Elizabeth Daingerfield was a respectable breeder and was highly knowledgeable in Thoroughbred bloodlines.
Due to Daingerfield's knowledge and experience in the Thoroughbred world, Riddle selected her to be Man o' War's breeding manager. After Big Red retired from racing, Daingerfield owned her facility called Haylands Farm. At the time, her farm housed Man o' War along with his companion horse Major Treat and his old rival, Golden Broom.
Daingerfield managed Man o' War, who she described as well-behaved, until 1930. After managing the legendary racehorse, she went on to focus on her own farm and horses.
Man o' War Was a Famous Celebrity
Man o' War's success as a racehorse made him into quite the celebrity. He became a hugely famous horse and tourist attraction as people from all over the world came to see him at Faraway Farms.
Between 1922-1947, approximately 500,000 people signed the guest book at the farm, with many others passing through without signing.
His name appeared on road signs all over Kentucky. During his life, it is estimated that between 1,000,000 to 1,500,000 came to see the iconic Thoroughbred in person.
Man O' War's Funeral Was Broadcasted on the Radio
On November 1, 1947, Man O' War died at age 30 in Lexington, Kentucky of a heart attack. Due to his fame, his funeral attracted a large audience.
The chestnut stallion was embalmed and laid to rest in an oak casket lined with black and yellow in honor of his racing silks. His funeral was held in the barn aisle of Faraway Farm, with a large crowd in attendance.
During the service, nine eulogies were delivered and the funeral was broadcast nationwide on the radio. Racetracks across the country lowered their flags to half-mast and 7,500 people gathered at Churchill Downs for a silent tribute to the incredible Big Red.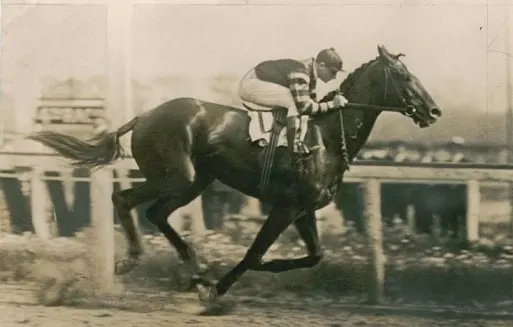 Here are some common frequently asked questions about Man o' War:
How Tall Was Man O' War?
Man O' War was 16.2 1⁄2 hands tall and weighed about 1,125 pounds. He had a large appetite for his size, eating 12 quarts of oats every day. In addition, Man o' War had a large stride for his height that measured between 25-28 feet. This helped him to win many of his races by such large lengths.
Who Was Man o' War's Jockey?
During Man o' War's two-year-old season, he was ridden by jockey Johnny Loftus. However, in 1920, Loftus was denied a renewal of his jockey license by the Jockey Club. This led to Clarence Kummer replacing Loftus as the jockey for Man o'War.
Was Secretariat a Descendant Man o' War?
Secretariat is not a descendant of Man o' War. Though they are two of the best racehorses to ever live, Secretariat and Man o' War are very distant cousins.
Man o' War's sire, Fair Play, was Secretariat's great-great-great grandsire. Both of these astounding horses left a lasting impact on the racing industry.
How Much Money Did Man o' War Make As a Racehorse?
At the time, Man o' War set a record by making $249,465 in earnings. Today, this would be the equivalent of over $3.3 million. The stallion also went on to rack up high earnings as a stud.