This post may contain affiliate links. We earn from qualifying purchases. Learn More
Heartland fans will recognize Madison Cheeatow as the actress playing Jade, a rebellious young girl who's passionate about all aspects of rodeo and is also best friends with Georgie.
Jade is definitely not your average hobby rider who's happy plodding along a quiet lane – this edgy character is made of tougher stuff who needs that adrenaline rush in her life.
Madison Cheeatow is a Canadian actress, director, writer, and editor who plays Jade Virani in the hit drama series Heartland. She was born in Toronto, Canada to Andrew Cheeatow and Margot LeBlanc.
| | |
| --- | --- |
| Height: | 1.68m (5'6″) |
| Born: | November 9, 1993 (age 27) |
| Birthplace: | Toronto, Ontario, Canada |
| Nationality: | Canadian |
| Star Sign: | Scorpio |
Madison Cheeatow is a very versatile actress who has performed in many different genres, from horror to musicals, comedy, and drama. In her opinion, variety is what keeps this job fresh and exciting.
She also considers Jade as one of her all-time favorite roles and is not planning to leave Heartland any time soon!
Here is our ultimate fans guide to Madison Cheeatow, a.k.a. Jade Virani from Heartland!
What TV Shows Is Madison Cheeatow In?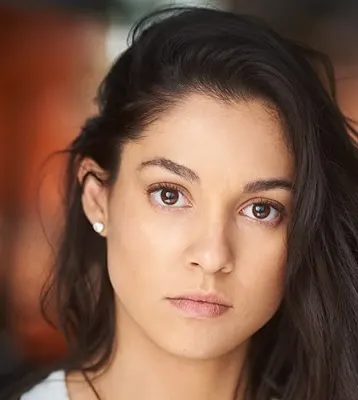 Madison Cheeatow's talent for acting started to show in early childhood. During her school years, she took part in plays and musicals in her local area.
After graduating, she dedicated herself to studying performing arts in Toronto, the city she calls home.
Madison Cheeatow plays in a wide variety of shows. Her most famous roles so far were in Ruby Skye P.I.: The Haunted Library (2012), Anna (2020), Intro (2020), and, of course, Heartland (2007- ).
Landing the lead role in the Ruby Skye P.I. detective series was the start of Madison Cheeatow's successful acting career.
In the years that followed, she landed one major role after the other, appearing in the comedy film Sadie's Last Days on Earth (2016), the Netflix horror series Slasher (2016- ), and the popular fantasy comedy-drama series Good Witch (2015- ), amongst others.
Cheeatow also wrote and directed the short comedy Intro (2020) and the short thriller Anna (2020). Writing is a relatively new passion of hers that she's planning to explore more in the future.
Does Madison Cheeatow Have Kids?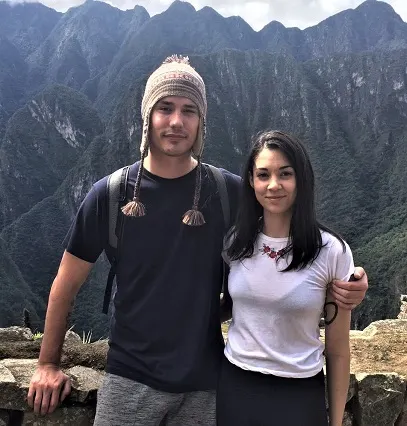 On January 31, 2018, Madison Cheeatow married her long-term boyfriend Chris Spoke who works in the housing industry and is the founder of Housing Matters Toronto.
The couple have been in a loving relationship for several years before and has recently welcomed a baby girl.
On April 5, 2018, Madison Cheeatow gave birth to her first and so far only child with her husband Chris Spoke. They named their baby girl Isla Spoke.
At the time of Isla's birth, Cheeatow was only 25 years old. She admitted to being shocked when she first found out about her pregnancy, as it happened about 2 years earlier than planned.
Madison Cheeatow and her husband have found much joy in being parents, which makes Madison Cheeatow both a successful actress and mother at such a young age.
When Did Jade Come to Heartland?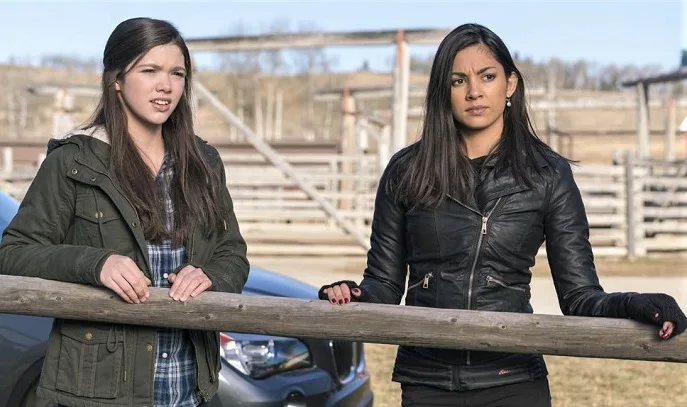 Interestingly, when Madison Cheeatow auditioned for the role of Jade in Toronto, she was only meant to appear in one or two episodes.
Before Heartland, Jade had barely any riding experience and knew little about rodeos and the Western world. And here she is, seven years later still on the show, playing the ambitious bronc rider and giving it her all.
Jade first came to Heartland in 2013, appearing in season 7, episode 8 "Hotshot". She is the teenage daughter of Dr. Tricia Virani and will quickly become a friend of the Heartland family.
Like many characters on Heartland, Jade also goes through an impressive character arc during her time on the show.
When she arrives in season 7, aged 16, she is just a lost soul who's distant from her family and has no real purpose.
With the help of the Heartland family, especially Georgie, Tim, and Amy, Jade gradually overcomes her insecurities and finds a place where she really belongs, which is the rodeo!
Finding a true best friend in Georgie and a mentor in Tim has been essential to Jade's personal growth. Despite the age difference, Jade and Georgie depend greatly on each other at times, which gives the dynamic a kind of sisterly vibe.
As for Madison Cheeatow, she's also found a second family in the cast and crew of the Heartland set. She is grateful to be able to work with such lovely people, some of whom she claims are real pranksters!
Madison even spends time with Alisha Newton (Georgie Fleming-Morris in Heartland) at the stables, where she sometimes rides Alisha's horses.
Does Jade Really Ride Broncs on Heartland?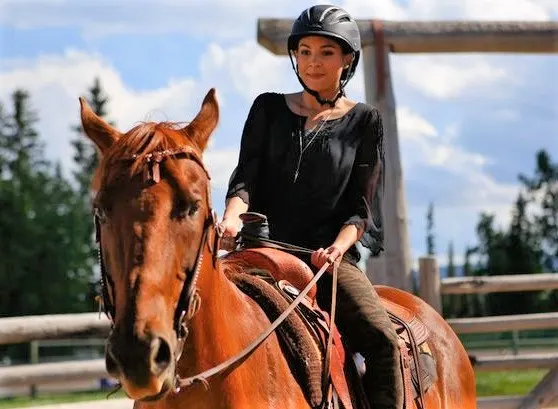 Before coming onto Heartland, Madison Cheeatow had little knowledge of horses and riding. This was not a problem, as horse riding wasn't a prerequisite for the role of Jade.
As for broncs, she has never ridden one and no amount of money can convince her to do so!
In reality, the actress portraying Jade doesn't actually ride broncs on Heartland. All of Jade's rodeo scenes (bronc riding, team roping, steer wrestling etc.) are performed by two stunt doubles, both with years of experience on the rodeo.
Madison Cheeatow has always admired the strength and skill of her stunt doubles. The closest thing to bronc riding she gets to do on set is riding a simulator, which mimics the movements of a real bronc. This is necessary so the camera crew can record close-ups of her face while she pretends to be bronc riding, as revealed in her interview with Horse Canada.
Cheeatow also gets to do riding lessons on set, which helps her portray Jade more authentically.
While she doesn't consider herself a great rider, she really enjoys every lesson and loves working with the gentle Heartland horses.
Related: 8 TV Shows Like Heartland Fans Will Love
Madison Cheeatow Is Quite Different From Her Character Jade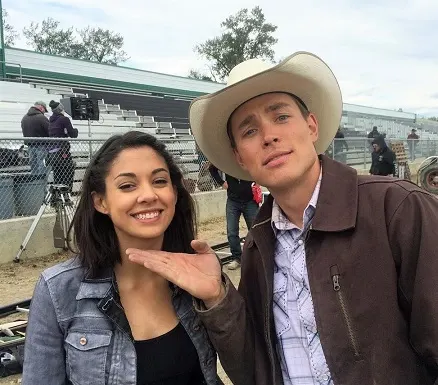 As it turns out, Madison Cheeatow has little in common with her character Jade Virani. Unlike Jade, the actress is close with her family and has a more reserved and considerate personality. She is also more of a city girl, while Jade feels at home in the countryside on the back of a horse.
So if they are at opposite ends of the spectrum, what attracted Cheeatow to playing this type of character?
For once, she is inspired by Jade's courage and spontaneity and loves the fact that she is a "badass bronc rider".
Through playing Jade, Cheeatow gets to explore a whole new world she knew nothing about before, an adventure she finds interesting and exciting.
Related: 15 Heartland Quiz Questions for True Fans
Madison Cheeatow Plays Jade in the Heartland Spinoff Series Hudson
Hudson (2019- ) is a CBC original series that explores the life of Jade away from the Heartland family. Hudson is the fictional small town in Alberta close to Heartland ranch that gives home to the popular Maggie's Diner.
The main storyline focuses on Jade and an arrogant girl from Calgary called Sloane. They both have their eyes on the "head of marketing and promotions" role at Maggie's and so become intense rivals.
Some of the main Heartland cast also have short appearances on the series, including Michelle Morgan, Graham Wardle, Amber Marshall, and Alisha Newton.
The purpose of this spinoff was to bring in a new audience for the main series and also to offer something new to the fans of Heartland.
While Hudson is still family-friendly, its target audience is slightly more narrow and consists mainly of teenagers and young adults.
Madison Cheeatow regarded the series "… kind of edgy, kind of different," in an interview with Postmedia, Toronto. The actress was certainly excited to be in the spotlight as Jade and explore her character on a deeper level.
In the series, we get to see Jade in a completely different light and follow her adventures with her friends Sam and Bianca.
"We thought she'd be a character who could shine on her own." explains Scott Lepp, the executive producer of Hudson.
Related: 8 Facts You Didn't Know About Heartland
4 Other Facts About Madison Cheeatow
She has two siblings, a younger sister Adelaide and a younger brother Aiden.
She has a dog, cat, and a snake and loves spending time with them.
Madison Cheeatow reads a lot and loves to write.
Her other hobbies are traveling, cooking, and yoga.
Also, check out the other Heartland guides on the website by using the search bar! We have similar guides on all of the main cast and characters, plus articles about the show and its horses.