Before you saddle up, you want to have a trusty pair of riding boots on. Lace-up horseback riding boots are a popular choice among many equestrians, as they provide a secure fit.
Lace-up riding boots allow you to get a snug, custom fit to your feet. They provide additional room for wearing thick socks during cold winter days. The lace-up style offers more flexibility in the ankle, allowing for top-notch comfort as you ride.
The lace-up style is available in paddock boots, tall boots, and even western boots. It is a great style for everyday riding, as lace-up boots will keep your feet comfortable and safe.
Here are the 12 best lace-up riding boots split into men's and women's sections.
Best Women's Lace-Up Riding Boots
1. Ariat Women's Scout Paddock
These classic leather paddock boots offer reliable everyday performance. Their sleek design offers a classic lace-up front closure with a flexion notch, speed laces, and top lace lock for the perfect fit for every ride.
The top collar has extra padding that provides additional comfort and support. For increased flexibility, they feature an elastic twin gore panel at the collar. To keep your feet comfortable and dry no matter the time of year, the inside features a moisture-wicking lining.
The 4LR footbed provides support and cushioning with a lightweight stabilizing shank for support. For enhanced traction, the Duratread rubber outsole provides maximum wear resistance and flexibility. Spur rests are conveniently located on the back for peak performance.
2. Ariat Berwick Insulated Country Boot
Stylish and practical, these comfortable tall boots are great for horseback riding and barn chores. Laces go up the entire length of the front, with a zipper in the back for easy on and off.
The premium waterproof full-grain leather features a breathable Gore-Tex lining that allows sweat to escape without letting water in. Their insulated design includes 200g Thinsulate insulation to keep your feet warm in frigid temperatures without bulk. Ariat's innovative ATS Pro technology footbed provides advanced stability, top-notch comfort and superior performance in winter.
The hardy Duratread outsole is extra-luggy to provide you traction even on the most slippery surfaces. There's even an easy-off "heel kick" feature so you can easily slide right out of these boots after a long day.
3. Laredo Women's Western Boot
With a classic western style, these boots are great for hitting the trails or everyday wear at the barn. For a snug fit to your feet, they not only feature laces, but also a zipper in the back.
For your comfort, there is a removable orthopedic insole. This allows you to easily keep it in or replace it with a custom one. The innovative flex rubber outsole provides improved mobility in the saddle.
A classic kiltie accent gives these boots an authentic western look. They are not only great for riding, but also for other outdoor activities.
4. Ariat Heritage Lacer II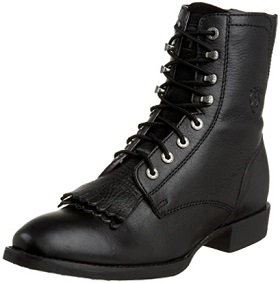 From trail riding to barn chores, these hardy boots get the job done. The western design features durable laces and a classic kiltie accent.
An innovative ATS technology footbed provides all-day comfort and support, so you won't have any foot fatigue. The premium leather construction with a moisture-wicking lining keeps your feet cool no matter the weather. The Duratread outsole provides flexibility and traction, with tough wear resistance.
For smooth lacing, the design is complete with speed hooks and a single stitched welt for additional durability. Their hardy scroll hardware protects against tough terrains, rocks and debris.
5. Dublin Ladies Westport Boots
These Dublin Westport boots are a tall country style of boot. With supple leather and exterior lining, they feature a full-length rear zip and laces on the front for a perfect fit. They have a ripple sole for good grip and a memory foam footbed for padded shock absorbing.
With a breathable stretch lining to keep feet cool and dry, these boots are beautiful to look at and comfrtable to walk and ride in all day long.
6. Saxon Ladies Syntovia Lace Paddock Boots
These vegan leather riding boots give the appearance of real leather but at a fraction of the cost. The vegan leather is not only easy to maintain, but it is also waterproof.
For increased flexibility as you ride, the sides include elastic gussets. The EVA footbed's design is a unique cushion that absorbs impact every step you take. In addition, it is also resistant to heat and cold, making them extra durable.
The anti-skid rubber soles offer a top-notch grip, both in the stirrup and also while walking. A spur rest is conveniently placed on the back to keep your spurs from slipping as you ride.
Best Men's Lace-Up Riding Boots
1. Ariat Heritage Lacer Boots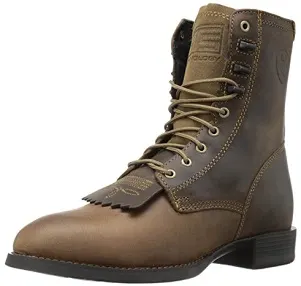 These leather western boots are built to last, whether you are out horseback riding or are doing barn chores. They even feature a traditional kiltie that not only looks great but also provides additional protection.
The ATS technology footbed provides comfort and stability, while also improving posture and reducing fatigue. With a moisture-wicking lining, your feet will be cool no matter the weather. The suede upper provides additional durability and protection.
The hardy Duratread outsole provides traction no matter the terrain. In addition, it also provides increased flexibility, which is great no matter what you are doing.
2. TuffRider Men's Baroque Lace Up Laced Paddock Boots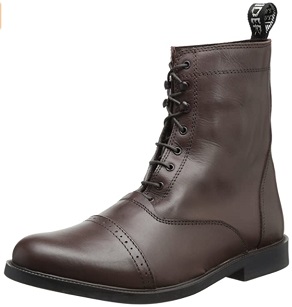 Stylish and modern, these leather paddock boots are a great option to add to your wardrobe. The leather exterior is not only durable but also waterproof as well.
The sturdy rubber outsole allows for stability and traction. Boot pulls on the back allow for easy on and off, which is great after a long day at the barn. To prevent bouncing spurs, a spur rest is conveniently located on the back
These boots are reliable and practical, making them a great choice. They come at a price that won't break the bank.
3. Hispar Men's Florance Field Horse Riding Boots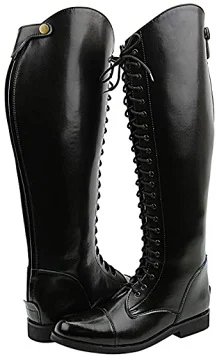 These elegant full-lace field boots are crafted from soft, supple leather. Not only do they look great, but they are also a quality pair of lace up horseback riding boots.
For ease of use, the back features a full-length zipper. There is also a button snap at the top for style and a snug fit. To keep you cool on warm summer days at the barn, the inside features a moisture-wicking lining.
The rubber outsole allows for durability and stability as you ride. The unique design of these boots promotes good posture while also reducing fatigue.
4. Ariat Men's English Paddock Boot
These elegant high-quality leather boots are built to last. For a secure and comfortable fit, the top collar has thick padding so you don't have to worry about them rubbing.
To keep your feet cool as you ride, the lining is both breathable and moisture-wicking. The 4LR footbed provides the support and comfort you need as an equestrian. There is a shock-absorbing, built-in heel cushion designed with a landing area for ease of heel strike and gait.
The Duratread outsole provides maximum wear resistance, giving you traction both in and out of the saddle. For additional flexibility, there is also an elastic twin gore fit system at the topline.
5. Ariat Terrain Waterproof Hiking Boot
Whether you are out hiking in the wilderness or riding at the barn, these trusty boots have you covered. The durable leather design is built to last, while also being easy to clean.
The ATS technology provides all-day-long comfort and support, so your feet won't feel fatigued. To keep your feet cool all year round, the inside features a moisture-wicking lining. The lightweight EVA midsole provides superior shock absorption for flexibility and durability.
The tough Duratread outsole gives you stability and traction while being wear-resistant. With a Waterproof PRO finish on the outside, your feet will be dry no matter the weather. The padded collar adds an additional layer of comfort, so you can wear them from dawn to dusk.
6. Justin Original Men's Stampede Boot
Whether working on a job site or riding on the trails, you can rely on these sturdy leather boots. They have a classic western style and feature a scalloped top.
To keep your feet comfortable as you work or ride, there is an orthopedic insole. The footbed can also be taken out, allowing you to add your own custom pair if you wish. The J-Flex Comfort System adds cushion and support for top-notch comfort.
The classic square toe design allows for a relaxed fit and traditional look. With a tough reliable rubber outsole, you will have traction no matter the conditions outside.
Are Lace-Up or Zipper Horse Riding Boots Better?
Both lace-up and zipper boots have their benefits and one is not better than the other. Lace-up riding boots are a more traditional option than zipper boots.
Lace-up boots give you a more snug fit on your feet. You can easily adjust them based on how thick your socks are. Zipper boots are easier to put on and you don't have to worry about laces breaking or coming undone.
Who Makes the Best Lace-Up Horseback Riding Boots?
Ariat is arguably the leader when in horseback riding boots for both western and English. They combine modern technology with practicality to give equestrians the best performing boots.
Ariat's boots are durable and supportive, keeping your feet safe and comfortable during your ride. All of their boots are high-quality leather and they last for several years. They offer a large variety of styles to meet your personal needs.