You've decided to let your child fulfill a dream of learning to ride. The first step in getting toddlers and small children ready for their first big horseback adventure is making sure they are safe, and no piece of equipment is more important than a safety helmet.
To help you find the right horse riding helmet for your child, we'll talk about how to choose the right helmet and which ones are the best.
Why Are Horse Riding Helmets so Important for Children?
Starting off riding with a hat gives security to both the parent and the child, and many stables will not even allow riders on a horse without one. Once a child is taught that riding in a hat is the way to go, the child will often accept it as part of their riding gear without complaint.
Some people believe that helmets are unnecessary, but studies show that experienced riders are just as prone to accident and injury while riding, and the majority of head trauma injuries occur in instances of pleasure riding. Helmets are shown to be around 80% effective at preventing head trauma injuries.
Choosing a Kids Riding Helmet for Your Toddler
Kids are getting on horseback at a younger age all the time. So while an older sibling might have a helmet that will "work," fitting a child's hat specifically to the child is a safer bet.
However, many helmets are now adjustable and shared so long as there is no huge age gap. Just be sure it fits each child properly with adjustment. Sliding helmets are not only unsafe, but they can be a distraction for a young rider, increasing the chance of accidents.
It is also important to note that if a child's helmet takes a hit, the helmet should be replaced in case of damage. Also, helmets should be replaced every five years.
Important Safety Note! Safety regulations and requirements for horse riding hat differ between countries, so make sure the helmet you buy meets these requirements. Most of the kids' riding helmets below are made for use in the USA.
Best Kids Horse Riding Helmets
Troxel Spirit Performance Helmet
This Troxel Spirit performance helmet is a top choice for toddlers for many reasons. The helmet is made specifically for small children, available in an XS, and has many high-quality features.
It is only 8" high and 9" wide and 20% mesh, making it a lightweight option for smaller children. It is well ventilated to keep children cool and has an adjustable crown. This helmet is an overall good safety helmet for toddlers. See parent reviews here.
Why we like it:
Available in many colors/designs
Made in the U.S.A.
Buckle closure
Dial fit system
Ovation Deluxe Schooler Helmet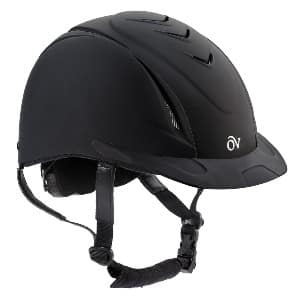 The Ovation Deluxe is another overall good helmet. It has a classy look but reportedly runs small. The helmet does come in an XS/S for tiny riders and being adjustable, should grow with your child. Ovation riding helmets are all ASTM or SEI ASTM approved. See parent reviews here.
Why we like it:
An easy clean rubberized finish
Easy dial adjustment with strong teeth
Removable washable liner and breakaway visors
Lightweight and low profile, ideal for small kids
Adjuster clip designed to stay off rider's face
Troxel Legacy Childrens Horse Riding Hat
Troxel makes good quality helmets, and the Troxel Legacy children's helmet is no exception. The unique unicorn design is quite popular with toddlers and the price is quite comparable to the other hats.
Be aware that this is more of an oval-shaped helmet, however, so may not fit more rounded heads as well. The helmet also has a dial-fit knob, which is ideal for fast-growing children. This is our favorite helmet for young toddlers just starting out. See parent reviews here.
Why we like it:
Slim profile
ASTM/SEI certified
GPS II dial fit system
Fun kids decor designs
Tipperary Sportage Equestrian Sport Helmet
This helmet is made specifically in a child-size. It comes in many stylish options and the pricing is very close to the previous options.
The helmet wraps around low on the back of the head, protecting all the way down. The hat has an average fit and will fit most children's heads. See parent reviews here.
Why we like it:
High-density ABS material provides impact absorption
Retention and stability
Contoured drop back shell and comfort foam interior to increase protection
Rear reflective strip
Flexible visor
TuffRider Starter Children's Horse Riding Safety Hat
This kids riding helmet also has many great features. The only problem is that is may not come small enough for a very young rider.
Small is the littlest option, which is said to fit a head with a 50-53 inch circumference. It does, however, have a unique design reported to accommodate a ponytail comfortably. See parent reviews here.
Why we like it:
SEI Certified
Adjustable dial
Breathable
Detachable peak (brim)
Stainless steel mesh-covered vents
Coolmax washable liner
Equi-Lite Schooling Helmet for Kids
If you are looking for a lower-priced basic helmet option to get your child's feet wet, so to speak, this hat is good quality and won't hurt your pocketbook.
It may not have the flashy features of some of the others listed, but it has all of the safety you need to get started. See parent reviews here.
Why we like it:
Ventilated
Adjustable
ASTM/SEI certified
Quick-release buckle
Useful Tips for Choosing the Right Kids Helmet
Be sure to take a proper measurement of your child's head before purchasing a hat. If possible, try it on and look for a nice, snug fit that doesn't move much when the child shakes his/her head up and down or side to side. You don't want it to pinch, but it shouldn't be loose enough to move around on your child's head.
If you are purchasing online, look at the product reviews. Often these will let you know how the helmet fits, and if the sizes aren't clear (on Amazon, for instance), do a little research on the manufacturer's website.
Choose a kids horse riding helmet that can grow with your child. If possible, fit your little one with a helmet that adjusts to fit them as they grow. Most helmets need to be replaced within five years, anyway, to maintain safety standards.
Check the helmet regularly for cracks and breaks. As mentioned above, a helmet will wear out over time, and if your toddler takes a fall and the hat receives any impact, it is best to replace the helmet immediately. Don't take a chance on the helmet sustaining damage you may not be able to see.
FAQs
How old should a child be to start learning to ride?
There is no exact answer to this. Childred can be ready as young as the age of 2-3 years old, and many stables now offer toddler classes. But it is important to remember that riding does involve the risk of injury, so be sure your child is ready.
How do I know if my child is ready to ride a horse?
First off, many barns require children to be at least 5 years old to begin lessons, so if you plan to use a particular stable, check with them first. Otherwise, you might need to make the decision yourself.
Here are a few safety questions to ask yourself:
Will my child be able to listen and follow directions?
Does my child show an interest in riding horses?
Is my toddler physically fit enough to ride?
Does my child have access to an appropriate mount (calm, stable, and small enough for the child to ride comfortably)?
How do I know what size helmet to buy for my toddler?
To measure for size, begin around an inch above the child's eyebrows and then check to see what guidelines the company gives for sizing, usually found on the manufacturer's website.
As mentioned above, a properly fitted helmet shouldn't move around much when the child shakes his or her head. It should feel snug but not pinch or squeeze.