Our readers support us. This post may contain affiliate links. We earn from qualifying purchases. Learn More
A part of Heartland since 2015, Mitch has grown on both the characters and fans of the show. He goes through a great character arc that takes him from ranch hand to independent businessman. He also becomes Lou's new love interest on the show, who is divorcing Peter.
Kevin McGarry is a Canadian actor, director, and writer who plays Mitch Cutty on the CBC hit series Heartland. He was born in the small town of Kincardine, Ontario, to Mike and Kathy McGarry.
| | |
| --- | --- |
| Height: | 188 cm (6'2″) |
| Nationality: | Canadian |
| Born: | March 19, 1985 (age 37) |
| Birthplace: | Kincardine, Ontario, Canada |
| Girlfriend: | Kayla Wallace |
| Star Sign: | Pisces |
Like many professional actors, McGarry started out acting for commercials, and small theater plays. Over time, his talent brought him major roles in several TV shows and movies. He is currently a series regular on Heartland (2007- ), and When Calls the Heart (2014- ).
Here is our ultimate fans guide to Kevin McGarry, a.k.a. Mitch Cutty from Heartland!
Kevin McGarry Discovered Acting Accidentally
According to Super Channel, Kevin McGarry always liked being in the center of attention. He used to gravitate towards subjects that didn't have a definite right or wrong answer in school. However, McGarry actually discovered his passion for acting by chance.
When he was in Grade 9, reads The Kincardine Independent, McGarry accidentally wandered into a Grade 12 drama class. He was so fascinated by what he saw that he participated in several high school plays.
After graduating high school, he studied creative writing for plays and screenplays at George Brown College.
Once he earned his degree in Creative Writing, he moved on to Fanshawe College in London, Ontario, to study Theatre Arts. He concluded his education at the Pro Actors Lab in Toronto.
Kevin McGarry was a Talented Stage Actor
When Kevin McGarry graduated from theater school, he was ready to become a professional stage actor. He performed in numerous small theater plays across Ontario and also at schools.
According to The Kincardine Independent, McGarry spent a season at the Charlottetown Festival, where he partook in the musicals Anne of Green Gables or The Full Monty. He then joined the acclaimed Shaw Theater in Niagara-on-the-Lake for two seasons. Among his performances were His Girl Friday and Come Back Little Sheba.
Among his other theatre credits were The Complete Work of William Shakespeare, She Loves Me, and A Midsummer Night's Dream. His background in theater certainly gave him a strong foundation that later contributed to his success as an actor.
Kevin McGarry's Early Career on TV
McGarry's first time on TV was in a Budweiser commercial. He continued performing for commercials until he landed his first television role on TBS network's Love Bites show (2011).
Unfortunately, the show didn't last long. Before he knew it, McGarry was bartending in Toronto trying to pay his bills. He shared his experiences in the Bramble Jam Podcast Network interview, saying he was "Hired on charm and fired on incompetence."
While working part-time, McGarry landed smaller roles in the Canadian TV series Being Erica (2009-2011) and the MTV original movie Turn the Beat Around (2010). He also appeared in the horror thriller movie Saw 3D: The Final Chapter (2010).
Kevin McGarry's Biggest Roles
The role that finally allowed McGarry to give up his part-time job was playing Dr. Timothy Hudson in Open Heart (2015). He became very popular with the show's fanbase, which helped kick-start his career on TV.
McGarry soon landed other major roles in several movies and TV series. He appeared in Signed, Sealed, Delivered: From Paris with Love (2015), Murdoch Mysteries (2008- ), Private eyes (2016- ), and Love at First Bark (2017).
Through his job, McGarry also had the opportunity to travel the world. He shot at various locations across Canada, as well as Los Angeles and even Hungary. His guest-starring credits include Ransom (2017-2019), Taken (2017-2018), and The Bold Type (2017- ).
In 2015, McGarry landed his series regular role as Mitch Cutty on Heartland (2007- ). He later got involved with Hallmark and landed his current series regular role on When Calls the Heart (2014- ).
Kevin McGarry is a Hallmark Channel Favorite
Since 2015, Kevin McGarry has been in various Hallmark Channel original movies and series. He appeared in A Song for Christmas (2017), Love on the Books (2018), Winter Castle (2019), and the drama series When Hope Calls (2019), to name a few.
The movie A Song for Christmas was McGarry's favorite Hallmark movie to shoot; he told the Bramble Jam Podcast Network. He really enjoyed performing their own song with co-star Becca Tobin.
In 2019, Kevin McGarry joined the cast of the popular Hallmark show When Calls the Heart. He currently plays the role of Nathan Grant, a Mounted Police Officer in the fictional Hope Valley.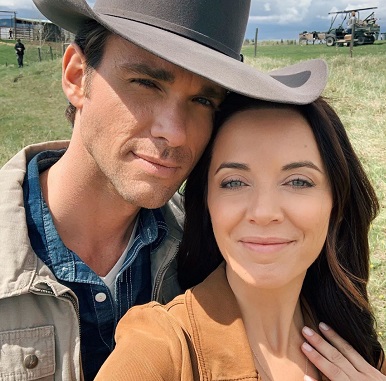 McGarry wasn't aware of the show's enormous fanbase when joining. Nor did he know that he just replaced a key character in the series and that fans' expectations were high.
Using his talent and charm, he convinced fans that he has a place in the series and became an integral part of Hope Valley.
Kevin McGarry is also a Director and Writer
While Kevin McGarry is a successful actor, he also aspires to become a director and writer. So far, he wrote several plays and two musicals, Nebraska and You and I.
McGarry also directed and wrote two humorous short films, Lucky (2012) and Happy F#@%Ing New Year (2016). Comedy and comedians are something he's been drawn to since early childhood. In the future, McGarry would like to direct his own feature films.
10 Other Interesting Facts About Kevin McGarry
He once played a 50-year-old character in a Hallmark movie
Titanic was the most memorable movie of his childhood
Forest Gump is his favorite movie of all time
He rides motorcycles
He trains at the gym five days a weeks
His comfort food is ice cream
His favorite actress is Anne Hathaway, and his favorite actor is Tom Hanks
The theatre actors he most admires are Tracy Letts and Michael Shannon
McGarry loves all kinds of animals
He enjoys skiing but has never been good at snowboarding
His brother Ryan is an accountant
Who is Kevin McGarry Dating Now?
Kevin McGarry is dating the Canadian actress, Kayla Wallace. Kevin and Kayla are fellow co-stars on Hallmark's "When Calls the Heart". Kayla recently posted a photo on her Instagram account of her with Kevin McGarry.
What Season Does Kevin McGarry Join Heartland?
Kevin McGarry joined Heartland in Season 9, 2015. His character Mitch first appears in Season 9 Episode 14, "No Regrets" and has been on the show ever since.
In the series, Jack hires military veteran Mitch to be Heartland's new ranch hand. His arrival received a rather cold welcome from many characters in the show. According to CBC, certain viewers were also not a big fan of Mitch when he first walked into the Heartland universe.
However, Mitch quickly became part of the Heartland family as he got closer to Lou. Some fans were even hoping Mitch and Lou will end up like Amy and Ty, that is perfectly in love.
What Happens to Lou and Mitch in Heartland?
Lou and Mitch first met on a blind date in Season 9 Episode 12, "The Real Deal". This was before Mitch came to Heartland, and Lou rejected him for making a move on her. It takes Lou a few episodes to come around and start a relationship with Mitch.
Ever since Lou and Mitch got together in Heartland Season 9, their relationship has been anything but perfect. They've been together on and off throughout seasons 9-14. In the Season 14 finale, Lou admits she still has feelings for Peter and leaves Mitch one last time.
Besides Lou, Mitch also dated a girl called Maya throughout Heartland Season 12. He ended up proposing to her, and she accepted. However, in the Season 12 finale, Mitch leaves Maya on their wedding day and goes back to Lou.
It wasn't until the start of Season 14 that we find out Mitch has proposed to Lou. They try to keep it secret because of what Amy is going through, but soon the entire family will know.
Unfortunately, Lou and Mitch hit a major roadblock in their relationship and decide it's better for them both to go their separate ways.
Here is a compilation of Mitch Cutty and Lou Fleming on Heartland:
Is Kevin McGarry Still on Heartland?
So far, Kevin McGarry has been in 44 episodes of Heartland. Since Lou and Mitch break up at the end of Season 14, many of you might be wondering whether the actor will return to the show.
At the end of Season 14, Kevin McGarry is still on Heartland. We currently don't know whether the actor will return in Season 15.
Among so many uncertainties, one thing is certain. If it were up to McGarry, he would be on Heartland forever.
The actor has always been eager to express how much he loves being on the Heartland set. He treasures Heartland's natural beauty, the cast, the crew, the horses, and everything that being part of the show involves. When talking about Heartland on the Hallmarkies podcast, he said: "It's a great show. I owe that show a lot."
If you ask me, the chance that Mitch returns in Season 15 is around 50-50%. The character will either come back with a new role to fill or disappear forever. We can only hope that the Heartland writers decided the character is worthy of being part of the show.
Listen to Kevin's great singing voice covering a Bruce Springsteen song:
Kevin McGarry is on Cameo
Joining his Heartland co-stars on the platform, Kevin McGarry is also on Cameo! Cameo is a website where fans can request short videos from public figures in exchange for a donation.
All profits from Kevin McGarry's Cameo profile go to the Actors Fund of Canada, a charity that supports entertainment professionals. McGarry seems to be rather popular on the platform and responds to requests in less than a day.
You can also follow Kevin McGarry via Instagram and Twitter.
Also, check out our other amazing Heartland guides! We have guides on all the main actors, the latest news about Heartland season 15, a Heartland spoilers and FAQs guide, and a popular Heartland quiz.