This post may contain affiliate links. We earn from qualifying purchases. Learn More
Kevin Costner has grown to become one of the biggest names in Hollywood. His role as John Dutton in the hit series Yellowstone has continued to keep his name in the spotlight.
Kevin Costner is married to Christine Baumgartner. The couple first met in 1996 and married in 2004.
While Baumgartner frequents red-carpet events with Costner, they tend to remain private about their personal lives.
However, news broke in early May 2023 that the couple are getting a divorce. The reason for their divorce is unknown.
Who is Christine Baumgartner?
Christine Baumgartner is a former model and handbag designer under the label Cat Bag Couture. She was born on March 4, 1974, in California. As of March 31, 2023, she is 49 years old.
Baumgartner graduated from California State University in Fullerton with a degree in business.
How Did Kevin Costner and Christine Baumgartner Meet?
Kevin Costner and Christine Baumgartner first met in 1996 on a golf course while Costner was filming Tin Cup. They then reconnected two years later when their paths crossed at a restaurant.
"We exchanged numbers, and I told her that I would–did she mind if I called her in two weeks. I did not realize that was like an insult to a woman," said Costner.
The couple dated for six years before Baumgartner gave Costner an ultimatum. From day one, Baumgartner made it clear that she wanted children which hadn't been in Costner's plans.
Finally, there came a moment where, maybe this doesn't go forward. I'm not going to lose her because I'm afraid," said Costner.
Kevin Costner and Christine Baumgartner's Wedding
Kevin Costner and Christine Baumgartner got married on September 25, 2004, in Aspen, Colorado. The wedding took place at Costner's 160-acre ranch, The Dunbar.
Costner arrived at the ceremony in a horse-drawn carriage and Baumgartner rode in a green vintage truck to the ceremony. Family, friends, and celebrities were reportedly in attendance at the picturesque ceremony.
The Dunbar is named after Costner's character in Dances With Wolves. He still owns the property today which can be rented out for wedding ceremonies.
Also, see our guide with images of Kevin Costner's incredible Dunbar ranch.
Do Kevin Costner and Christine Baumgartner Have Any Childern?
Kevin Costner and Christine Baumgartner have three children together. They have two sons, Cayden and Hayes, and a daughter Grace. Cayden was born in 2007, Cayden was born in 2009, and Grace was born in 2010.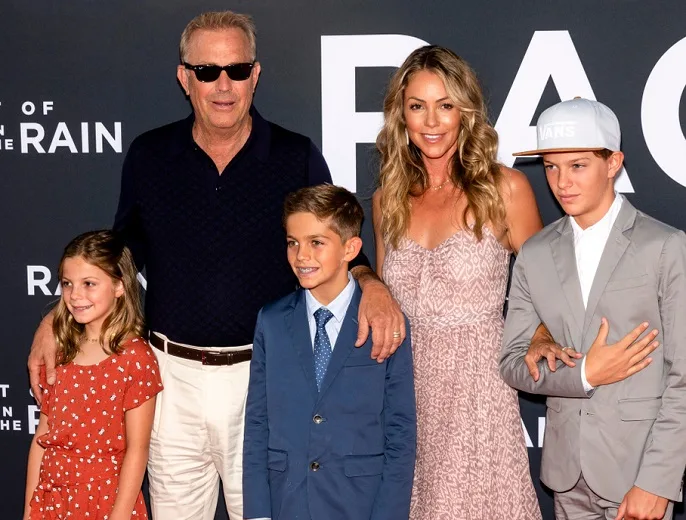 Costner, Baumgartner, and their three children reside at their home in Santa Barbara, California. They also reside at their Aspen ranch as well.
Costner also has four other children from previous relationships. From his first marriage to Cindy Silva, he has three children, Annie, Lily, and Joe. Annie was born in 1984, Lily was born in 1986, and Joe was born in 1988.
Costner also has one child with Bridget Rooney, Liam Timothy. Liam was born in 1996.
Like their father, Annie, Lily, and Joe, have all had careers in acting. His children Cayden, Hayes, and Grace are often seen at red-carpet events with Costner. Liam tends to remain the most private out of all of Costner's children.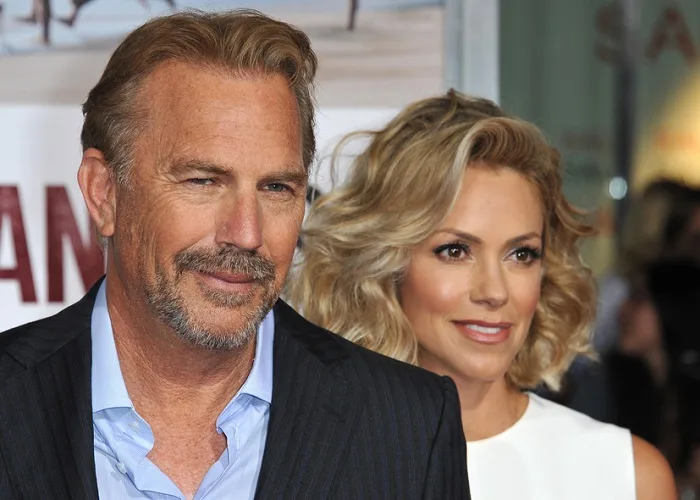 "As [my] children interact together, there's always this little bit of, 'Do you care for us now as much as you do them?' That's just a natural thing that happens, and you have to talk about how big love is," said Costner. "The ability to be able to love somebody else doesn't mean there's less love for you. Love seems to be always able to hang on to as many people as needs to be in that circle."
Also, read our guide on Kelly Reilly and her Husband Kyle Baugher.
What is Christine Baumgartner's Net Worth?
Christine Baumgartner's net worth is estimated to be $5 million to $10 million. This is largely due to her successful career as a model and her handbag line, CatBagz.
It's important to note that this is separate from her husband, Kevin Costner's net worth, which is estimated to be around $250 million.
Kevin Costner's Previous Relationships
Kevin Costner married his first wife Cindy Silva in 1978. They originally met while attending college together.
Costner and Silva were married for 16 years and had three children together before divorcing in 1994. After divorcing Silva, Costner had a brief relationship with Bridget Rooney, who he has one child with.
Costner also dated political activist Birgit Cunningham, TV host Joan Lunden, and supermodel Elle Macpherson. Costner has been married to his current Kristine Baumgartner for nearly 19 years.
Also, read our guide on Cole Hauser and his Wife Cynthia Daniel.