This post may contain affiliate links. We earn from qualifying purchases. Learn More
Kevin Costner, a name synonymous with Hollywood success, has forged an illustrious career as an actor, producer, director, and musician.
With a career spanning over four decades, Costner has captivated audiences worldwide with his versatile acting and commitment to his craft.
Born in Lynwood, California, on January 18, 1955, Kevin Michael Costner grew up in a loving family with strong work ethics. Despite his early interest in acting, Costner pursued a business degree at California State University, Fullerton, before making the bold decision to chase his dream in Hollywood.
| | |
| --- | --- |
| Born: | January 18, 1955 (age 67) |
| Birthplace: | Lynwood, California, U.S. |
| Height: | 185.4 cm (6ft 1) |
| Wife: | Christine Baumgartner (m. 2004) |
| Children: | 7 |
| Net worth: | $250 Million (estimated) |
Costner's first break came in 1983 with a small role in the film The Big Chill, although his scenes were ultimately cut. Undeterred, he continued to pursue acting opportunities, and his persistence paid off when he landed a leading role in the 1985 western Silverado.
Notable Kevin Costner Movies & TV Shows
Kevin Costner's career gained momentum in the late 1980s with leading roles in films such as No Way Out (1987) and The Untouchables (1987). However, it was his portrayal of crash-landed alien in Field of Dreams (1989) that truly solidified his status as a leading man in Hollywood.
Costner's success continued into the 1990s with the iconic film Dances with Wolves (1990), which he not only starred in but also directed and produced. The film earned widespread critical acclaim and won seven Academy Awards, including Best Picture and Best Director for Costner.
Silverado (1985) as Jake
Field of Dreams (1989) as Ray Kinsella
Dances with Wolves (1990) as Lieutenant John J. Dunbar
Robin Hood: Prince of Thieves (1991) as Robin Hood
The Bodyguard (1992) as Frank Farmer
Wyatt Earp (1994) as Wyatt Earp
The Postman (1997) as The Postman
Open Range (2003) as Charley Waite
Hatfields & McCoys (2012) as "Devil Anse" Hatfield
Man of Steel (2013) as Jonathan Kent
Batman v Superman: Dawn of Justice (2016) as Jonathan Kent
Hidden Figures (2016) as Al Harrison
Yellowstone (2018- present) as John Dutton
Let Him Go (2020) as George Blackledge
Is Kevin Costner Married?
Kevin Costner is married to Christine Baumgartner, but the couple announced in May 2023 that they are getting divorced. The couple married in 2004 and lived at their Dunbar ranch in Colorado. Baumgartner is a businesswoman and former model.
The reason for the couple's divorce is not known as they are very private. However, it's clearly been a rough time for Costner of late with the announcements of him leaving Yellowstone as John Dutton and his divorce with his wife came within days of each other.
Previously, Costner was married to Cindy Silvia from 1978 to 1994. The two were college sweethearts and married at a young age.
Does Kevin Costner Have Children?
Kevin Costner has a total of seven children from three relationships. Costner has three children from his first marriage, Annie (born in 1984), Lily (born in 1986), and Joe (born in 1988). He has a son, Liam Timothy (born in 1996), with Bridget Rooney, with whom he had a brief relationship.
Costner has three children with his current wife, Cayden (born in 2007), Hayes (born in 2009), and Grace (born in 2010). His three oldest children, Annie, Lilly, and Joe, are all actors as well.
Is Kevin Costner a Real Cowboy?
While Kevin Costner did not grow up a cowboy, he has had many roles as a cowboy during his acting career. Some of his most notable roles where he plays a cowboy include Dances With Wolves, Open Range, and Yellowstone.
While Costner has ridden horses before for his roles, Yellowstone has given him the chance to ride finished reiners and cow horses. "There's nothing like riding a horse. Completely liberating. I'm lucky that it's sometimes part of the job for me," says Costner.
Also read: 5 Yellowstone Actors Who are Cowboys in Real Life
What is Kevin Costner's Net Worth?
Kevin Costner has a net worth of $250m. Most of his income is from acting, but he is also a producer and film director. He is reportedly making $1.3 million per episode for Yellowstone season five.
He Has Taken Home Some of Hollywood's Biggest Awards
Costner began his acting career in 1981 and has now become one of the biggest names in Hollywood. With over 60 acting credits to his name, he has left a lasting impact on the film industry.
Costner has taken home two Academy Awards, two Golden Globe Awards, a Primetime Emmy Award, and two Screen Actors Guild Awards.
He also won Academy Awards for Best Picture and Best Director for Dance With Wolves. Costner also took home a Golden Globe for Best Director – Motion Picture for Dance With Wolves.
Costner also took home a Golden Globe for Best Actor – Miniseries or Television Film for Hatfields & McCoys. For Hatfields & McCoys he also won a Screen Actors Guild Award and Prime Time Emmy. In addition, he won a Screen Actors Guild Award for Hidden Figures.
Costner has not won an award yet for his role in Yellowstone. However, he has been nominated for the Screen Actors Guild Awards for Outstanding Performance by an Ensemble in a Drama Series for his role in Yellowstone.
He is a Member of the National Cowboy & Western Heritage Museum
In 2019, Costner was inducted into the Hall of Great Western Performers at the National Cowboy & Western Heritage Museum. He has starred in notable Western films including Dance With Wolves, Wyatt Earp, Open Range, Hatfields & McCoys, Silverado, Let Him Go, and Yellowstone.
"I love making Westerns. I know who I am more than any other time in my life when I'm making 'em. I understand their importance to our culture and the emotional impact, when done correctly, on men, on women, on 7-year-olds. I feel deeply committed to our collective story and the importance of bringing it to the screen."
He added, "Westerns are not simple, and the resourcefulness that it took for our ancestors to make it is not something to be taken for granted," said Costner.
He is the Highest Paid Actor on Yellowstone
For season five of Yellowstone, Kevin Costner makes a whopping $1.3 million per episode. With 14 episodes in season five, Costner will be making an incredible $18.2 million in season five alone.
At the beginning of Yellowstone, Costner was making $500,000 per episode. However, since the show became widely successful, his salary has taken a huge jump upward. Costner is now one of the highest-paid actors on television.
Also read: What Does John Dutton Wear on Yellowstone?
He is in a Band
Outside of his time acting, directing, and producing, Costner is an avid musician and is in a band. He is the singer of his country rock band, Kevin Costner & Modern West.
The band has gone on worldwide tours and even released multiple albums. The latest album, Tales from Yellowstone, was written from the perspective of John Dutton. Songs from the album were even featured in season three of Yellowstone.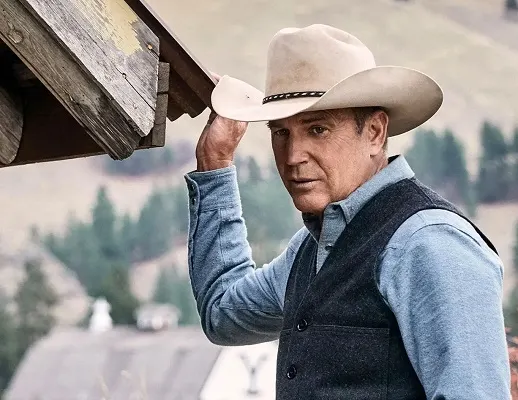 He is a Philanthropist and Activist
Outside of his career in entertainment, Kevin Costner has been actively involved in various philanthropic causes, including environmental conservation and disaster relief efforts.
In 1995, Costner began developing oil separation machines from US government patents he bought. He has collaborated with UCLA engineering professor Eric Hoek to filter water that has been contaminated by oil and gas.
Following the 2010 Deepwater Horizon oil spill, Costner invested in and promoted a centrifuge technology that aided in the cleanup process.
He Worked at Disneyland Before Becoming an Actor
Before making it big in Hollywood, Costner used to work at Disneyland. He worked as a tour guide for the Jungle Cruise. He even met his first Cindy Silva at Disneyland as she worked as Snow White.
Also, read our guide on how much the main cast of Yellowstone is paid.