Our readers support us. This post may contain affiliate links. We earn from qualifying purchases. Learn More
Yellowstone fans will be familiar with the beautiful and resilient Monica, Kayce Dutton's wife on the show.
Monica had given up the life that she knows to come and live with her husband and son on the Dutton family ranch.
Her utmost priority is the safety and security of her son, who she would protect with her life.
Kelsey Asbille Chow is an American actress who plays Monica Dutton in the Yellowstone TV series. She was born in 1991 in Columbia, South Carolina to Jean Chow and Dr. James Chow.
| | |
| --- | --- |
| Born: | September 9, 1991 (age 30) |
| Birthplace: | Columbia, South Carolina |
| Nationality: | American |
| Height: | 170 cm (5'7″) |
| Weight: | 55 kg (121 lbs) |
Aside from playing Monica in Yellowstone (2018-), Kelsey Asbille is most known for playing Mikayla in Pair of Kings (2010-2013) and Tracy Stewart in Teen Wolf (2011-2017).
Before Monica, she only portrayed a Native American character once in Yellowstone creator Taylor Sheridan's Wind River (2017).
Below are interesting facts and FAQs about the actor Kelsey Asbille.
Kelsey Asbille Started Acting at the age of 13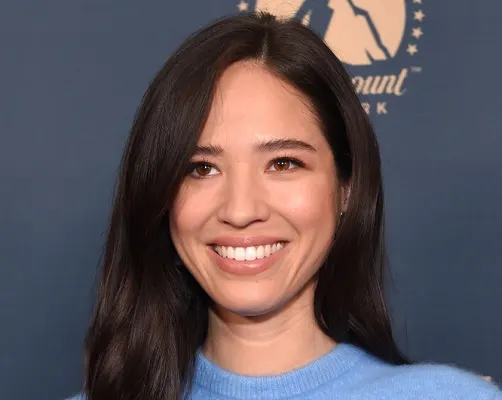 Kelsey Asbille was drawn to the performing arts from a young age. She attended Hammond School in Columbia, South Carolina, where she took part in various school plays and dance performances.
She soon moved on to community theater, where she further explored her acting talent. At the age of 13, she broke into the acting industry by landing a recurring role on the TV series One Tree Hill (2003-2012).
According to her IMDb profile, being part of the show was crucial to her development as an actress. Due to the positive experiences she gathered on set and plenty of encouragement from her friends and family, she decided to pursue a career in acting.
In 2008, she landed a guest role on The Suite Life of Zack & Cody (2005-2008).
Throughout the years that followed, she starred in Den Brother (2010), the TV series Pair of Kings, The Amazing Spider-Man (2012), and Run (2013). In 2016, she was cast in a recurring role in the popular drama series Teen Wolf.
In addition to her acting credits, Asbille also appeared in two music videos. One was for the 2013 song "Sleepwalker" by Bonnie McKee, and the other for Hayley Kiyoko's single "Girls Like Girls" (2015).
Kelsey Asbille Never Rode Horses Before Yellowstone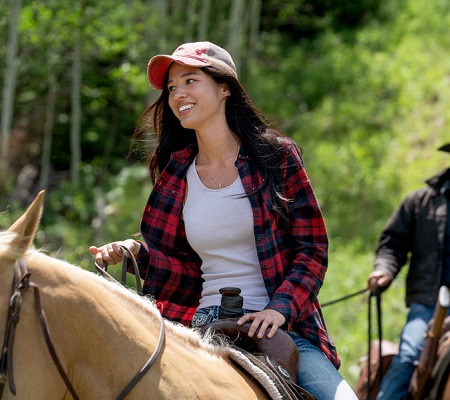 While Kelsey Asbille might seem like a natural in the saddle, she actually admitted she is "terrible" at horse riding on Kelly Clarkson's NBC talk show.
Moreover, she also confessed to having told the classic actor's white lie on her audition for Yellowstone.
"I had a whole paragraph of special skills," Asbille told Clarkson when she inquired about the audition process. While the actress might have fabricated some of her CV, her acting skills made up for what she lacked in experience with horses.
So, how did those riding scenes come out so well? Asbille's answer was "It's movie magic".
Kelsey gave all the credit to the Yellowstone editor, her talented stunt double, and the wranglers and horse trainers who showered her with advice during filming.
Related: 5 Yellowstone Actors Who are Real Life Cowboys
Is Kelsey Asbille Native American?
Actress Kelsey Asbille who plays Monica Dutton claims she has Native American ancestors and identifies herself as part Cherokee. However, the tribe couldn't verify her claim and said she is not of Eastern Band Cherokee descent.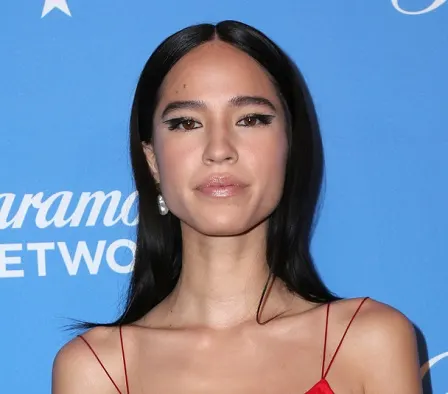 On her IMDb profile, it states that Kelsey Asbille's father is the son of Chinese immigrants and her mother descends from White and Native Americans.
Asbille started making claims about her Cherokee heritage when she was first cast to play a Native American character in 2017.
She told The New York Times that, although she didn't grow up in an indigenous community, playing a Native American woman was "in [her] blood".
Following her statement, her claim was investigated by an enrollment specialist for the Eastern Band Cherokee Indians.
The specialist found that Kelsey Asbille has never been an enrolled member of the community. Nor is there any documentation to support her claim of Eastern Band of Cherokee descent.
Related: 20 Best Yellowstone Characters Ranked
The Controversy Around Kelsey Asbille's Role
According to Looper, Asbille's apparently false heritage claim upset some members of the Native American community.
Following her casting as Monica Dutton in Yellowstone, Native American actor Adam Beach spoke up against the decision on social media.
In an Instagram post, he said, "Yellowstone is telling the world that there are no Native actresses capable of leading a TV show. Unless your great-great-great grandparents are Cherokee."
The actor went on to accuse Asbille of claiming Native ancestry without evidence and being a fraud.
DeLanna Studi, another Indigenous actor and President of the SAG-AFTRA National Native Americans Committee, explained why people are calling Asbille out about her role.
He said the real issue is that Native actors rarely get cast in roles where they can "just be a human being".
Studi also pointed out that casting errors like this are opportunities for people to have these conversations and highlight the issues of the acting industry.
He said the Yellowstone directors can fix their mistakes and Native people must be willing to help them do so.
Related: 35 Best Yellowstone Quotes
Is Monica Related to the Chief on Yellowstone?
To the best of our knowledge, Monica isn't related to Chief Thomas Rainwater on Yellowstone. So far, the show hasn't given out any information regarding family relations between the two.
While Monica did help Rainwater with a few dangerous missions, she did so purely out of respect for the Chief.
Rainwater's values and ideas for the future of Indigenous people in America align with those of Monica.
However, she soon gets caught up with the events around the Yellowstone Ranch. As a result, her focus shifts from being a leader of her people to protecting her son.
Related: 20 Yellowstone Trivia Questions For Devoted Fans
Is Monica in Season 5 of Yellowstone?
It has been officially confirmed that Monica will be returning in Season 5 of Yellowstone. The new season will premier on Paramount Network on November 13, 2022.
In an interview with TV Insider, Monica actress Kelsey Asbille revealed an exciting detail about the upcoming season.
"She's going to have a cute baby bump… I think that's all that I can say. I have started reading the scripts." (Source: Whiskey Riff)
The fans of Monica Dutton certainly have a lot to look forward to in Yellowstone Season 5.
Other than the announcement of having a second child with her husband, Monica's love triangle with Kayce and Avery might also bring some drama.
As for what "I saw the end of us" meant, there are a few different fan theories out there. Some believe Kayce's ominous vision was solely about his marriage, others think it involves the entire Yellowstone empire.
Related: 10 Facts About Actor Luke Grimes Who Plays Kayce Dutton
10 Things You Didn't Know About Kelsey Asbille
She has a younger brother and a younger sister.
She can speak and read Mandarin Chinese.
As a teenager, she was part of the Hammond Select Ensemble.
Her main home is in Los Angeles but she also lives in New York City.
Kelsey Asbille has been in a relationship with British actor William Moseley since 2012.
She would have loved to work with James Bond actor Sean Connery.
She likes wearing vintage dresses.
Her superpower of choice would be reading minds.
She enjoys playing a variety of ethnicities.
She attended Columbia University where she majored in Human Rights.
Don't forget to check out other awesome Yellowstone guides. Use the search bar or menu at the top.