Our readers support us. This post may contain affiliate links. We earn from qualifying purchases. Learn More
In season four of Yellowstone, Beth Dutton finally tied the knot with Rip Wheeler in a romantic ceremony on the ranch.
The couple has long been a fan favorite, as they share many heartfelt moments from slow dancing in the arena to drinking whiskey on the roof.
Due to Beth Dutton's popularity and touching relationship with her onscreen husband Rip Wheeler, it's had fans wondering who the actress who plays Beth, Kelly Reilly, is married to in real life.
Kelly Reilly is married to Kyle Baugher. The couple got married in 2012 in Somerset, United Kingdom.
Kelly Reilly, born Jessica Kelly Siobhán Reilly, is an English actress born on July 18, 1977, in Chessington, London. Her husband, Kyle Baugher, is a financier from New York City.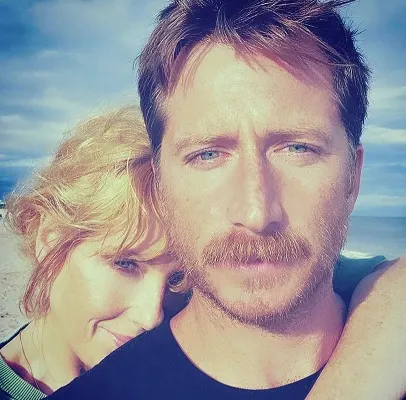 The couple lives together in New York City with their dog. While the couple has been happily married for 10 years they have remained private about their personal life.
Kelly Reilly and Kyle Baugher's Wedding
Kelly Reilly and Kyle Baugher got married in a private ceremony in 2012 in Somerset, England. Reilly wore an elegant off-white vintage gown with a dainty flower crown and Baugher wore a tan jacket with navy pants.
While there are only a few pictures of their wedding online, it is clear the happy couple is very much in love. You can see one here on Pinterest.
Also read: 10 Best Beth Dutton Moments on Yellowstone
Kelly Reilly and Kyle Baugher's Relationship
2012 was a big year for Kelly Reilly and Kyle Baugher as they got engaged and got married all in the same year. The couple is believed to have begun dating in 2011.
In an interview from 2011, Reilly said that "I live between my house on the borders of Sussex and Surrey and New York, where my boyfriend lives."
"I'm not saying any more about him except that he's not an actor, not in the business. I spend a lot of time across the pond. I spend a lot of my time on aeroplanes. I'm probably going to do the move soon. I'd like my life to be in one place," she revealed.
In 2015, Reilly once again mentioned her husband in an interview. She credited her husband for getting her back into theater, as she starred in the 2015 Broadway production of Old Times.
"I hadn't done a play in eight years. I was doing play after play after play in London, and I couldn't manage a great personal life and do a play. Now, I'm married and happy and content so I thought it was time to see if I could get that balance back," she told Esquire.
Reilly has just one photo of her and her husband together on Instagram. The photo posted on January 1, 2022, has the caption "Another year of love .. so grateful for you. Wishing everyone a beautiful year x".
Overall, Kelly Reilly tends to remain private about her married life in the public eye. Baugher does not have any public social media pages besides LinkedIn. Prior to her marriage with Baugher, Reilly was previously engaged to Israeli actor Jonah Lotan.
Also read: Who the Yellowstone Cast Are Married to in Real-Life
Kyle Baugher's Career
Kyle Baugher grew up in Long Island and attended Manhasset High School. During high school, he played on the lacrosse team.
Baugher then went on to attend Princeton University, where he graduated with a bachelor's degree in 2002. While in college, he played lacrosse and won an NCAA championship.
Kyle Baugher now works as a financier. However, there is no information available as to where he works.