This post may contain affiliate links. We earn from qualifying purchases. Learn More
If you are a passionate Heartland fan, you will recognize Kaitlyn Leeb as the actress playing Cassandra "Cas" Fay, a veterinarian at the Hudson Vet Clinic.
Initially, Cassandra is no more than a charming colleague of Ty and Scott who also works at the clinic. However, Cas will become more involved with our favorite Heartland characters as time goes on.
Kaitlyn Leeb is a Canadian actress who plays Cassandra Fay in the CBC hit series Heartland. She was born in Toronto, Canada as the second of four children.
| | |
| --- | --- |
| Born: | June 18, 1988 (age 34) |
| Birthplace: | Toronto, Ontario, Canada |
| Nationality: | Canadian |
| Height: | 1.63m (5'4″) |
| Zodiac Sign: | Gemini |
Kaitlyn Leeb first became a public figure via modeling, which later helped her become a successful actress.
She has starred in several hit TV shows such as Shadowhunters (2016-2019), the horror series Slasher (2016- ), and more recently in Spinning Out (2020), besides Heartland (2007- ). =
She is also heavily involved in charity work as the National Ambassador of Jake's House.
Here is our ultimate fans guide to Kaitlyn Leeb, a.k.a. Cassandra Fay from Heartland!
*Warning: Heartland Spoilers Ahead*
Kaitlyn Leeb Originally Wanted to Be a Model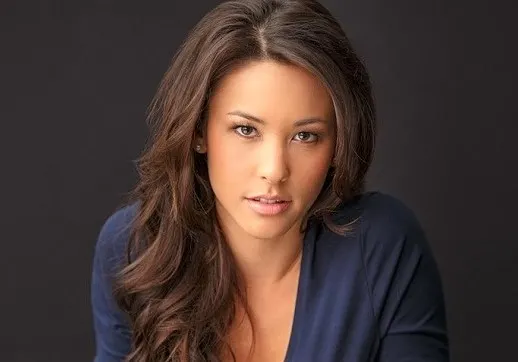 Kaitlyn Leeb's talent for performing in front of the camera first showed when she was a young teenager. Before she became known as an actress, Kaitlyn did a lot of modeling for ad companies.
Among others, she worked for Virgin Mobile, FUZE fruit drinks, RBC for the 2010 TIFF, and Dentyne Ice. In 2009, she even won the title Miss CHIN Bikini Pageant, making a name for herself in the industry.
In her interview with Talk Nerdy With Us, the actress revealed that her modeling experience still serves her well when auditioning for roles. Through modeling, she gained skills like posing, posture, and makeup that helped her land major roles.
While some areas certainly overlap, the modeling and acting worlds are also very different. Kaitlyn Leeb now focuses exclusively on her acting career, which is more than fulfilling to her.
She Started Acting When She Was 15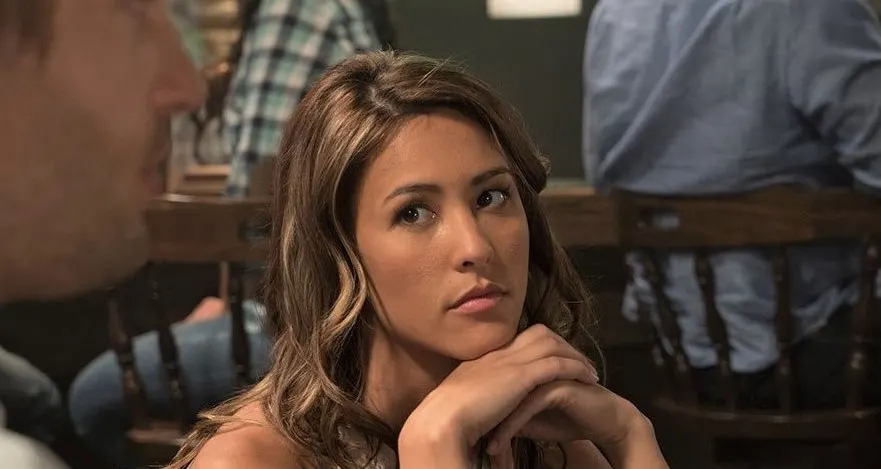 As a result of her parents' influence, Kaitlyn Leeb started acting alongside modeling when she was only 15 years old. She continued to follow her passions all the way through high school and university.
She actually graduated from York University in Toronto with a degree in Psychology, although she's never gone down that career path.
She made her debut as an actress by playing Jennifer Doolittle in five episodes of the Canadian teen drama Degrassi: The Next Generation (2001-2015).
In the following years, she featured in shows like Beautiful People (2005-2006), Single Ladies (2011- ), Wrong Turn 4: Bloody Beginnings (2011), and Rogue (2013-2017).
The most popular roles of her career so far are those of Camille Belcourt in Shadowhunters and Cassandra Fay on Heartland.
She has also starred in a few Christmas movies, including Christmas with a View (2018) and the Christmas with a Prince franchise.
She is a National Ambassador For Jake's House Charity
Ever since becoming a mother, Kaitlyn realized the importance of giving back. As of 2018, she has been supporting the non-profit organization Jake's House as their National Ambassador.
Based in Ontario, Canada, Jake's House provides practical help and support to families living with autism. Kaitlyn has been a long-time volunteer at the organization, helping in every way she can. This includes raising awareness of the issue via public speaking, attending events, and appearing in promotional videos.
On their website, Jake's House describes Kaitlyn Leeb as "a talented Canadian actress with a heart of gold and a passion for philanthropy".
Her dedication and commitment to the cause are what distinguish her as one of the charity's greatest advocates.
She Instantly Fell in Love With Heartland
Although she only appears on the show from Season 6 onwards, the actress first auditioned for a role in Season 5. Unfortunately, that didn't work out at the time, but luckily that didn't put her off from applying again next year. She finally landed the role of Cassandra Fay for Season 6 and beyond.
Prior to auditioning for Season 5, Kaitlyn binge-watched the series and loved everything about it. When reading Cassandra's script, she instantly connected with her character, and I think we can all agree she's done an excellent job portraying her.
When asked by Talk Nerdy With Us, the actress shared that the biggest challenge about playing Cas is her absence for many episodes in a row.
As there're a lot of things that happen in the character's life off-screen, Kaitlyn has to incorporate backstories into her portrayal.
However, she's also admitted that otherwise she really can't complain. The filming locations are beautiful and the cast & crew really friendly and easy to work with.
Besides filming Heartland, Kaitlyn Leeb was also working on two other shows at the same time. She often traveled back and forth between Calgary and Toronto so she could also shoot Shadowhunters and Rogue.
While her busy schedule was giving her managers a headache, she enjoyed every minute of it while it lasted!
She Rides Horses in Her Free Time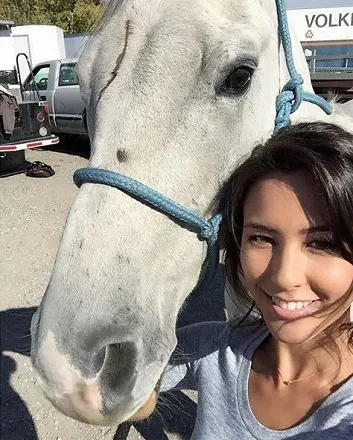 Since 2015, Kaitlyn Leeb took up horse riding as a hobby, for which she partly credits Heartland. Holiday beach rides were no longer enough for her, she wanted to learn how to ride a horse properly.
On the Heartland set, she started out riding Western, but she also wants to master English riding. "I want to learn both because in my career you never know when a role could come up. I do love Western. I love both." she revealed to Talk Nerdy With Us. She also wants to learn how to jump, but not competitively.
Also read: Heartland Actors Who Live Like Their Characters in Real Life
Is Kaitlyn Leeb Married?
Kaitlyn Leeb married her husband Ted Leeb on August 17, 2013. Together, they have two daughters named Avery Elizabeth and Presley Leeb.
Kaitlyn was 28 years old when she gave birth to her first child Avery in 2016. Four years later, the couple welcomed their second daughter Presley. The happy family currently lives in Los Angeles, California.
What Happens to Cassandra on Heartland?
Cassandra Fay first appears on Heartland Season 6 Episode 3 "Keeping Up Appearances". She was hired by Scott Cardinal as a vet assistant but messes up really bad which puts her out of the picture for a while. Her character returns in Season 7 and eventually wins her job back at the vet clinic.
Cassandra starts dating Caleb in Heartland Season 14, which grows into a committed relationship. The couple get married in the Season 10 finale "Greater Expectations" and welcome a baby boy in Season 13.
Caleb and Cass go through many ups and downs during their long-term relationship on the show. With the help of the Heartland family, they eventually realize how much they love each other and decide to tie the knot. They also become godparents to Amy and Ty's daughter Lyndy.
Also, read our fans guide on Kerry James (Caleb Odell).
Do Caleb and Cassandra Have a Baby?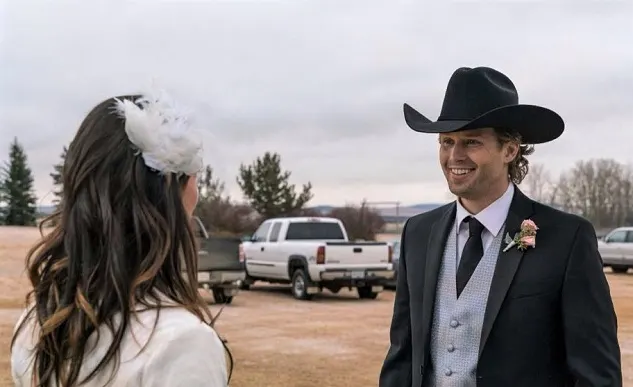 After struggling with fertility throughout Season 12 of Heartland, Cassandra becomes pregnant in Season 13. By Season 14, we learn Cassandra has given birth to a baby boy.
We first see Caleb and Cassandra's baby Carson in Season 14, Episode 6 "The New Normal". The arrival of their first child makes Caleb rethink his priorities and decide to quit competing in the rodeo.
Is Kaitlyn Leeb Still on Heartland?
It is not known whether Kaitlyn Leeb is still on Heartland. We last see Cas in Season 13, Episode 7 "The Art of Trust", where she tells Caleb about her pregnancy.
The character didn't make an appearance in Heartland Season 14, and it's not known whether she'll be in Season 15. Caleb only mentions his wife briefly in Season 14, saying that she works too much now that Ty's gone. We can only hope the writers will bring back Cas so we can enjoy more of Kaitlyn's brilliant acting.
One thing is certain: if asked, the actress would be delighted to return to the show. Over the years, Cassandra grew to be part of her, just like every other character she plays. "I definitely think all characters become part of an actor, at least from my experience," she told Talk Nerdy With Us.
7 Interesting Facts About Kaitlyn Leeb
Her maiden name is Kaitlyn Wong.
She is of Chinese and Irish heritage.
Her mom was also a model.
As a child, she participated in dancing competitions.
In her free time, the actress likes catching up with friends & family and spending time with her husband and dog.
She loves watching documentaries on marine life.
If she wasn't an actress, Kaitlyn Leeb would be a mental health professional.
Also, read: