This post may contain affiliate links. We earn from qualifying purchases. Learn More
Although Quinn is a relatively recent addition to the Heartland universe, it didn't take long for fans to warm up to the character.
Quinn's relationship with Georgie and their exciting future together is one of the most inspiring storylines of the show. Not to mention that portrayal of Quinn by the charming Jordan Burtchett certainly took many fans off their feet.
Jordan Burtchett is a Canadian actor who plays the role of Quinn McGregor on the hit TV series Heartland. The actor of British-Irish heritage was born in 1994 in Vancouver, Washington, United States.
| | |
| --- | --- |
| Born: | 19, May, 1994 |
| Nationality: | American |
| Height: | 5′ 8″ (1.73 m) |
| Star Sign: | Pisces |
Burtchett's character Quinn first appears in Season 13 of Heartland (2007- ). His polished looks and English riding style didn't fit in with the Fleming-Bartlett clan at first, but he quickly learns to adjust to the Western lifestyle.
Jordan Burtchett started acting in his late teens and has recently found success in the film industry. Other than Heartland, he has roles on major productions such as The Killing (2011-2014), Supernatural (2005-2020), and 2 Hearts (2020).
Warning: *Heartland spoilers ahead*
Here are some interesting facts about Jordan Burtchett.
Jordan Burtchett's acting career started in musical theatre
When he was three years old, Burtchett's family moved to Vancouver, Canada, where the actor lived most of his life. Growing up, he's always been captivated by stories and movies. He used to make all kinds of movies with his brother.
When he started high school, however, Burtchett's focus shifted from acting to studying, sports and church. Luckily, he never lost the desire to pursue his childhood dreams.
In grade 11, he booked a lead role in a school musical and got an agent shortly after, which kickstarted his acting career.
However, Burtchett still wasn't fully committed to acting at this point. After high school, he decided to play it safe and study Environmental Sciences at the University of British Columbia. He graduated in 2017 and started working at a restaurant while doing auditions on the side.
His role on 2 Hearts was Jordan Burtchett's big break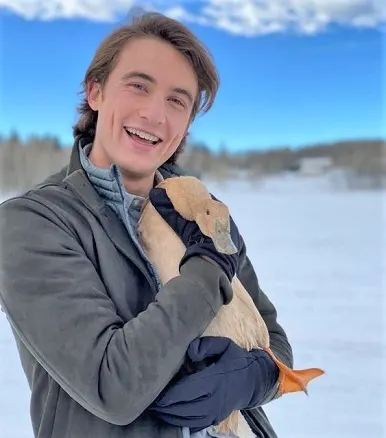 In the first vlog of his YouTube Channel, Jordan Burtchett talks about how he's going to quit his day job to pursue his dreams.
For the past year, Burtchett has been an oyster shucker at a restaurant in Vancouver. However, after he booked a recurring role on 2 Hearts, he realized all he really wants to do is "create art and tell stories" and became a full-time actor.
Prior to 2 Hearts, Burtchett has already accumulated an impressive list of credits for his age. His first-ever acting gig was playing young Stuart in Cult (2013), followed by his role on the Netflix original series The Killing. On the Netflix show, Burtchett had the opportunity to act opposite Joan Allen and work with director Jonathan Demme.
A more recent highlight of his career was his cameo in the romantic comedy To All the Boys I've Loved Before (2018). In the movie, Burtchett had a brief appearance as John Ambrose McClaren, holding the protagonist girl's love letter and flowers. To All the Boys I've Loved Before (2018)
During an interview at the movie's premiere, Burtchett shared how he loved to work with the wonderful cast and crew. He also expressed his hope to return in the movie's sequel To All the Boys: P.S. I Still Love You (2020). Unfortunately, actor Jordan Fisher ended up getting the role instead, which was frustrating for Burtchett.
In an interview with Entertainment Tonight, producer Matt Kaplan revealed the reasoning behind the decision. "We auditioned thousands and thousands of people, and when Jordan came on screen, I think, unanimously, Ace [Entertainment] and Netflix felt like this was John Ambrose."
Jordan Burtchett's newest project
As if being on Heartland wasn't enough, Jordan Burtchett has been working on other projects on the side. His most recent appearance was in the comedy feature film Drinkwater (2021), previously titled Change of Pace.
This coming-of-age movie is set in the small town of Penticton in British Columbia, Canada. It follows the life of Mike Freshwater, a shy high school student who is constantly bullied by his nemesis Luke Ryan.
What's more, Mike's father is too preoccupied with the government and dealing with his own rival to pay attention to Mike's troubles. The character's life really seems like living hell until a new girl changes everything.
In Drinkwater, Jordan Burtchett plays the bully Luke Ryan. Make sure you don't miss out on his performance and check out the movie!
What episode does Quinn come to Heartland?
Quinn first comes to Heartland in Season 13 Episode 6 "A Time to Remember". He is introduced on Georgie's high school graduation as a friend from her Europe trip.
Quinn's family owns a major show jumping operation in Florida. He was only supposed to be on a short visit in Hudson, however, things turn out quite differently. At the end of Season 13, Quinn is offered a coaching position at the prestigious Hillhurst Stables (where Olivia and Prince Ahmed kept their horses) and ends up staying.
Also, read our guide on 8 interesting Heartland TV series facts.
Do Quinn and Georgie get together?
Quinn and Georgie finally get together in Heartland Season 13 Episode 10 "The Passing of the Torch". While waiting for Lou's election results at Maggie's, Quinn tells Georgie about her job offer and asks for one good reason to stay. Georgie kisses him as a response.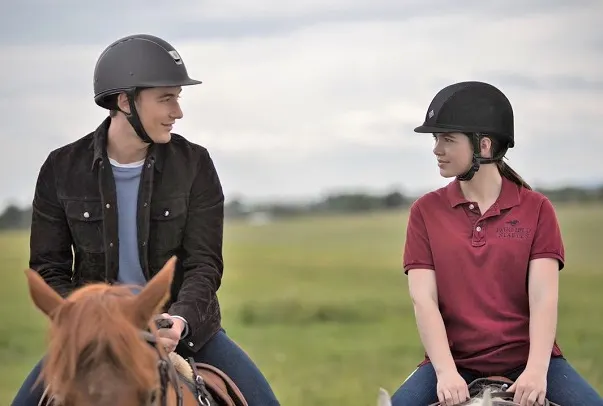 Earlier in the episode, Georgie pours her heart out to Quinn at the show jumping competition in Kelowna. She even confessed her love for him, but Quinn left to collect his ribbon without a word. His behavior worried Georgie, who rightfully assumed he doesn't feel the same way.
Luckily, Quinn makes a comeback later at Maggie's. By the end of the episode, the couple is standing stronger than ever ahead of their exciting future together.
Also read our Quinn and Georgie prediction in our guide on 9 storylines that could happen in Heartland season 15.
Does Quinn propose to Georgie in Heartland?
In Heartland Season 14 Episode 7 "Courage", it feels like Quinn is going to propose to Georgie. First, Lou notices a jewelry box in Quinn's luggage, then Quinn has an exciting announcement to make at breakfast. However, Quinn doesn't propose to Georgie just yet.
It's true, Quinn did have a mysterious jewelry box with him, so we all had good reason to think that he was going to pop the big question. As it turned out, we're going to have to wait a bit longer for that.
What Quinn actually wanted to announce was that Georgie is close to securing a spot in the North American Youth Championships, where she would be competing against future Olympians.
Also read, 8 facts about Alisha Newton, Georgie from Heartland.
Jordan Burtchett in on Cameo
Joining many of his Heartland, Jordan Burtchett is now also on Cameo! Cameo is a unique platform that allows fans to connect with their favorite celebrities via a personalized video.
Jordan Burtchett will be happy to record pep talks, birthday wishes, and congratulations for a small donation. Why not head over to his profile and surprise a loved one now?
You can follow Jordan Burtchett on Instagram, Twitter, and TikTok.
Also, check out our other Heartland articles. We have similar guides like this on all the actors, a Heartland quiz, and all the latest news about Heartland Season 15.