This post may contain affiliate links. We earn from qualifying purchases. Learn More
John Dutton is the patriarch of the mighty Yellowstone Dutton Ranch. He is a tried and true cowboy who religiously wears boots, jeans, and his trusty cowboy hat.
This John Dutton outfit guide will share his most notable cowboy looks and where to buy them.
These authentic pieces will have you looking just like your favorite gritty cowboy. They are practical enough for everyday wear while still looking sharp.
John Dutton's Jacket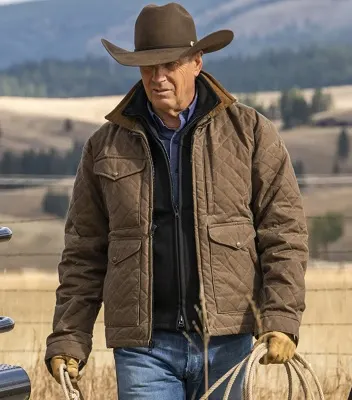 Throughout Yellowstone, John often wears a quilted jacket. This versatile Blacktail RangeWax Quilted Jacket in Oak by Schaefer Outfitter is a staple of John's wardrobe and must-have for any cowboy.
Practical and high-quality, this quilted jacket is designed to last years of wear. The waxed canvas finish protects against the elements, keeping you comfortable in the rain, snow, or wind.
This functional jacket comes through on the details with a flip-up corduroy collar, two-way zippered front, six front pockets, two inside pockets, and adjustable snap cuffs.
Budget-Friendly Option: Quilted HQ Cotton Jacket Coat
If you're looking for a similar but affordable option, this coat is nearly identical to the one John wears. The quilted design is made from cotton, which is both comfortable and durable.
Like the authentic version, it features six outside pockets, two inner pockets, and a double zipper front.
John Dutton Cowboy Hat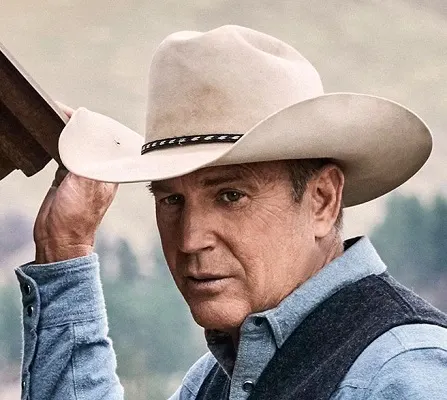 It is a rare occurrence to see John Dutton without a cowboy hat. While he wears several hats throughout the series, this buckskin cowboy hat by Greeley Hat Works Shop is one of his most notable cowboy hats.
The fine fur cowboy hat features a classic Reiner crease with a braided hatband. It is carefully crafted to be an exact replica of the hat John wears in the show.
Budget-Friendly Option: Enimay Western Cowboy Hat
While you can buy the same cowboy hat Greely created for Kevin Costner to wear as John Dutton, it does come with a hefty price tag. Fortunately, you can purchase an affordable option that looks very similar to the real deal.
This lightweight and comfortable hat has a classic cowboy look and is made of 50% Paper and 50% Palm Leaf for an environmentally safe product.
John Dutton Cowboy Boots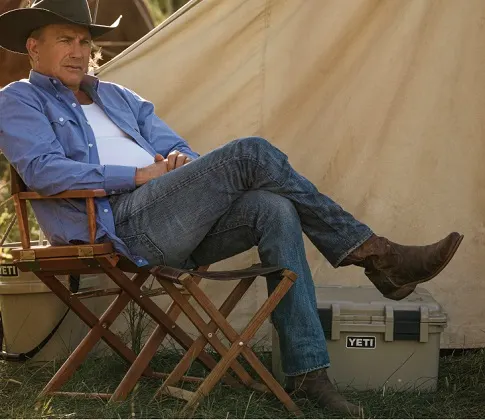 What's a cowboy without his cowboy boots? John always sports a pair of cowboy boots no matter where he goes.
The cowboy boots John Dutton wears on Yellowstone are Justin Men's Greer Exotic Smooth Ostrich Skin Cowboy Boots.
They feature a leather upper with a smooth ostrich vamp. The round roper toe is a classic design that will keep your feet comfortable as you work. With a removable orthotic insole, your feet will have the support they need for hours.
See the other boots John Dutton wheres here on Shop the Scenes.
John Dutton Shirt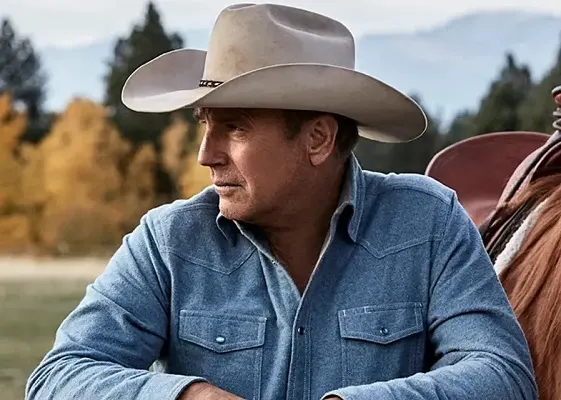 John Dutton wears a West Major Washed Chambray Western Shirt. The washed chambray provides a classic look that pairs well with your favorite pair of jeans.
With incredible attention to detail, they have a clean and neat look. The double chest pockets not only look good on the shirt but are also practical.
Budget-Friendly Option: Wrangler Men's Denim Shirt
If you are looking for a denim shirt more in your price range, we have you covered. This Wrangler button-up shirt is designed with the hardworking cowboy in mind. Made from cotton, it is comfortable, durable, and long-lasting.
John Dutton's Wool Vest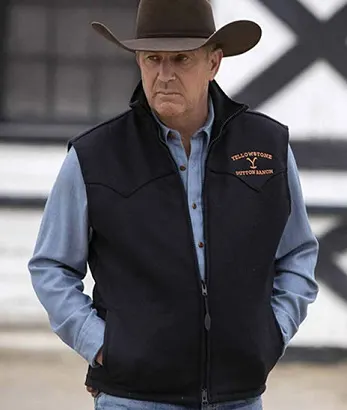 John Dutton often wears a Wool Arena Vest by Shaefer Outfitter on Yellowstone. This high-quality vest is made from Schaefer's heavyweight Legacy 24 oz. Melton wool, making it a perfect option in winter.
For excellent mobility both in and out of the saddle, it has an open bottom design and a full double-zippered front so you can split the bottom.
The design features many details, including double inside security pockets, western yokes, and embroidered horses running on the back collar.
Budget-Friendly Option: Yellowstone Dutton Ranch Logo Core Soft Shell Vest
The official Yellowstone Dutton Ranch vest is a replica of the one seen several times throughout the series. It is the perfect piece to show off your love for this iconic show.
The vest features a polyester microfleece lining that will help keep you warm on chilly winter days. With a waterproof exterior, you will stay protected from the elements. This versatile piece can be worn with many different outfits.
Also read: 35 Best John Dutton Quotes From Yellowstone
John Dutton's Jeans
John Dutton wears a pair of Kimes Ranch Dillion Jeans on Yellowstone. With John being as busy as he is, he needs a pair of high-quaility jeans he can depend on.
Durable, comfortable, and stylish, these jeans have everything you want. They feature a mid-low rise with a relaxed upper thigh and wide boot opening, making them practical for riding and everyday wear. The innovative Ring Spun denim has greater tear strength compared to other brands.
Budget-Friendly Option: Wrangler Men's Cowboy Cut Original Fit Jean
While it would be awesome to wear the same jeans that John Dutton wears, these Wranglers are an excellent alternative at a great price.
For functionality, they have a comfortable fit in the waist, seat, and thigh that improves mobility. The cotton build provides breathability, while the classic cut is trusted by cowboys everywhere.
Also read: