Although we don't see her as often as other members of the main cast, Jessica Steen's character forms an integral part of the Heartland family. Lisa Stillman has been part of the show from day 1, and even though she spends half the storyline overseas, her travels never deter her from returning to her dear homeland.
Jessica Steen is a Canadian actress and producer who plays Lisa Stillman in the hit TV series Heartland. She was born in 1965 in Toronto, Ontario, Canada to actress Joanna Noyes and actor & director Jan Steen.
Lisa Stillman first appears in season 1 episode 3 "Breaking Free", and after dating Jack Bartlett on and off for several seasons, she finally marries him in season 7 episode 18 "Be careful what you wish for".
Lisa owns the horse breeding operation Fairfield Stables and often travels the world through her job in the earlier seasons. Marrying Jack is a turning point in her life as she will spend more and more time as a caring and supportive family member.
Here is an overview of Jessica Steen's stats:
| | |
| --- | --- |
| Height: | 1.63 m (5' 3") |
| Nationality: | Canadian |
| Born: | December 19, 1965 |
| Birthplace | Toronto, Ontario, Canada |
| Net Worth (estimated): | $2 Million |
Here is our ultimate guide to Jessica Steen, a.k.a. Lisa Stillman from Heartland!
Jessica Steen Started Acting at the Age of 8
Despite her parents' warnings about the industry, Jessica Steen got involved in the showbiz early on in her life. One of her first acting roles was in a McDonald's commercial, after which she had a lot of commercial appearances.
At the age of 8, Steen made her television debut appearing in Sunrunners, a Canadian children's TV series that also co-starred her mother. It was during this time that she was diagnosed with petit mal epilepsy and began her journey towards recovery. Although the condition deeply affected her early childhood, she eventually grew out of it and had a normal adult life.
Due to her parents' background, Jessica Steen has always thought of acting as a kind of "family business". While still at school, she did acting as a hobby to earn some pocket money from, which only turned more serious when she started paying her own bills.
The actress had her first movie appearance in 1989, starring in the musical Sing. Until 1991, she acted in several Canadian TV series and American telefilms. She then moved to New York City, where she filled in for actress Noelle Beck during her maternity leave from the soap opera Loving (1983-1995). During her time in New York, Steen struggled a great deal with unemployment, which made her move to Los Angeles.
While working hard to make a name for herself as an actress, Jessica Steen had to relocate several times as career opportunities rose and fell. She eventually settled down in Los Angeles, from where she commutes to her acting jobs.
Her most notable appearances to date include Captain Power and the Soldiers of the future (1987), Homefront (1991), Earth 2 (1994), Armageddon (1998), Left Behind: World at War (2005), NCIS (2003- ), Flashpoint (2008-2012) and, of course, Heartland (2007- ).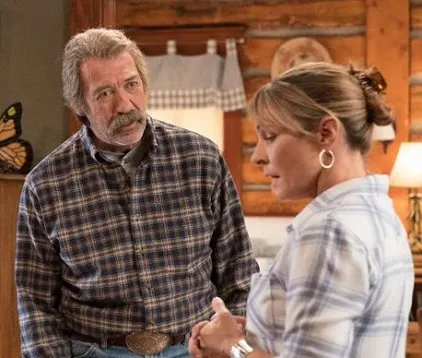 Jessica Steen is an Award-Winning Actress
For portraying Nora in the movie Small Gifts (1994), Jessica Steen won a Gemini award for "Best Actress", which is the Canadian equivalent of the Emmy Awards. She also received two other Gemini Award nominations, one in 1988 for her acting in the Captain Power episode "Judgment", and one in 2010 for her work throughout season 2 of Flashpoint, a Canadian police drama series.
When asked to reveal her favorite role from her entire career in a fan Q&A interview hosted by CBC, Steen struggled to choose only one. Instead, the enthusiastic actress shared her top 4 favorite roles, which were in Small Gifts, Armageddon, Homefront, and Striker's Mountain (1985). While each pick has a specific reason behind it, Steen's #1 favorite for overall experience is undoubtedly Heartland.
Also read: Where is the Heartland ranch located in Canada? Plus other interesting facts & FAQs.
Jessica Steen Originally Auditioned for the Role of Maggie on Heartland
That's right, the actress initially had her eyes on the character Maggie, owner of the small-town diner and tack store "Maggie's" and best friend to Amy's mom Marion. Although she would've certainly made a fantastic Maggie, Jessica Steen was asked to instead audition for the role of Lisa, a character she ended up falling in love with.
It didn't take long for Steen to realize how much she has in common with Lisa's character. They both have a passion for traveling and animals, love spending time in the great outdoors, and can sometimes be overly helpful! Not to mention they both have a soft spot for Jack/the actor who plays him.
Jessica Steen described Lisa as "fun and light and keen and concerned and loving to a cloying degree", which are all the reasons why she loves playing her. The wonderful cast and crew, breathtaking scenery and all the cute animals she works with are just icing on the cake.
Jessica Steen Grabs Every Opportunity to Ride on the Show
Although she would love to say otherwise, growing up in downtown Toronto didn't present many opportunities for Steen to be around horses. She had to take weekly riding lessons in preparation for each riding scene with the Heartland horses, so she could execute them safely and authentically.
However, that's not to say that she doesn't love every minute of the experience! One of Jessica Steen's most memorable scenes on Heartland was the cattle drive in season 2, which involved riding through some spectacular scenery in sometimes challenging weather conditions. She has always found these rides romantic and exciting, which is why she is disappointed by her character not riding as much as she used to.
Even after decades of practice, Jessica Steen is always modest in talking about her riding abilities. "I'm certainly not an Amber Marshall", she keeps saying, who she describes as "Queen o' the Equines !!".
Next to her busy life, the only time she gets to spend with horses outside of Heartland is on other western-type shows such as the C.B.C.'s Magic Hour (1989) episode "High Country" or when she occasionally goes for a ride.
Is Jessica Steen Still on Heartland?
Jessica Steen's fans will be delighted to find out that the actress is still on Heartland in the newest season, and is not thinking about leaving any time soon! In season 14, Lisa becomes the "shoulder to cry on" for many family members who are going through a tough time, and also busies herself with helping Lou organise her wedding.
Does Jack Marry Lisa on Heartland?
After overcoming a great many hurdles in their relationship, Jack finally marries Lisa in season 8 episode 2 "The Big Red Wall". Although the announcement came as a shock to the family, everyone comes together and has a great time at the couple's wedding reception at Heartland.
"Acting is such a small part of the overall toolkit of success"
Jessica Steen has had many highs and lows throughout her acting career. In the early years, she struggled with unemployment and dry spells, and later with pressure from working on big productions like the Armageddon. Her experiences taught her to always have a backup plan and multiple projects on the go, in case a job lets her down.
On the other hand, maintaining such a busy life also has its upsides. As part of her profession, Steen gets to travel the world and meet a bunch of interesting people, a perk she wouldn't swap for anything. No two days are the same in the life of this fascinating persona, who firmly believes that "variety is the spice of life".
Her advice to aspiring actors is to learn the business the best they can and manage their time and money wisely. A good actor needs to be able to connect with people, be good at PR, have a good social media presence and be confident when auditioning. Steen recommends doing acting as a hobby first and having other income streams to take the pressure off.
Jessica Steen is a prime example that professional acting is not all glamour and fun, and it takes hard work and dedication to make it in this already saturated industry. As with many other careers, having a good mentor who can set you off the right path is gold.
Jessica Steen Loves Hanging Out With Her Co-stars
Similar to other cast members, Steen appreciates the warm family vibe that rules on the Heartland set. Over the years, she has developed close relationships with Shaun Johnston (Jack Bartlett) and Michelle Morgan (Lou Fleming), who sometimes comes round to her house in LA. In the earlier seasons, she used to spend a lot of time with Wanda Cannon (Val Stanton), who she's known forever.
When talking about Shaun Johnston, Steen never stops praising his dedication to the show and supporting his fellow artists. She describes him as the "heart of Heartland", who always organizes fundraisers and get-togethers for the cast and takes everyone under his wing. According to Steen, he is also a perfectionist and a remarkable musician, who often plays the guitar for everyone's enjoyment.
Is Jessica Steen Married?
Jessica Steen has never been married, nor is she currently in any relationship. It seems like the busy actress has had little time to dedicate to her dating life, although she has likely had multiple relationships.
At one point, Steen was rumored to be dating actor David Newsom, with whom she co-starred in the drama series Homefront. She also briefly mentioned a past boyfriend during her interview with Rave It UP TV, but the actress has never made any official statements.
Here is the fun interview Jessica Steen gave to Rave It Up TV:
Jessica Steen is Adept at the Circus Arts
Turns out Jessica Steen is full of surprises! The actress got into the circus arts in 1998 and found the thrill of them addictive. She is skilled at several art forms, including fire-twirling and stilt-walking, and often escapes to the circus when her timetable allows.
A phrase that is often used in the media to address her unusual skills goes like: "She is better at stilts than high heels"!
Jessica Steen is a Passionate Animal Rights Supporter
Ever since her childhood, the actress has been crazy about all kinds of animals. Many of her career's dearest moments have been from the times she was allowed to work with animals. It is no surprise therefore that Jessica Steen is a passionate environmentalist and supporter of animal rights.
She makes regular contributions to non-profit organizations dedicated to preserving nature and wildlife. Among others, she supports the David Suzuki Foundation, the World Animal Protection charity, and the Western Canada Wilderness Committee.
5 Facts You Didn't Know About Jessica Steen
Steen is of Scottish and Dutch ancestry
She has two half-siblings
She is a certified driver
Her family lives all over Canada, she has close relatives in Vancouver, Toronto, and Montreal
In her free time, she spends time with friends and family and does a little bit of everything (e.g. tour guide, cruise director, event host, auditions, circus, etc.)
Also read our other Heartland guides: