Our readers support us. This post may contain affiliate links. We earn from qualifying purchases. Learn More
Banner Creighton is a fierce and passionate ranch owner and sheep herder who is described as "a hard-headed Scot with a brogue and the leader of the local sheepmen."
Since the sheepherders rely on the same grazing fields as the Duttons, he will fight tooth and nail to ensure their rights are respected.
Famous English actor and singer Jerome Flynn plays Banner Creighton in 1923. He is 6′ (1.83 m) in height and was born to Eric and Fern Flynn in Bromley, Kent, on 16 March 1963.
| | |
| --- | --- |
| Full name: | Jerome Patrick Flynn |
| Date of Birth: | 16th March 1963 |
| Place of Birth: | Farnborough Hospital, Kent, England |
| Height: | 6'0″ |
| Natural Hair Colour: | Blonde |
| Eye Color: | Blue |
Flynn has four siblings: a brother, Daniel; a sister, Kerry; a half-brother, Johnny; and a half-sister, Lillie, from his father's second marriage with Caroline Forbes.
Most people know Jerome Flynn for his roles as Bronn in Game of Thrones, and Paddy in Soldier Soldier. He also starred in the five-season British show Ripper Street and has appeared in many other films and TV shows.
Jerome Flynn's Notable Movies and TV Shows
American Playhouse (1985) as Kurt
Screen Two (1986) as Nigel
The Monocled Mutineer (1986) as Franny
London's Burning: The Movie (1986) as Kenny 'Rambo' Baines
A Summer Story (1988) as Joe Narracombe
Troubles (1988) as Matthews
Flying Lady (1989) as Benny Barton
Kafka (1991) as Castle Attendant
Between the Lines (1992) as Eddie Hargreaves
Don't Leave Me This Way (1993) as Tony Fleming
Ain't Misbehavin' (1997) as Eddie Wallis
Badger (1999-2000) as Tom McCabe
Best (2000) as Bobby Charlton
Game of Thrones (2011-2019) as Bronn
Ripper Street (2012-2016) as Bennet Drake
Black Mirror (2016) as Hector
Dante's Daemon (2013) as Fisherman
Loving Vincent (2017) as Dr. Gachet
John Wick: Chapter 3 – Parabellum (2019) as Berrada
1923 (2022) as Banner Creighton
8 Facts About Jerome Flynn
He Followed in His Celebrity Dad's Footsteps
Flynn's father, Eric, was an actor and singer. And the 1923 star chose to follow the same career path, which doubtlessly means he looked up to his old man.
Besides, Flynn isn't the only one in the family who followed his father's example—his brothers, Daniel and Johnny, are also in the film industry, and his sister pursued an acting degree.
He Disliked School
Details about the schools Flynn attended are still under wraps, but he's mentioned that books didn't intrigue him. According to his website, he would only pay attention to his teachers if they made an effort to make the classes exciting.
"At school Jerome was never really interested in the academic side of things and would only really respond to subjects where he took a liking to the teacher. Basically, if they didn't make it interesting, he tended not to be interested." The actor's profile reads.
Nevertheless, Flynn still valued school because it allowed him to make friends and play sports.
Besides, his disinterest in subjects like mathematics and chemistry birthed his passion for acting as it encouraged him to try more intriguing stuff.
"It was at this point he started to take part in school plays, the first being The Mikado where he took on the role of "Katisha" – a jealous older woman."
He Settled for Acting in His Late Teens
Flynn's brother, Daniel, started directing plays in his youth. Once, he was working on a production of Arthur Miller's The Crucible when a cast member set to portray the lead, John Proctor, bailed out.
So, Daniel asked Flynn to step in and save the day, and the Game of Thrones actor didn't hang back; he gladly embraced the role.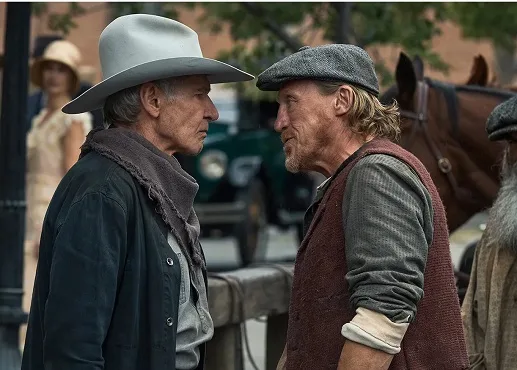 Flynn had so much fun on stage that he decided acting was worth a shot. And at 17, he made up his mind about pursuing the profession.
For him, it wasn't all about the excitement; he was fascinated by the art of pretending to be someone else. Plus, he relished every bit of attention he received as an actor.
"OK, all right then! Girls showed more interest in me than they had before, and at the time that alone seemed a good enough reason for giving it a go!" Jerome said (according to his website).
He Dated Lena Headey
Some Game of Thrones actors, such as Kit Harington and Rose Leslie, found love on set. However, others had given romance a shot way before the filming of the show.
A great example is Flynn and Lena Headey, who portrayed Cersei Lannister.
Flynn and Lena met on the set of Soldier Soldier and were in a relationship in the early 2000s. Nevertheless, they never went public, and fans speculated things ended badly.
In 2014, a Game of Thrones cast member told The Telegraph that Headey was friendly with most of her co-stars, except Flynn.
"Jerome and Lena aren't on speaking terms anymore, and they are never in the same room at the same time," The crew member said, adding, "It's a pity because they appeared to have patched things up for a while, but now the word is they should be kept apart at all costs."
However, Flynn denied the rumors, clarifying that he was on speaking terms with his ex-girlfriend, and they even appeared in some scenes together.
"We were actually in the same scene together," Flynn told The Independent.
"And the last time I saw Lena we were speaking, so I wouldn't believe everything you read and… [the media] can get pretty desperate for stories." The Ripper Street actor added.
Also read: Who Plays Emma Dutton in 1923? Meet Marley Shelton
He Stopped Acting for Almost a Decade
It's common for actors to take a breather to focus on other things. But when Flynn took a ten-year break in 2000, he was about to call it quits and establish a new career as an entrepreneur. Fortunately, the opportunity to play the role of a warrior for hire in Game of Thrones presented itself.
"The actor, 56, had bought an old farm in Wales with plans to renovate it and start a holiday inn business when he was offered the role of Ser Bronn in the fantasy drama." An article published by the Daily Mail reads.
Flynn told The Mirror that he didn't want to leave the film industry. But he was short on exciting projects and didn't want to wait anymore, having been off-screen for a decade.
"I didn't actually know if I was going to carry on. I hadn't been on screen for 10 years."
Flynn also revealed that Game of Thrones transformed his social and professional life.
"It's opened up so many doors, given me some beautiful friends and amazing experiences."
He is Passionate About Charity Work
Flynn has always been passionate about assisting those in need and improving the world. This explains why he has been involved in many humanitarian activities, collaborating with organizations such as World Vision and Global White Lion Protection Trust.
He's also traveled to many parts of the world to help victims of war and human trafficking, including Myanmar.
He Recorded Bedtime Stories for Grownups
Flynn does more than just act in hit TV shows; he also advocates for mindfulness and meditation. Therefore, it wasn't surprising when he lent his voice to the Calm meditation app to help adults sleep by reading them soothing bedtime stories.
Some of the tales Flynn has voiced for the popular application include "A Night in Shakespeare's London", "Meandering Down the Oxford Canal", "Arctic Cruise", "A Magical Winter Night", and "Sacred New Zealand".
Also read: Who Plays John Dutton Sr in 1923? Meet James Badge Dale
He Was a Pop Star
Flynn was one half of the British music band, Robson & Jerome in the 90s. His bandmate was fellow Soldier Soldier actor Robson Green.
Although some people were only partially sold on the duo's musical talent, several of their songs/covers were among the bestselling acts between 1995 and 1997.
Robson & Jerome and Simon Cowell
TV personality and America's Got Talent creator Simon Cowell played a considerable role in the success of Flynn's music career, though it was short-lived.
Flynn and Green performed The Unrighteous Brothers' "Unchained Melody" on Soldier Soldier. Their performance was so impressive that it generated a buzz from the audience, who flocked to record stores to buy the duo's CD. However, it was not available to buy in stores.
Fortunately, Cowell had also watched Robson & Jerome sing on TV series and was convinced they could become pop stars. So, he persuaded them to sign a contract with him to record a cover of "Unchained Melody" alongside another of "White Cliffs of Dover".
Interestingly, the single hit No. 1 in the UK Singles Chart.
The band's versions of "I Believe / Up on the Roof" and "What Becomes of the Brokenhearted" also became No. 1 hits.
Robson & Jerome's fame was intense but only lasted 18 months until 1996 when the pair turned down Simon Cowell's £3 million offer for a third album. The two decided to move away from their singing career and go back to acting.
Below is Robson & Jerome performing "I Believe":
Also read: Who Plays Zane Davis in 1923? Meet Brian Geraghty
Frequently Asked Questions About Jerome Flynn
Are Jerome Flynn and Robson Green still friends?
Flynn and his former bandmate are still close pals, even though they've not seen each other for a long time.
The pop duo's portfolio mainly comprised covers, but they still had their share of fans in the mid-90s when they were active.
Was Jerome Flynn in a religious sect?
In 1996, Flynn abandoned his career to join Andrew Cohen's religious sect with his then-girlfriend, Anna Jacobs. At the time, he was enthralled by the spiritual leader's teachings. But he felt he was losing himself and decided to leave the group, which had cost him his girl and a whopping eight years.
Also read: Who the 1923 Cast are Dating in Real-Life