This post may contain affiliate links. We earn from qualifying purchases. Learn More
Free Rein is a wholesome coming-of-age drama series set on an island off the coast of England. It follows the adventures of Zoe Phillips, a teenager from Los Angeles who discovers the magic of horses.
Jaylen Barron is an American actress who plays the role of Zoe Phillips in the TV series Free Rein. She was born in 1997 in Reno, Nevada, and grew up in La Puente, Southern California. Her mother is of Mexican heritage, and her father is African American.
| | |
| --- | --- |
| Birthday: | 31 August, 1997 (age 24) |
| Birthplace: | Reno, Nevada, United States |
| Height: | 1.63 m |
| Siblings: | Sofia Barron |
| Star Sign: | Virgo |
In the series, Zoe visits her grandfather in England and encounters an exceptional horse on a nearby beach. She will eventually start taking riding lessons and become a passionate equestrian.
Playing Zoe and working with horses has been a fantastic experience for Jaylen Barron, who enjoys playing various roles.
Free Rein has won two Daytime Emmy Awards and has been nominated for four others in the following years. There are currently three seasons of the show available exclusively on Netflix.
Here are ten interesting facts and FAQs about Jaylen Barron.
Warning: *Spoilers ahead for Free Rein*
Jaylen Barron has always been passionate about acting
To Barron, acting has never just been a hobby or a job – it's something she was meant to do. Ever since she was a little girl, she loved pretending to be many different people and personalities. That is where Jaylen Barron's passion for acting comes from.
After spending her childhood years in La Puente, the actress moved to Fontana in the Inland Empire. She attended a private school in Rialto, but she never felt like she fit in with the people around her.
Even as a young teenager, she gravitated towards artists and like-minded people, Barron told Flaunt.
Jaylen Barron's acting journey started when she was just 13 years old. According to Taylor magazine, her mother had had some headshots taken of her, which the photographer sent off to various agencies.
Within a short time, Barron was lucky enough to meet with a few representatives and sign up to the agency she liked best!
Jaylen Barron was a model before she became an actress
Before she became a full-time actress, Jaylen Barron was a model for the tween store "Justice".
Modeling is an excellent skill for any aspiring actor/actress, as they learn a lot about camera angles and lighting on the job.
At first, Jaylen Barron didn't realize how harsh the acting industry is. She admitted to American Teen that getting rejected over and overtook a toll on her confidence, but she kept going. "You face 1,000 no's before you get one yes, and it takes one 'yes' to shoot your career up."
As Barron gathered experience, she found more and more success in the industry and realized how rewarding acting could be.
"Seeing the finished product and the reaction from the fans – I love it! I love seeing how people can be inspired by the characters I've played and how these characters have had an impact on people," – the actress told Taylor magazine.
Being a natural overthinker, Barron found it hard to deliver the perfect performance on set. However, when she gets into character today, she feels a sense of peace instead of nervousness.
Her ultimate goal is to "bring joy, drama, and great acting to people everywhere", the actress revealed to TV Overmind.
Jaylen Barron studied Psychology in college
After graduating high school, Jaylen Barron completed a year of college with a major in psychology. However, she decided to stop because of her acting commitments, Barron told American Teen.
While she is focused on acting for now, Barron still wants to go back to college after she's had her big break.
The reason she chose to study Psychology was her fascination with the human brain. The actress told Taylor magazine.
She loves watching documentaries about mental disorders or serial killers and learning about the true motives behind human behavior.
Jaylen Barron's recent projects and future plans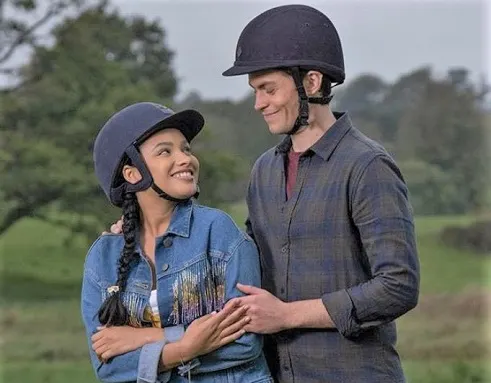 As mentioned above, Jaylen Barron plays the lead role in the Starz series Blindspotting. The show's storyline picks up six months after the 2018 film of the same name. It addresses various social issues, including Black Lives Matter, police brutality, and the importance of uplifting sex workers.
Being an advocate for equality and civil rights, Jaylen Barron is passionate about the show's message. "I feel as though Blindspotting has captured the diversity and the progressiveness of the world we are living in now," the actress told Essence.
When Barron read the description of Trish, the show's main character, she immediately knew this role was for her. "Trish stands up for what she believes in, and I feel like we are the first generation, especially of women, to live that way," she shared in the article of Essence.
She also admitted that Trish is one of the most challenging characters she ever played. Being a multi-dimensional character, she has several layers to her personality and portraying her really helped Barron grow as an actress.
In the future, Jaylen Barron wants to experiment with being a director, producer, and writer. She also strives to become a better person than she was the day before. In Taylor magazine, the actress shared some inspiring words with her fans: "You can be the best version of yourself if you take time for yourself."
Free Rein holds a special place in her heart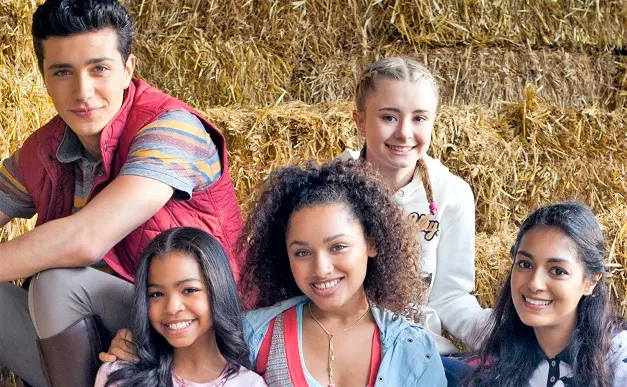 To Jaylen Barron, Free Rein is so much more than just a kids' series. While the show's primary goal is to entertain, it also teaches important life lessons to younger generations.
Playing Zoe on Free Rein, Barron felt like she embodied a role model to children of color.
In her interview with Taylor magazine, she talked about the importance of representing minority groups on equestrian TV shows:
"Free Rein is focused on the equestrian industry, and there isn't a lot of Black, Hispanic, or Asian representation when it comes to equestrian-based roles. When I see a woman of color riding a horse, it opens up a whole new door. It will make girls think, 'I can do that too!' I'm glad that a whole bunch of girls can see what I do and feel represented as a whole."
Jaylen Barron also loved Free Rein's "horse girl energy" and that the characters are relatable. Her favorite part of working on the show was actually being around animals, as she found them very therapeutic.
Just like her character Zoe, the actress discovered and fell in love with horses during her time in Britain.
Before coming on the show, however, Jaylen Barron was your typical city girl. To get the part of Zoe, she even told the classic actor white lie of "Yeah, I can ride horses" on her audition!
Luckily, riding lessons were compulsory on set, and Barron became a natural with horses.
Here is a Free Rein behind the scenes video with Jaylen:
Find out more about the cast and horses in our other Free Rein article.
Jaylen Barron has spoken up against social justice issues
Throughout her life, Jaylen Barron has faced discrimination because of her heritage. With her mother being Mexican and her father black, she has endured prejudices growing up in the United States.
However, she was never the one to keep quiet. She regularly speaks up against discrimination and racism and shares her opinions with her significant social media following.
Jaylen Barron is also an advocate for feminism. She hopes there will be more opportunities for mixed women to showcase their talent on television and in movies.
"Unfortunately right now, I don't see that many dark-skinned women on TV. That makes me sad. Hopefully, I'm able to become big enough where I open up a door for dark-skinned women." (Souce: American Teen)
Jaylen Barron is involved with charity work
As a successful actress, Jaylen Barron considers it essential to give back. In American Teen, she talked about her involvement in a Los Angeles-based charity run by her friend, called Small Acts Big Change.
At the charity, Barron helps give out meals and blankets to the homeless weekly. There is also the opportunity to volunteer at animal shelters and find new homes for rescue pets.
11 More Facts About Jaylen Barron
When not filming, she lives at home with her mom, dad, and sister Shannae.
She doesn't think she is famous yet.
Her idol is American actress Halle Berry.
She has a skincare and workout routine.
She keeps a journal.
Barron has her own eyelash line called Boujaye Lashes.
She is passionate about fashion, but her style changes with her mood.
She loves cooking and good food.
In her spare time, she enjoys spending time with her family, traveling, and visiting museums.
She loves dogs and has a Yorkie and a Shih Tzu.
If she wasn't an actress, she would own a dog shelter.
Also read, where is Free Rein filmed?
Jaylen Barron Movies and TV Shows
Jaylen Barron has been professionally acting for nearly a decade and so has a few different roles under her belt.
An interesting aspect of her career is that she likes to go for fundamentally different characters to maintain diversity in her craft.
Jaylen Barron has been in TV shows such as See Dad Run, Good Luck Charlie, Shameless, and Free Rein. Recently, she appeared in the American series 9-1-1 and Blindspotting.
The actress made her debut on the TV screen in 2012, appearing in FOX's Bones (2005-2017) and Disney Channel's Shake It Up (2010-2013). She then landed recurring roles on See Dad Run (2012-2014), Good Luck Charlie (2010-2014), and Shameless (2011-2021), which took her career off the ground.
In 2017, Jaylen Barron was cast as Zoe Philips in Free Rein (2017-2019). She played the character for the entire three seasons and two feature-length episodes.
Her next big adventure was playing the lead role in the American comedy-drama series Blindspotting (2021). Barron's dedication and hard work have earned her four Young Artist Awards nominations.
Throughout her career so far, Barron played characters that are polar opposites of each other. Take for example the calm and composed horse girl Zoe versus the stripper Trish in Blindspotting.
In her interview with Taylor magazine, the actress revealed she learns something from each character: "I think one of the main things I've learned is not to lose who you are and not to lose what keeps you sane – that would be the most important thing."
Can Jaylen Barron sing?
Besides being a talented actress, Jaylen Barron can also sing! She is currently taking online classes towards a BA degree.
You can follow Jaylen Barron on Instagram and Twitter.
Who does Zoe date in Free Rein?
Zoe dates Marcus and Pin in Free Rein. Although Pin has had a crush on Zoe since the beginning, he refuses to face his feelings until later in the series.
In Free Rein, Marcus and Zoe get together by the end of Season 1. At the beginning of Season 2, there is a constant rivalry between Marcus and Pin, Zoe's two admirers.
Eventually, Zoe and Pin kiss, and she breaks up with Marcus, who starts a relationship with Mia in Season 3.
Also, take our Free Rein quiz and test your knowledge on the series!