Though there may be a never-ending debate over the preference for coffee or tea, a 20-year-old police horse named Jake has made his decision and he's sticking by it.
After sneaking a sip from his rider's cup of tea one day, it became apparent that the horse had developed a strong liking for his daily brew when he started sticking his tongue in the officer's cup daily.
He's grown so fond of tea that he often refuses to start his day without it.
Jake the Police Horse Drinking his Tea
We have a new episode of #wintermorningwakeups featuring Jake. Jake refuses to get out of bed until he is brought a warm cup of @tetleyuk tea. Once he has drank this he is ready for the day. #StandTall #PHJake #NotStandingAtAll #BrewInBed #TeaTaster pic.twitter.com/iJXm32hlad

— Mer Pol Mounted (@MerPolMounted) November 20, 2019
Jake from the London Merseyside Mounted Police has his own special large mug from which to get his caffeine fix.
The Cleveland Bay mix horse is 17 hands, so who's going to argue? Especially considering he doesn't mind sharing with the humans on the force any time they leave their own mugs unattended.
Not only does Jake like his tea, but he likes it his way. According to section manager and trainer Lindsey Gaven, he prefers a little skim milk, two big teaspoons of sugar, and a little cold water to cool it down in his morning mug.
His people have begun to recognize Jake's love for the brew and bring it to him on their morning tea rounds, often while he's still lounging in his stall.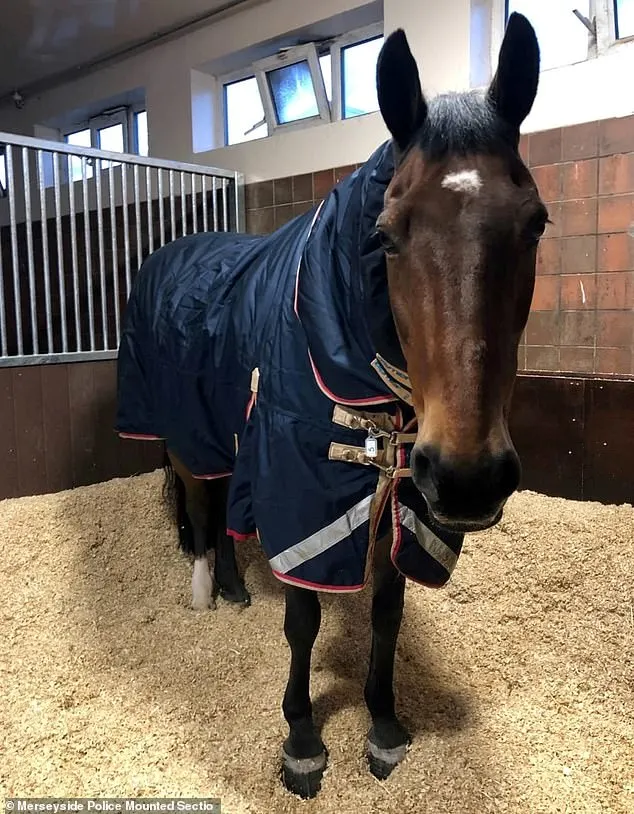 Jake is a member of the Merseyside Police Mounted Section in Allerton, Liverpool, one of 12 horses on the mounted force. He's a lovely chestnut brown and known for his big personality.
Jake has been on the force for 15 years. He's due to retire next year, but no doubt will continue to want his morning tea in bed.
In the meantime, Jake will continue to work hard patrolling Merseyside. He also regularly works at football matches and has often been seen at Aintree Racecourse patrolling and overseeing at the Grand National.
If you'd like to keep up with the adorable Jake and his tea-drinking shenanigans, he often shows up on Twitter on the Merseyside Mounted Police Twitter account.