Our readers support us. This post may contain affiliate links. We earn from qualifying purchases. Learn More
Yellowstone (2018- ) is a neo-western drama series that aired its fourth season on November 7, 2021.
Yellowstone follows the comings and goings of the Dutton family, the largest land owners in the state of Montana.
After just two seasons, Yellowstone has become one of the world's most-watched shows on TV, outperformed only by The Walking Dead (2010- ).
The series is known for its many-sided characters that don't necessarily fall into the "good" or "bad" categories.
However, the main reason why Yellowstone has become a worldwide hit is its authentic representation of cowboy culture. The show is so life-like that some fans even began to question whether it's based on real events and people.
Is Yellowstone Based on a True Story?
Yellowstone is not based on a true story or book, but rather a fictional series created by John Linson and Taylor Sheridan. The co-creators took inspiration from the struggles of modern-day cowboys and the issues ranchers faced throughout history.
The storylines emerged entirely from the minds of Linson and Sheridan, simple as that.
However, they have been inspired by real-world issues such as injustice, racism, poverty, oppression, and corruption. Sheridan has also drawn from his own experiences growing up on his family's ranch in Texas and working as a cowboy.
What's more, he has many real-life cowboys and ranchers working for him on the set to help make the show more authentic.
Similar to Yellowstone, Sheridan's other creations like 1883 (2021-2022) and Mayor of Kingstown (2021- ) are also original.
Also read: Who is Taylor Sheridan? Travis Wheatley Actor on Yellowstone
Inspiration for the Yellowstone Series
Unlike the show, that issues that inspired Sheridan's neo-western series are very real. The writer-director based his storylines on the recent changes he's seen shape the Western United States. These changes center around three main areas: power, land development, and ranching.
It's not difficult to see that these three pillars also underpin the story of Yellowstone. However, while the series is set primarily in Montana, the issues brought up in the series affect all western states.
"These issues of land development, resource mismanagement, oppression and extreme poverty and inequity in government — they exist here," Sheridan says. "But when it happens in a small area, in a rural area … and because there's fewer people, the consequences seem much more acute." (Source: Los Angeles Times)
Also read: 20 Yellowstone Trivia Questions For Devoted Fans
The Process Behind Creating Yellowstone
It's very rare that two people can handle the writing for an entire TV series. This is usually done by a team of writers, and often different episodes are written by different people.
However, Taylor Sheridan and John Linson's unique approach to screenwriting isn't unheard of. Their work was actually inspired by the American crime drama True Detective (2014-2019).
Just like Yellowstone, the first season of True Detective was also created by two writers, Cary Joji Fukunaga and Nic Pizzolatto. In an interview with Deadline, Sheridan revealed that he has indeed adapted their writing process.
"What Cary did, I am doing," he said. "Write 10-hour movies and go shoot them".
However, this isn't the only similarity between the two series. Like in True Detective, the characters of Yellowstone also unfold gradually over the course of a season and go through significant character arcs.
Moreover, Sheridan admitted he doesn't know how to write scripts for television. He approaches the task as if he was writing a novel, which explains the multi-layered and enveloping storylines we see on the screen.
Who is John Dutton Based on?
In the series, John Dutton is the owner of the iconic Yellowstone Ranch. He is a stubborn character with a mad determination for keeping his ranch in one piece.
While John Dutton isn't based on anyone in particular, inspiration for his character could include the likes of W.T. Waggoner and Bill Galt. Waggoner once owned the largest ranch in the United States, while Galt currently owns a 248,000-acre ranch in Montana.
W.T. Waggoner is a true ranching legend from North Texas who once owned the 525,000-acre Waggoner Ranch.
Founded in 1849, the ranch was passed down several generations of the Waggoner family and was America's largest ranch for decades.
The ranch stayed in Waggoner ownership until 2015, when it was bought by Stan Kroenke for approximately $725 million.
Meanwhile, Bill Galt works perfectly as a modern-day inspiration for John Dutton. The Montana rancher is known for scouting his lands via helicopter and meeting up with politicians every now and again. He has also been dubbed as "The Last American Cowboy," which makes him all the more similar to John Dutton.
Also read: 35 Best John Dutton Quotes
Kevin Costner on Playing John Dutton
In an interview with Outsider, Yellowstone lead actor Kevin Costner opened up about his performance on screen. According to the actor, many traits of John Dutton are based on his late father William Costner. He even uses his father's real 30-30 rifle on the set!
William Costner grew up as one of 11 children on a wheat farm in Oklahoma. His life was largely overshadowed by the events of the Great Depression (1929 – 1939).
"My dad was a fistfighting, single-minded tough guy coming out of the Dust Bowl in the Great Depression," Costner told Outsider. "He wanted a job and never let it be taken away from him.
Also see: 15 Yellowstone Frequently Asked Questions Answered
Who Owns the Real Yellowstone Ranch?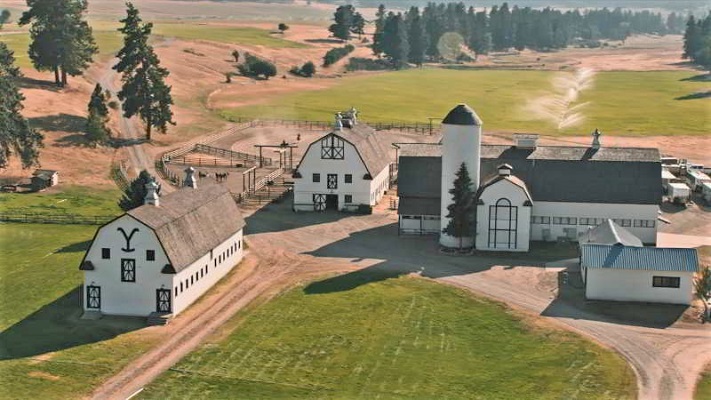 While the Yellowstone Ranch isn't real, the Dutton family home is located on a real working cattle ranch called the Chief Joseph Ranch. The 150-acre property is located near Darby, Montana, and has been in operation since 1880.
The real Yellowstone Ranch is owned by Shane Libel and his family. After the property was scouted as a potential filming location for Yellowstone, the Libels signed a five-season contract with the filmmakers.
Other than the 5,000-square foot log mansion, filming locations on the property include the barns, corrals, arena, armory, and cabins.
When Yellowstone isn't filming at the ranch, the cabins are available to be rented out for a minimum of three nights for a one-of-a-kind Yellowstone experience.
Also read: 5 Yellowstone Actors Who are Cowboys in Real Life
The 6666 Ranch is a Real Ranch?
The 6666 or Four Sixes Ranch appears in Yellowstone Season 4 when Jimmy is sent to Texas to become a real cowboy. However, unlike the Yellowstone Ranch, the 6666 Ranch is a real operational facility producing high-quality Angus cattle and Quarter Horses.
Established in the 19th century, the 350,000-acre ranch was purchased by Taylor Sheridan and a group of investors in May 2021.
6666 Ranch also serves as a filming location for Yellowstone, but also for the upcoming spin-off 6666.