This post may contain affiliate links. We earn from qualifying purchases. Learn More
Since its humble beginnings, the Yellowstone Dutton Ranch has been surrounded by death. The valuable land has caused much bloodshed over the years.
1923 is no different than Yellowstone, as the show has already seen some shocking deaths.
Running the Yellowstone Dutton Ranch safe is no easy job for Jacob and Cara Dutton.
1923 primarily focuses on the Dutton family and those who are close to them. This includes the Strafford family, with Bob being a fellow rancher and his daughter Elizabeth, who is set to marry Jack Dutton.
Is Bob Strafford Dead?
Bob Strafford died in the third episode of 1923. His death came as a bit of a shock as his character seemed like a prominent aspect of the show.
In the first episode, Bob Strafford joins Jacob Dutton and his ranch foreman Zane as they move cattle up the mountains to feed them.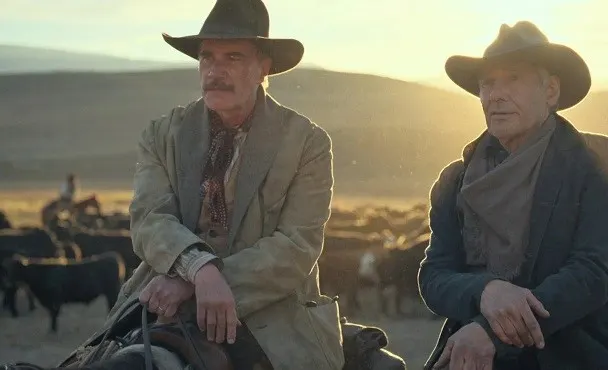 While the cattle graze, they come across Banner Creighton and his men grazing sheep on the Dutton's property.
Not taking kindly to this trespassing, Jacob hangs several of the men and gives away the sheep. While it seems like the predicament is taken care of, the rivalry is far from over.
Later on, Banner and his men ambush Bob and the Duttons. Bob is shot and instantly dies from his wounds.
The attack also kills John Dutton Sr. and leaves Jacob seriously injured. Bob's daughter Elizabeth is also injured in the ordeal.
Bob's wife Beverly then arrives at the Yellowstone Dutton Ranch the next day to take Bob's body home and collect her ailing daughter.
Despite her injuries, Elizabeth refuses to leave as she wants to continue her arrangement to marry Jack and become a part of the ranch.
Also read: Who Plays Elizabeth Strafford in 1923? Meet Michelle Randolph
Is Tim Dekay Leaving 1923?
Tim Dekay portrays the role of Bob Strafford in 1923. Since DeKay's character died in 1923, he is likely leaving the show as the chances of him appearing in flashback scenes are slim.
It appears that DeKay is leaving 1923 for creative reasons and not the actor wishing to depart the show. Bob's death is a key aspect of the storyline, so his death was essential for the plot to continue.
Since he was just listed as a guest cast member, his death in the third episode doesn't come with much of a surprise.
Bob's death will likely affect several aspects of the upcoming episodes. His daughter Elizabeth made her choice to stay at the ranch instead of going with her mother.
His death will also likely fuel vengeance in the Duttons against Banner and may even help contribute to Spencer's return home from Africa.
Also read: Who Plays Banner Creighton in 1923? Meet Jerome Flynn
Who is Tim DeKay?
Tim DeKay plays Bob Strafford in 1923. DeKay is an American actor born on June 12, 1963, in Lansing, New York. He has an estimated net worth of $3 million.
DeKay graduated from Rutgers University with a Master of Fine Arts degree. Prior, he attended Le Moyne College and Syracuse University.
DeKay has appeared in plays both on and off Broadway before getting his first onscreen acting credit in 1995.
DeKay is best known for his roles in Swordfish (2001), Peaceful Warrior (2006), Get Smart (2008) and White Collar (2009-2014). He is married to Elisa Taylor and they have two children together, Danna and Jamis.