Whether for use on injuries or preventing soreness, it is a good idea to have ice boots handy to use on your horse's legs.
Fortunately, we are going to be sharing some of the best ice boots to help your horse recover from injury and stiffness.
Though ice boots are commonly used for race and show horses, every horse can benefit from using them. They support a speedy recovery and relief from sore muscles. Ice boots are a simple yet effective way to provide care for your horse's legs.
Depending on the style, ice boots can be frozen whole or have insert-able ice packs/trays. They come in a variety of different models that cover the hooves, hocks, cannon bones and fetlocks of a horse.
How to Use Horse Ice Boots
Cold therapy is a common way to treat acute injuries, recover from surgery and relieve arthritis in horse's legs. For an injury, you want to treat it within 24-48 hours after it occurred for maximum results.
Make sure the ice boots you use fit properly and don't restrict blood flow. The ice boots should generally be worn for 15-20 minutes at a time, 3-4 times a day while the horse is recovering.
If using traditional ice boots, you want to wrap your horse's leg to keep a layer between them and the ice.
When using after exercising, allow your to cool down before applying the ice boots. Once your horse's heart rate has returned to normal and they are cool, you can put on the ice boots according to their instructions.
It is recommended to leave on the boots for no more than 30 minutes while your horse stands.
Here are the 8 Best Ice Boots for Horses
HORZE Finntack Ice Wrap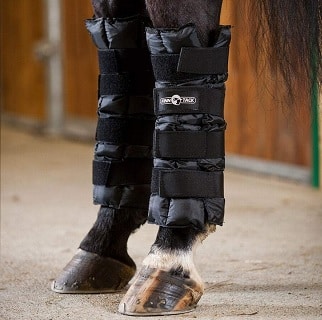 Provide your horse with soothing coolness with this pair of ice boots that includes 24 gel packs. Simply keep the wraps in the freezer between uses, as the gel pouches will remain soft and cushion when frozen.
The durable nylon construction is long-lasting, with flexible straps for a secure fit on horses of every size. They are a quick and effective post-workout treatment, as well as aiding injuries and arthritis.
A convenient bag is included for easy storage, so you can easily transport them anywhere you go.
What's to Love?
The gel packs are soft and stay cold for a long time
Durable construction, with flexible straps that will fit any horse
Easy to use and store
Tough 1 Ice Boot
With reliable gel packs, this boot is not only easy to use, but it is also comfortable for your horse to wear. The gel packs are soft and conform to your horse's leg for the ultimate cooling therapy.
The heavy denier nylon shell will withstand even the most fidgety horses. With four "quick grip" straps, you can determine the amount of compression applied to your horse's leg.
Simply keep this boot in the freezer until you need to use it post-workout or for injuries.
What's to Love?
The gel packs are soft and stay cold
Easy to use and can be kept in the freezer
Durable with "quick grip" straps to determine tightness
Professional's Choice Ice Boot
With a sturdy neoprene exterior, the gel packs on this boot remain insulated for a longer lasting cold. The smooth nylon interior not only stays clean from dirt and shavings, but also provides protection from the skin being directly exposed to the ice.
This pair of ice boots also features extended hook straps for a snug fit on horses of all sizes. Keep them in the freezer until you are ready to use them on your horse and easily apply them when needed.
A mesh bag is even included, so you can take them with you on the go.
What's to Love?
Neoprene exterior provides insulation for gel packs
Nylon interior remains clean and prevents ice from coming in direct contact with skin
Easy to use and sturdy
ICE-VIBE Horseware Boots
These innovative ice boots are efficient whether you are treating an injury or using as a post-exercise treatment. In addition to being used cold, they can also be used hot.
The contoured design is simple to use, as you place the cold pack on the leg then place the boot on top. The stretchy pockets allow for easy insertion, while the velcro creates a secure fit to prevent slipping.
The beaded gel packs provide an optimal fit, while the neoprene outer keeps shavings off for an easy and effective treatment.
What's to Love?
Easy to use, with a contoured fit that is available in two sizes
Beaded gel packs allow for a long, cold fit
Can be used cold or hot
Professionals Choice Nine Pocket Ice Boot
At 23 inches tall, these ice boots reach all the way from above the knee or hock to the pastern. This pair features nine individual pockets and six hook fasteners for an optimal fit on your horse.
Ice cubes or crushed ice is added to the pockets for immediate cold relief. The neoprene outer prevents the ice from melting, so your horse can experience lasting cold. They are durable in build and are simple to put on your horse for an efficient icing product.
What's to Love?
Can be used with ice cubes or crushed ice
Go above the hock or knee for ideal relief
The nine pockets and six fasteners provide an effective fit
Shires, Hot/Cold Relief Boots
An all-in-one therapy boot, these boots can be placed in the freezer or soaked in warm water for providing relief no matter the situation. The gel packs provide a comfortable design, while also being effective.
The sturdy velcro straps provide a secure fit, so you don't have to worry about your horse getting them off.
With insulating neoprene, they will stay cold or warm depending on your needs, while also staying clean. They provide a flexible fit so you know your horse is getting the treatment they need.
What's to Love?
Can be used cold or hot
Insulating neoprene keeps it cold or hot
The sturdy Velcro provides a secure fit
Horse Ice Pack
This soft yet durable ice boot works wonderfully to provide cooling relief to your horse. At an affordable price, they are a great solution to keep handy in case of an injury.
The strong Velcro allows you to provide a secure fit where you can control the amount of compression.
The large ice pack is one size fits all, which is convenient for using on any horse. With insulated gel packs, it remains soft and cold while on your horse.
What's to Love?
Soft and durable, with insulated gel packs
Strong Velcro for a custom fit
Affordable and fits any horse
WORLD-BIO Cooling Wrap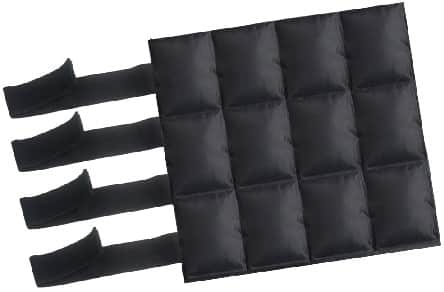 This versatile ice boot is designed to be used cold or hot, depending on your needs. The insulated frozen gel pockets keep the boots colder for longer to provide comforting relief.
With a smooth nylon lining and fabric wrap, your horse's skin will be protected while still receiving the benefits of cold therapy. There are four elastic extended hook straps so you can easily adjust it to the right pressure on your horse.
At a great price, this boot is safe and flexible for just the right fit.
What's to Love?
Can be used hot or cold
Insulated gel packs are flexible and soft
Affordable and keeps your horse protected while providing alleviation
FAQs
Why Do You Ice a Horse's Leg?
Ice boots for horses can be used post-workout for muscle relief, to treat acute injuries, help with arthritis, and help with surgery recovery. When applied to a horse's leg, the coldness works to soothe and reduce inflammation.
Can Ice Boots be Used on Front and Back Legs?
Yes, ice boots can be used on both a horse's front and back legs.
How Long is it Recommended to Leave Ice Boots on Horses?
It is recommended to leave ice boot on for 15-20 minutes at a time.
What Happens if you Ice a Horse Too Long?
Since ice constricts blood flow, leaving it on for too long can reduce the blood flow in the area which can slow the healing process when reduced too long.