Our readers support us. This post may contain affiliate links. We earn from qualifying purchases. Learn More
To become a horse jockey, there are several requirements a person must meet. Out of all the factors that play a role in becoming a jockey, weight and height are among the most important. How big are jockeys?
Jockeys are on average between 4' 10" to 5' 6" tall and weigh between 108 to 118 pounds. The average jockey is approximately 5' 2" and weighs 113 pounds. Though there are no height limits for jockeys, most jockeys are short due to weight limits that vary by race.
To thrive in the sport, jockeys often must have a petite build compared to the average person. In order to keep their weight low, jockeys often turn to unhealthy habits such as laxatives and skipping meals. They must maintain their weight while also being fit enough to keep up with the physical demands of horse racing.
Why the Size of a Jockey Matters in Horse Racing
The weight of a jockey plays an impact on the horse they are riding. The less weight racehorses have to carry, the lighter their workload, allowing them to go faster.
At every race, the racing commission assigns an amount of weight a horse must carry. In most cases, the minimum weight is between 115-116 pounds and a maximum of 125-127 pounds. If the jockey does not weigh enough, weights will be added to the saddle pad or a special weighted saddle pad will be used.
Oftentimes, trainers will prefer to use a jockey that is as close as possible to the assigned weight. Many believe a horse has an easier time carrying the weight of a well balanced rider than weights added to a saddle pad.
Prior to every horse race, a jockey will be weighed with their equipment. Generally, their equipment weighs about seven pounds. If they do not meet the weight requirements, weights are then added. On the other hand, if they are over the weight limit, they can't race.
Weight Requirement for a Jockey in the Kentucky Derby
The maximum weight a horse can carry at the Kentucky Derby is 126 pounds. With the weight of equipment being seven pounds, the rider must weigh no more than 119 pounds.
Weighing in and Weighing Out
To ensure all horses are carrying the proper amount of weight, jockeys will be weighed right before the race with their equipment. If needed, the additional weights will be added from there.
After jockeys are weighed out, they hand their equipment to the handlers and the horses are tacked up. Once the race is over, jockeys will be weighed in to make sure that they did indeed race at the required weight.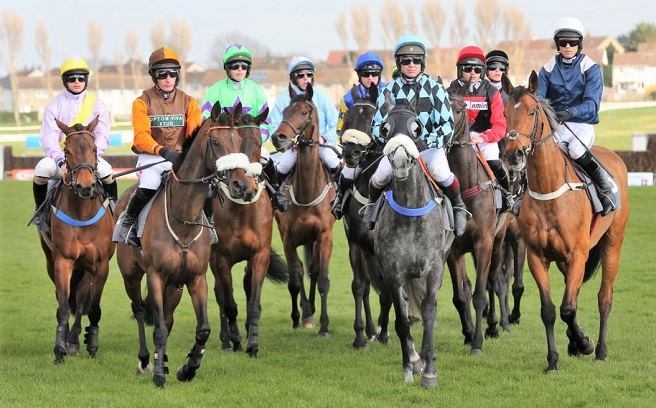 Weight Requirements for Flat vs Steeplechase Races
Generally, steeplechase jockeys weigh more than jockeys that compete in flat races. On average, a steeplechase jockey weighs about 135-140 pounds.
Steeplechase jockeys typically aren't as short as flat race jockeys. In some cases, the weight minimum for a steeplechase jockey is 135 pounds. Just as in flat racing, weights may be added in order for the jockey to meet the weight requirements.
The reason why the weight requirement is higher for steeplechase jockeys is that the additional weight allows for a better tempo for racing over obstacles. Though speed is important in a steeplechase, a horse must be able to safely clear all jumps.
Also read: How Much Do Jockeys Make?
Methods Jockeys Use to Retain a Low Weight
Most jockeys are short, around 5' to 5' 3". At this height, jockeys are able to keep their weight low while still being athletic enough to compete.
Over the years, jockeys have developed different methods to keep their weight low, most of which are unhealthy. One of the most popular methods jockeys used to use to maintain their weight was "flipping" a term used for vomiting. Jockey rooms used to have flip bowls to encourage the practice, but over the years these bowls have been removed.
In a study by the Chicago Rehabilitation Institute, 69% of jockeys skip meals in order to sustain the weight requirements. Another common practice is for riders to sweat in saunas prior to racing to reduce water weight.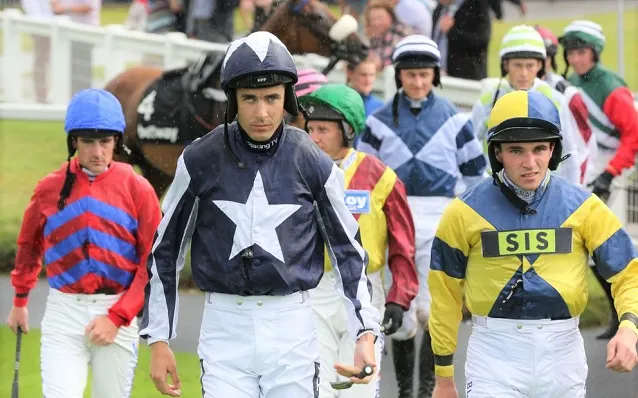 Some jockeys even use laxatives as a way to induce bowel movements to lose weight quickly. Diet pills are another common method as well as excessive exercise in sweatsuits.
These methods for retaining a low weight can bring on a plethora of health problems. Some jockeys may develop nutritional deficiencies, tooth erosion, and dehydration.
In recent years, jockeys have urged officials to make higher weight restrictions in order to live a healthier life. Over the years, minimum weights have slowly gone up 3-4 pounds to be 115 or 116 pounds. Jockeys are still pushing for this number to go up to at least 118 pounds.
In a sport where being short gives you an advantage, there have still been a handful of tall jockeys. Though it is unlikely you will see a rider taller than 5' 7" at a racetrack, they do exist.
Though jockeys often weigh between 108-118 pounds, exercise riders generally weigh more. The average exercise rider weighs between 130-150 pounds.
Also read: 12 Most Famous Racehorses in History
Who Are the Tallest Horse Jockeys?
The tallest jockey ever was Australian Stuart Brown who stood at nearly 6' 3" (190.5 cm) and weighed just 137 pounds (62.1 kg). He won over 200 races in his career and in addition to competing with Thoroughbreds, he also raced camels.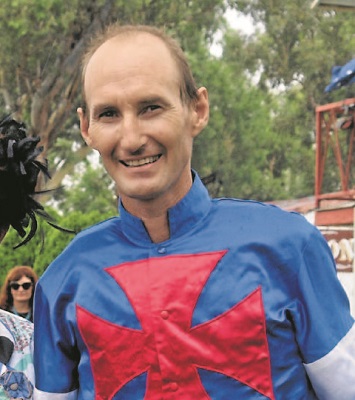 Sadly, Brown passed away at just 43 years old in 2015. His mother believes the fact he would starve himself for riding played a role in his death.
Bruce Hobbs is the tallest jockey ever to win the Grand National, as he stood at 6' 1". In addition to being the tallest rider to win this prestigious race, he was also the youngest rider at just 17 years old. He won in 1938 riding Battleship, a son of Man o' War.
Louise Moeller is the tallest female jockey to ever race at 6' 1". Born in Denmark, Moeller began her professional career in the United States in 2003. To her name, she has over 500 starts and over 70 wins.
Though he wasn't a professional jockey, NBA player Manute Bol is the tallest person ever to compete in a horse race. Coming in at an incredible 7' 7", Bol raced at Hoosier Park in Indiana as part of a charity event in 2003.
Tallest Professional Horse Jockeys
Stuart Brown (6' 3")
Bruce Hobbs (6' 1")
Louise Moeller (6' 1")
Also read: 10 Most Famous Jockeys in History
Who Are the Smallest Horse Jockeys?
The shortest jockey on record is Kenneth Glover, who 4' (122 cm) tall. In 1953, at just 15 years old, Glover of Harrogate, Yorks competed at his first race.
Glover was an avid lover of horses and got noticed by trainer Harold Storey. Storey then invited Glover to race at Catterick and Ripon.
William Klinke, also known as Little Colonel, is just 4' 3", making him one of the shortest jockeys ever. Klinke began his racing career in 1983 and won over 1,000 races. His career highlights include winning the Rockingham Stake, Columbus Day Handicap, and Egret Stakes.
The shortest professional female jockey in America is Julie Krone. Krone stands at just 4' 10" and is the first female jockey to be inducted into the National Racing Hall of Fame. Krone became the first woman to win a Triple Crown race after winning the Belmont Stakes in 1995. She is also the first female jockey to win a Breeders' Cup race.
Smallest Horse Jockeys:
Kenneth Glover (4')
William Klinke (4' 3")
Julie Krone (4' 10")
Also read: 12 Most Famous Female Jockeys