This post may contain affiliate links. We earn from qualifying purchases. Learn More
Choosing the right water trough for your horse is essential in ensuring their optimal health and hydration. With numerous types, sizes, and materials available on the market, the selection process can seem daunting.
However, the perfect horse water trough can significantly enhance the care of your equine companions by providing them a reliable, clean water source.
In this article, we have rounded up the best horse water troughs available to help make your decision easier.
Whether you are catering to a single horse or an entire stable, our curated selection aims to address a variety of needs, balancing durability, ease of use, and budget.
Best Horse Water Troughs
1. Rubbermaid Commercial Livestock Water Tank
This large trough is ideal for big pastures that have several horses in them. It is durable enough to withstand harsh weather and climates, along with playful horses without breaking or cracking.
With the capability to hold up to 150 gallons of water, this hardy trough is made from seamless structural foam construction. More than one horse can drink at once and it can last several days without needing to be refilled. For convenience, there is an oversized drain plug kit to allow for easy draining and cleaning.
2. Little Giant Float Controlled Automatic Watering Trough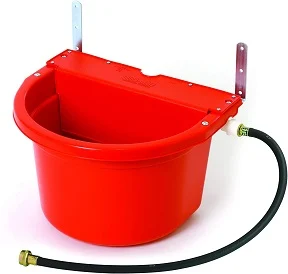 This waterer operates off a float-controlled refill feature that automatically refills when the water levels get low. It connects to a standard 3/4 inch garden hose, for an easy and convenient setup.
This waterer holds up to four gallons of water at once, which is ideal for small paddocks. The waterer includes metal brackets for over-the-fence or on-the-wall installation, so in addition to using it outside, it can also be used in a stall. It also comes with 30 inches of hose with a female hose attachment. The automatic feature gives you peace of mind that your horse always has access to water 24/7.
3. Harris Farms Water Trough for Horses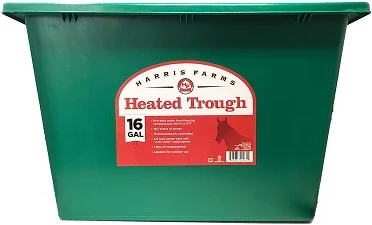 This heated water trough is a must-have if you live in an area with freezing cold temperatures during winter. It operates with thermostat control, preventing water from freezing all the way down to 0 degrees Fahrenheit.
Safe for both indoor and outdoor, this trough has a 6.5-foot power cord with an anti-chew metal spring. With 125 watts of power, this durable trough is built to last. It features measuring units in both liters and gallons so you can easily track how much your horse is drinking. It can hold up to 16 gallons, so it can be used in small or medium paddocks.
4. Behlen Country Oval Water Stock Tank
Built with superior performance and long-lasting durability, this sturdy tank is ideal for any weather or climate. The molded-in rim allows for easy handling, which is great for moving, dumping, and filling.
In addition to being used as a water trough, it can also be used as a hay tub or storage bin. Its oval design eliminates corner stress. With the ability to hold up to 15 gallons of water, it is fitting for small or medium pastures.
5. Tuff Stuff Oval Water Tank for Livestock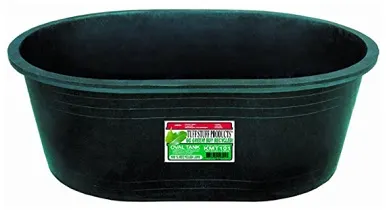 This heavy-duty oval tank holds up to 40 gallons of water, which is great for medium-sized pastures. The impact-resistant design allows it to hold up in tough weather conditions, as well as against horses that paw and splash in the trough.
This tank is built with LDPE flexible plastic which gives a rubber-like quality. It is made entirely from recycled products, so you can go green while getting a quality trough. It is roomy enough for two horses to drink from it at once and light enough to easily dump when it is time to clean.
Things to Look for When Buying Horse Water Troughs
Before you buy a water trough for your horses, there are a few things you need to take into consideration. You should consider factors such as size, style, and material. In addition, if you live in a cold climate, you will want to consider getting a water heater to prevent the trough from freezing over.
Size: Water troughs can come in several different sizes. If you have a large pasture with several horses in it, you will want a large trough, such as one that can hold 100-150 gallons. For a small pasture with only 1-2 horses, something like an 18-gallon trough is more appropriate.
Style: Most troughs are oval in shape and are designed to be placed on the ground. Others are designed to be mounted on fences.
Material: Troughs should be made out of a durable material such as rubber or plastic in order to withstand the elements.
Heaters: Heaters can be a beneficial addition to troughs in winter. They keep the water from freezing over, so horses can continue to drink from the trough. If you have cold winters where you live, water heaters can save you the pain of having to break ice.
How Do You Clean a Horse Water Trough?
It is important to regularly clean horse water troughs to give your horses access to fresh, clean water. To clean the trough, you will want to dump out all the water and use a sturdy hard wire brush to scrub it.
After scrubbing, add a solution that is one part bleach and nine parts water. The bleach will kill off any bacteria or algae that has built up. After cleaning it with the bleach water solution, rinse the trough two times. Then, wait at least an hour before filling it with water.
Why Do They Put Goldfish in Horse Troughs?
People keep goldfish in horse water troughs to eat algae and mosquito larvae. However, in order to keep goldfish in your fish tank, you must have the right environment.
Since goldfish can grow large in size, you should keep no more than two in a trough, that is 55 gallons. They need the temperature to at least 60° Fahrenheit in order to survive. They should only be fed a small amount, if any, fish food in order to encourage them to eat algae and larvae.
How Often Should You Clean a Horse Water Trough?
You should clean horse water troughs on a regular basis to ensure the water is fresh and safe. Ideally, in the summertime, when there are algae and bugs to worry about, you should clean the trough once a week.
To help prevent algae growth, set the trough in a shady area. In fall and winter, you should still clean your trough, but it doesn't necessarily have to be every week. In colder months, it is best to try to clean it 1-2 times a month when possible.