Our readers support us. This post may contain affiliate links. We earn from qualifying purchases. Learn More
Most equestrians would love to spend all day at the barn, but unfortunately, that is not possible. Luckily, there are some great horse tv shows you can turn on after a long day of riding.
Full of everything from romance, drama, suspense, friendship, family, and of course horses, these TV shows are great for binge-watching. So kick off your boots, invite over your barn buddies and grab some popcorn for a night of horse-themed entertainment.
Here are 8 the best horse TV shows out now:
Heartland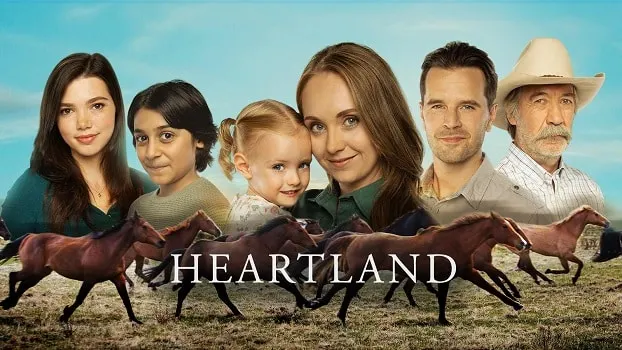 Based on the beloved book series, Heartland features horse whisperer Amy Fleming as she discovers her ability to work with horses after the tragic accident that took her mother. Throughout the show, Fleming, along with her friends and family, work with troubled horses to find them new homes.
The show deals with love, loss, family, ranch life, and of course, horses throughout its 13 seasons. It is a family-friendly show that everyone can enjoy. You can watch this popular horse TV show on Netflix, here on Amazon Prime Video, and CBS.
Read our ultimate Heartland TV show guide to learn interesting facts about the series. We also have fun guides on each of the main Heartland actors and characters!
Free Rein
When 15-year-old Zoe travels from Los Angeles to the island off the coast of England her mother grew up at, she wasn't expecting to meet a horse on the beach. Her summer vacation takes a unique turn as she develops a bond with the horse she met, named Raven.
Zoe spends her time riding at the local stable and going on adventures with her new friends.
In addition to beautiful horses, the show includes friendship, drama, and suspense. Free Rein is a fun show to watch for horse lovers of all ages and the three seasons are available on Netflix.
Wildfire
After serving time at a detention center for teens, Kris Furillo is given the chance to start things over at a local, family-run ranch called Raintree. While there, Furillo bonds with a special horse named Wildfire, that went from being rescued from a slaughterhouse to a champion racehorse.
While working at Raintree, Furillo deals with the challenges of fitting in, as well as romantic relationships, all well working with horses. Wildfire is appropriate for those over the age of thirteen and the four seasons can be watched here on Amazon Prime Video.
Ride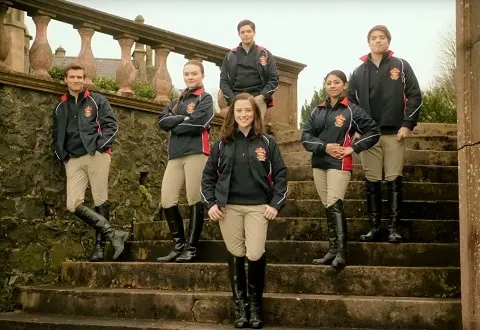 After moving to England, Kit Bridges faces the challenges of not only adjusting to a new country but also attending an elite equestrian boarding school called Covington Academy. While at school, Bridges overcomes her fear of horseback riding and becomes friends with the school's most wild and stubborn horse, TK.
As she gets over her fear of riding, Bridges gains confidence working with TK, all while adjusting to her new life. With friendship, drama, and horses, this show is great for people of all ages. Ride can be watched here on Amazon Prime Video and Nickelodeon.
Spirit Riding Free
Based on the beloved Spirit movie, Spirit Riding Free follows former city girl Lucy as she forms a strong bond with Spirit the horse in a small western town. While finding freedom in horses, Lucy creates new friendships and makes memories that will last forever.
This fun-filled show is a great horse TV show for young horse lovers, as well as the older ones too. All eight seasons are available on Netflix. Also, find the DVD for the first 4 seasons here on Amazon.
Mister Ed
An American classic, Mister Ed is a talking horse owned by Wilbur Post. Since Mister Ed only talks to his owner, it leads to many comedic situations, as no one else knows of the beautiful palomino's talent.
If you are looking for a nostalgic horse TV show, this is the perfect show for you. It will make everyone in the family laugh and fall in love with the beautiful Mister Ed throughout the six seasons. See Mister Ed here on Amazon Prime Video.
Also read: 6 Secrets Behind Mister Ed Revealed
The Saddle Club
A classic show many equestrians grew up on, The Saddle Club follows three young girls who share a passion for horses. Lisa, Carole, and Stevie spend their time at Pine Hollow Stables riding horses and training for shows, all while dealing with their rival Veronica DiAngelo.
With friendship, drama, and horseback riding, the three friends share many adventures together. People of all ages love this classic equestrian TV series. The three seasons are available to watch on Amazon Prime Video here.
The Adventures of Black Beauty
Based on the well-loved book, The Adventures of Black Beauty is a continuation of the timeless story. Black Beauty, a stunning black Thoroughbred mare, is adopted by James Gordon's household.
Gordon's daughters quickly fall in love with the beautiful mare and every week are involved in a new adventure, with all sorts of characters. This horse TV show is appropriate for the entire family, with people of all ages adoring it. Both seasons are available here on Amazon Prime Video.