Our readers support us. This post may contain affiliate links. We earn from qualifying purchases. Learn More
At one point or another, you'll likely be in need of horse transport if you are a horse owner. There are several reasons you may need to haul your horse, such as selling or buying, shows, trail rides and vet appointments.
However, owning your own trailer or horsebox is a large investment. For some people, it may pay off, but for others, there are more practical options. In addition, some people don't feel comfortable hauling their own horses, whether with their trailer or trailer rental.
What Much Does it Cost to Transport a Horse?
There are many factors that can affect the price of horse transport. The type of vehicle, location, distance, gas prices and even type of horse can affect the cost.
Many websites will not provide you with prices and you have to send in a quote in order to find out what you will pay. You will provide information of where your horse is and where he needs to be hauled to, your horse's gender, age, breed and desired dates of hauling.
When working with an individual, barn or professional transport for hauling, most will charge by the mile and will often include a fee to cover any stops needed. For distances under 100 miles, the average cost is $2.25 a mile. For under 1,000 miles, the average cost is between $1.10- $1.25 a mile.
This cost is often figured out by the type of vehicle and trailer, tolls, gas prices and maintenance. Once the costs are figured out as well as the average mileage a transporter drives in the year, the costs are broken down by mile. You can also expect to pay more per mile over shorter distances.
Horseboxes and horse trailers are popular to hire for those living in the UK. Quotes are needed to find the price of transporting when working with a business. However, many charge 75p a mile for long distances and £1 per mile for short distances.
Horse Transport Options
Fortunately, there are some options available for those who don't own a horse trailer or horsebox. Renting can be a great option for some, but you are liable for the trailer or horsebox while it is in your possession.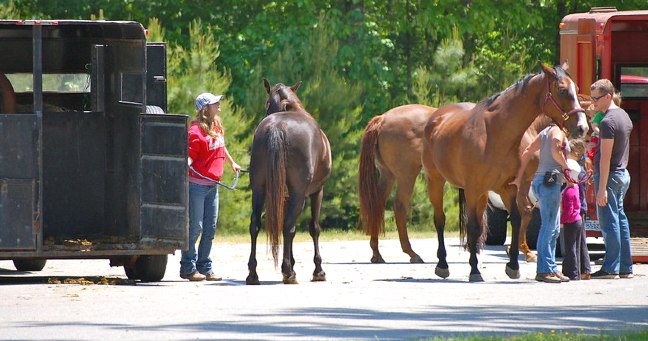 Transport services are readily available where you hire someone to haul your horse. Not only do they provide the transportation, but they will also haul your horse for you. It is a hassle-free way to transport your beloved equine.
There are professional transport services that often offer hauling nationwide. In addition, some people or barns will offer up their own trailers for hauling or even offer transport if they have an open spot in their trailer while traveling.
Finding a Company to Transport My Horse
When finding a company to transport your horse, there are some factors you should look for. You want to make sure the company you choose is reliable and accredited.
The best way to find a good company in your area is to look up horse transport companies on google. Research multiple sites to see what each company has to offer. Read reviews of what customers have to say and find out their policies.
Even if a transport company isn't located close to you, they still may be able to haul your horses. Many companies have weekly routes and can pick up and drop off horses along the way.
Be sure that you choose a reputable business. They should be qualified and have all the proper licenses and insurance. A good company will also require their drivers to have horse experience, Class A CDL (if applicable) and a clean record free of any reckless driving.
Many reputable haulers even provided GPS tracking or will send updates while on the road. A good company always makes sure your horse is comfortable and safe, and is provided with water every 4-5 hours.
Horse Transport Tips
For many people, hiring a horse transport company can be a great option to meet their hauling needs. When done right, it is typically a stress-free process.
Just be certain to always make sure that your horse has its coggins and health certificate when traveling. You want to also check to see if you need to provide hay or if the hauler will. You should always include any medications your horse may need and label all your supplies.
Ride Shares
One of the great things about Facebook is ride share group pages. In these groups, people can post if they are in search of transportation or if they have a spot available on their trailer or horsebox.
Joining these groups allows you to organise with others to get your horse from point A to point B. You are able to connect with people who have openings in their trailer and are able to include your destinations in their trip.
Transport companies will also often post openings they may have. It is not uncommon for them to have open spots and they can generally add in stops that are along their routes. They may also have empty spots on their return, which sometimes you can take advantage of at a discounted price.
These pages are often monitored by admin to ensure only legitimate offers are made. Some may share suggested prices for haulers to charge based on gas and mileage. Often it is up to the hauler to determine the price for transportation. You can post in these groups to get quotes to help determine what the best option for you would be.
Facebook Horse Transport Groups
Facebook is a great place to look up transportation companies. You'll find honest reviews from customers and get up to date information.
It is also convenient for asking questions and for advice. Most companies are active on Facebook and will respond within a few hours to your inquiries. You'll also be able to find out business hours, contact information, services offered and access their website.
Here are some of the top transport groups on Facebook for the U.S. and U.K. that connect horse owners with transportation.
HORSE TRANSPORT CONNECT- Hauling, Shipping, Transportation
Designed for people all across America, this Facebook page connects horse owners with haulers. Those who are in need of transport and those who have trailer spots are able to post.
The admins make guidelines that all members must follow in order to ensure reliable transportation. They include information on finding a trusty hauler and break down the factors that can contribute to the price one will charge for hauling. They suggest one can expect to pay around $1.25 per mile, with potential additional fees. However, most people determine prices by personal messages.
Hitch Your Horse a Ride
This exclusive Facebook group was created to help people in America find transportation for their horses. Members must follow the rules set in place in order to stay in the group to ensure only legitimate transport posts.
Those looking for transport and those with available trailer spots are able to post. The posts are carefully monitored to make sure no one gets scammed. All prices and negotiations are done through personal messages to ensure privacy.
Find the group here: https://www.facebook.com/groups/264407550241170/
Get Horse Transport Quotes UK
This UK based Facebook group is designed to bring horse transporters and those looking for horse transport together. They strongly encourage the use of professional, authorized and insured transporters.
The admin closely monitors the page to make sure no illegal horse transporters can post. Owners can work with the transporters to determine the price of hauling and get quotes.
Find the group here: https://www.facebook.com/groups/Horsetransport/
Horse Transport Uk
For horse owners in the UK, this Facebook page connects horse owners with transporters. They ensure all transporters are 100% legal so you can rest assured you are working with only reliable haulers.
Those in need of hauling are able to post to find transportation. The group is by a horse transportation company, so you know they are credible to work with.
Find the group here: https://www.facebook.com/groups/710768749042663/
Also read:
Horsebox Hire & Rental Guide