Our readers support us. This post may contain affiliate links. We earn from qualifying purchases. Learn More
Riding lessons is how many people start their journey with horses. However, there is much more to this hobby than just learning to ride.
A certain level of theoretical knowledge must be acquired to ensure both ourselves and our horses' health and safety.
After you've learned the basics of how to care for a horse, you might want to expand your knowledge into other areas.
There are educational horse books on just about any topic you can think of, from improving your riding to training your horse in a particular discipline, equine first aid, or poisonous plants.
The high-quality horse training books on this list contain fascinating information on various aspects of the equestrian world.
Here are the 14 best horse training and educational books!
The Manual of Horsemanship – A British Pony Club publication
The Manual of Horsemanship has been in print for over half a century and is as relevant today as it ever was. A worldwide bestseller with 13 editions has helped countless horse lovers get started on their equestrian journey.
There is so much relevant information in this one educational horse book, whether you want to learn how to keep a pony, pass examinations, or learn good horse care. It also has sections covering how to ride well and train your horse or pony to form a great partnership.
Essentially a textbook for horse lovers, the manual is a must-have on every equestrian's shelf!
Posture and Performance by Gillian Higgins
Posture and Performance is a highly educational textbook for horse riders looking to learn useful training secrets. The author Gillian Higgins is an anatomical artist who paints on live horses to demonstrate her principles.
The book is richly illustrated with photographs of painted horses carrying out various training exercises. The content is based on the principle that understanding basic anatomy improves performance and reduces injury risk.
The guide contains fascinating information on skeletal maturity and tips on how to improve back posture in horses and reduce the strain on ligaments. It is also packed with practical exercises to increase core stability and suppleness.
Twisted Truths of Modern Dressage by Philippe Karl
This enlightening publication of a renowned dressage horse trainer reveals the untold truths of the modern dressage circuit. This horse riding and training book also contains useful training exercises for both groundwork and ridden work.
Philippe Karl is one of the loudest critics of the German Horse Society's official dressage guidelines. He points out how elite competition judges often prefer false collections and rollkur to correct classical dressage.
The author also offers solutions to these issues from the philosophies of classical dressage masters such as Baucher or La Gueriniere. Some of the key aspects discussed in the book are balance, straightness, lateral flexion, and the journey to true self-carriage.
Equitation Science by Paul McGreevy and Andrew McLean
Equitation Science is an educational horse book that every equestrian should take the time to study. The authors are Australian behavioral scientists who promote training methods that consider the horse's natural behavior and welfare.
The book explores and illustrates the horse's different behavioral patterns and how they interact with current training methods. The welfare consequences of English and Western riding and Natural Horsemanship are discussed in detail.
This dressage horse training book focuses on learning theory, which the authors believe should be the basis of every horse training program. They also explain the advantages of an evidence-based approach to horsemanship and how it can improve rider safety.
How to Think Like a Horse by Cherry Hill
Cherry Hill believes that taking the time to understand the way horses think is the secret to every great horse-human partnership. Her educational horse book "How to Think Like a Horse" will give you deep insights into the equine mind and suggest training exercises based on horse behavior.
The book delves into topics like what motivates horses to perform specific actions or the "flight or fight" instinct. You will also learn to avoid human teaching methods as they will only confuse the horse.
In the book, you will find some interesting experiments and exercises you can try with your horse. They all draw from the book's philosophy and get you started on a journey towards a happier and safer partnership.
Know Better to Do Better by Denny Emerson
This intriguing educational horse book is the work of gold medalist Denny Emerson, who has 70 years of experience as a horse rider.
Just like any other career, his has also been a learning curve, and there are many things he now wishes he had done differently.
In his book, Denny is eager to share his mistakes along the way for the public's benefit. He encourages readers to become more aware of their own actions while riding, training, and being with horses.
Denny elaborates on things like equipment, emotional control, rider fitness, and much more in bite-sized lessons. He emphasizes that it is never too late to change our way of doing things with horses.
Riding Fear Free by Laura Daley and Jennifer Becton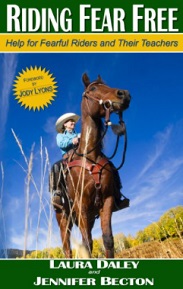 Riding Fear Free is an educational horse book dedicated to equestrians struggling to overcome their fear of riding. Its purpose is to aid you in your healing journey and help you become a confident rider again.
Without rambling pointlessly, the book gets straight to addressing the root of the problem: fear. You will learn techniques to become more conscious of the situation and rid yourself of irrational anxiety.
The exercises include rating your fear level, replacing fearful memories, and dealing with emotions. With the help of inspiring illustrations and professional advice, you will never have a scary ride again!
My Horse Riding Makeover by Elaine Heney
My Horse Riding Makeover focuses on the rider and how to turn bad riding habits into good ones. The book has an impressive panel of contributing experts from various fields of the equine industry.
Leading international horse trainers, chiropractors, equine dentists, and yoga teachers will help you achieve harmony and happiness with your horse. In just 10 simple lessons, the book will teach you habits and exercises to improve your riding skills.
You will learn different hacks to correct your posture, develop fitness, stay positive and communicate effectively with your horse. The book also gives you access to exclusive extras like videos, interviews, and bestselling books as a bonus.
Trail Riding by Rhonda Massingham Hart
Trail riding can seem daunting at first, especially if you or your horse are still inexperienced. This comprehensive trail riding book will equip you with the skills and knowledge you need to enjoy nature's beauty from the saddle safely.
You will find out how to choose the right trail horse and what gear and equipment you'll need. The book will also prepare you for the country's unexpected challenges, such as wildlife or rough terrain.
Trail riding can be a magical and fulfilling experience if done right. Having read this book, you are now ready to saddle up and explore the great outdoors with your horse.
Zen Mind Zen Horse by Allan J. Hamilton
The work of an award-winning author, this horse training book integrates Eastern philosophy and traditional training techniques. It explains how horses interact with the vital energy called chi and how we can use it to better communicate with them.
Being a horse trainer and neurosurgeon, Allan J. Hamilton might seem like he's living two separate lives. However, the truth is that horses affect every area of his life, which comes through in his writing.
The foreword, written by famous horse trainers Monty Roberts and Dr. Robert Miller, sets the tone for the rest of the book. Besides simple yet effective horse training techniques, the book also contains many entertaining anecdotes from the author's childhood.
The Basics of Western Riding by Charlene Strickland
This comprehensive textbook is your gateway to the world of Western riding! Written in a passionate style by veteran horse trainer Charlene Strickland, the book covers everything from basic horse handling to stylish riding outfits.
Following the step-by-step instructions, you will learn the necessary skills of Western riding in no time at all. The author has generously supplied plenty of advice on choosing the right horse and tack.
With the guide's knowledge up your sleeve, you can now set out on your first Western ride. With various disciplines and competitions out there, only the sky is the limit to what you can achieve!
Horsekeeping on a Small Acreage by Cherry Hill
Whether you're keeping your horse on your own land or in a boarding facility, this educational horse book can be an invaluable resource. Building on the basic horse needs, the manual expands into subjects like choosing the right land and designing your very own barn.
Cherry Hill has decades of experience in managing horses and seems to never run out of new ideas. Her bestselling book is jam-packed with practical information that will help maximize efficiency in your equine facility.
What's more, the book also includes useful plan drawings and checklists that you can use to design and organize your barn. Careful planning and implementation of management routines is the key to becoming a responsible horse keeper.
Feed Your Horse Like a Horse by Juliet M. Getty
Providing the correct nutrition to our horses can set them up for a happy and healthy life. Dr. Getty's educational horse book offers nutritional guidelines for horses of all ages and activity types.
In Part 1 of the manual, Dr. Getty explains the equine digestive system's basic physiology and how horses utilize nutrients. Part 2 presents specific recommendations for feeding horses in different life stages and conditions like laminitis or malnutrition.
Using the book, you will be able to formulate diets that match your horse's exact nutritional needs, regardless of your experience. You'll also learn how to prevent various diseases and help your horse perform the best he can.
How Your Horse Moves by Gillian Higgins
How Your Horse Moves is one of Gillian Higgins' bestselling horse training and educational books. It demonstrates how the interplay of muscles and bones create movement in the horse with the author's famous live paintings.
Other than displaying meaningful images, the book also has several practical applications. Using principles of anatomy and biomechanics will teach you how to bring the best out of your horse.
You will learn about the importance of warm-up and stretching in avoiding injuries with your horse. There are also practical exercises in the book for increasing your horse's strength, balance, and suppleness.
Also read, 14 best books for horse lovers.