Our readers support us. This post may contain affiliate links. We earn from qualifying purchases. Learn More
For many horse owners, owning a horse trailer is a large investment. However, having your own trailer is often worth it as it gives you the freedom to haul your horse whenever and wherever you need.
Not only is your horse trailer valuable, but so is all of your cargo inside. Just as you have insurance on your car, you should have insurance on your horse trailer.
Having horse trailer insurance will give you peace of mind whenever you travel with your beloved horse.
Do I Need Horse Trailer Insurance?
Since you can extend your auto policy to cover your trailer to cover liability, you technically don't need a seperate policy.
However, it is highly recommended that you get horse trailer insurance to cover damage to the trailer and equipment as well as protection from theft.
Whether you haul only your own horses, friends' horses or clients' horses, you will want a policy that will protect you from damages. Though it is terrible to think about, accidents can happen, so you want to be prepared in case disaster strikes.
Custom policies can be created to meet your needs and keep you safe while you haul.
Horse Trailer Insurance Cost
Though the price can vary significantly, most people pay around $350 a year for their insurance. There are several factors to take into account when it comes to the cost of your policy.
The make, model, value and storage of your trailer can contribute to how much you will pay. In addition, where you live, where you plan to haul to, the number of horses and value of your equipment will play a role in how much your policy will cost.
Just like with other insurance, your driving records, insurance company, claim history and deductibles will also contribute to your own policy.
Tips on Insuring Your Trailer
Finding the right insurance for your horse trailer can be stressful. However, these useful tips will help make the process smooth and allow you to choose what is right for you.
1. Include Coverage for The Contents Inside Your Trailer
If you are going to a show, you will likely have thousands of dollars worth of tack and equipment packed with you. Unfortunately, show grounds can be a target site for thieves and it is not uncommon for people to break into trailers.
Talk to your insurance agent about getting a policy that will protect the contents of your trailer from theft or damages. Covering your belongings is especially a good idea if you show, trail ride or haul long distances, as you park in public areas.
However, it is important to take note that this will only cover equipment in your trailer and not your horses. If you are worried, there are insurance policies you can get for your horse.
2. Find Out if Your Trailer is Covered for Roadside Assistance
Some insurance and many roadside assistance companies will tow your truck if you breakdown while hauling. However, roadside service does not always include towing your horse trailer.
Be sure to ask your insurance or roadside assistance agent if you can get your trailer covered for roadside service. Having horses stranded on the side of the interstate can be scary and stressful.
It's important to see if you can get your trailer towed if your vehicle breaks down so your horses are able to stay safe.
If your company doesn't cover the roadside assistance for hauling your horses, you can reach out to roadside assistance companies that specialize in horses.
3. Make Sure You Have Comprehensive and Collision Coverage
Your horse trailer is an expensive asset. If any damages occur from an accident or natural disaster, you want to make sure it is covered for the costs of the repairs needed.
Talk to your agent about adding comprehensive and collision coverage to your plan so you know that your trailer will be safe from damage and not just liability. If you are not able to add this onto your policy, you may want to look for another company.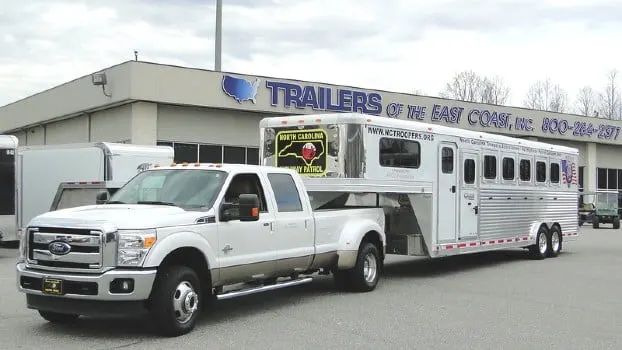 4. Keep Your Trailer Safe When You are Parked
Whether on your own property, at a boarding stable, park or show grounds, you will want to keep your trailer safe when it is parked. Some policies will add protection against damage from weather, fires and theft.
If you store your trailer on someone else's property, it may impact the amount of coverage you can get. In addition to insurance coverage, there are some steps to take on your to protect your trailer while it is not in use.
Be certain to always lock your hitch so no one can easily hook it to their vehicle and drive away. In case it does get stolen, contact your insurance company and the police right away to report it.
Have copies of your trailer registration, VIN number and insurance card, as well as photos of your trailer so you can prove your ownership.
5. Do Your Research Before Deciding
Before deciding on an insurance company and policy, do your research to see what is most fitting for you. Shop for quotes to see what is the best rate you can get and ask other horse owners for advice.
In addition to finding a good rate, you will want to find an agent who can work with you to get exactly what you need. Some agencies offer extensive coverage for horse trailers, so they are often a good choice to work with for your needs. Once you find an agent you want to work with, make sure to sit down and talk to them about what you are looking for.
Be sure to read over your policy thoroughly and ask your agent any questions you may have. Insurance can be confusing, so it is important to understand what your policy covers so you are prepared.
FAQs
Can't I Just Use My Auto Insurance?
Though you can get auto insurance to cover horse trailers for liability, most plans will not extend further than that. So if you are in an accident your auto policy can cover the damages to other people's property from your trailer. However, it will not cover any damages to your trailer so you will want to get a policy just for it to cover any expenses.
How Do You Insure a Horse Trailer?
If you are looking to insure, find an insurance company that offers comprehensive and collision coverage for your horse trailer. You want to find a company that will have a policy fitting for your needs and will work for you to create coverage for everything you need.
What Extra Expenses Can be Covered After a Covered Lost?
Some policies will cover extra expenses you may face after damage or an accident has occurred. This may include the cost of hauling, vet bills, lodging, boarding for your horse, lost tack and even deductibles. Ask your insurance company on what expenses may be included in your plan.
Also read: