This post may contain affiliate links. We earn from qualifying purchases. Learn More
Owning a horse trailer is often common for many equestrians. It gives you the freedom to haul your horse whenever and wherever you need to.
However, with so many different horse trailer brands and styles, it can be difficult to know what one is right for you. Some designs may be more fitting for your needs than others, so it is important to explore your options.
1. Sundowner
Website: www.sundownertrailer.com
A leader in the horse trailer industry, Sundowner produces top-quality bumper pulls and goosenecks. They even offer custom designs to meet your specific needs that will last for years.
All of them are designed with the comfort of equines in mind and can include luxurious living quarters for people. With durable aluminum construction, padded dividers, floor mats and proper airflow, among other features, your horse will be safe and happy.
Sundowner are even the official horse trailer of the American Quarter Horse Association thanks to their high-quality designs.
2. Featherlite
Website: www.fthr.com
Whether you want a bumper pull, gooseneck, living quarters, or custom design, Featherlite has you covered. They value convenience and comfort for you and your horse in all their builds.
With safety as their top priority, they feature cushioned rubber mats, slam latch dividers, and drop-down feed doors for ventilation. With durable aluminum construction and aerodynamic designs, they are built to last. Made with equestrians in mind, they provide a smooth, secure, fuel-efficient ride.
3. 4 Star
Website: www.4startrailers.com
One of the top brands among horse owners, 4 Star delivers quality and safety with every model. Their bumper pulls and goosenecks are built with careful attention to detail for the comfort of your horse.
Floor mats, rubber walls, butt bars, and tack storage are among the many features they have to offer. You can even get deluxe living quarters built to meet your specific needs, with the ability to upgrade features if desired. The all-aluminum construction ensures durability and fuel efficiency on the road.
4. Trails West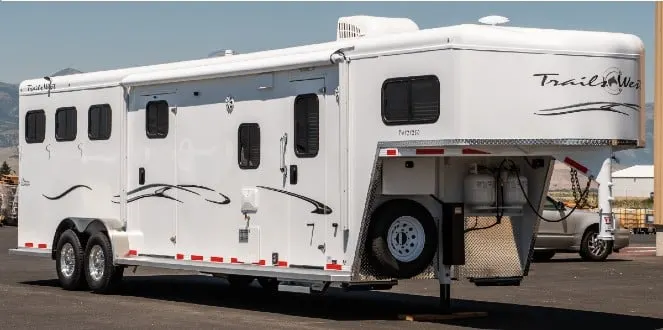 Website: www.trailswesttrailers.com
Designed to last a lifetime, Trails West offers a variety of horse trailer styles to meet your needs. Safe and stylish, your horse will have a pleasant ride.
With a solid steel chassis and aluminum body, each one is constructed to withstand tough conditions. The unique mat-covered wood floors are designed to prevent heat transfer from hot roads. You can choose from a variety of different features to meet the specific needs of you and your horse.
5. CM
Website: www.cmtrailers.com
If you are looking for an economical and durable trailer, CM is a great choice for you. They provide quality construction on all their models, with lightweight, aluminum builds.
Every build is created with the safety of horses in mind. Different features can be added to create the trailer you need, whether it's a roomy tack room or drop feed doors. The dependable designs are meant to last for years to come.
6. Exiss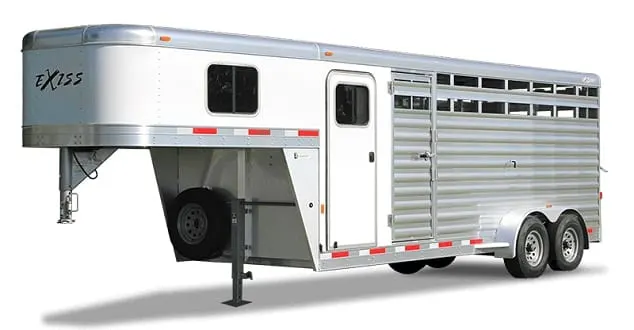 Website: www.exiss.com
Designed with all equestrians in mind, Exiss provides quality trailers at an affordable price. They offer a wide variety of designs, all with long-lasting aluminum builds.
Whether you just need a two-horse bumper pull or a gooseneck with living quarters, they can make your dream trailer reality. They build every model with safety as the priority.
Along with Featherlite, they are a part of the Universal Trailer Corporation, so you can rest assured you are getting an excellent product.
7. Titan
Website: www.titantrailer.com
Well known for their durable, long-lasting builds, Titan is a popular choice among many equestrians. They offer a wide variety of designs to meet your hauling needs.
The comfort and safety of equines is put into every build. You can choose from an array of add-ons, like AC, rear tack space and stud gates. The hardy yet comfortable construction will give you peace of mind your beloved horse is protected while you travel.
8. Merhow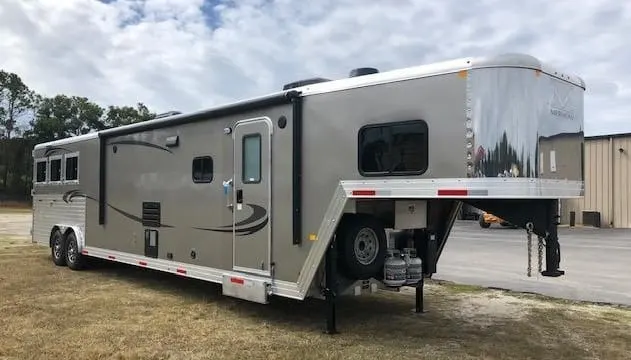 Website: www.merhow.com
With a wide array of models, Merhow is a leader in the horse trailer industry. For 65 years they have focused on providing equestrians with strong, trustworthy trailers.
With every build, they put safety and durability first. The all-aluminum builds can withstand years of wear out on the roads. They include a wide variety of features, all with the comfort and safety of your horse in mind.
9. Cimarron
Website: www.cimarrontrailers.com
No matter what you are looking for in a trailer, Cimarron has you covered. They are hardy, safe and built to keep you and your equine happy.
With the ability to choose from different add-ons, you can create your dream design. Whether you need living quarters, padded dividers, or a hay lift, they have tons of custom features you can select from. The sturdy aluminum build of their bumper pulls and goosenecks allows them to last for years.
10. Hawk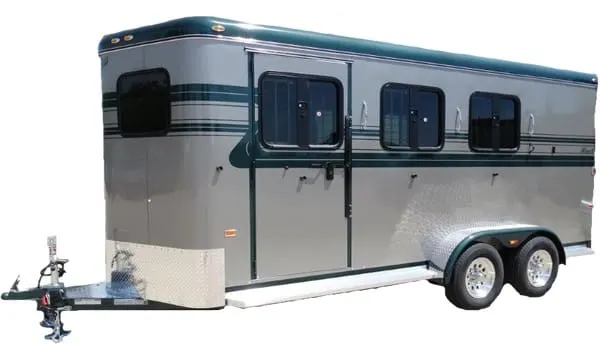 Website: www.hawktrailers.com
At Hawk, their sole purpose is to produce only the finest horse trailers. With design driven attention to detail, each model is carefully constructed.
With galvanized steel frame designs on all their trailers, your equine will be protected and secure while being hauled. Customization is a top priority of theirs, as they want what is best for everyone. If you are wanting kick wall pads, roof vents, or even living quarters, they have you covered.
Also read: