This post may contain affiliate links. We earn from qualifying purchases. Learn More
As tattoos become more mainstream, equestrians are drawing inspiration from the barn for their new artwork. Many horse owners have small equine-themed tattoos such as bits, spurs, or horseshoes. Others have opted for entire horse portraits!
But it's not just horse lovers getting these amazing works of art! Horse tattoos and symbols can hold multiple meanings.
Horse tattoos symbolize freedom and strength, characteristic traits of a horse. Other horse tattoo meanings are bravery, grace, beauty, and companionship. Other horse tattoos such as a black horse represent death and a white horse represents nobility.
Celtic horses represent sacredness, while flaming horses show free will and inner strength. Winged mythical horses are often thought to represent free spirits and creativity, while tribal horses show a spiritual connection.
Find out more about what horses mean in our horse meaning and symbolism guide.
Here are 20 amazing horse tattoos ideas:
1. Colorful Horse Leg Tattoo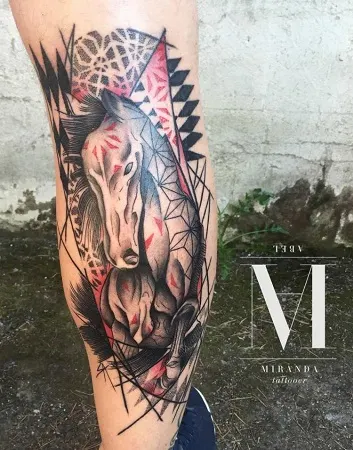 This stunning piece by Abel Miranda utilizes multiple tattooing styles for a stunning finished product. Hard black lines with soft shading will stand the test of time.
This masterpiece incorporates splashes of red and solid black geometric pieces for a trash-polka feel. The linework is complimented by sweeping shades of grey and black with stippled pattern work.
The geometric pattern and unique eyes on the horse create a perfect balance of realism and neo-traditional.
2. Horse & Human Connection
This is a little different from the rest, but this piece by Sergio Vila Rivero captures the emotion of man and horse in such a simple horse tattoo.
3. Colorful Horse Tribal Tattoo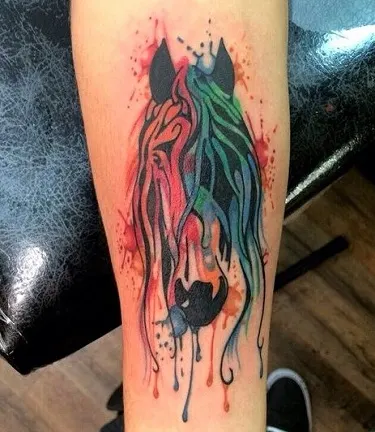 This abstract watercolor piece is executed beautifully. Although watercolor-style tattoos are extremely trendy, the use of these shaded non-traditional contrasting colors dulls quickly. This artist used bold black lines to create the horse "base".
This linework is proven to withstand the test of time and hold shape on aging skin. The splashes of watercolor add a bright and fun touch, and will not compromise the overall tattoo if/when the colors begin to fade.
The horse's face is also split with cool and warm colors, creating an intensified contrast to heighten the color's impact.
4. Tribal Horse on the Arm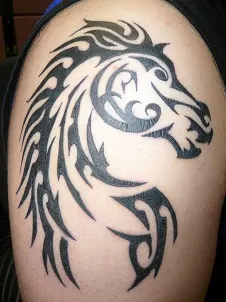 Here is a great tribal horse tattoo that takes up one side of the upper arm beneath the should. Great design that still shows off many equine anatomy features such as the mane, mouth, eyes, and neck.
5. Realistic Horse Face Design
Russian artist Giena Revess tattooed this stunning horse in-bridle. Although Giena specializes in fur textures of animals, this horse has to be one of the most detailed tack pieces we've seen!
It is hard to notice much more past the prominent upright clipped ears, soft detailed eyes, and white-to-pink facial blaze. But further inspection reveals tiny (and accurate) details of a blingy dressage bridle and double Weymouth.
No detail is left out, including buckles on the cheek pieces, a contoured cavesson, and a padded crown piece.
6. Running black Horse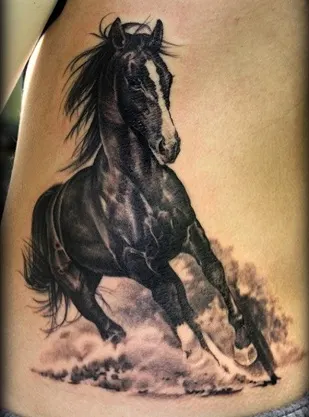 Beautiful but complex black running horse tattoo design on a woman's side.
7. Unique Horse Tattoo Design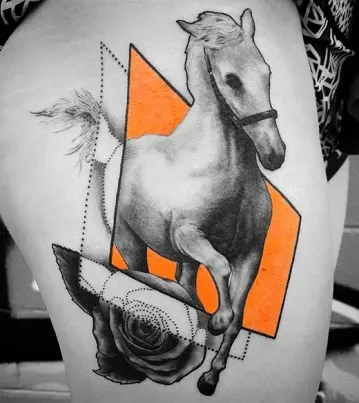 Denver based artist Alix tattooed this funky and exceptionally unique horse and rose tattoo. The combination of illustrative and realism creates a drop-dead gorgeous work of art.
As discussed in previous posts, the soft and realistic shading of this horse is sharpened on the external "exposed" edges with a black line to maintain shape and beauty over time, while the interior is true to the realism genre. The tattoo is portrayed in layers, each one unique.
We love the bright pop of orange in conjunction with this black and grey theme. What a cool and unusual tattoo from Certified Tattoo Studios!
8. Leaf & Branch Black Horse Tattoo
This is just one example of popular line-only horse tattoos for women. Although the artist is unknown for this piece, we love the simplicity of the design and execution of the horse's key curvature. Solid line tattoos are a popular choice, and we are seeing more of these chic cut-off animal portraits.
A partial face and no legs, this slightly abstract horse holds key components to clearly identify the species while incorporating floral and lotus designs within.
9. Beautiful Horse & Dog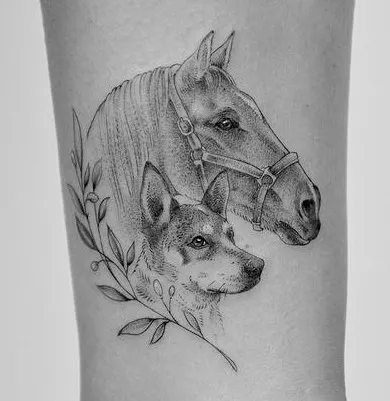 A petite and stunning portrait of Man's two best friends:
10. Tribal Horse Arm Tattoo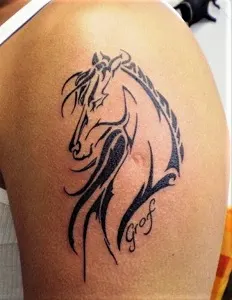 Another great tribal horse tattoo that has a horse's name beneath it. An awesome tattoo and horse memorial idea!
11. Blindfolded Horse & Rose Design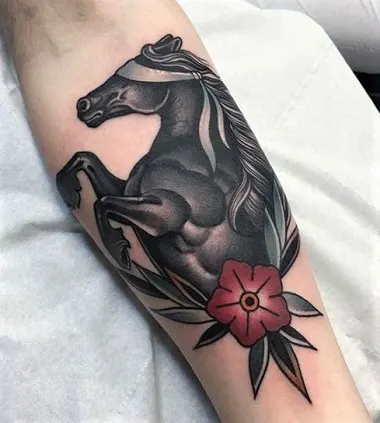 While still traditional in nature, what do you think of this unique horse tattoo twist? We would love to know the meaning behind the blindfold.
12. Pegasus Full Sleeve Tattoo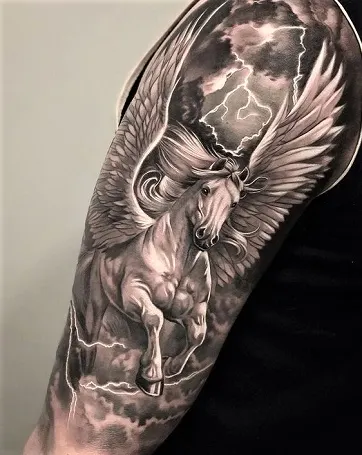 While not a typical "horse", we had to include this jaw-dropping Pegasus by Castillo Dario:
13. Unique Equine Tattoo Design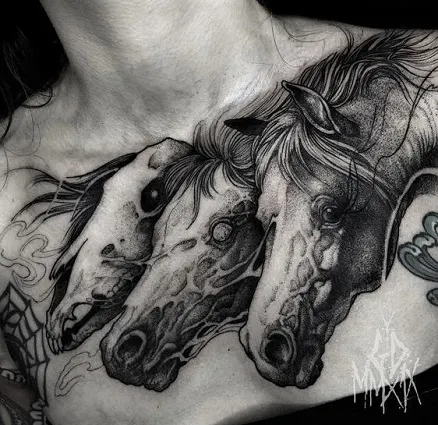 Although not the typical piece that leaves you feeling warm and fuzzy, this take on Pharaoh of Horses by Rob Borbas is absolutely stunning and eerie:
14. Combination Forearm Tattoos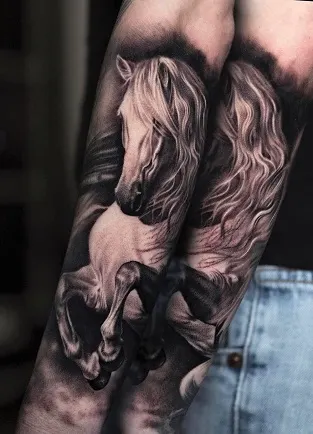 Horse conformation is a difficult subject matter to capture appropriately.
Tattoo artist Quin Hernandez has mastered this art form. This is one of many equine pieces Quin has created. He specializes in black and grey realism and excels in animal portraits.
Once you look beyond the stunning mane and forelock, you can see muscle and vascularity details on the animal. The coronary band and ears even show hair strokes!
15. Horse and Tribal Flame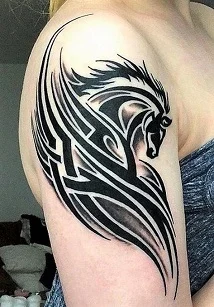 Another example of a sharp tribal horse tattoo covering most of the upper arm.
16. Beautiful Horse Leg Design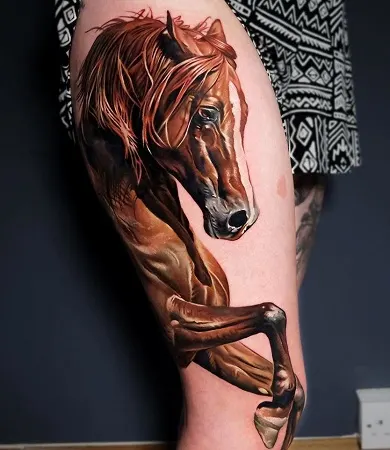 Although we are unable to track down the talented artist behind this stunning piece, we had to share it.
Many realism animal portraits are portrayed in black and white, but this artist even captures the "copper penny" shine in a chestnut's coat.
The piece includes shadowing and detail around the horse's orbital sockets, wrinkles and bone structure in the face, and even a chestnut on the horse's inner forearm!
The client is surely an equestrian to have the patience and pain tolerance for such a detailed piece; note the horse's cannon lying directly over her knee. Ouch!
17. Bridle Horse Head & Blocks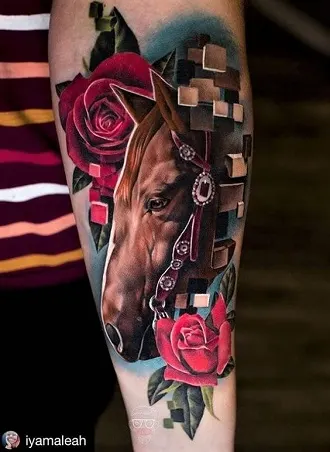 Full-color bridled horse head with 3D blocks. This is a beautiful and unique design for someone wanting a realistic and colorful tattoo of their horse.
18. Beautiful Horse Head Tattoo Idea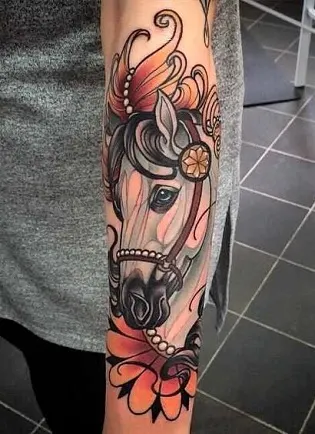 A magnificent and ornate piece done at Cloak and Dagger Tattoo in London:
19. Peacock & Horse Design Idea
Imrich Kovacs is the artist behind this superb peacock-horse tattoo. This piece is representative of his signature style featuring vibrant and contrasting colors with edgy style.
Although he takes core elements of traditional tattoos, his illustrative-style work incorporates "new school" colors with heavy linework and whip shading.
This equine piece almost radiates warmth at the "eye" of the feather design within the horse. The black shading and lines will remain strong over time, helping the colors remain distinctive and bold.
20. Geometric Horse & Shapes Design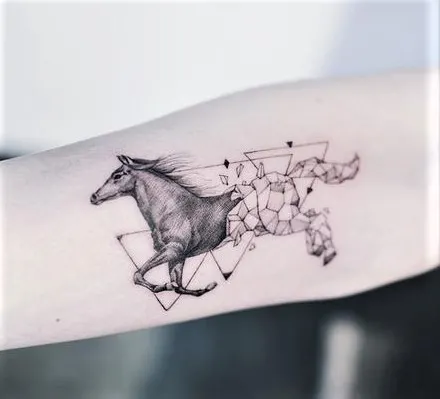 21. Coloful Shire Horse Sleeve Design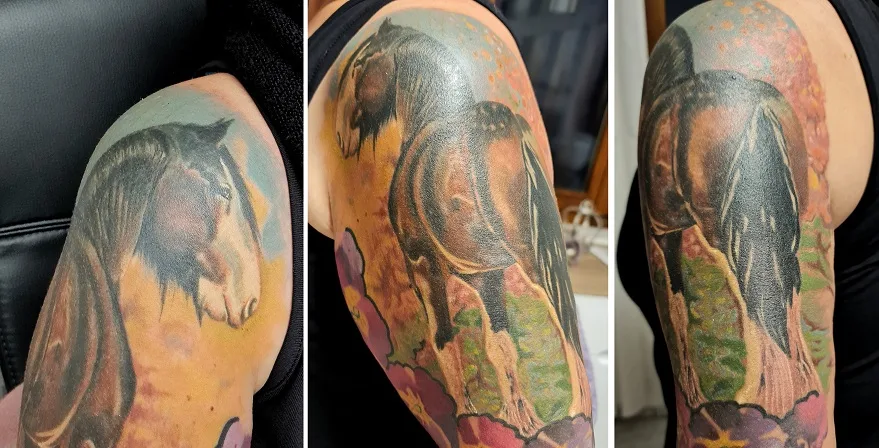 This beautiful sleeve tattoo of a Shire horse is on the arm of Sandra Shutz.
22. Horse Head Back Tattoo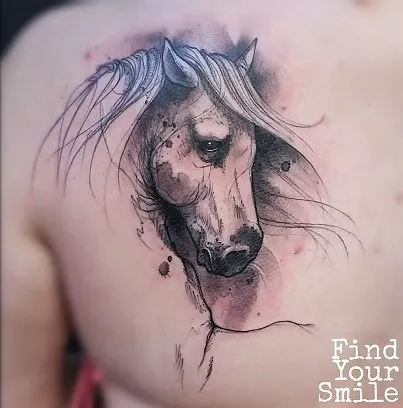 23. Running Horse Watercolor Tattoo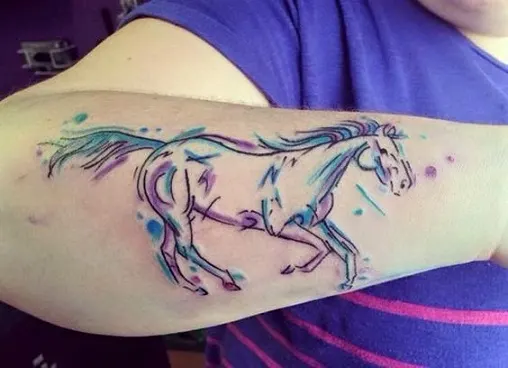 Watercolor tattoos are one of the latest trends and this beautiful design combines this with a running horse. Placing this tattoo on the arm gives the horse more movement and makes it easy to show off.
24. Horse and Wolf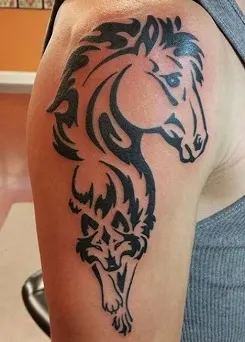 A beautiful horse head and wolf combination tattoo with a tribal feel. Superb for a horse lover that has a wolf as their spirit animal!
25. Native American Dream Catcher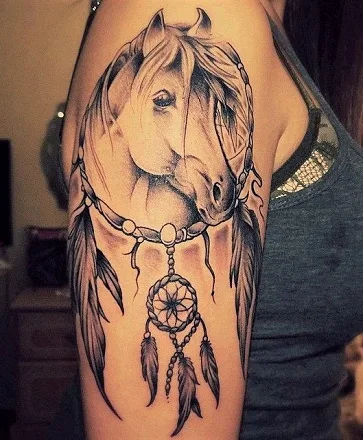 26. Pencil Sketch Black Horse Head Tattoo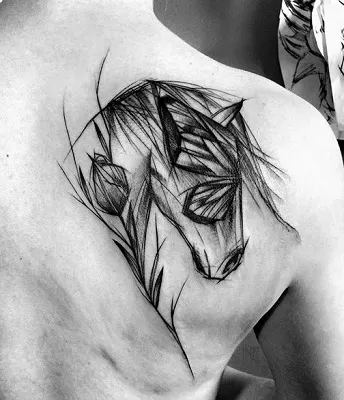 This piece is a unique "pencil sketch" tattoo, Inez Janiak's specialty style. Although Inez creates many masterpieces with this sketch-style design, her abstract equine piece stands out.
The linework features bold and soft strokes for a distinct and breath-taking piece! The butterfly mask is edgy and brings forward emotion, while the shoulder-line is met with a sketched tulip.
This beautiful Native American dream catcher tattoo looks perfectly placed on the woman's upper arm. To ward off evil spirits or for your own unique meaning, a dream catcher and horse is creative combination.
27. Colorful Full Side Horse Tattoo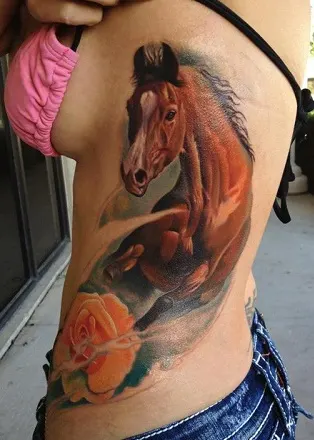 Featuring a colorful running chestnut horse and pink rose, this is a beautiful tattoo design for a woman. It would look create on the side, back, or upper thigh.
28. Full Back Horse Tattoo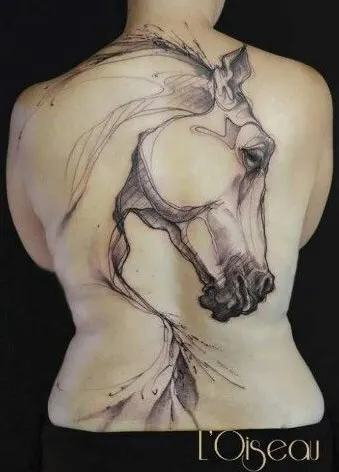 29. Horse Head Memorial Tattoo Idea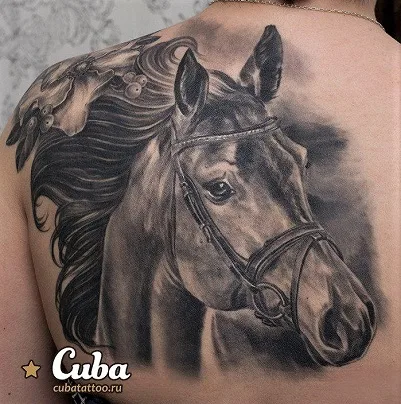 This realistic black horse head tattoo is a great design idea if your memorialize your lost companion.
30. Gypsy Vanner Head Design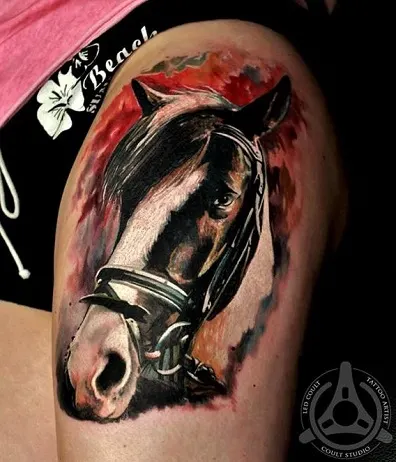 Another beautiful tattoo design of Gypsy Vanner horse's head.
31. Single Line Horse Head Arm Tattoo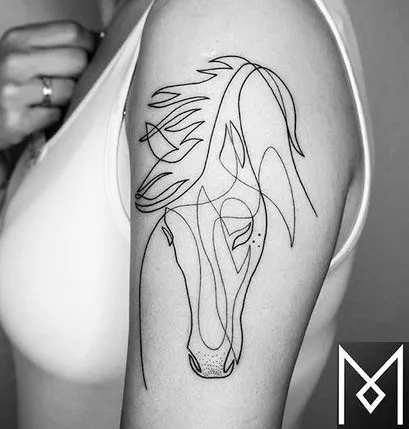 This beautiful tattoo of a horse's head and mane is draw from a single line. Created by Mo Gandji, drawing tattoos with a single line is his unique signature.
32. Indian Style Horse and Gems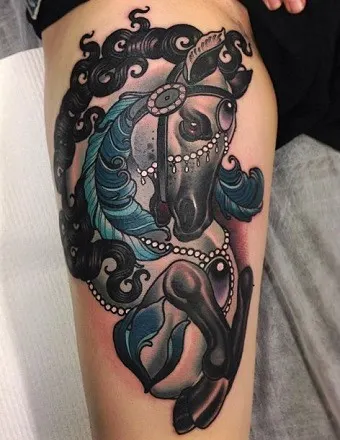 33. Woman & Horse Hugging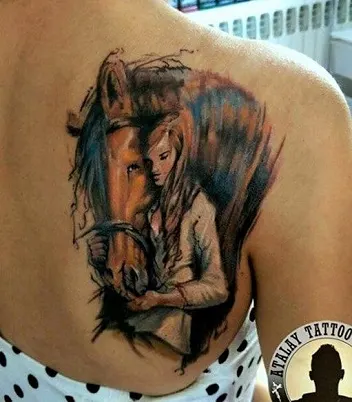 34. Full Horse Back Tattoo in Color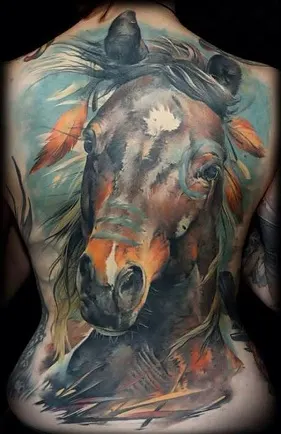 35. Floral Horse Head Design
36. Colorful Horse & Stable Idea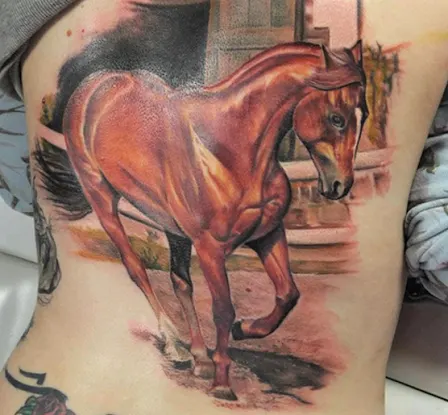 37. Black horse Face on Woman's Arm
38. Horse With a Flowers Mane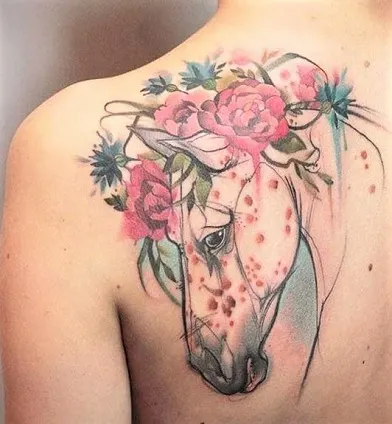 39. Unique Horse Cinematography Design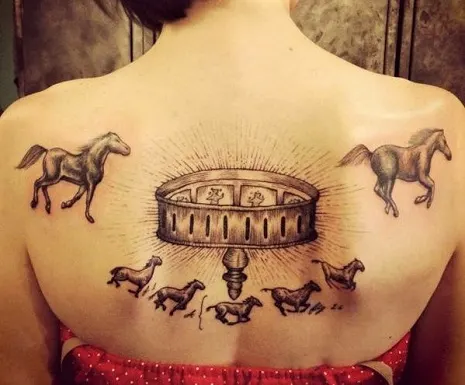 40. Horse Heartbeat Tattoo
Simple, yet beautiful. Us horse lovers live and die by horses, so this minimalist design is spot on.
41. Simple Black Horse Tattoo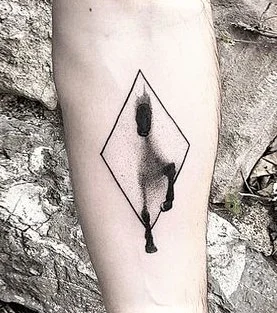 This simple horse tattoo shows just enough to let the mind wander. A simple single-line outline showcases a shadowed horse trotting "out".
Based on this knee action and perceived short face, can we assume it is representative of a trotting Morgan? Looks like a road trot to us!
The simplicity and stunning contrast of black and grey here make this contemporary tattoo an intriguing piece.
42. Cosmic Horse Tattoo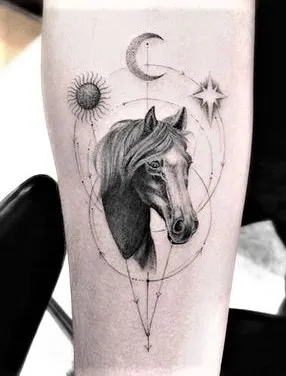 A cosmic realistic tattoo with a DaVinci feel by Dr. Woo:
43. Horse Head Tattoo
This is a beautiful and fun horse head tattoo with a unique take using brightened/white ink on the forelock and whiskers.
44. Simple Abstract Horse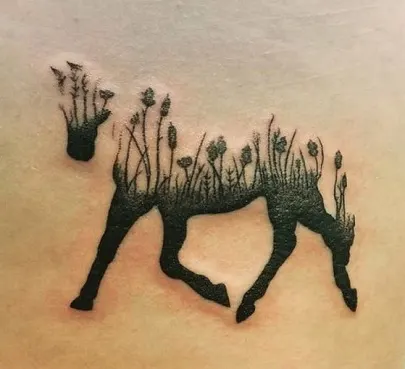 This minimalist abstract design is clever and probably comes with a secret meaning. The lower half of a running horse topped with flowers makes this a beautiful tattoo idea for women.
45. Horse with a Tribal Feel
This strong and aggressive horse tribal tattoo is our last pick. We hope you enjoyed our selections of the best horse tattoos.