For thousands of years, people have been capturing the beauty of the horse by creating remarkable statues.
Luckily, there are some stunning horse statue examples that you can buy to decorate your home or barn.
Whether for a Christmas present or a housewarming gift, these statues will make a wonderful addition to any home.
They are elegant, well-made, and the perfect way to add some equestrian flair to your decor. No matter what your budget is, there is a horse statue for you.
Here are 12 beautiful horse statues you can buy:
Galloping Horse
This lovely statue beautifully depicts a bay horse galloping. Standing at 6.5″ H x 9.5″ W this table sculpture is made from polyresin with a dark and light brown finish.
With a realistic look, it's a nice way to add a horse and country decor to a room. See our best horse and equestrian decor ideas guide here.
Horse Hair Pottery Custom Statue
If you're in search of a memorable Christmas gift, this sculpture is just that. Each statue is custom made with hair from your own horse and can even be hand-painted to look like your horse.
Standing at 9″T x 8″W tall, this custom piece comes with a ceramic base and an engraved name plate. Every one is carefully handcrafted, with different horse head busts available to choose from.
This lovely sentimental statue will hold a special place in any equestrian's heart, as it can be made in the likeness of their own horse.
Also, read our guide to personalized gift ideas for horse lovers.
Bronze Mom & Baby Horse
The special bond between a mare and her foal is exquisitely depicted in this bronze statue. Made from lightweight resins and finished with bronze powder, it gives off an attractive antique appearance. Standing at 6″ W x 7″ H, this sculpture would be a great addition to a desk.
It would even be a wonderful addition to a tack room, as it will not tarnish and is easy to polish. If you are looking for a budget-friendly Mother's Day gift, this statue is guaranteed to bring joy to your mom.
Arabian Horse Marble Statue
Crafted with careful precision, this remarkable statue is one-of-a-kind. Made from cold cast bronze, this special piece captures the essence of the Arabian breed.
This eye-catching sculpture measures at 8.7" H x 3.3" W x 6.3" L, making it a magnificent centerpiece for a table. The limited-edition Arabian design is mounted on a marble stand, making it all the more sophisticated.
Two Nuzzling Horses
This lovely statue beautifully depicts the gentle embrace between two horses. Standing at 11.5″W x 4″D x 14″H, this table sculpture is made from resin with a tan finish and a light brown wash.
Every equestrian will adore the scene of two nuzzling horses showing their love for one another. It is a great addition to an office or even a barn lounge.
Galloping Horse by Tanya Russell
This breathtaking galloping horse statue is full of character and will bring a wow factor to any room. Handcrafted with cold cast bronze, this life-like sculpture measures 7"H x 11"W x 3" D.
With incredible attention to detail on the horse's design and expression, this statue is a showstopper. It would make a wonderful birthday gift for your trainer, as it would look great in a living room or barn lounge.
Not only is this piece exquisite, but 10% of the proceeds go to animal shelters, so you can feel good buying it.
Wild Stallion Galloping Horse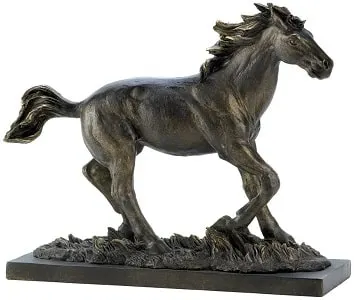 Bring the spirit of the wild west home with this galloping horse statue. The gorgeous piece is carved in polystone with a bronze finish.
Measuring at 11" L x 4.25" W x 9.5" H, this graceful statue would look great atop a bookshelf or mantle. It is a show-stopping piece that would be an awesome gift for any equestrian. You will feel the spirit of the horse in your home with this sculpture.
Jockey On Horse Bronze Plated Sculpture
For those who love horse racing, this sculpture makes a terrific addition to any office. The cold cast bonded bronze makes for a detailed piece with an antique finish.
Made with light-weight resins and finished with bronze powder, this statue is easy to polish and will not tarnish over time.
Standing at 10"L x 4"W x 10"H, it beautifully shows the spirit of the racehorse while being just the right size for a desk. Whether you keep it in your home or barn office, it makes a great statement piece.
Geronimo Going to Battle Statue
This life-like statue elegantly depicts the legendary leader Geronimo and his courageous stead. Sculpted from cold cast bronze and hand-painted with a bronze finish, this piece has exceptional craftsmanship with an antique finish.
Measuring at 11" H x 11.5" W, x 5" L, this sculpture makes a wonderful talking piece in your office or on your mantle.
The incredible workmanship will not go unnoticed and it makes a great collector's item. It comes packed in a gift box, making it a fantastic present for any history buff who also loves horses.
Western Cowboy Statue
This statue embodies the essence of the great American cowboy. A spirited horse rears up as a fearless cowboy hangs one, capturing the image of the wild west.
The attention to detail on this piece is eye-catching, making it a grand conversation piece. With a stylish bronze finish, it gives it the appearance of pure bronze but at a fraction of the price. It measures 8.5″ W x 11″ H which is appropriate for an office desk or living room bookshelf.
Anne Home Statue
Made from resin, this horse statue portrays the allure of the horse. This unique piece gives off a rustic feel, as it is hand-crafted with distinctive cracks, holes and rust-colored highlights.
This antique-inspired sculpture will give any home some character. It is an ideal addition to a bookshelf, desk or mantel, as it measures at 16" H x 5" W x 17" D. This fun piece would make a thoughtful Christmas gift to the equestrian in your life.
Silver Toned Engraved Standing Horse
This elegant rearing horse statue is an eye-catcher thanks to its unique design. The silver-toned engraving gives it a delicate and fun finish.
Crafted with poly resin and standing at twelve inches tall, it makes a terrific talking point in an office or home. The special design makes it stand out and bring charm to any room.
It is a great budget-friendly birthday gift for any horse-lover you may know.