Our readers support us. This post may contain affiliate links. We earn from qualifying purchases. Learn More
From sandy beaches to National Parks, there are some amazing spots for horse riding in California. If you are looking for your next great adventure in the saddle, these stunning locations are well worth visiting.
Some of the best spots for horseback riding in California include Los Angeles, National Parks, State Parks, beaches and riding centers. Whether you are wanting to bring your own horse or looking to borrow one, these riding destinations in the Golden State will create lasting memories.
Best California National and State Parks for Horse Riding
California is home to some of the most beautiful National and State Parks in America. From mountains, forests and beaches, their incredible scenery makes for picture-perfect trail rides.
2. Yosemite National Park
Yosemite National Park welcomes equestrians on just about every trail within the park. There are even three equestrian-friendly campsites, so guests can bring their horses and stay overnight with them.
The park has breathtaking views of mountains, rivers, forests, and wildlife. Guided rides and even trips are available at the park from spring to fall. There is a number of trail riding stables around the park, including Yosemite Trails Horseback Adventures and Wawona Stable.
1. Sequoia & King Canyon National Parks
These two stunning national parks are located in the Sierra Mountains. There are a number of trails within the park going through meadows and forests, with incredible mountain views.
Visitors are welcome to bring their own horses to ride through the parks, with some areas even allowing off-trail stock use. Riders can also obtain permits if they wish to camp overnight with their horses. There are also two stables, Grant Grove Stables and Cedar Grove Pack Station, that offer guided trail rides in the parks.
3. Santa Monica Mountains National Recreation Area
Just outside of the Los Angeles area, Santa Monica Mountains National Recreation Area offers a wide array of horseback riding adventures. There are over 500 acres of rugged mountain landscape that riders can explore.
Guests are welcome to bring their own horses and can even stay overnight at the equestrian campground. There are also horse rentals for guided trail riding and trips, including Rocking K Stables.
4. Point Reyes National Seashore
From beautiful fields of wildflowers that overlook the Pacific to sandy beaches, Point Reyes National Seashore offers many equestrian-friendly trails.
There are a variety of trails within the park and horses are also welcome on the beach. Visitors are welcome to bring their own horses to ride. Five Brooks Ranch offers guided trail rides throughout the park.
5. Redwood National and State Parks
Horses are welcome on designated trails and beaches at Redwood National and State Parks. Not only are horses, mules, and ponies welcome, but llamas and goats may also visit as pack animals.
Riders can bring their own horses and explore miles of breathtaking trails across the unique Redwood forests and beaches. There are also several trail riding facilities neraby that offer guided tour throughout the park including Crescent Trail Rides and Redwood Creek Buckarettes.
6. Russian Gulch State Park
For those looking to trail ride with their own horse, Russian Gulch State Park has many wonderful trails. The park has gorgeous forest scenery and even a 36-foot waterfall.
For those looking for more adventure, the park also offers equestrian camping. The four horse camping sites offer staging areas, corrals, and water troughs.
Best Beaches for Horse Riding in California
California is famous for having some of the most beautiful beaches in the world. Many equestrians dream of riding on a gorgeous sandy beach and these locations give you just that.
7. Ten Mile Beach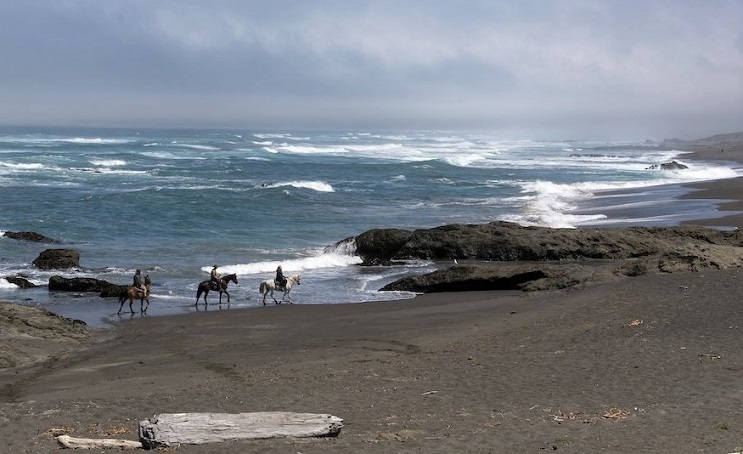 Considered one of the best horse riding beaches in the United States, Ten Mile Beach is an amazing stretch of rugged, unspoiled coastline that covers three preserves that protect the shoreline. Not only do you get to view the Pacific Ocean, but also tons of incredible wildlife.
As an equestrian friendly beach, riders are able to explore roughly 18 miles north of Mendocino. During December to April, there is the unique opportunity to view the migration of the Gray Whale. Guided trail riding tours are available at Riochet Ridge Ranch.
8. Santa Barbara Beach
Santa Barbara Beach Horseback Rides offers trail rides across the romantic beaches of Southern California and the coastal bluffs. The views along the secluded beach are breathtaking, making for a truly incredible experience.
9. Montara State Beach
Montara State Beach is a popular destination for surf fishing and exploring tide pools. The sandy beach is surrounded by rolling low hills, with several accommodations nearby.
Horseback riding is welcome at the Montara mountain (also known as McNee Ranch) area of the beach. Visitors may bring their own horses or go on a trail ride at one of the stables near Montara such as Sea Horse Ranch and Moss Beach Ranch.
10. Morro Strand State Beach
Conveniently nestled between Los Angeles and San Francisco, Morro Strand State Beach features windswept beaches and dunes with stunning mountain backdrops. Along the beach, there is a large variety of plant and animal life. Guests are allowed to bring their horses to ride along the scenic beach.
Best Places to Ride a Horse in Los Angeles
Los Angeles is the biggest city in California. Every year, millions of tourists flock to this modern city, visiting attractions such as Disneyland, Universal Studios, and Hollywood Boulevard.
Aside from the bustling city life, Los Angeles is also home to some top-notch trail riding stables and horseback riding trails. These spots allow you to see some incredible views of the city and surrounding landscape from atop a horse.
11. Sunset Ranch Hollywood Stables
Sunset Ranch Hollywood Stables offers some of the best views in Hollywood from horseback. They offer day and evening trail rides, for one to two hours.
Just minutes from Hollywood Boulevard and The Walk of Fame, the ranch gives guests the ability to see some of the most iconic LA sites from the trails. No matter your experience level, you can enjoy a relaxing ride, while getting the opportunity to see an incredible view of the Hollywood sign. Even celebrities have stopped by Sunset Ranch to take a trail ride.
12. Griffth Park
As one of the largest municipal parks in America, Griffith Park has several miles of gorgeous horseback riding trails. Spanning over 4,000 acres, the park includes a large variety of plant and animal life.
There are several facilities around the park that offer trail riding or people can bring their own horses to ride. Some of the most popular riding trails in the park include Mount Hollywood, Hollyridge, Old Zoo, and Amir's Garden. The diversity of the parks allows you to ride into mountain woods or view the Hollywood sign.
13. Malibu Riders
Malibu Riders offers scenic trail rides throughout the Los Angeles area. They have guided trail rides from anyone to beginner to advanced riders.
Guest can choose from different locations including Zuma Canyon, Malibu Creek State Park, and Paramount Ranch, where movies are filmed. Each ride is approximately an hour long and riders have the opportunity to see views of the mountains and ocean.
14. Circle K Riding Stables
Circle K Riding Stables offers guided trail rides for those of all experience levels. While out on the trails, you will likely get glimpses of some of Los Angeles' most famous sites including Amirs Gardens, Dante's Point, and the Observatory. Walk-ins are welcome, giving you a chance to fit in a trail ride during your busy vacation schedule.
Best Horse Riding Centers in California
If you are looking to take some riding lessons or board your horse, there are some great equestrian centers in California. They offer state-of-the-art facilities and care, so you know your horse is in good hands. Their knowledgeable staff will help you grow as a rider and achieve your goals.