When it comes to horseback riding, a good pair of riding boots can make all the difference. You don't want to sacrifice safety, comfort, and quality while in the saddle.
The best horse riding boot brands are built with high-quality materials to ensure they are both comfortable, durable, practical, and safe. They are designed to keep your feet protected while you ride and work. These brands combine excellent craftsmanship and materials to make boots that you can trust.
Here are the 8 best horse riding boot brands.
1. Ariat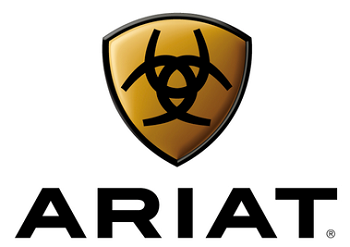 Ariat has long been a leader in equestrian footwear for both English and western riding. They produce top-quality boots made from only the best materials.
Ariat was the first brand to integrate athletic footwear technology into equestrian boots. The legendary racehorse, Secretariat, inspired their name (Secret'ariat'). To meet the demanding needs of equestrians, they partner with world-class biomechanical research groups and testing labs.
Ariat makes all types of riding boots, including paddock, dress, field, cowboy, and work boots. They make their boots with durable genuine leather. Their boots include many unique features such as padded insoles, non-slip outsoles, waterproof construction, and breathable lining.
Depending on your needs, Ariat will likely have you covered. They offer insulated winter boots, work boots, and show boots. Their boots are lightweight while also being high-performance, durable and stylish. Many professional equestrians trust Ariat.
Popular Ariat boot: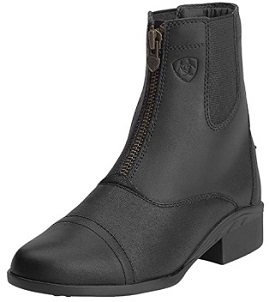 2. Justin
Since 1879, Justin has been producing handcrafted western footwear for horseback riding and work. They make their boots from the finest of leather, with excellent craftsmanship.
Justin boots incorporate traditional western style with practicality. Their boots feature elegant stitching coming in a variety of different colors and designs. The cowboy boots are comfortable, durable, and stylish.
Justin boots can withstand even the toughest of cowboys. They have long been trusted for everything from work to show. The boots include different features such as cushioned insoles, durable outsoles, and breathable mesh linings.
Popular Justin boot:
3. Ovation
Ovation carries a wide variety of high-quality equestrian products. In addition to riding boots, they also carry riding apparel, helmets, tack, accessories, and more.
Ovation carries a wide variety of English riding boots, including jodhpur, dress, field, and paddock for both show and work. They also offer casual, muck, country, and winter riding boots to meet all your needs. They make their boots from durable materials, including real and synthetic leather. Their footwear features comfortable footbeds, tough outsole, and even waterproof exteriors.
Ovation offers affordable options for beginners and top-notch footwear for advanced riders. They are a great option for riders of all skill levels.
Popular Ovation boot:
4. Dublin
Dublin started out as a small jodhpur company before expanding to selling breeches, show clothes, helmets, and riding boots. Their products are designed to ensure you look and feel good.
Dublin tests all their products to make sure they are practical for all your riding needs. They produce a large selection of English riding boots including paddock, work, dress, and field. Their footwear includes different features such as memory foam footbeds, waterproof construction, and rugged outsoles.
Dublin uses top-quality leather and synthetic materials. They offer budget-friendly options for riders of all levels.
Popular Dublin boot:
5. Durango
Durango is a popular choice among many western riders. They produce top-quality western riding boots for horseback riding and ranch work.
Durango combines classic western style with quality craftsmanship to make a durable boot. Their boots not only stand out for their beautiful and colorful designs, but they also keep you safe in the saddle. Durango's boots include many features such as slip-resistant outsoles, cushioned footbeds, mesh linings, and calf expansions.
Many professional western riders trust Durango while showing and working. They are built to last and keep your feet comfortable.
Popular Durango boot:
6. TuffRider
Inspired by true equestrians, TuffRider boots are comfortable and affordable for the average equestrian. Their boots are designed to match the latest styles and equestrian trends. They have a wide range of paddock, tall, and kids riding boots for all weather conditions.

Found in most saddleries and on Amazon, TuffRider is considered one of the best low to mid-range riding boot brands.
Popular TuffRider boot:
7. Mountain Horse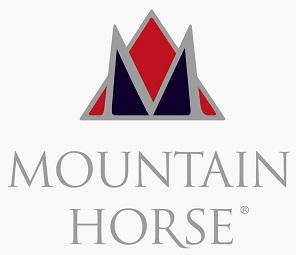 Mountain Horse began as a family company in Switzerland. It all started when founder Lars Sjöswärd made the first-ever winter-lined equestrian riding boots, along with hybrid riding boots and a cozy riding jacket for his daughter.
Now, Mountain Horse makes winter, work, dress, paddock, and field boots. Their boots combine fashion, innovation, function, comfort, and durability. They include features such as comfortable footbeds, non-slip outsoles, waterproof construction, and insulation.
Mountain Horse uses only the finest of materials, including real and synthetic leather. Their boots are a favorite among many riders for both showing and schooling.
Popular Mountain Horse boot:
8. Tredstep
Aidan Keogh, a top Irish equestrian, founded Tredstep to produce quality equestrian products. Keough's attention to detail regarding riding transferred over to his passion for producing excellent riding apparel and footwear.
Tredstep combines style, functionality, comfort, safety, and durability. They make dress, field, paddock, and country boots for show and schooling. Their footwear includes features such as shock-absorbing insoles, moisture-wicking lining, tough outsoles, and waterproof construction.
Tredstep uses luxurious leather and detailed craftsmanship to create a comfortable and practical boot. They are a favorite among many top riders, as many trust them for their effectiveness.
Popular Tredstep boot: