Our readers support us. This post may contain affiliate links. We earn from qualifying purchases. Learn More
Beaches are a great place to relax and enjoy beautiful sunny summer weather. For those looking for more adventure, horseback riding on the beach makes for a unique and fun experience.
From coast to coast, there are some great destinations in the United States for beach horseback riding. These destinations offer guided trail rides, with some locations even allowing you to bring your horse. Whether you have never ridden before or are an experienced rider, you will have a blast riding along some of America's most beautiful beaches.
Here are the 10 best beaches in the United States for horseback riding.
1. Point Reyes National Seashore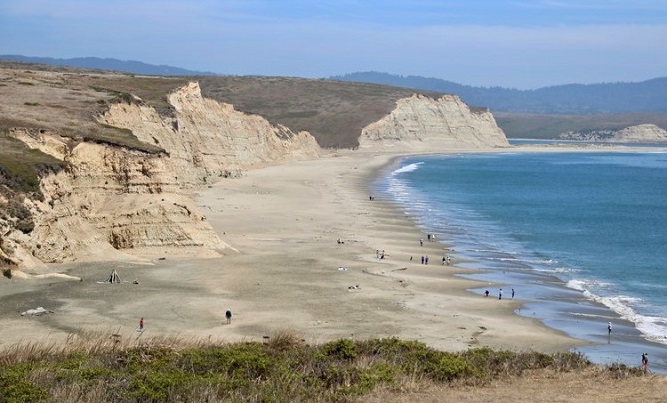 Point Reyes National Seashore is located on California's gorgeous coastline, approximately 30 miles from San Fransisco. The picturesque seashore has fields of beautiful wildflowers, mountain scenery, and stunning sandy beaches.
Visitors to the park are welcome to bring their horses. There are a variety of trails throughout the park that allow riding on the beach. With a special permit, guests may even camp overnight with their equine companions.
Several stables offer guided trail rides through the park. During the ride, you will be able to take in all the stunning scenery Point Reyes has to offer. Five Brooks Stables provides one, two, three, and six-hour guided trail rides.
2. Turtle Bay, Hawaii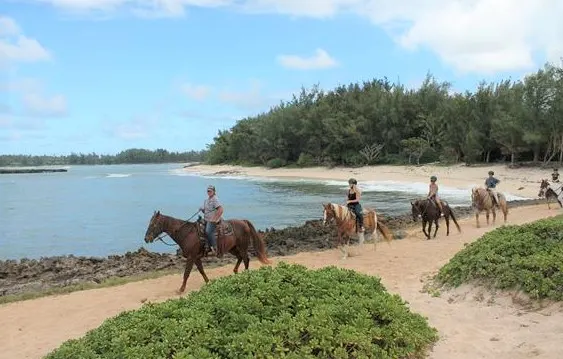 Turtle Bay, Hawaii, is a tropical paradise for second-to-none ocean views, palm trees, and sandy beaches. Turtle Bay has you covered for a serene and beautiful beach ride for those looking for the ultimate getaway.
Along the North Shore of Oahu, you will experience the natural beauty of Hawaii. Not only will you get to see the fantastic scenery, but you will likely catch a glimpse of some of Hawaii's unique wildlife.
Trail rides are available at Turtle Bay Resort from Turtle Bay Stables. The stables offer a 45-minute ride along the coast, as well as evening and sunset trail rides. Horseback riding is available in groups and also private, allowing for a romantic getaway.
3. Willamette Coast, Oregon
For the ultimate equestrian experience, Willamette Coast, Oregon, has you covered. View the stunning Pacific Northwest as you ride along breathtaking beaches and magnificent forests.
With the Willamette Coast Ride, intermediate to advanced riders can enjoy a five-day equestrian vacation. The trip is a point-to-point journey, making for a one-of-a-kind memorable experience. Across the five days, there are stops at wineries and vineyards and picturesque picnics.
You will ride through some of the most incredible forests during the journey, with mossy oaks, towering firs, and fantastic wildlife. There is also plenty of beach riding, with the opportunity to gallop along some of the most incredible beaches America has to offer. Each night of the trip, guests will stay in bed & breakfasts, private condos, or rental homes.
4. Myrtle Beach, South Carolina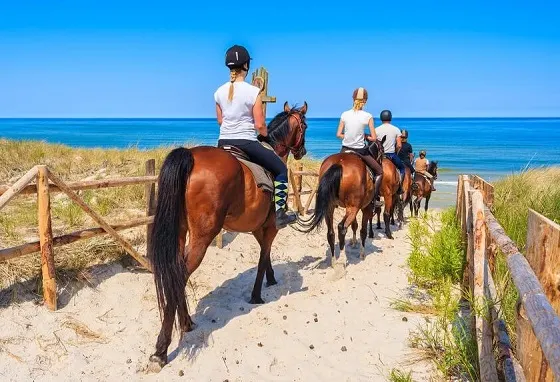 Many people travel to Myrtle Beach for a stress-free getaway. The destination is packed full of different activities to do, including horseback riding along the coast.
Along the sandy shores, guests will have the opportunity to view wildlife and even the luxurious condos and resorts along the beach. The guided tour rides provide a relaxing way to view the beach. Various stables offer trail rides at Myrtle Beach, including Horseback Riding of Myrtle Beach, Inlet Point Plantation, and Grand Stand Horseback Riding.
5. South Padre Island, Texas
With sandy dunes and gorgeous coastal views, South Padre Island offers some of the best beaches along the Gulf of Mexico. The island offers many great outdoor activities for action-seekers, including horseback riding, zip-lining, and much more.
South Padre Island Adventure Park has guided morning, sunset, and even moonlight trail rides. Each ride offers a unique viewing experience of the beach from in the saddle. On the rides, you will get to view natural dunes and peaceful ocean waves. The Stables also offers sunrise and sunset trail rides.
6. Sea Island, Georgia
Sea Island is home to some of Georgia's most pristine stretches of coastline. With refreshing sea breezes, you will view maritime forests and beach dunes.
From kayaking to horseback riding, Sea Island has some great outdoor activities. Along the beach, you will encounter palm trees and gorgeous beach houses. Sea Island is home to The Cloister, one of the most luxurious beach resorts.
Beach rides are available through The Stables at Frederica. The guided tours provide a memorable, relaxing experience.
7. Amelia Island, Florida
With unbeatable views of the Atlantic Ocean, Amelia Island is well worth the visit. There are miles of sunny, sandy beaches with rolling dunes and pristine seashores.
Tranquil and serene, the beaches feature stunning plants and wildlife. With Happy Trails Walkers, you have the opportunity to ride along the beach aboard a smooth Tennesee Walking Horse. For an hour-long, you get to see incredible views while experiencing the unique, comfortable gaits of Tennessee Walkers.
Amelia Island also has sunset, and sunrise beach rides with Amelia Island Horseback Riding. In addition, Kelly Seahorse Ranch also offers relaxing rides along the shore.
8. Popham Beach, Maine
Nestled in Southwestern Maine, Popham provides a unique opportunity for beach horseback riding. Popham Beach offers beautiful sandy beaches and breathtaking views of Maine's fantastic scenery.
Carousel Horse Farms offers guided trail rides along the rugged Popham Beach. Along the ride, you will have chances to see fishing boats, dunes, islands, charming houses, and cresting waves. Sable Oak Equestrian Center also offers guided rides along this stunning and historic part of Maine.
Popham Beach State Park also allows visitors to bring their horses to ride. Owners can fill out a permit and enjoy a coastal adventure with their trusty equine partner.
9. Ten Mile Beach, California
For an authentic, unspoiled nature experience, Ten Mile beach spans across three preserves of protected coastline. Included in our best horse riding spots in California guide, this incredible beach offers spectacular views of the Pacific Ocean along with some of California's most unique wildlife.
Riding along the beach, you have an opportunity to see a wide array of wildlife, including otters, seals, whales, dolphins, and several species of birds. From December to April, there is an incredible opportunity to view the migration of the Gray Whale, so be sure to bring a pair of binoculars.
Riders can bring their horses and explore 18 miles of coastline. For those wanting a guided ride, Ricochet Ridge Range offers hour-long group and private rides.
10. Long Beach, Washington
Conveniently located between Portland and Seattle, Long Beach has 28 picturesque miles of coastline. With some of Washington's most stunning scenery, you will see rocky shores, powder gray sand, and forests.
Owners are welcome to bring their horses to ride across the beach. For an extraordinary opportunity, Peninsula Saddle Club offers camping for both you and your horse. Naytura Haus also offers a charming cabin and stable that you and your horse can stay at for a more relaxing travel experience. Long Beach Horse Rides and West Coast Horse Rides both offer guided horseback riding tours of Long Beach. Beach rides last between one and two hours.