Our readers support us. This post may contain affiliate links. We earn from qualifying purchases. Learn More
Many of us have found our passion for horses watching one of countless great movies starring horses. A tradition centered around the world's most extreme athletes, horse racing is a bottomless well of inspiration for the film industry.
The best horse racing movies capture the journey of great racehorses, real-life or fictional. They are enjoyed by all audiences regardless of age or interest and are the perfect choice for an evening get-together.
Most horse racing movies are based on a true story and real-life characters, while some are based on novels. What none of them lack is passion for the sport and the ability to demonstrate how success will always come for those who dream big and work hard.
Here are the 8 best horse racing movies:
Secretariat
Many consider Secretariat the greatest horse racing movie of all time. Released in 2010, this American biographical sports drama follows the career of Secretariat, a Thoroughbred racehorse who won the Triple Crown in 1973. The movie is based on real events and has an IMDb rating of 7.2/10.
A Walt Disney Pictures production shot in Kentucky, the movie showcases historical characters who led Secretariat to success. The spotlight falls on the horse's owner Penny Chenery, his French-Canadian trainer Lucien Laurin and his jockey Ron Turcotte.
Following her mother's death, Penny takes over the family Thoroughbred breeding farm despite her inexperience in the industry. She comes to own Secretariat following a coin flip and she believes the horse has the perfect mixture of speed and endurance.
After countless struggles and controversial decisions, Secretariat ultimately becomes the first Triple Crown winner in 25 years! His track record of 2:24 minutes for 1 1/2 miles is still unbeaten today.
See Secretariat here on Amazon.
Also read: 8 interesting facts about Secretariat the horse.
Seabiscuit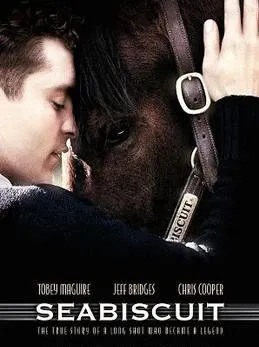 The movie Seabiscuit presents the unexpected success of a small Thoroughbred racehorse. Seabiscuit has won a record amount of prize money up to 1942 and became the symbol of hope for Americans during the Great Depression. The movie premiered in 2003 and received a rating of 7.3/10 on IMDb.
This American sports film is based on the true story of how three troubled men came together to produce a champion racehorse against the odds. The recently remarried Charles S. Howard is in search of a racehorse when he hires horse trainer Tom Smith who later discovers Seabiscuit.
During his early career, Seabiscuit was trained to lose in order to grow the confidence of more promising racehorses. However, Tom helps him overcome this issue and the horse goes on to win race after race, ridden by Red Pollard.
After numerous struggles, Seabiscuit faces his biggest rival War Admiral, who he beats in a race at Pimlico.
See Seabiscuit here on Amazon.
Also read: 8 facts about Seabiscuit (age, height, owner & more).
Phar Lap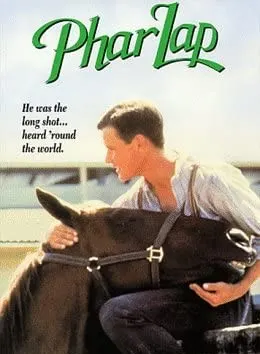 This 1983 movie is about the real-life champion racehorse Phar Lap who angered gamblers by winning 32 of his 35 races. The production has earned a rating of 7.3/10 on IMDb.
The movie follows the storyline of how the Australian racehorse became a legend with the help of a stableboy Tommy. Tommy worked for Harry Telford, a horse trainer who leased a scrawny-looking Phar Lap from his boss.
Phar Lap captured the hearts of the Australian crowd by winning major races such as the Melbourne Cup or the Australian Derby. He was also transported to Mexico where he set a track record on the Tijuana race track.
His mysterious death in 1932 is sometimes attributed to the hands of gamblers. A post-mortem examination revealed an incredibly large heart that was the root of Phar Lap's success.
Dreamer
The charming American sports drama Dreamer takes the audience on the healing journey of a racehorse with a broken leg. This 2005 movie was inspired by the true story of the Thoroughbred filly Mariah's Storm. Dreamer is rated 6.8/10 on IMDb and has also been nominated for Best Family Film.
When Ben warns the owner of Sonador, a filly with great potential about an unusual warmth in her legs, the owner decides to race her anyway. Sonador ends up with a broken leg and is transported to Ben's tiny farm to heal.
Ben's daughter Cale adores the horse and does everything she can to help her. After Sonador fails as a broodmare, it seems like all hope is lost for the struggling family.
However, thanks to Cale's bold move who decides to ride the horse, Sonador's full recovery is discovered. She goes on to become a successful racehorse winning the prestigious Breeder's Cup Classic.
The Black Stallion
Released in 1979, The Black Stallion is one of the most magical and popular horse racing movies of all time. It's based on a children's novel of the same title by Walter Farley. This American adventure film has received an IMDb rating of 7.3/10.
The main character of the movie is Alec Ramsey, a young boy who is shipwrecked on a remote island. He soon discovers that he is in the company of a wild Arabian stallion. Alec earns the horse's trust by saving him from a rattlesnake and they survive on fish and seaweed until the rescue arrives.
Back home, the stallion spooks and runs away from Alec. They are reunited again on the farm of a retired jockey Henry Dailey. The stallion's impressive speed is soon revealed and Henry enters them in a special race.
Despite getting injured on the day of the race, the Black Stallion wins by two lengths thanks to their special bond with Alec.
See The Black Stallion here on Amazon.
Also read: 10 The Black Stallion movie facts.
Racing Stripes
Racing Stripes is a hilarious American sports comedy family film that follows a life of an abandoned baby zebra who grows up to become a racehorse. Shot in South Africa and released in 2005, the movie received a rating of 5.2/10 on IMDb.
Stripes is found in a thunderstorm by former racehorse trainer Nolan Walsh after being left behind by a circus. The baby zebra is nurtured with the help of Nolan's daughter Chan, who falls in love with the animal.
The movie features talking animals as part of the fictional story. We get to know many of Stripes' barnyard friends, as well as the horses of a rival racing yard.
Having grown up next to a racetrack, Stripes' biggest dream is to run alongside the majestic racehorses. After overcoming many challenges, Striped achieves his dream when he wins his first race ridden by the teenage Chan.
See Racing Stripes here on Amazon.
Ruffian
Ruffian is a 2007 American horse racing movie with a not so cheerful ending. It follows the career path of the champion Thoroughbred filly Ruffian, who made it into the U.S. Racing Hall of Fame. Ruffian is based on real-life events and has an IMDb rating of 7.2/10.
Ruffian dominated American horse racing in the first half of the 1970s. She was trained by Frank Whitely and started her career by winning 10 consecutive races.
The story of the champion black filly seems almost too good to be true up until the match race at Belmont Park, 1975. The race was broadcasted on national television and featured the undefeated Ruffian going up against Kentucky Derby winner Foolish Pleasure.
Unfortunately, Ruffian broke down during the race due to a misstep. Surgery was attempted on her right front leg after the tragic accident but was unsuccessful. Ruffian is remembered as one of the greatest American athletes of the 20th century.
50 to 1
50 to 1 is an American drama film based on the unexpected success of a small Thoroughbred racehorse Mine That Bird. Released in 2014, the movie received an IMDb rating of 6.4/10.
Despite his unimpressive size, Mind That Bird qualifies for the 2009 Kentucky Derby. Owned by a group of New Mexico cowboys, the horse is assigned odds of 50 to 1.
The journey to Churchill Downs racetrack lacks no challenges for the underdogs of the racing world. Interestingly, the original jockey of the racehorse Calvin Borel is cast to play himself in the movie.
The derby victory of Mine That Bird was a highly unlikely event that triggered tremendous upsets among bettors. The famous champion is still alive today, spending his retirement years on a farm in New Mexico.
Also read: 25 best horse movies for equestrians.