Whether you are driving to the barn or a horse show, listening to podcasts is a good way to pass time. Fortunately, there are some great horse podcasts for equestrians that are both educational and entertaining.
From amateurs to professionals, these horse podcasts share insights into the equestrian industry. Topics range anywhere from training tips, show advice, and personal experiences. Not only are they sharing helpful tidbits, but they also provide amusing commentary and stories.
Here are the best horse podcasts
Amateur Hour: An Equestrian Podcast
In Amateur Hour, adult amateur equestrian friends discuss relevant topics such as hunters, jumpers, eventing, and the overall equestrian world. Friends and hosts Olivia, Claire, Taylor, and Kelly cover their thoughts and opinions on the horse industry.
They cover everything from lifestyle tips and tricks to controversial aspects within the sport's governing bodies. Episodes include subjects such as sport horse breeding, significant others, equitation and horsemanship, boarding, and show attire. Episodes are released monthly and are available on a variety of services including Apple, Google, iHeartRadio, and Spotify.
Find more details about the Amateur Horse podcast here.
The Stacy Westfall Podcast
Professional western trainer Stacy Westfall shares her knowledge and experience so listeners can get top-notch training tips. She offers advice on how to become a better rider and strengthen your relationship with your horse.
Westfall shares tips, along with her own personal stories of success and failure. Every season of her horse podcast focuses on a particular subject. The last episode or two in a season targets answering questions that horse owners have asked about the subject. Episodes come out on a weekly basis and are available on Apple, Stitcher, and Android.
Find more details about the Stacy Westfall Podcast here.
The Ride by Horse & Rider
The Ride by Horse&Rider keeps listeners up-to-date with today's western horse life. Editors and co-hosts Michaela and Nichole talk about the industry's latest news, along with their personal horse experiences.
In addition, they chat with some of the leading horsemen and women in the western riding industry. Not only are the episodes educational and insightful, but they are also fun. Episodes are released on a bi-weekly basis through their website.
Find more details about The Ride Podcast here.
The Willing Equine
The Willing Equine is dedicated to improving the relationships between horses and humans. It is hosted by Adele Shaw, who is a Certified Horse Behaviour Consultant with the IAABC, as well as an endorsed trainer with the World Bitless Association.
Adele encourages science-based and ethically minded horse training, along with a species suitable way of keeping horses. Episodes include discussing the challenges of horse ownership, riding tips, communication, and different approaches to training. The podcast is available on multiple streaming services including Spotify, Apple Podcasts, and Google Podcasts, with episodes typically coming out 2-3 times a month.
Find more details about The Willing Equine podcast here.
Daily Strides
In Daily Strides, Lorna Leeson provides step-by-step instruction to help riders improve their skills. In order to grow, Lorna challenges riders to start thinking a little differently about their riding.
Topics of episodes focus on keeping riders inspired, moving forward, and further developing skills in the saddle for all experience levels. Leeson understands the physical aspects and the mindset that often holds riders back from making progress, and how to move forward. She stresses the importance that both the horse and rider should be having fun. Episodes come out on a weekly basis and are available on iTunes, Google Podcast, Stitcher, and Overcast.
Find more details about the Daily Strides podcast here.
Whoa!
John Harrer, along with his wife Ranae host the Whoa Podcast about Horses and Horsemanship. The couple talks about everything horses, from riding, tack, and horse behavior.
Episodes often feature guests that share their personal experiences with horses and tips to improve riding and horse ownership. The Harrer's want to educate people on horses, while also having fun doing it. Episodes are typically released 1-2 a month and are available on Apple and Amazon Music.
Find more details about the Woah podcast here.
The Equestrian Podcast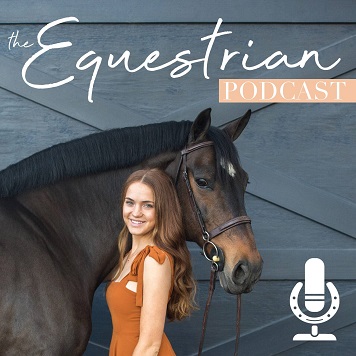 Host Bethany Lee gets personal with some of the top riders in the horse world in The Equestrian Podcast. She often talks about aspects of the equestrian world that are less conventional, giving interesting insights on these matters.
During episodes, she chats about topics such as developing young horses, horse shows, horse care, nutrition, careers, tack, and much more. Guests on the show include professional riders, veterinarians, equine event managers, photographers, and other horse professionals. Episodes come out twice a week and are available on iTunes and Spotify.
Find more details about The Equestrian Podcast here.
Young Black Equestrians
The Young Black Equestrians show is a platform for discussing the culture, passion, and lifestyle of the Black horse industry. Hosted by Abriana Johnson and Caitlin Gooch, the women talk about their stories to connect with equestrians that have similar experiences.
Their goal is to promote and educate the equestrian lifestyle to people all across the world while giving a glimpse into the lives of Black equestrians. During the episodes, they chat with guests about different aspects of life and horses. Episodes come out typically 1-2 times a month and are available on Apple, Google, Spotify, and iHeartRadio Network.
Find more details about Young Black Equestrians here.