Our readers support us. This post may contain affiliate links. We earn from qualifying purchases. Learn More
As equestrians, we all love a good horse movie to fuel our passion for horses even more. Many of you probably found your love for these incredible creatures watching classics like National Velvet (1944), Black Beauty (1946), or The Horse Whisperer (1998).
While rewatching these old classics is always heartwarming, there are also countless new horse movies out there to enjoy.
Since many viewers around the world have switched from watching TV to Netflix, we have compiled a list of horse movies currently on Netflix.
Although Netflix's selection of equestrian-themed movies has shrunk over the past few years, there is still binge-worthy content for horse lovers on there. Each of these movies will make a fine choice for a relaxed evening with a like-minded horsey friend!
A Champion Heart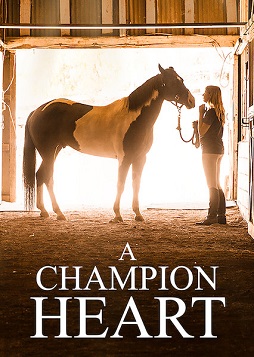 A Champion Heart (2018) follows the healing journey of Mandy Renner, a teenage girl who recently lost her mother. She soon finds herself working at a horse shelter where she meets a special horse with only one ear.
Mandy and the horse bond over their wounds and before long, she falls in love with the world of horses. Thanks to the support of both people and animals at the shelter, she is finally able to make peace with her past. A Champion Heart is rated 6/10 on IMDb.
Walk. Ride. Rodeo.
Walk. Ride. Rodeo. (2019) is based on the true story of barrel racing champion Amberley Snyder. At the age of 18, the promising rider suffered a car accident that left her paralyzed from the waist down.
The movie focuses on Amberley's inspirational journey of how she got back into the saddle against all odds. Not only that, but she also continued to follow her dream of becoming a professional barrel racer. Walk. Ride. Rodeo. has an IMDb rating of 6.4/10.
Riding Faith
Riding Faith (2020) is about a fierce young woman who refuses to give up on her family ranch in the face of tragedy. After losing her father to the army, Grace must do everything she can not to lose her beloved horse too.
Luckily, her friends are there to help her through adversity, and together they come up with a scheme to save the ranch. Riding Faith has a rating of 4.3/10 on IMDb
Roped
Roped (2020) is the perfect horse movie on Netflix for those who love rodeos and love stories. When a traveling rodeo arrives in a small town that hates it, cowboys and councilmen clash over their views.
However, everything changes when a young girl from town falls in love with a rising-star cowboy. The movie is rated 5.4/10 on IMDb.
Also read: 14 Famous Horses from Old Western Movies
Dreamer
A recent arrival on American Netflix, Dreamer (2005) is a classic favorite of many horse lovers. It follows the story of a real-life racehorse called Soñador and her miraculous recovery from a broken leg.
Respected horse trainer Ben Crane and his daughter Cale were at the racetrack on the day of the accident. Unable to give up on the great racehorse, Ben goes against his boss and takes Soñador home. With the help of Cale, he nurtures the horse back to its former health and glory.
Dreamer is rated 6.8/10 on IMDb.
Ride Like a Girl
Ride Like a Girl (2019) is another horse movie based on a true story. Its star is the famous Michelle Payne, the first female jockey to win the prestigious Melbourne Cup of Australia. Despite the loss of her mother and sister, the ambitious jockey stops at nothing to win the iconic race and makes history in the process.
Ride Like a Girl stars Teresa Palmer as Michelle Payne, Sam Neil as Paddy Payne, and Stevie Payne as himself. The movie has an impressive IMDb rating of 7/10.
My Heroes Were Cowboys
My Heroes Were Cowboys (2021) documents the life of Robin Wiltshire, who makes a living training horses for movies. Robin has grown up watching Westerns to evade the pain of his childhood. The horse documentary is rated 6.8/10 on IMDb.
Also read: 14 Best Horse Documentaries
Bibi & Tina
Those who have grown up on the Bibi Blocksberg and Bibi & Tina cartoon series about a spunky young witch will love this feel-good horse movie. Just like the series, Bibi & Tina (2014) has no shortage of drama, romance, and of course, horses!
Other Bibi & Tina movies to check out on Netflix include Bewildered and Bewitched (2014), Girls vs Boys (2016), and Perfect Pandemonium (2017). Bibi & Tina is rated 4.7/10 on IMDb.
Free Rein Specials
Free Rein (2017-2019) is a Netflix original series popular with horse lovers around the world. Apart from its 3 seasons, two feature-length specials are also on Netflix.
In Free Rein: The Twelve Neighs of Christmas (2018), Bright Fields prepares for its popular Mistletoe Ball amid drama between family and friends. The movie's rating on IMDb is 6.8/10.
Whereas, in Free Rein: Valentine's Day (2019), Zoe and her friends race against rival teams to find the mysterious Maid's Stone. However, in the face of unforeseen danger, only Raven can save the desperate team. The movie is rated 8.9/10 on IMDb.
Also read: