Horses can be real hilarious sometimes. So can the eccentric people who care for them. Funny moments happen in the horse world every day that normal people would never understand, but equestrians live for.
Below, you'll find a selection of horse and equestrian memes that capture the best moments of equestrian life. Of course, ranking memes is very subjective and everyone is going to have different opinions.
Still, rest assured that our list will not disappoint! If you're an equestrian, you are going to love browsing through these hilarious horse memes.
Here are the best horse memes to make your day:
Every Horse Owner's Struggle
Mares Being Mares
Equestrians Shopping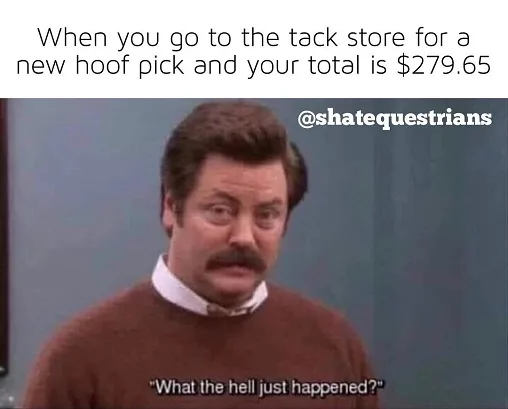 There's no way you can enter a tack store and buy one thing!
Horsing Around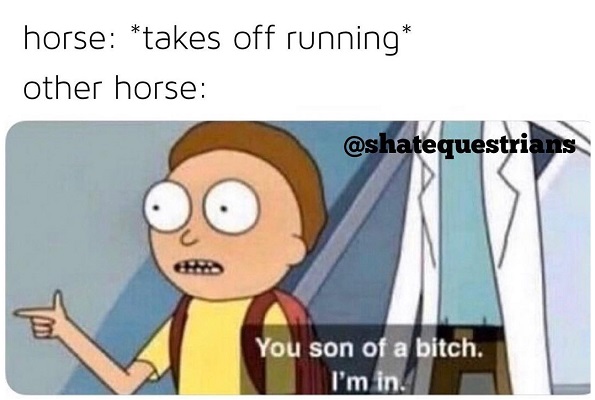 The Struggle is Real
Riding Camp Kids
Horse Trainers Can be Brutal
Plodding Along
The Best Feeling Ever
Every barn has that snobbish person who think they own the place and know everything. However, as it often turns out, they are far from perfect.
Everything is Under Control
Horses Rule
Concentration Level 100
The Biggest Crime
Know What You Signed up for
Under the Surface
Expectation vs. Reality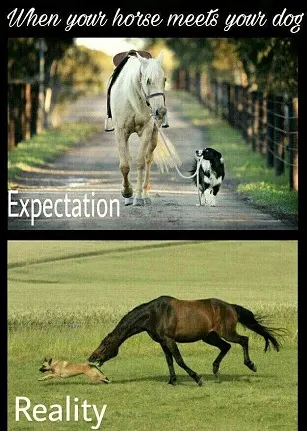 Life Goals
Moms Playing Hairdresser
Funny Leading Two Horses Meme
Leading one troublemaker horse can challenging, but two?? Now that is some real skill.
When a Horse Doesn't Listen
Horses Come First
There are two types of equestrians: those who have fallen and those who are going to fall off a horse. Regardless, they are all crazy enough to think of the horse first.
Pony Fun
Fair Warning to a New Horse
Dating a Horse Girl Meme
Normal girls are crazy too, but horse girls are another level. Also read: 10 Things to Expect When Dating a Horse Girl
Funny Forse Sheath Cleaning Meme
The jucky side of owning a gelding. That awkward conversation when you tell your non-horsey friends what sheath cleaning is!
Horse Girls are Expensive
If it's not us, we all know someone who goes crazy buying new rugs and numnahs. Our partners just don't understand that a new matchy matchy set is essential.
Rider a Friend's Horse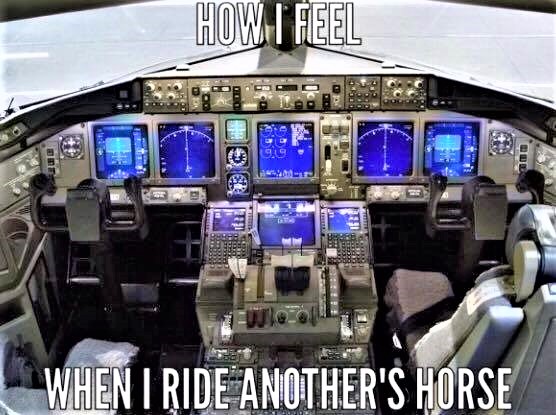 We know how sensitive horse owners are about their horse, so we try very hard not to do anything wrong.
Easier Said Than Done
Every horse trainer will realize this sooner or later. As Olympic dressage rider Charlotte Dujardin said, "Training doesn't just go up. It goes up and down constantly."
Funny Barn Life
Wrapping Your Horse in Bubble Wrap Meme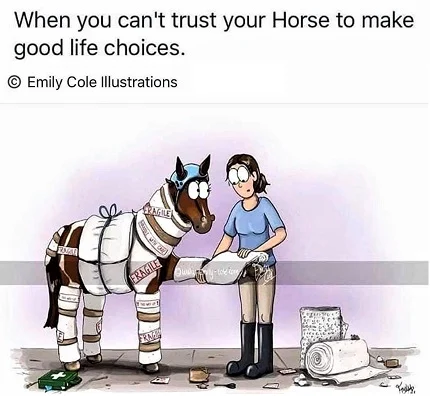 This horse meme sums up what horse owners know all too well. Horses always seem to get themselves hurt out of nowhere, especially as soon as they've recovered from their last injurt.
Humming Bird Horse Meme
When Your Horse Refuses to Work
Horses Have Feelings Too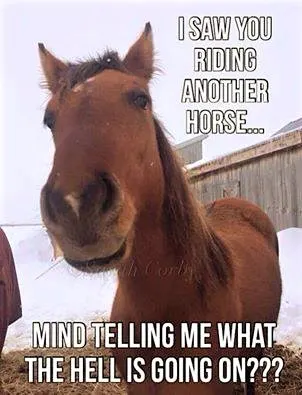 'When You See a Horse You Want' Meme
Wanting a new horse is something all true horse lovers struggle with, even if we have a few already.
The Mare Stare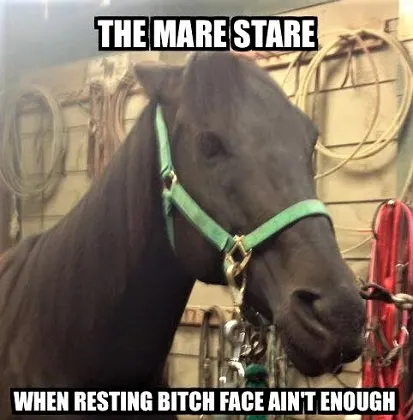 No meme sums up the attitude of some mares (not all mares)!
Funny Uses of Bailing Twine Meme
Knowing how to use bailing twine is essential to running a ranch.
Using Your Core Muscles When Riding
When you're giving all you've got and your instructor wants more.
Funny Horse Gas Meme
So true! The little day to day joys of owning a horse. We still love them though.
Horse Owners Getting Bad Advice
We've all seen someone get bad advice on Facebook from a Karen horse owner!
Having a Pre-Ride Chat With Your Mare
Funny No Stirrups Ride Meme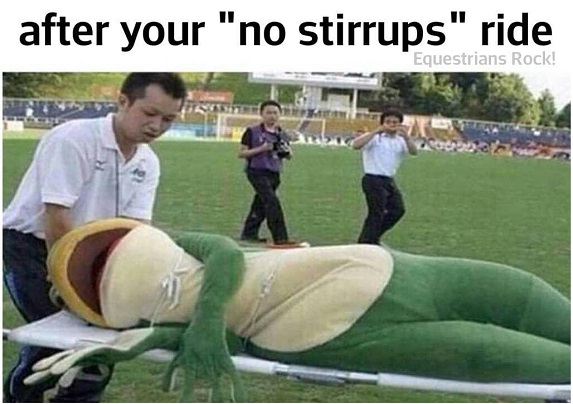 Seeing a Horse Trailer on the Motorway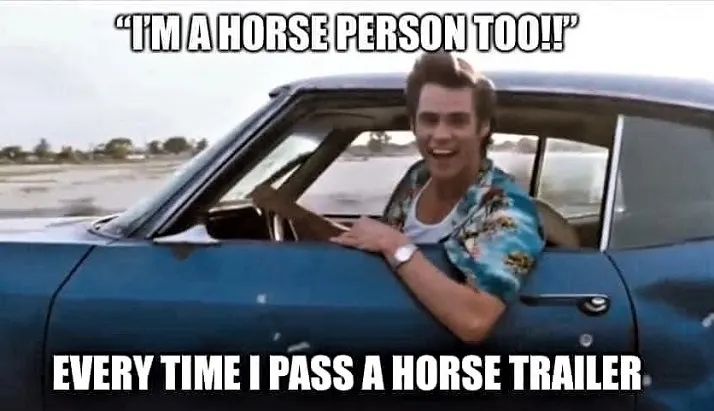 When you want the driver to know you're a horse lover too and not an 'average person'. Also, thinking about where they have been and what their equestrian life is like.
That's it for our best horse memes! Check out our other fun horse articles using the search bar, or see a quick list below: