This post may contain affiliate links. We earn from qualifying purchases. Learn More
When it comes to holistic equine care, horse massage guns have emerged as a popular and effective tool for enhancing horse health and performance.
These innovative devices are quickly becoming a staple in stables and equestrian centers worldwide, providing targeted relief and accelerated recovery.
We delve into the world of horse massage guns, highlighting the top models available in the market. We'll offer detailed insights into their features, benefits, and use to help you choose the best device for your equine companion's needs.
Best Horse Massage Guns
See Here on Horsecares.com/su_button]
This powerful, user-friendly horse massage gun keeps your horse in top shape. The handy carry case makes it easy for packing along to horse shows or clinics.
There are six different attachment heads that target different parts of a horse's body. The attachments target specific locations including the neck, back, hips, and abdomen. They are easily interchangeable and help with tightness, tension, and deep tissue relief.
The massager has low, medium, and high speeds and adjustable power controls, giving you ultimate control. The non-slip handle is easy to grip and the motor is powerful yet quiet. With a battery indicator, you can tell if the super performance battery is fully charged, charging, or not charged.
Also, the HorseCares® Equine Percussion Massager is the cheapest and perhaps best value option out of the five guns we reviewed.
Also, use the code 'HorseyHooves' to get an extra 10% off the price! See more details here on HorsecCares.com.
For better performance, the EquiMassager improves blood flow to targeted areas to promote healing and relaxation. Not only does regular use of this massage gun increase range of motion, but also reduces muscle stiffness and enhances muscle tone for your best ride yet.
The EquiMassager comes with eight different interchangeable heads. The heads include the ball, curve, triangular wedge, T shape, rain shower, round flat, forked/pronged, and bullet attachment.
Each interchangeable head targets different muscle groups with the unique rain shower head attachment helping improve scar tissue.
In addition to the eight interchangeable heads, the EquiMassager also comes with a charger, carrying case, and instruction guide to help you learn the best methods of use on your horse. There are 99 adjustable levels so you can achieve the exact speed you want for the ultimate massage.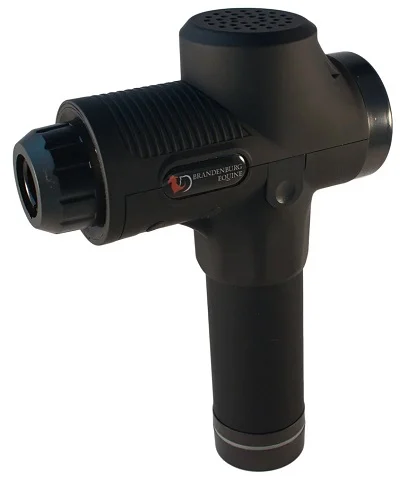 This powerful percussion equine massage gun helps horses relax, reduce stiffness and improve their overall performance, among many other things. It is portable and rechargeable, making it great to pack with you to horse shows.
The gun comes with six different attachments for ultimate relief. The round attachment is ideal for the waist, abdomen, buttocks, and legs and the u-shape head is ideal for back pain as it provides a simple acupressure massage.
Using the flat head attachment is ideal for shoulder blades and full-body massages and the bullet head is ideal for pinpoint muscle treatment and smaller muscle groups. The wedge is ideal for the hindquarters, neck, croup, and thigh and the arch is fitting for large muscle groups.
With five hours of working time, you can adjust it accordingly based on the 20 level speed setting. An LCD touchscreen allows you to adjust the controls easily.
Non-Equine Massage Guns
While the brands above are specifically marketed as equine massage guns, you can use non-equine brands on your horses. Whether they are advertised as equine or not, all massage guns are essentially the same.
One of the best massage guns on the market, the Theragun features a patented triangle handle that reduces strain on the hand while using. The ultra-quiet design is ideal for nervous horses.
The Theragun uses state-of-the-art percussion therapy to ease pain and tension. There are five speeds, and four attachments included that target different body parts for ultimate relief.
The dampener head is ideal for tender and bony areas and overall use whereas the standard ball is ideal for small and large muscle groups. With the thumb attachment, you can focus on trigger points and the cone head is perfect for tough knots.
Allow your horse to experience ultimate relaxation with the Opove Apex Massage Gun. The 45-degree handle allows for a comfortable hold as you massage your horse.
The high-torque brushless motor is super quiet providing for a calming massage experience. Three levels on the gun will help your horse perform at his best. Level one accelerates warm-up, level two reduces muscle soreness and stiffness, and level three enhances muscle performance.
The massage gun includes six heads to target different muscle groups for ultimate performance and range of motion. With 14.5mm amplitude, the gun is designed to reach muscle tissue deeper than other brands.
Both you and your horse can enjoy the benefits of this massage gun.
Benefits of Using a Massage Gun on Your Horse
There are many benefits that come with using a massage gun for your horse. They can help your horse relax, reduce injury and improve overall performance.
Regular use of massage guns helps with lengthening and strengthening a horse's muscles, leading to an improvement in performance and greater relaxation. It allows the muscles to recover quicker between workouts and reduces stiffness.
The vibrations that come from the massage gun help to improve the blood and lymph circulation of a horse's body. This then helps produce more oxygen and nutrients in the muscles.
As a result, horses will experience an improved range of motion, pain relief, tissue repair, reduced fatigue, and reduced soreness.
Muscle guns also help break down excessive lactic acid. Lactic acid forms during intense workouts, when a horse's muscles have reduced oxygen levels and the body begins to convert newly formed lactate into energy.
Oftentimes, it builds up in the bloodstream faster than it can be used. This results in cramps and exhaustion within the muscles that the gun can alleviate.
In addition, regular use of the massage gun can lead to improved posture, hair coat, muscle tone, and circulation in a horse. Regular use can even improve a horse's immune system. It can even improve the results of acupuncture and chiropractic therapy.
Frequently Asked Questions
Where Can You Use Massage Guns On Horses?
You can use massage guns on different muscle groups on a horse. In addition, you can also use it on connective tissues, tendons, and ligaments.
You can use it on a daily basis on your horse for around 15-20 minutes at a time. Many horses will benefit from regular use. Never use a massage gun directly on bones or joints.
What Horses Benefit From Massage Guns?
Racehorses, show horses, working horses, and senior horses will benefit the most from massage guns. However, horses of all ages and work levels can benefit from the use of massage guns.
Can I Ride My Horses After a Massage?
Yes, you can ride a horse right after giving them a massage. In fact, giving horses a massage right before riding can warm up their muscles, improving their range of motion and overall performance.