Are you looking to expand your knowledge on horses or stay up to date on current events? If so, you need to check out the best horse magazines that are well worth the read.
From horse health care, training tips, top trends, and everything in between, these magazines provide excellent information on the horse industry.
Reading these splendid horse magazines is a great way for you to spend your time when you are not at the barn. No matter your discipline, age, or skill level, there is a magazine on this list for you. Each one is unique in its own way, providing readers with both educational and interesting articles.
Here are 12 of the best horse magazines for equestrians:
Horse Illustrated
No matter what discipline you ride or breed you own, Horse Illustrated is a great magazine to read. They educate and inform readers on different riding disciplines and breeds while sharing tips on training, horse care, and riding.
In addition to the educational articles, they also share lifestyle pieces from all aspects of the horse world. Whether you are new to horses or have been riding for all your life, Horse Illustrated has something for everyone. They are a great all-around equestrian magazine for readers of all ages.
Buy here on Amazon or the Horse Illustrated website.
Equus
Equus is a leader in the horse industry for providing expert advice on horse care. They share the latest developments in veterinary science to help keep horse owners informed and up to date on the best horse care practices.
Their topics include behavior, diseases, care, riding, and lameness. They provide expert knowledge for all your horse concerns. Equus is a wonderful resource for horse owners, new or experienced, as they provide educational information on health issues and training tips.
Buy here on Amazon or the Equus magazine website.
Horse & Hound
Horse & Hound offers news, event coverage, care advice, and in-depth reports of various riding disciplines. They are the United Kingdom's only weekly equestrian magazine, often featuring interviews from some of the world's top equestrians.
From interviews, opinion pieces, viral stories, and show coverage, Horse & Hound has you covered for everything equestrian that is trending. They also feature extensive equestrian classifieds for jobs, properties, and horses for sale.
Find it here on Amazon or Magazines Direct.
Practical Horseman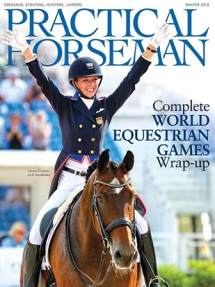 Specializing in hunter/jumpers, eventers, and dressage riders, Practical Horseman is a great resource for amateurs and professionals alike. They provide professional advice and information on riding, care, training, stable management, and competitions.
Practical Horseman provides riders with tips and advice that can help improve their performance in the show ring. They partner with some of the top trainers and veterinarians to provide the information you need to keep you and your horse on the top of your game.
With profiles and features from some of the top competitors in the equestrian industry, they share an in-depth look at the show world.
See here on Amazon or practicalhorsemanmag.com.
Young Rider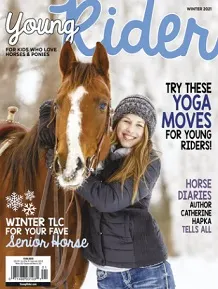 Featured in our best horse magazines for kids guide, Young Rider is made specifically for horse-loving kids and teens aged between 8 to 15 years old. Their goal is to encourage and inspire youth to pursue their passion for horsemanship.
Educational and entertaining, Young Rider shares stories of real kids and their horses. They offer advice and tips for both English and western disciplines.
Every issue offers something unique, from career advice in the equine world to show ring tips and everything in between. They are a must-read magazine for young horse lovers.
Find here on Amazon or youngrider.com.
Western Horseman
For western riders, Western Horseman is an essential read. No matter what type of western riding you do, they offer expert training tips to give you the confidence and skills you need.
In addition to riding advice, they feature articles on stable management, horse care, equipment tips, events, and lifestyle. The magazine shares professional advice for beginner and experienced riders.
Western Horseman not only focuses on riding but also the everyday work of ranch life and the chic cowboy style.
Find here on Amazon or westernhorseman.com.
US Equestrian
As the official magazine of the United States Equestrian Federation (USEF), US Equestrian covers all disciplines, both English and western. Amateurs and professionals will both enjoy the coverage of horse shows, events and competitors.
US Equestrian features interviews and advice from some of the top leading American riders from all breeds and disciplines.
Riders from all disciplines are celebrated in each issue, making it the ultimate horse show magazine. Health care, training, and riding tips are included to help further educate horse owners.
Find it here on the US Equestrian website.
Chronicle of the Horse
For over 80 years, Chronicle of the Horse has been the industry leader in sport horse competitions nationally and internationally. With 24 issues published a year, they provide reliable and up to date competition results and news.
Chronicle of the Horse spotlights professionals, amateurs, grooms, and junior riders in the sport horse world.
Riders of all levels will enjoy the thought-provoking commentary and fascinating features. To further inform the readers, they provide horse care tips on breeding, veterinary, nutrition, tack, and grooming.
Find is here on the Chronicle of the Horse website.
Horse & Rider
Horse & Rider provides everything today's western riders need to know. Top professional trainers, clinicians, and industry experts provide knowledge to help riders at all levels.
Each issue includes features such as western horse life, how-to, horse care, and training tips. They provide safety tips, training advice, horse-camping for avid trail riders, and some of the most beautiful destinations to trail ride across America.
Find it here on Amazon or the Horse & Rider website.
Equestrian Living
Elegant, glamorous, and fun, Equestrian Living shares today's top trends in style, fashion, art, and properties. They also take a look into America's most exciting equestrians, shows, and events.
The chic magazine features personal tours into multi-million dollar equine estates from coast to coast. Every issue includes inspiring designs and styles, all influenced by equestrian lifestyles.
Riders of all disciplines will enjoy the beautiful barns, houses, clothing, and furniture Equestrian Living showcases in its spread.
Find it here on the Equestrian Living website.
The Horse
The Horse is your guide to everything equine health care, educating equestrians on their horse's needs. Written for hands-on owners, articles are overseen by the American Association of Equine Veterinarians (AAEP), so you know you are getting the best information.
No matter the breed or discipline, they provide educational advice on health care, management, and welfare. The topics they cover range from breeding, hoof care, lameness, nutrition, diseases, conditions, medicine, barn, and veterinarian advice.
Find it here on The Horse website.
Sidelines
Every Sidelines issue features amateurs, professionals, and junior exhibitors from every discipline, bringing light to horse riders that are making an impact in the industry. Sidelines share the love people have for their horses and the stories that got them to where they are.
With a glimpse into the life and style of equestrians, they share fascinating insights on those who make the horse world strong.
Find here on Amazon or Sidelines website.
Also read our guide on the best horse magazines for kids.