Our readers support us. This post may contain affiliate links. We earn from qualifying purchases. Learn More
Horses boots have quickly become a popular alternative to horseshoes. They provide a horse with support and comfort, making them a popular choice for trail riding.
Additionally, hoof boots give your barefoot horse some extra support while riding on different surfaces. When riding on trails, it's important to keep your horse comfortable and happy.
In addition to trail riding, hoof boots can also be used for performance horses. There many benefits keep horses' hooves healthy and pain free.
Why use horse hoof boots?
Horse boots should fit snugly onto a horse's unshod hoof and should protect them from things such as sharp stones, help prevent hoof chipping, and provide traction on uneven terrain. They are ideal for riders who want to keep their horse barefoot and protected at the same time.
In the long run, using boots instead of horseshoes can be cheaper. It is very important that the hoof boot you use properly fits your horses foot to avoid any irritation or injury. They are also handy if your shod horse loses a shoe.
Hoof boots are the perfect choice for trail riding. They are a great way to give your barefoot horse some extra support while riding on different surfaces. When riding on trails, it's important to keep your horse comfortable and happy.
5 Best Horse Hoof Boots
Cavallo Simple Boot for Horses
These high end Cavallo Simple Boots are designed to protect your horse's hooves on hard, rough terrain. They are especially great for horses that suffer chronic pain or hoof sensitivity.
Made with high quality leather, they feature Velcro straps that make for an easy to use boot. These versatile boots can also be used for turnout or to treat abscesses, laminitis and injuries.
Though they may be a bit expensive, they are worth every penny knowing your horse is getting quality protection.
Cavallo Trek Regular Sole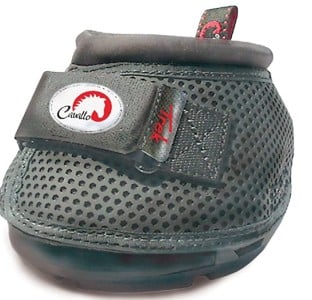 With built in shock absorption, the Cavallo Trek Regular Sole Boot is designed with trail horses in mind. This all-terrain boot has built in drainage and are breathable, so they are perfect for all your adventures.
They are lightweight and easy to get on, providing your horse with needed protection. The unique tread pattern provides support to the hoof wall, while minimizing pressure and increasing traction.
EasyCare Back Country Boot
Capable of enduring high mileage, the EasyCare Back Country is a sturdy boot made for all forms of terrain. The removable Snug Strap makes this boot perfect for trail and performance riding.
Even in wet or muddy weather, this hardy boot is guaranteed to stay on. Simple to get on and off, these quality boots are worth the investment.
Easyboot Trail Original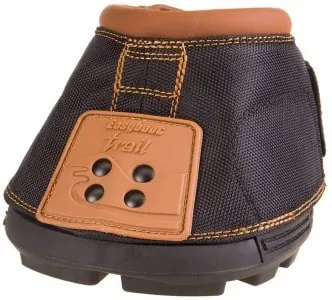 With simple to use velcro straps, the Easyboot Trail Original slips on easy and stays securely in place. They keep your horse protected from rough conditions while providing them with comfort and support.
The boot opens up entirely, making them simple and quick to get on. Made from high quality material, they withstand even the toughest terrain. They provide grip in slick situations all while fitting comfortably on your horse.
Cavallo Sport Hoof Boot Slim Sole
Designed with an innovative heel that works as a natural break, the Cavallo Sport is the ultimate trail riding boot. Providing protection over all terrains, these boots are ideal for trail riding.
Their durable construction includes shock absorption and drainage. They are simple to use with high quality velcro straps, that keep the boots in place.
These quality boots are worth the money knowing that your horse is protected out on the trails. They are even reflective, allowing you to be safer while riding.
3 Different Types of Hoof Boots
Hoof boots come in different styles to meet the various needs of horses. They include features such as velcro straps and cushion soles, as well as coming in various materials.
Straps
The straps are a key feature to every boot, as they allow the boot to properly fit the horse. Many brands use velcro for convenience and a snug fit.
Velcro is popular in Cavallo Boots, as it makes it simple to put on and take off the boot. The Easy Care hoof boots have a unique rear Snug Strap that allows for a secure fit with a clamp closure. Both velcro and clamp closures are both great for providing a secure boot. However, velcro is often easier for people with arthritic hands.
Materials
They are available in different materials depending on the brand and style. Most boots are made of synthetic, but some may also include leather. Synthetic is a popular choice because it is lightweight and durable.
Unlike other boots that are all synthetic, the Cavallo Simple Boot is made with sturdy leather for the surface and Thermo Plastic Urethane for the soles. Leather is both comfortable and flexible.
Sole
Each sole is designed to provide comfort to the horse. Most boots provide supportive soles that include shock absorption for rugged trails. The tread patterns of soles vary on how much support each boot provides.
The Cavallo Sport is designed with an innovative sole that's unique tread offers support for the frog while also working as a natural heel break. Boots with thicker soles are great for horses with tender hooves or that are ridden on lots of rough terrain.
How To Measure Horse Hoof Boots
Before buying, you need to measure your horse's hooves to find the proper size. You should measure each of your horse's hooves you plan to buy a boot for, as each hoof will vary in size. Boots can be worn on all four hooves or just the front.
To Determine the Right Size:
Measure your horse's hooves right after they get trimmed. You will need to measure the width and length of each hoof in inches.
For the width, measure from the widest part of the hoof at the bottom.
For the length, measure from the toe to the buttress. The buttress line of the heel is located where the hoof wall ends and begins to curve. It is where the weight bearing point of the heel ends. You do not need to include heel bubs in the measurement.
Here is a handy video on doing just that from the Riding Warehouse:
Be aware, some horses will need a smaller size for their front hooves relative to their back ones.
How to Use Horse Hoof Boots Properly
Once you have determined your horse's hoof measurements, you can use the size chart provided by the company to determine your horse's size. If your horse's length and width measurements do not match a specific size, it is best to order a size up.
The boot should fit snug on your horse's hoof. It may be tricky to get on and off, but a snug fit is important to a properly fitting boot. Just be sure it doesn't cause any rubbing or sores.
The boots should not be kept on your horse's hooves all the time. They should only be worn for riding, driving, or in some cases trailering and turnout.
If you decide to use them instead of shoes, make sure your horse is still receiving regular hoof trims from your farrier. This will ensure your horse has healthy hooves and will allow for the boots to fit properly.
FAQs
Are they better than horseshoes?
Yes. Hoof boots provide as good as, if not better protection than horseshoes and they much more comfortable for horses. Much evidence suggests horseshoes hurt horses by restricting the natural flexibility of hooves. Although, in general they're better than horseshoes, there are some disadvantages.
Can horses jump in hoof boots?
Providing they are well-fitted and in good condition, horses can jump, gallop and do all other things horses with shoes can.
Can you use hoof boots with shoes?
Hoof boots are made and should be fitted to a horse's bare hoof, therefore, they are not designed to be used with horseshoes on. Additionally, horseshoes can cause excessive wear to the inside of the boots.
How long can you leave them on?
According to Cavallo, their boots are designed to last 1 -2 years, depending on which boot is used, and how long for. To make leather hoof boots last longer, routinely clean them with high-quality saddle soaps.