This post may contain affiliate links. We earn from qualifying purchases. Learn More
Dressing up my horse is one of my favorite activities and there are so many events in the area for dress-up around Halloween!
Inspiration is key to picking your winning horse costume and I've compiled a list of my Best-In-Show picks to get your creativity flowing.
Some tips and tricks on how to pull together some of my favorite horse costume ideas, I will help you make this year's holiday one to remember.
Also, don't forget to check our guide on how to make your own DIY horse costume with 8 awesome examples!
Let's take a look at the best costume ideas for horse and rider!
Halloween Horse Costumes
Halloween is the time for spooky horse Halloween costumes that pack a punch. From super scary to playful pumpkin fun, here are some great October options:
Grim Reaper
One of the coolest creepy looks that I see in these events is the draped hooded figures inspired by the angel of death.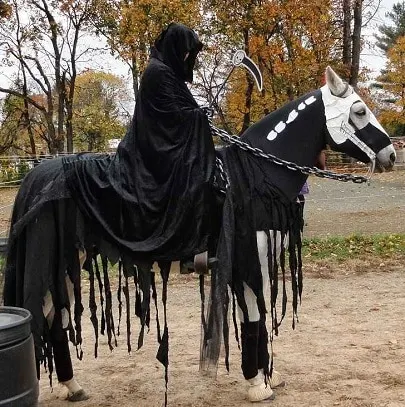 The key to this look is how much you put into your horse's appearance. Good draping and black streamers from head to toe can maximize the spook effect. Embellish the bridle and reins for extra impact.
Your long black hooded cape can be simple or fully distressed for flair. Don't forget a long-sleeved black shirt and gloves!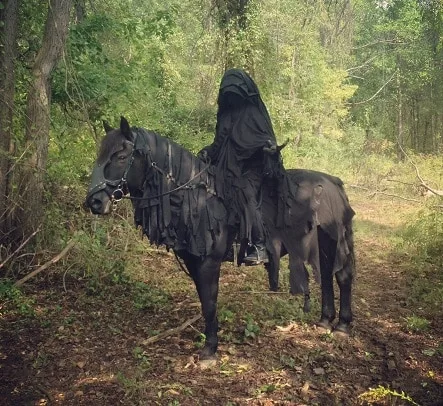 You'll be scaring the boots off of your fellow riders with this one.
Witch
Witches are always up for a good time on Halloween. Grab your hats, brooms, and capes to get decked out with your filly!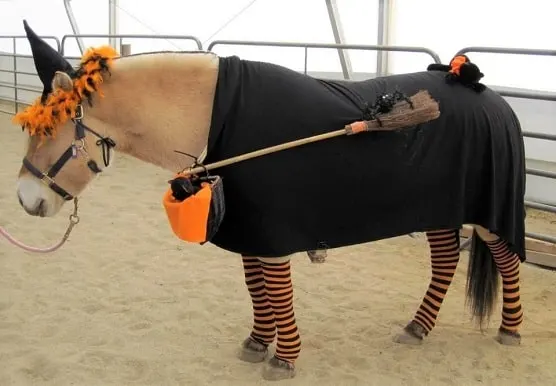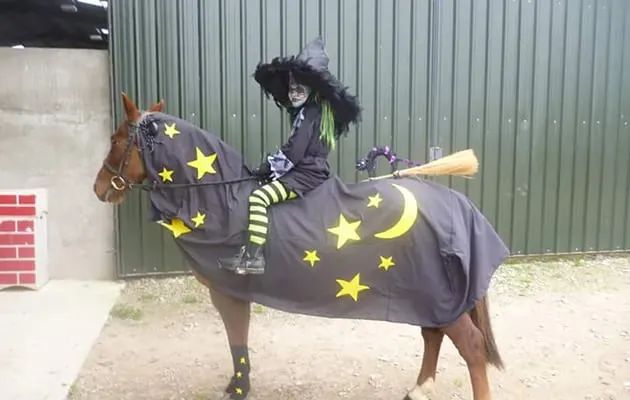 There are so many variations that will look great for a horse witch costume. Keep it simple, with a witches hat for each of you. Dress it up and go for the full look for you and your horse with accessories galore!
Horse Dragon Costume
A horse dragon costume is a great way to have fun with your horse this Halloween. You can go for an intimidating battle-ready fellow or a whimsical fairy-tale fantasy.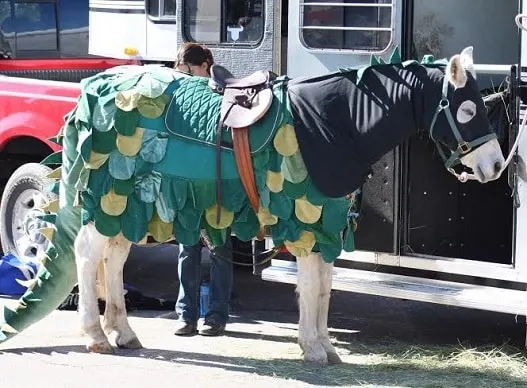 I've seen all manner of methods to transform horses to fire-breathing lizards, and my favorites are the gorgeous depictions that riders have put painstaking effort into with body paint.
You can go full-body coverage, you can use blankets and fabric, you can even have some fun with hair color and freeze gel with your horse's mane and tail.
Your horse and rider costume can be any of the wonderful characters from the stories of old. Companions can be a captive princess, an ambitious knight, or the queen of dragons to name a few.
A wonderful choice for riders of all ages, this duo is a fire-breathing fantasy brought to life.
Ghosts and Ghouls
Have a haunting good time with a spooky ghost horse costume!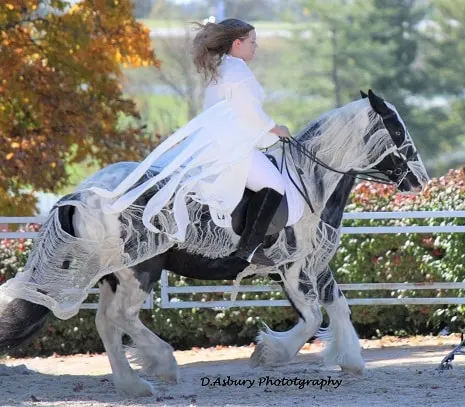 Easy options for this idea can be the tried-and-true white blankets and draping for you and your horse. You can play with different fabrics, body paint, and streamers to boost the ethereal appearance.
Scary good ideas for this apparition can allow you to be super creative! You can buy this kind of faux spider webbing here on Amazon.
Skeleton
One of the coolest options for the artistic rider is the skeleton horse costume.
Successful skeletons are all about realism. Using actual equine anatomy, the painted-on horse skeletons are creepy and seriously cool.
If a full skeleton is more time than you can manage on the day of your event, that's okay! Face painting for the pair of you, with spooky draping and accessories, can pull this look together well.
Your attire will look great with options such as a human skeleton, a demon rider, or a style inspired by the Dia De Los Muertos.
Do well enough with this costume, and your stablemates will see right through you.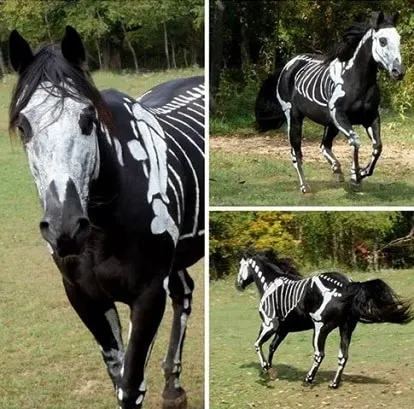 Headless Horseman
The epic tale of Ichabod Crane is the epitome of terror on horseback and is perfect for inspiring a Halloween look.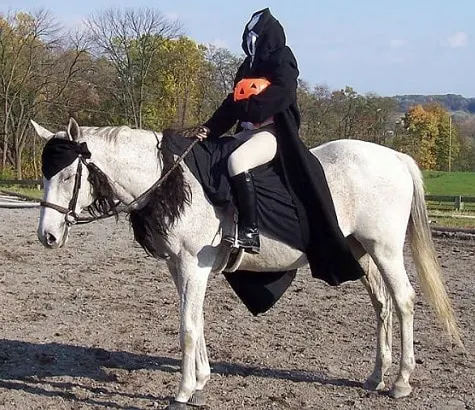 This option is also quite perfect for horses that may not be too thrilled with the idea of donning a costume. Hours of standing still for painting, or coping with extra attire can be eliminated with this costume.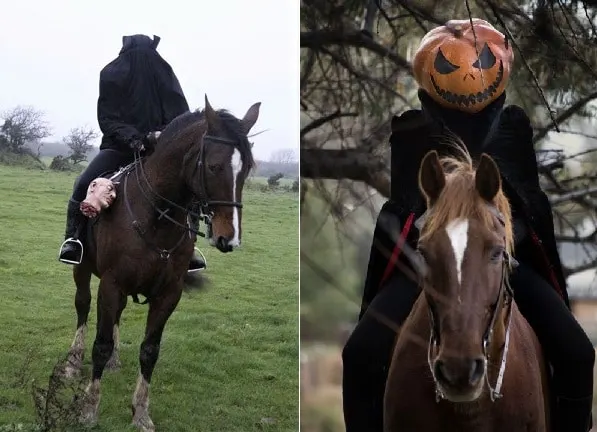 Go all out with your pumpkin head and long black cape. You can amp up the look as much or as little as you want for yourself. Your companion only needs prep for a normal ride.
Pumpkin
Pumpkins, corn stalks, and mums are popping up around barns everywhere this time of year to decorate for the season. This traditional decor is a great inspiration for a costume for you and your horse!
You can use paint or props to decorate your horse, and deck out your attire to match! Pumpkin horse, with scarecrow rider. Pumpkin rider, with a cornucopia drape of gourds and flowers.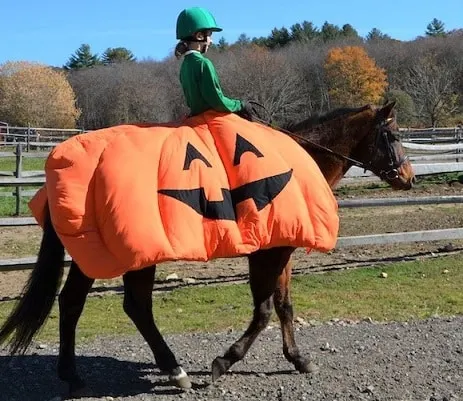 There are so many options and ways to work with the bounty of the harvest around you.
One of the cutest options for the bitty riders, there are few things more adorable than a baby pumpkin in the saddle.
Spiders and Webs
Creative riders can also stretch their skills with the creepy-crawlies for Halloween costumes.
Using a vast variety of mediums, from paint to PVC, I've seen some very successful spider costumes over the years.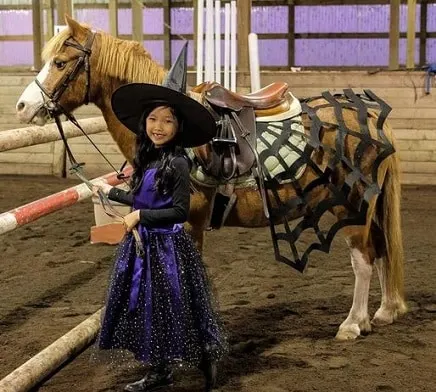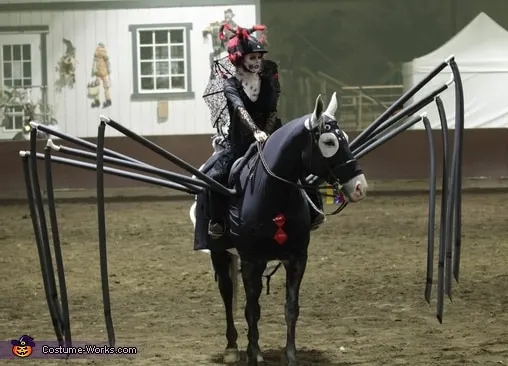 From beautiful bedazzling of paint and sparkling webs to cover the horse with a spider-rider or companion on board. Silly and grand-sized costumes built to make the horse the spider, they are all cool.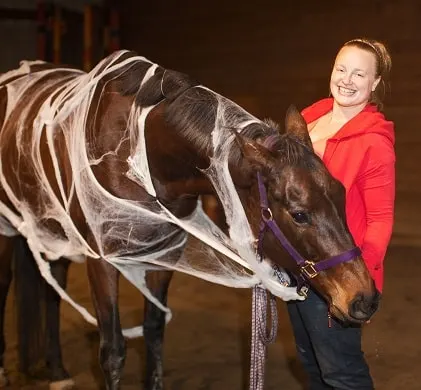 Small hints of Halloween are easy to add with spiderwebs as well. Smaller-scale webs painted on your horse are a classy nod to the holiday. Even some fun spider webbing (find it here on Amazon) you can buy in fancy dress stores would look good draped over your horse.
Zombie
The gore and fun of zombie costumes are a great option for you and your horse this season.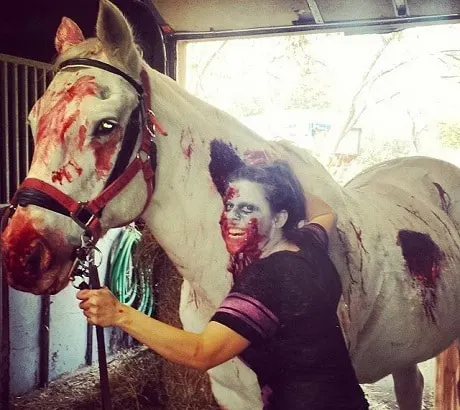 You will be amazed at how easy it can be to pull together a zombie-look, and how great it looks with the both of you put together!
Fake blood is a must for this look, with lots of it. Use Elmer's glue, flour for texture, and face paint or makeup to fashion "zombie-bites" all over both of you.
Have fun with textures and colors to increase your undead appearance and you'll be terrifying small children all day.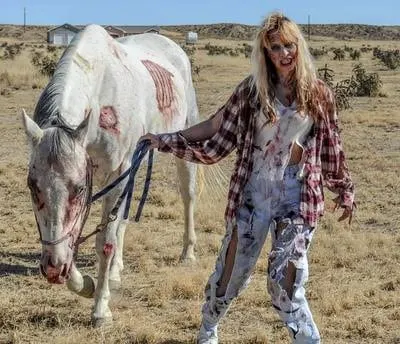 Deadly, or rather un-deadly, fun for all!
If you want some spooky browbands, legs wraps, or spider web mane tassels for your horse, see some awesome horse Halloween accessories here on Etsy.
Horse Christmas Costumes
Dressing up events don't just happen in October. Getting in the holiday spirit is a must for the Christmas season!
Here are some festive options to help you spread some Christmas cheer!
Reindeer
Move over Rudolph, you aren't the only one in town that can help Santa pull his sleigh!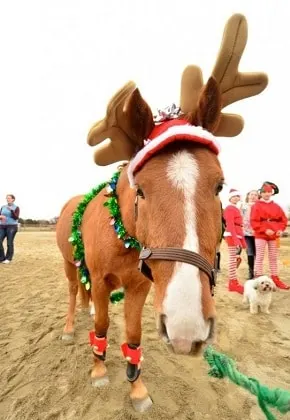 Sleighbells and antlers are a pinch to add to your horse's attire for a Christmas holiday costume. You can add a touch here or there, or go all-in with a horse trained to pull and deck out the sleigh to match!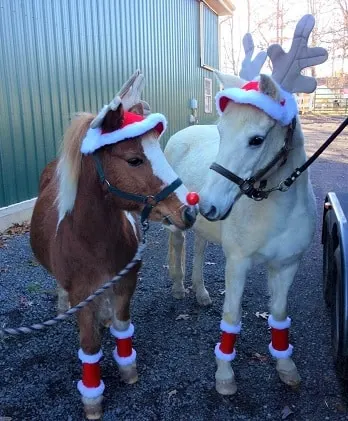 You'll impress every barn in town if you can get 8 or your buddies together for a full Christmas team. You've got dibs on riding Rudolph.
Santa Claus
Ho-Ho-Ho! Santa Claus is coming to your barn! Horse and rider are each a good option for who gets to dress up as the big man himself.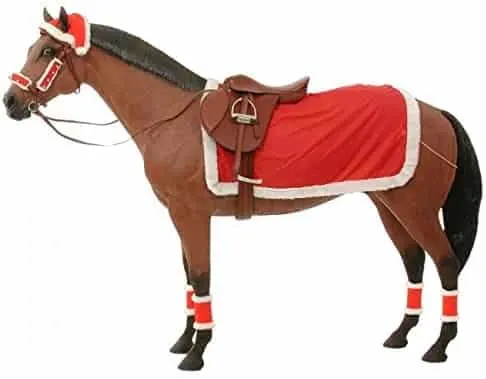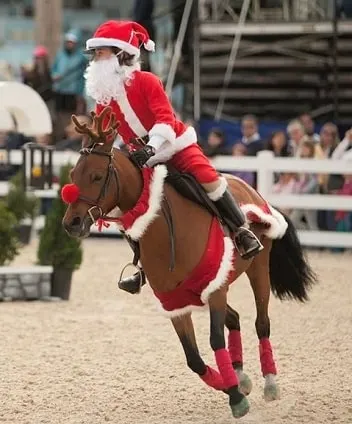 The combinations of characters for this idea can be traditional or totally silly. Get creative and use plenty of accessories to complete your look. Santa and Mrs. Claus are always a perfect pair!
A nice bonus to this idea is the red velvet is really warm for the cold weather activities!
Elf
Elves come in all shapes and sizes! Break out your stockings and funny hats to represent Santa's favorite helpers.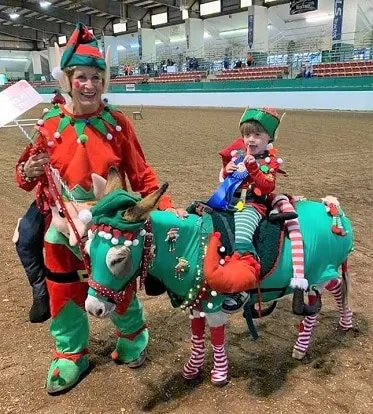 Traditional green, red and white colors are a good option for the outfit. Accessories such as wooden hammers and tools can be found or made to complete the look.
Want to expand this idea even further? An elf riding a "rocking horse toy" is a creative spin that will have heads turning.
Horse Fancy Dress
Throughout the year there are always opportunities that pop up that are fun to enjoy with costumes and creativity.
Jack Sparrow
Inspirations for themed activities can be found in all sorts of genres!
Harry Potter Horse Costumes
Once you've been sorted into your house, you can get ready for your next Harry Potter watch party at the stable in style!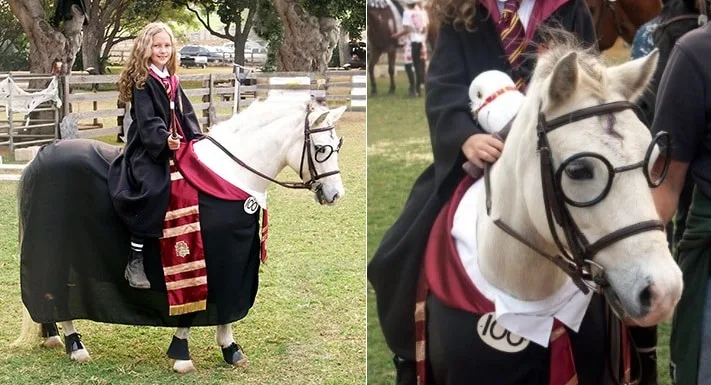 Black, red, and white fabric. A tie. A scar. Some wire to make the glasses. Now you have a Harry Potter horse! Just make sure the glasses don't hurt your horse's face.
If it doesn't have any face markings, you could paint a lightning bolt on his forehead as well. Or you can purchase this costume from thehorsetailor.com!
Ms. Rowling has provided our imaginations with some incredible options for horse and rider that are perfect for dress-up time. Light-colored horses are perfect Hippogriffs, with beak and wings. Dark-colored horses are a good fit to be transformed into a Thestral.
Fifty points to your house if you win the day!
Captain America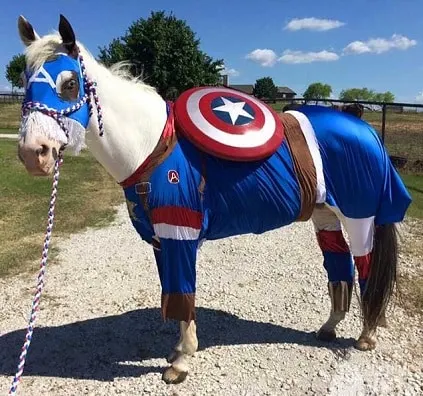 Everyone loves a hero! You can swoop in to save the day with all sorts of comic-book-inspired costumes.
Batman & Wonder Woman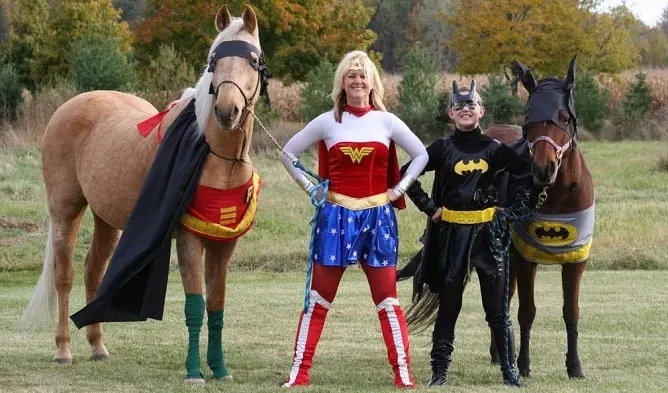 Marvel and DC characters are incredible inspirations for fun horse and rider combinations. Batman and Superman can ride together, or you can pick your favorite and have fun with each story!
Batman and Robin. Superman and Lois Lane. Heroes and sidekicks or villains are easy to match up and enjoy.
Superman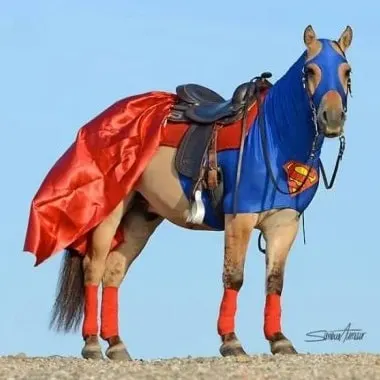 Go all out for a complete look with masks, capes, and tights for your superhero combo. There are quite a few options for themed full blankets, hoods, and saddle pads to help get your partner ready for action.
It's a bird, it's a plane, it's a horse dressed like Superman!
Unicorn Horse Costume
The unicorn horse costume is probably the most obvious. The items necessary are relatively easy to find, too. You can find unicorn horns for horses here on Amazon.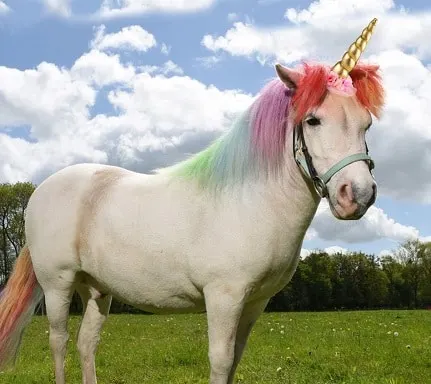 You can purchase the unicorn outfit for the girl and pony can be found here on Etsy.
Funny Horse Costumes
Some of the best costumes I've seen are the ones that make me laugh!
Enjoy the opportunity to tap your funny bone and get a little goofy about what costume works the best for your horse. It's a fun event, so go for the gold and really ham it up.
Inmate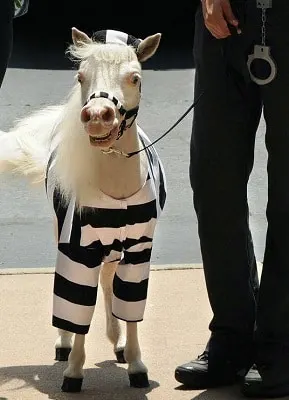 Ballerina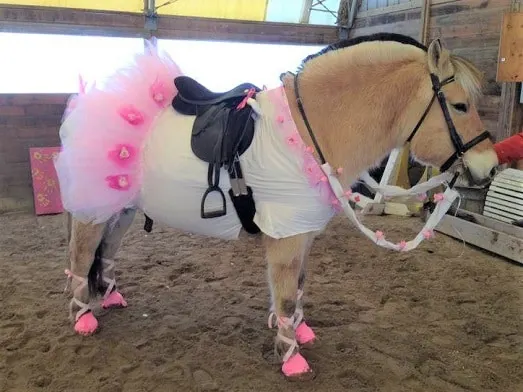 A ballerina horse costume is ideal for a little girl who already owns a ballerina outfit. You could even work a cute routine by teaching your horse to bow and other tricks to create a fun 'ballerina' show.
Subhay
Minions
This creative Minion horse and rider costume is created with a yellow sleezy, denim overalls, pool noodles for arms, and gloves for hands on the pony. An ideal costume idea for a small pony!
Nurse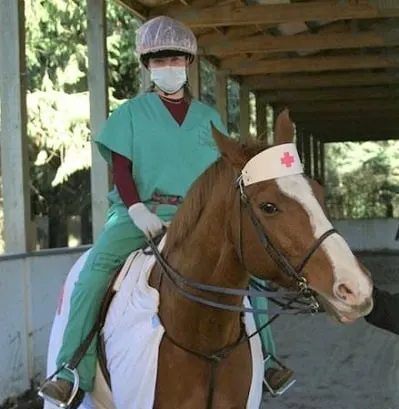 Medieval Knight
The Knights and Ladies of centuries past are a cool historical option to dig in to at Halloween.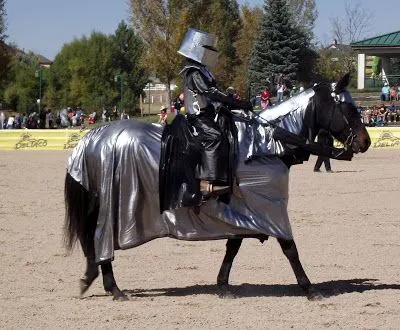 This medieval knight horse costume can be straightforward and simple or can be an opulent match to historical attire.
Blankets, armor, and medieval accessories for your horse can either be paired with a full or partial suit of armor or time-appropriate dress. Have fun with your choices!
The sky's the limit here. The more time, effort (and money) you put into this costume, the more impressive your holiday look will be. If you do go all out, I'd recommend that you hit your local renaissance faires and enjoy the fun there as well!
Kids Horse Costumes
For our smallest riders and their ponies, some incredibly adorable costumes are tried and true ways to dress up and fulfill their little heart's dreams. Carousel ponies and Unicorns are delightful for dress up any time of the year.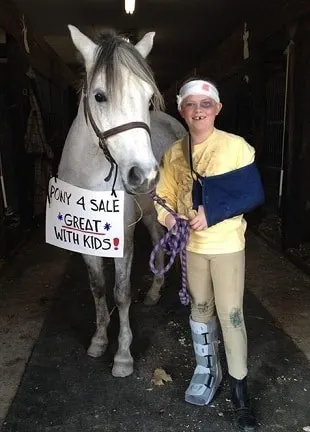 I love, love, love the little girls dressed as fairy princesses atop their unicorn or carousel pony. This is another look that is all about the accessories.
Flowers, lots and lots of flowers can be twined into the hair of a pony and rider with ribbons. Small braids spaced throughout, with pieces that are long and loose will add the free whimsy to the look.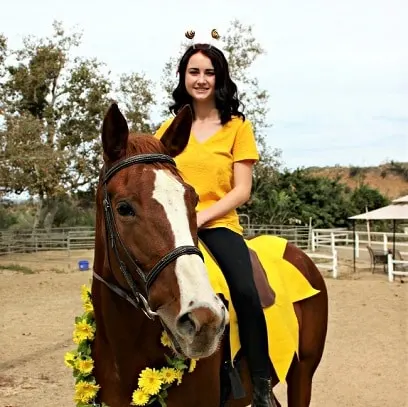 Glitter, in hair spray and on hooves, will add some magic to the appearance for both.
For the rider, a soft appearance with over the top whimsy should match the adornments of the horse. You can add some fairy wings or a floral crown for extra appeal.
This magical costume idea will create magical memories for all.
No time? Get Creative with Paint!
Let's face it, all of these horse costume ideas are awesome but sometimes you may just want to jump in at the last minute and need a costume in a pinch. Break out the face paint and spray on hair color and you can transform you and your horse into whatever is inspiring you.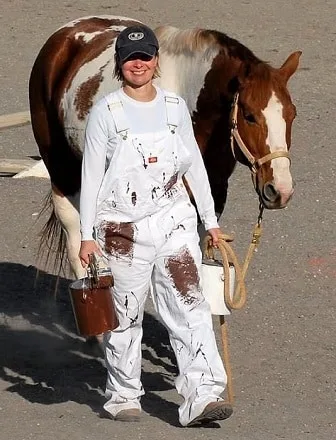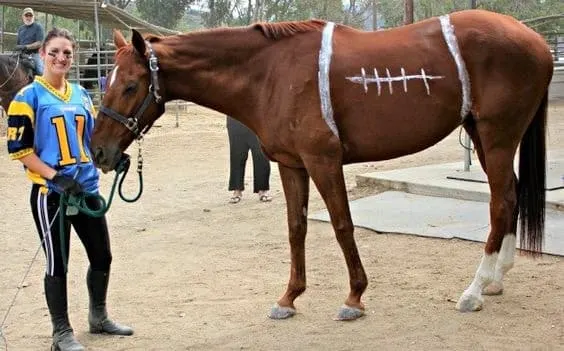 Have a nice chestnut horse? Paint some white lines on it and turn it into your oversized football with this costume. Sometimes, less is more, especially if you get creative with it. Just make sure the paint is appropriate for animals and won't cause an allergic reaction on your horse.
Giraffe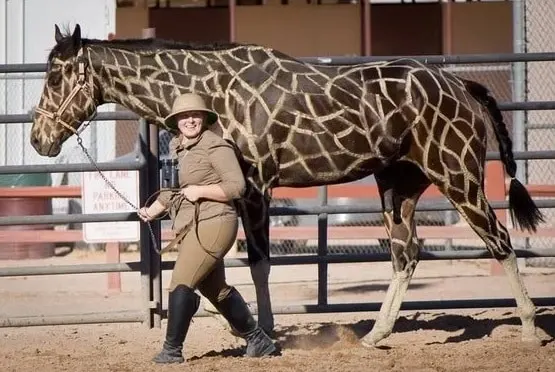 No time for full makeup? Use the theme of your day and work with abstract designs. If you want to match your horse and look like a giraffe too, find a fun giraffe onesie here on Amazon.
Go for It!
Halloween, Christmas, a random Tuesday…whatever! Have a little fun with your artistic skills and give these ideas a try.
Regardless of how much time, skill, or money you put into a horse costume, the great thing about dress-up with your horse is getting involved in the activity.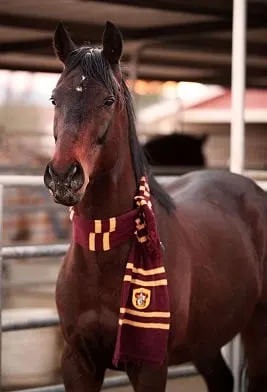 I've tried costumes in the past that have turned out terribly. It was still a bucket-full of laughs.
So think outside of the box, give one of these horse costume ideas a go, and no matter what it looks like in the end, I guarantee you'll have tons of fun doing it.