This post may contain affiliate links. We earn from qualifying purchases. Learn More
After a long day of riding at the barn, there's nothing better than curling up on the couch with your favorite blanket and watching a horse documentary or film.
The bond between horse and man has created some of the most impactful stories throughout history.
From horse racing to ranch life and Mustangs, these equine documentaries tell the lives of some truly amazing horses and people.
You will be inspired, touched, filled with joy, and even brought to tears after watching these inspiring horse documentaries.
Here are the best horse documentaries:
1. Harry & Snowman (2015)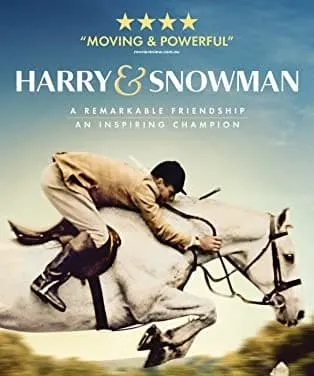 A true Cinderella story, Harry & Snowman follows Dutch immigrant Harry deLeyer and Snowman, a rescued Amish plow horse that was headed to a glue factory.
After just two years, the dynamic duo of Harry and Snowman went on to win the Triple Crown of show jumping, beating the top jumpers in the nation. The pair quickly gained the attention of the media and became sweethearts of America.
From a $80 rescue horse to a champion show jumper, the film documentary of Harry and his beloved Snowman is truly inspiring.
Harry & Snowman has an IMDb rating of 7.6 and is available to watch on The Roku Channel, Freevee, and Amazon.
2. Buck (2011)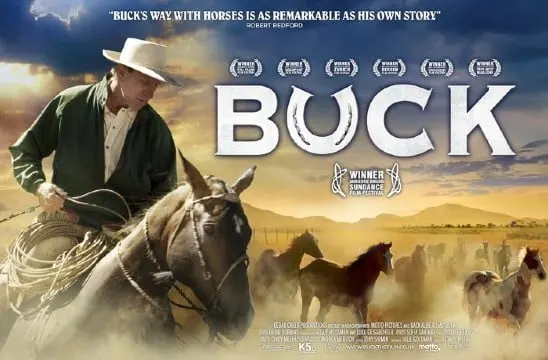 Buck follows the compelling life of Buck Brannanam, who went from an abusive childhood to a real-life horse whisperer.
Brannanam uses his life experiences in his incredible approach for training horses, where he has found large success.
Throughout the film documentary, Brannanam travels across the country to different ranches giving clinics on natural horsemanship. He teaches people to communicate with horses not by punishment, but by leadership and sympathy.
We adore this documentary for its honesty, compassion and the stunning relationship between Brannanam and the horses he works with.
Buck has an IMDb rating of 7.6 and is available to watch on AMC+ which can be access from Apple TV, Amazon, and DirecTV.
3. Dark Horse (2015)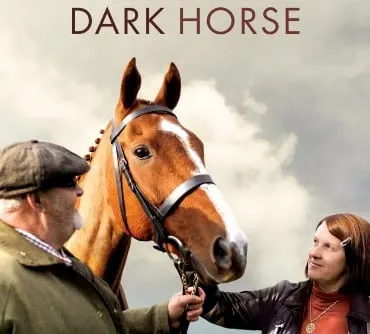 Dark Horse is the inspirational true story of a group of friends that comes together to breed their own racehorse. Against all odds, their beloved homebred racehorse turns into a champion.
From a small former mining village in Wales, the friends made an epic journey to being the owners of a successful racehorse that went on to beat some of the most elite Thoroughbreds.
After suffering a near-fatal accident, their well-loved colt defied odds to make an amazing comeback.
We find this film documentary to be a must watch, as it is an inspirational true story that will make you laugh, while also warming your heart.
Dark Horse has an IMDb rating of 7.3 and is available to watch on Starz and DirecTV. You can also rent it on Amazon.
4. Unbranded (2015)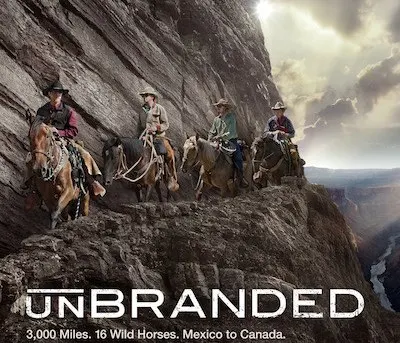 Unbranded follows four men and sixteen Mustangs, making an epic 3,000 mile journey from Mexico to Canada. Throughout their trek, they inspire people to adopt one of the 50,000 wild horses and burros held in government captivity.
This film has gorgeous shots of the scenery of the American west as four recent college grads take on a trip of a lifetime with gorgeous Mustangs. The Mustangs they take were adopted through the Bureau of Land Management adoption program.
From the rugged scenes of the American West to the spirit of the Mustang, this documentary is moving and eye-opening.
Unbranded has an IMDb rating of 7.4 and is available to watch on Peacock, Vudu, Plex, and Freevee. You can also rent or buy it on Amazon.
5. Frankel the Superhorse: The Greatest Racehorse of All Time (2015)
In a true story of a wonderful partnership, Frankel the Superhorse tells the bond between racehorse Frankel and his owner Sir Henry Cecil. Frankel's incredible career helped restore Cecil's reputation, as he became a legendary racehorse.
Thanks to his many victories, Frankel became one of the most expensive stallions ever. This exciting film showcases this one-of-a-kind horse and his loving owner.
Frankel has an IMDb rating of 7.8 and is available to watch on Amazon Prime Video.
6. Running Wild: The Life of Dayton O'Hyde (2013)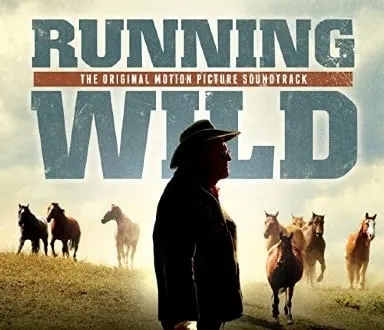 Running Wild: The Life of Dayton O'Hyde chronicles the journey of one cowboy's fight to preserve America's wild horses.
Dayton O'Hyde was a vibrant cowboy, conservationist, writer, and horse lover who dedicated his life to the American Mustang.
Throughout the film, there are breathtaking scenes from the stunning Black Hills Wild Horse Sanctuary in South Dakota that O'Hyde founded.
We love the inspiring journey this documentary takes us on, from learning all about O'Hyde's life, to the beautiful horses that roam the sanctuary.
Running Wild: The Life of Dayton O'Hyde has an IMDb rating of 7.5 and is available to watch on FuboTV, Plex, Vudu, and Freevee. You can also rent or buy it on Amazon.
7. Wild Horse, Wild Ride (2012)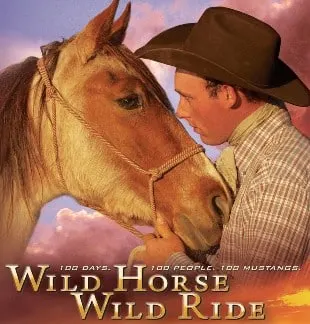 Wild Horse, Wild Ride documents the exciting and challenging journey of the Extreme Mustang Challenge, an event held yearly where 100 people have 100 days to tame a wild Mustang.
Professionals and amateurs alike take part in this event that showcases the incredible transformation of nervous wild Mustangs to trusty companions.
We find this film stunning and inspirational, as it shows the powerful bond horses and humans form. It shows people's passion for horses and the patience and dedication that goes into training a horse. Contestants flock from all over the country to compete in this amazing challenge.
Wild Horse, Wild Ride has an IMDb rating of 7.6 and is available to watch on Roku, Vudu, Plex, and Freevee. It can also be rented or purchased on Amazon.
8. Down the Fence (2017)
Down the Fence follows the journey of horse trainers as they prepare to compete for one of the most challenging equestrian championships in the nation.
This fascinating film chronicles the unique sport of reined cow horse and its importance to preserving authentic cowboy culture.
We find this documentary compelling and captivating, something that every horse-lover will enjoy. It takes a deep look into the partnerships between horse and rider that are formed and the dedication it takes to get to the top.
With an exhilarating look into this little-known sport, you will have a new appreciation for the history of cowboys, that goes all the way back to Spanish missions.
Down the Fence has an IMDb rating of 7.7 and is available to buy or rent on Amazon.
9. Chasing the Win (2018)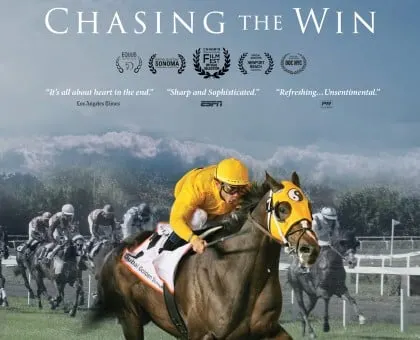 Chasing the Win follows the rise of a long time horse owner, a rookie horse trainer, and their cherished racehorse that makes an incredible journey to the spotlight.
With the fame and success of being a champion racehorse also comes the tough reality of surviving the Sport of Kings.
We find this film uplifting and fascinating, as it shows the challenges and rewards of the horse racing industry.
Chasing the Win has an IMDb rating of 8.5 and is available to watch on Freevee and Vudu. You can also buy or rent on Amazon.
9. All the Wild Horses (2017)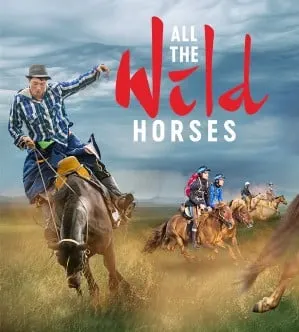 All the Wild Horses documents the grueling yet epic journey of the longest and toughest horse race in the world, the Mongol Derby.
The race covers 650 miles of the unforgiving Mongolian countryside that includes mountains, steppe, and desert.
This exhilarating film follows some of the toughest horses and riders, as they test their endurance along the race's 27 horse stations.
Equestrians all around the world ride Mongolian horses through extreme weather, flooded rivers, and native wildlife, all in the hopes of making it to the finish line.
With adventure, drama, incredible horsemanship, and beautiful scenery, we find this to be a must-watch among horse enthusiasts.
All the Wild Horses has an IMDb rating of 7 and is available to watch on Roku. You can also buy or rent it on Amazon.
10. Equus: Story of the Horse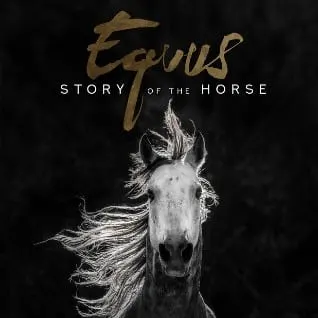 From the beginning partnerships between man and horse to modern-day equestrians, Equus: Story of the Horse follows the amazing story of horses and our relationship with them.
This stunning mini-series tells the tale of the origins of this beloved species, along with the amazing bond humans have created with horses.
Throughout the two episodes, this documentary explores different horse breeds across the world and how they have adapted to their different environments.
We love all the aspects this series follows, as it tells the story of horses and how they came to be where they are today.
Equus: Story of the Horse has an IMDb rating of 7.9 and is available to watch on Amazon or PBS.
11. Listening to the Horse (2018)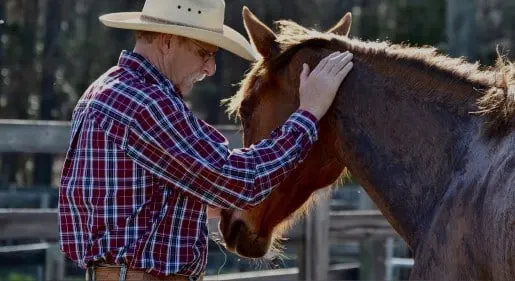 With over 70 of the top horse enthusiasts from around the world, Listening to the Horse shares stories of people and their horses.
This seven-episode series includes everything from communication, groundwork, young horses, collection, movement and mental health.
With real life experiences and expert advice, we enjoy the educational and inspiring moments throughout the series.
Horse lovers from all walks of the world share their tips and experience from working with these magnificent creatures. It provides valuable information to help you and your horse build a strong relationship.
Listening to the Horse is available to watch for free on YouTube.
12. The Horse Boy (2009)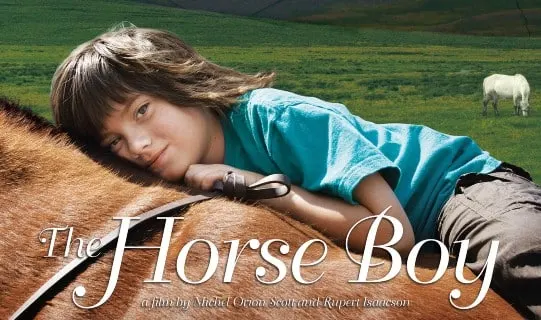 The Horse Boy captures the touching spiritual journey of a couple who seeks horses as a form of healing for their autistic son.
Rupert Isaacson and his wife, Kristen Neff, travel on horseback across Outer Mongolia with their son Rowan as he finds healing in horses.
Rowan forms a special connection with horses and improves after spending time with them. This film will warm your heart, as it shows the wonderful powers that come from horses.
The Horse Boy has an IMDb rating of 7.3 and is available to watch on Kanopy. You can also purchase the DVD on Amazon.
13. The Path of the Horse (2012)
This transformative documentary delves into the world of horse-human relationships and how our interactions with horses can reflect our relationships with people and our understanding of ourselves.
Filmmaker Stormy May travels around the world, visiting with internationally recognized horsemen and women, including Alexander Nevzorov, Klaus Ferdinand Hempfling, Linda Kohanov, Mark Rashid, Carolyn Resnick, and others.
As she learns from these experts, viewers witness a profound shift in her approach to horses. "The Path of the Horse" serves as an insightful exploration of the future of horse-human relationships, emphasizing the need for a new, more empathetic and understanding ethos.
See the full documentary in the YouTube video above.
15. Here for the Horses (2022)
This riveting documentary delves into the grassroots movement to end the abuse and exploitation of horses. It spotlights the activists, rescuers, and horse lovers dedicated to making a difference.
The film showcases several stories of horse rescue, rehabilitation, and the incredible individuals behind these efforts, creating a compelling narrative that's both heart-wrenching and uplifting.
Throughout, it underscores the profound emotional bond that can develop between humans and horses, while exploring some of the darker aspects of the horse industry.
16. The Mustangs: America's Wild Horses (2019)
This 2019 documentary by Steven Latham is an in-depth exploration of the plight and preservation of wild horses (mustangs) in the United States.
The film features breathtaking cinematography and a combination of historical background, scientific data, and first-hand accounts from people dedicated to protecting these iconic animals. It delves into the contentious debate surrounding federal management practices and efforts by conservation groups to ensure the mustangs' survival.
The Mustangs: America's Wild Horses is a thought-provoking film that leaves viewers with a greater understanding and appreciation for these symbols of the American West.
The Mustangs: America's Wild Horses has an IMDb rating of 9.1 and is available to watch on Apple TV and Amazon.
Also read: 20 Best Horse Movies of All Time