This post may contain affiliate links. We earn from qualifying purchases. Learn More
If you're never heard of horse diving before, you are not alone. This bizarre and forgotten stunt was a popular attraction in the United States for six decades, from the late 1800s to the end of the Second World War.
Horse diving involved a woman in a swimsuit jumping a horse off a platform into a pool of water. This platform could be up to 60 feet (18.3 m) tall, which is nearly twice as high as the tallest Olympic diving board (32 feet or 10 m).
The most famous horse diving event took place at Atlantic City's Steel Pier. "Diving girls" performing the death-defying stunt drew huge crowds to the venue on a regular basis.
Horse diving was eventually deemed a cruel and dangerous sport and was permanently stopped as a result of public outcry.
Warning: Some images and videos contain scenes of horse abuse.
Below, we explore the history of horse diving and answer common FAQs.
Is Horse Diving Cruel?
Most people consider horse diving cruel to animals. Throughout its history, many believed that trainers forced unwilling horses to dive with prods, trap doors, and electrical jolts.
If we look at the sport from an objective point of view, diving doesn't come naturally to most horses. It's not something they evolved to do, since horses are strictly terrestrial animals. Therefore, you could argue that training horses to dive goes against their nature and is entirely unethical.
Also read: Do Horses Like Being Ridden?
It adds to the argument that many professional diving horses had to dive four times a day, seven days a week during peak season. There were allegations that once their career was over, the horses were sent to slaughter.
On the other hand, prominent trainers and diving girls claimed that their horses were much loved and enjoyed what they were doing.
The Origins of Horse Diving
By now, you might be wondering: where did this bizarre sport come from? According to Wikipedia, the idea of horse diving first occurred to "Doctor" William Frank Carver in 1881.
Allegedly, Carver was crossing a bridge over Platte River in Nebraska on horseback when the bridge partially collapsed. His horse had no choice but to jump into the river below. This made him wonder whether horses could be trained to dive.
William Frank Carver was a skilled shooter who made his living from touring the Wild West, organizing shooting events and animal shows. After the incident with the bridge, he set up his first horse diving show in Texas. By 1923, he had two diving teams touring the country.
His son, Al Floyd Carver built the first diving ramp, and his daughter, Lorena Carver became the first diving girl. The most iconic diving girl in history, Sonora Webster joined the team in 1924.
William Frank Carver died in 1927 from poor health, not long after the drowning of his favorite horse. His team of diving girls continued the show long after his death.
The Diving Horses of Atlantic City
Diving horses first became an attraction at Atlantic City's Steel Pier in 1928. Believe it or not, the show replaced the act of an elk diving into a pool of water at the nearby Million Dollar Pier, according to historian Vicki Gold Levi.
As a matter of fact, animals performing bizarre acts was already an established attraction of Atlantic City's entertainment piers, says The Philadelphia Inquirer. Large crowds gathered to see the waterskiing dog Rex, boxing kangaroos, dancing bears, cycling elephants, and cats walking on a tightrope.
However, the diving horses outperformed them all, becoming an almost legendary display. They jumped from heights of 40-60 feet (12.2-18.3 m) amid the cheers of adoring crowds. Famous horses of the high-diving platform include Klatawah, Patches, Lightning, and Red Lips.
Here is a video of horse diving at Steel Pier (warning: scenes of animal abuse):
Did Horse Diving Hurt Horses?
Opinions differ with regards to whether horse diving hurt horses. Animal welfare organizations such as PETA claim that diving horses suffered internal organ damage, bone fractures, bruising, injuries to the legs and spine as well as other areas. However, there are no records of a diving horse ever getting injured from a jump.
While the People for the Ethical Treatment of Animals (PETA) ferociously claims that diving horses suffered injuries, history books mention no incidents of horses ever getting injured.
Gold Levi, the author of the book "Atlantic City: 125 Years of Ocean Madness", concurs. He stated that it was the riders who sustained injuries from diving, two a year on average, including bruising, broken bones, and even death.
What's more, Gold Levi was close friends with Sonora Carver's sister Arnette Webster French, who was also a diving girl. From conversations about the sport, the author concluded:
There was never a question about whether anyone involved with the act loved these horses. . . . They were like their children. I remember her [Arnette] saying that if a horse didn't like diving, then it wasn't trained to do it. They were never forced to jump."
Opposers of horse diving claim that the damage to horses couldn't be proven with the veterinary technology available at the time. Thus, with our modern perception, we can safely assume that horse diving did result in both physical and mental damage to the animals.
Also read: Is Horse Riding Cruel? Interesting Debate
When Did They Stop High Diving Horses?
Over time, activists speaking up against horse diving grew in numbers. PETA and its supporters were among the loudest voices, calling for an end to this cruel exhibit.
Atlantic City's Steel Pier stopped high diving horses in 1978 due to declining demand and pressure from animal rights advocates. Attempts for reviving the act were made in 1993 and 2012, but failed as a result of backlash from the public.
In 2012, plans to bring back horse diving caused a scandal among locals and the wider public. The plan was to build an amphitheater with a 12-foot pool and charge people $10 to see the stunt. Steel Pier president Anthony Catanoso stated he sees no risk of any harm to the horses. (Source: bailingoutbenji.com)
The announcement resulted in protests at the construction site, as well as the launch of a petition to cancel the show that gathered 50,000 signatures.
Wayne Pacelle, president of the Humane Society in the United States, called the show a "colossally stupid idea". "Horse diving has the potential to frighten and injure and kill horses, and it rightly belongs in Atlantic City's history books," he said.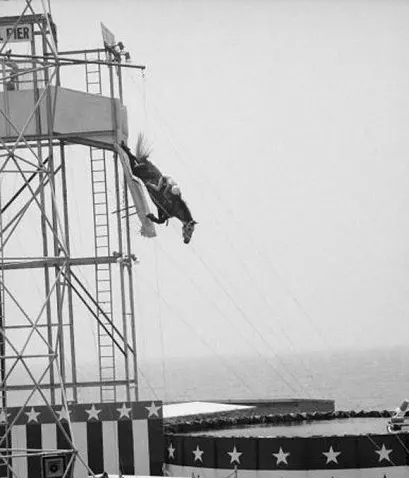 Also read: 14 Best Horse Documentaries
Is Horse Diving Legal?
Surprisingly, horse diving is not illegal in the United States. The reason the act was stopped was the lack of demand and enforcement of other laws by animal welfare organizations.
Until recently, the Magic Forest amusement park near Lake George, New York held the last remaining horse diving exhibit in the United States. The show had been ongoing since 1977 when a horse named Rex was trained to dive from a 10-feet (3 m) platform without a rider.
Once Rex retired, his son Lightning followed in his hoof steps. There are also records of a mare called Thunder diving at the park.
The manager of Magic Forest stated, "There is no rider, no prods, no electrical jolts, and no trap doors."[7] The horse jumps twice daily during a two-month season and has the rest of the year off." He told Daily Mail, "We reward him with a bucket of oats after his two daily jumps and if he didn't want to do it, he wouldn't."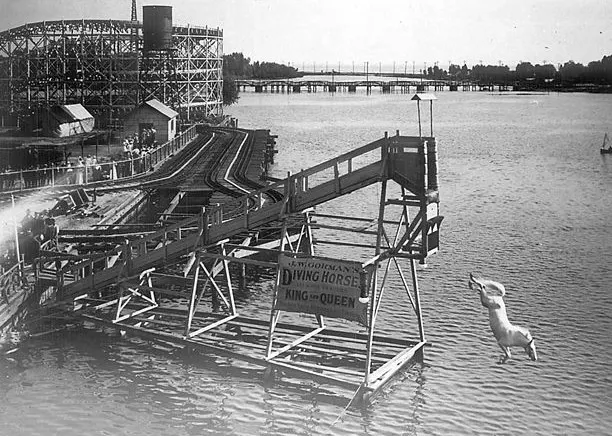 Did the Horses Really Dive in Wild Hearts Can't Be Broken?
Wild Hearts Can't Be Broken (1991) is an American drama film featuring Sonora Webster, the famous diving girl. Set during the Great Depression, the movie tells the story of how Sonora got into diving, her struggles, and injury, and how she continued diving despite going blind.
Horses did actually dive in Wild Hearts Can't Be Broken. Production stated that they were fully committed to the safety of the animals and only chose horses that liked the water. The horses were trained gradually and performed the dive from no higher than 10 feet.
The production of Wild Hearts Can't Be Broken was overseen by the American Humane Association, a nonprofit organization dedicated to ensuring the safety, welfare, and well-being of animals.
According to their website, the association was initially against the idea of horses diving in the movie, until they saw the company's commitment to the well-being of its horses.
A total of six horses played in the movie, out of which four were trained to dive by Corky Randall. The forty-foot jump seen in the movie was created using "a lot of Hollywood magic". American Humane even reported the horses jumping into the tank at their own initiative when the set was left unattended!
Here is the trailer to Wild Hearts Can't Be Broken:
Is Wild Hearts Can't Be Broken Based on a True Story?
Wild Hearts Can't Be Broken is based on the true story of Sonora Webster, the most famous diving girl. The movie's script uses material from her memoir "A Girl and Five Brave Horses".
Sonora Webster was only 15 at her first dive and joined Doc Carver's team at the age of 20. She later fell in love and married Carver's son, Al Floyd.
Unfortunately, in 1932, Sonora's horse Red Lips jumped off-balance and she hit the water with her eyes open. This incident left her permanently blind due to detached retinas. Against all odds, she continued diving for the next 11 years until the age of 38.
Arnette, Sonora's sister made the following comment about Wild Hearts Can't Be Broken: "The movie made a big deal about having the courage to go on riding after she lost her sight. But, the truth was, riding the horse was the most fun you could have and we just loved it so. We didn't want to give it up. Once you were on the horse, there really wasn't much to do but hold on. The horse was in charge."
In her memoir, Sonora talks about the thrill of being on a diving horse. "I felt his muscles tense as his body sprang out and down, and then had an entirely new feeling. It was a wild, almost primitive feeling that only comes with complete freedom of contact with the earth. Then I saw the water rushing up at me, and the next moment we were in the tank."
Sonora Webster Carver died at the remarkable age of 99, 72 of which she spent blind.
Also Read:
10 Most Amazing Horse Attractions You Need to Visit