Lucky for today's horse lovers, there's a bottomless well of equestrian entertainment and knowledge on the internet, accessible to pretty much anyone. These resources cover every horsey topic you can think of and there'll always be more to explore. But how do you avoid getting lost in this enormous web of information?
The best equestrian blogs and vlogs are generally those that have been around for a while, post regularly, and update their old content. These resources will also rank high on search engines, which is a good sign that they're trustworthy.
Below, we compiled a list of the best horse blogs and vlogs we believe provide the most value. Whether you're looking for answers, inspiration, or just want to have some fun, these resources are worth checking out!
Here are the 12 best horse blogs and vlogs to follow in 2021!
Saddle Seeks Horse
Saddle Seeks Horse is a lifestyle blog for equestrians run by Susan Friedland. She frequently posts about various horse-related topics such as product reviews, equestrian holidays, tips for riders, and general horse info. She also writes articles about her off-track Thoroughbred Knight.
Susan has a passion for fox hunting and often features the sport in her articles. Her product reviews are honest and definitely worth a read if you're looking to buy. She reviews things like safety stirrups, helmets, grooming products, equestrian brands, and much more.
Susan's two books "Horses Adored and Men Endured: a Memoir of Falling and Getting Back Up" and "Strands of Hope: How to Grieve the Loss of a Horse" are available for purchase from her website or here on Amazon. She also does mentoring for writers, social media coaching, and public speaking upon request.
Anna Blake
Anna Blake's rather unconventional horse blog "Relaxed and Forward" dwells on philosophical topics relating to horse-human interactions. She is a passionate horse advocate, trainer, international clinician, and award-winning author of 6 books. See her popular book 'Horse. Woman.' here on Amazon.
When working with horses, Anna Blake's main principle is that "Affirmative training is the art of understanding the horse.". At her clinics and classes, Anna teaches her students about horse-centered training, the natural language of horses, and how to make horses feel safe in a partnership.
In her training program Relaxed & Forward Dressage, Anna teaches the horse and rider how to perform relaxed and forward gaits with balance and responsiveness. She integrates much of her equestrian philosophy into her blog posts.
This Esme
With over half a million subscribers, This Esme is one of the most, if not the most popular horse vlog out there! Esme has been on YouTube since 2015 and her channel currently has a total of 130 million lifetime views.
Esme's barn vlog features her horses Casper the Connemara and Mickey the Cream Pony, as well as her three donkeys and occasionally her guinea pigs. She makes videos about her daily routine at the barn, horse care, riding, and tutorials for beginners. Some of her most popular videos have millions of views each!
Visit This Emse's YouTube channel.
The Economical Equestrian
The Economical Equestrian is run by Catherine, who's biggest passion is coming up with ways to save money on horses! With her unique horse blog, Catherine is aiming to help fellow equestrians live a more fulfilling life while still being able to afford their expensive hobbies.
The blog's main topics are budgeting, starting a business, lifestyle and riding tips, horse care, and product reviews. From building your own stall door to starting a side hustle, Catherine's ideas for saving money are endless!
Catherine truly believes that everyone can achieve financial stability with horses, so long as they put in the work. For over 24 years, she has been riding English and competing in dressage, hunter/jumper, and eventing disciplines. Her love for learning about horses comes through in her writing, and her articles make for an enjoyable read!
Visit The Economical Equestrian.
Horse Class
Horse Class is a new educational platform for riders of all stages. What started out as Callie King's personal project of making horse riding vlog and blog posts has now grown into an international community of instructors and students who are passionate about improving their horsemanship skills.
Callie started her horse vlog back in 2012, and since then her videos gathered a whopping 13.5 million views! Her content is focused on horse riding and training tips that can be applied to a variety of disciplines.
As a riding instructor, Callie offers online courses and in-person teaching to students in 41 countries. Her approach to horses is based on science and takes into account the horse's health and behavior, tack, as well as the individual qualities of each rider. She believes that having a connection with horses and enjoying the learning experience is the most important aspect of training.
Free Riding NZ
Free Riding NZ is the horse vlog of the famous free-rider Alicia Burton. Alicia and her horse Classic Goldrush became quite the sensation in equestrian circles and on social media by clearing high jumps without a saddle or a bridle.
Since Alicia joined YouTube in 2010, her breathtaking and inspirational videos have been watched 40.5 million times! Almost all of her vlogs feature Alicia riding Goldrush bareback and bridleless on the beach, in the arena, or on the cross-country course. Her amazing connection with her horse and incredible achievements have inspired millions around the world.
Alicia Burton is currently in high demand as a performer, horse trainer, and coach. She has toured in several countries doing shows, teaching lessons, and running Youth Retreats. Her website showcases her many video series, products, and news on what she's currently up to.
The Wimpy Eventer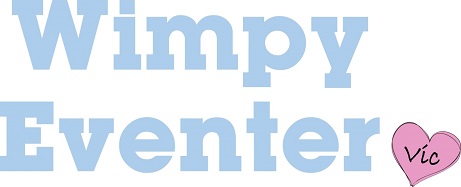 The Wimpy Eventer is an equestrian and lifestyle blog run by Victoria Brant. Through regular content and updates, Victoria shares what it's like to live with two amazing horses (Pat and Pea). She also gives useful tips and info about riding, training, and caring for horses.
Victoria Brant's articles are spiced with a "no filter" take on life, which makes them extremely relatable and engaging. Other than equestrian tips, diary updates and competition reports, this award winning horse blog also features interesting vlogs and interviews.
Victoria has been a sponsored rider for Team Voltaire, Ariat Europe, and KBIS Horse Insurance. She also works with smaller businesses like TopLine Vet Physio or Jump 4 Joy. She is the author of the Diary of a Wimpy Eventer trilogy, which is available for purchase from her webshop alongside her other products.
Matt Harnacke
Matt Harnacke is an international model, horse rider, and influencer. On his YouTube horse vlog, Matt documents his everyday life with his dressage stallions and his travels around the world. In the few years he's been on the platform, the influencer gathered nearly 50 million views!
Matt has been modeling since he was 17. He now works with many global brands like Longines, shooting social campaigns all over the world. He's also involved with the International Federation for Equestrian Sports (FEI) and has been promoting them at numerous events.
Matt Harnacke originally started as an Instagrammer, where he now has an impressive 682,000 followers. He found a love for YouTube content creation through producing a film about his journey from Australia to the Netherlands with his horse. Thanks to his successful career, Matt was able to purchase his dream property at the age of 23, where he now lives with his many horses.
Visit Matt Harnake's YouTube channel.
Paperchases & Petticoats
The unique horse blog Paperchases & Petticoats is run by two main editors and is the ultimate lifestyle destination for horse lovers. The website features product reviews from the best value equestrian brands, home decor, and DIY ideas, interviews, and horse health care tips.
Paperchases & Petticoats explores the equestrian lifestyle through the editors' experiences. From articles on how to incorporate horses in your wedding to how to date an equestrian, this award-winning horse blog's content is unconventional and addictive.
The editors strive to work with the best possible businesses and individuals, bringing quality products to their readers. If you're looking for a new addition to your barn, you can visit the blog's amazon shop that features products handpicked by the editors.
Visit Paperchases & Petticoats.
Claire Eventing
Claire Wood is a 21-year-old eventer from the United States who runs the horse vlog Claire Eventing. Her long-running YouTube channel has so far had 14 million lifetime views and presents Claire's life with her partner and two horses.
On her channel, Claire posts regular barn vlogs, show vlogs, cross country vlogs and challenges with her non-equestrian boyfriend (now husband). Her most popular video where she took her horse into a tractor supply store has gathered 1 million views!
Claire owns two beautiful sports horses, Owen the 10 year old 16.3h Dutch Warmblood and Oakley the Holsteiner x Thoroughbred Yearling. She is based just outside Missouri.
Visit the Claire Eventing YouTube channel.
The Phoenix Filly
The Phoenix Filly is another gem among the many equestrian lifestyle blogs. The website's owner Katy has been passionate about horses ever since she can remember. When it comes to her horse blog, she values quality over quantity and would rather post less frequent but more engaging articles.
The Phoenix Filly has no shortage of horse riding and care tips, stories about the wild mustangs of Colorado, and honest product reviews. Katy's webshop features a variety of equestrian products she believes are good value for money.
Horses are an expensive hobby, no matter how we put it. With her horse blog, Katy has made it her mission to help horse owners care for their horses while staying within their budget.
Your Riding Success
Your Riding Success is the horse vlog of Natasha Althoff, whose purpose in life is to inspire equestrians to follow their dreams. Natasha lives in Australia and creates videos that will help you become a better and more confident rider.
Natasha has been on YouTube for over a decade and in that time she gathered over 15 million views! She uploads videos twice a week, so there's always something to look forward to on her horse vlog.
Some of her most popular videos explain how to stay balanced and in control during canter. She also has an active community on YouTube and regularly posts polls and updates to engage with her subscribers.
The author of this post also has her own YouTube channel. Check out the EquiNerd Vlog for funny horse videos, horse care tips, awesome tutorials, and equestrian debates!