We've scoured the web and found our top 10 favourite horse artists. Most of them do commissioned work and will be happy to capture your equine companion on canvas.
Let us know which ones you like and which ones you think we should consider adding in the comments below!
In no particular order, here they are:
Caroline Towning
Caroline Towning grew up with horses. Spending hours studying their movement and presence. Her deep understanding of the nature of the horse is evident in her life-like paintings.
She captures the spirit of each animal and brings life to her paintings. Each artwork is unique and powerful.
Website: carolinetowning.com
Instagram: @carolinetowningart
Bethany Vere
Bethany Vere is a talented sketch artist specializing in horses, with some other animals making an appearance from time to time.
She is well known for her anatomically correct work, depicting the character of sporting horses with divine accuracy. Bethany sells prints of her art and also takes requests for custom sketches.
Website: bethanyvereart.co.uk
Facebook: @bethanyvereartist
Instagram: @bethanyvere_art
Denise Finney
Denise Finney is one of the most renowned equine racing artists in the world, and with good reason! Her images are incredibly lifelike and she does each individual horse superb justice.
She captures the unique motion and character of each athlete with precision, to the point where her paintings are often mistaken for photographs at first glance. These days her focus has shifted to painting special horse breeds.
Website: denisefinney-art.com
Facebook: @denisefinneyart
Tony O'Connor
Tony O'Connor's classic style derives from influences such as Da Vinci and Michelangelo. If you're a lover of Renaissance art, fine detail and hyper-realism with a soft touch, this artist will blow you away.
He captures the true likeness and spirit of his subjects with meticulous attention to the smallest details.
Website: whitetreestudio.ie
Facebook: @tonyoconnorequineart
Janet Ferraro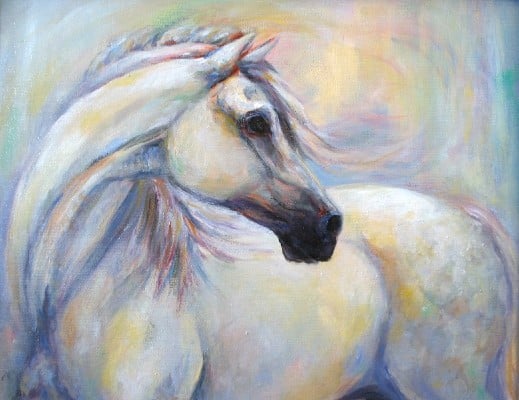 Janet uses oil on canvas to capture the beauty and power of horses. From commissioned works to artistic masterpieces, her portfolio is filled with pieces that use a special blend of brushwork and colour to bring a sense of wonder and the ethereal to each image.
Her speciality is horses, but she enjoys painting other animals from time to time.
Website: janetferraro.com
Facebook: @JanetFerraroFineArt
Click here to see Janet's Etsy Store.
Eric Sweet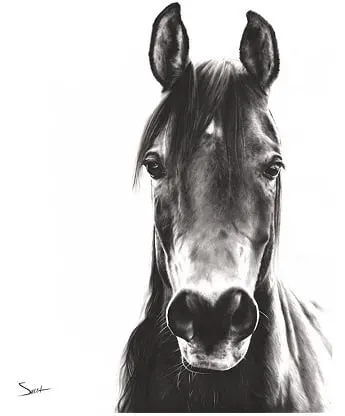 Eric Sweet specializes in watercolour and oil paintings of all animals, including wildlife and birds. He does commissioned work of pets, and horses in a choice of watercolour or oil.
While most of his paintings are composed of vivid colour in an impressionistic style, he knows how to create realistic interpretations too, often blending the two approaches into a unique piece that captures the soul of the animal in question.
Website: signedsweet.com
Facebook: @artistericsweet
Click here to see Eric's Etsy Store.
AmyLyn Bihrle
New York based AmyLyn Bihrle draws inspiration from Native American tradition to create beautiful renditions of American breeds, including the Curly.
Her work includes hand-painted works using all mediums, but her background in design allows her to broaden her portfolio to include business logos with the hint of surrealism her work is known for.
Website: amylyn-bihrle.com
Facebook: @AmyLynBihrle
Click here to see Eric's Etsy Store.
Louise Mizen Furgusen
While Louise Mizen Furgusen has shifted the focus of her art over to Lagotto Romagnolo, a non-shedding dog breed, she still does commissioned charcoal and detailed guash works of horses, her first passion.
She has an incredible grasp of form and composition, making her work both timeless and unique.
Website: louisemizenferguson.com
Click here to see Eric's Etsy Store.
Shannon Lawlor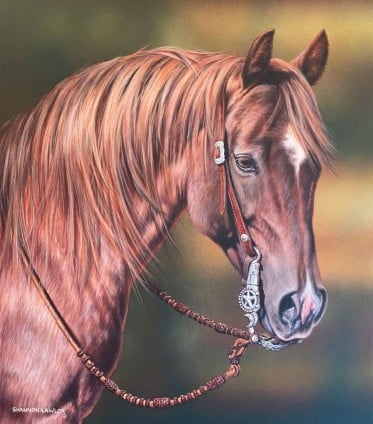 Shannon Lawlor is set on preserving the unique culture of the American West in her artwork. Each piece portrays the majestic horses that form the heart and soul of the community she calls home.
Her artwork is warm and inviting, focusing on key features from the West, such as hackamores, loose reins and ropes, all delicately draped over the horses that wear them.
Website: shannonlawlor.com
Facebook: @LawlorArt
Georgina Leigh
Known as "The Horse Artist", Georgina Leigh captures the likeness and personality of horses in various mediums, including oil, watercolour, pastel, and graphite.
She works closely with her clients to create timeless portraits that capture the very heart and soul of the animal. Yes, she's The Horse Artist, but she creates masterpieces of any animal.
Website: thehorseartist.co.uk
Facebook: @thehorseartist