This post may contain affiliate links. We earn from qualifying purchases. Learn More
Technology has made our lives a whole lot easier in so many ways. We use smartphones and apps while exercising, studying, cooking, or chatting with our friends. And horses are not about to be left out!
Thanks to creative and passionate developers, equestrians can now enjoy a wide range of apps dedicated to horse riding and other areas of equestrian life. But with the selection getting bigger and bigger each year, it's easy to get lost and miss the apps that you and your horse really need.
Below, we compiled an up-to-date list of the top equestrian apps horse people think are the most useful. They are designed to help you monitor your riding, create training plans for your horse, prepare for competition and stay safe in the saddle.
And who knows, one of these apps might be just what you need to achieve the next level with your horse!
Here are the best horse apps for equestrians.
Equilab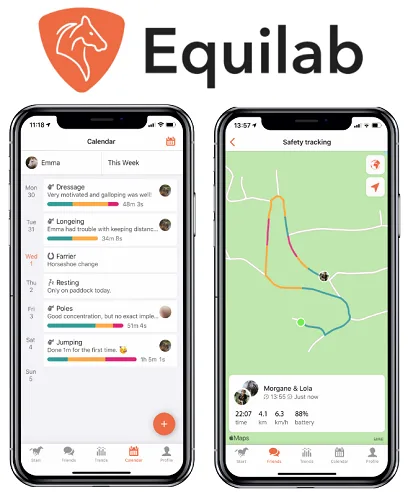 This Swedish equestrian tracker is one of the most popular horse riding apps out there right now. It's available from both Google Play and Apple stores with ratings ranging from 4.1 to 4.9/5 stars. It also links up with Apple Watch, Android Wear, Fitbit, and other fitness trackers.
Equilab allows you to record and analyze a variety of information about your trail rides and schooling sessions. It tracks your horse's every move on the map, including when and where you were riding in walk, trot, or canter and even the intensity within the gaits.
This innovative app also creates easy-to-read graphs about your horse's speed, rhythm, and the elevation of terrain throughout your ride. It also detects every turn you take and how much you spend riding on each rein in the arena. All you have to do is turn the app on and put it in your pocket!
On the Equilab app, you can create a profile for you and your horse and compare your training sessions with other riders.
What's more, the app will calculate a recommended feeding program for your horse based on the activities you recorded. This feature can be very useful when discussing feeding options with your vet or nutritionist.
The best thing about Equilab is that it's free to use, with a premium option included for $13.50/month. The premium version gives you access to the integrated calendar, chat, and safety tracking features which make the app all the more convenient and fun.
Equilab is certainly a must-try for any equestrian looking to up their riding game!
Find Equilab on the Google Play Store, App Store, and Equilab website.
Nightwatch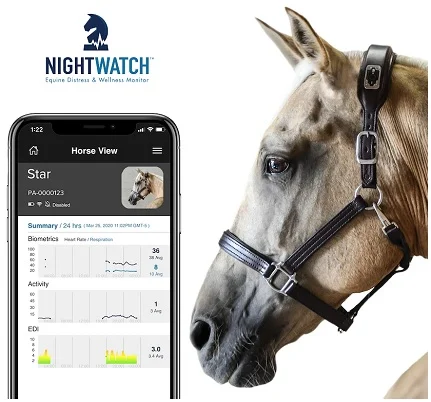 If you would rather monitor your horse with style, Nightwatch is the perfect choice for you. Paired with a high-end smart halter, the app will keep you updated on your horse's heart rate, respiration, activity, and stress levels.
The Nightwatch Smart Halter was designed by an American biomedical engineer who sadly lost his beloved horse overnight to colic. The materials for the halter include high-quality leather and stainless steel.
The purpose of its design was to enable a quick release mechanism in case the horse ever gets his head stuck, making the halter safe to wear 24/7.
The crown piece of the smart halter contains the electronics that record your horse's vital signs using radiofrequency technology. This is a noninvasive way to monitor your horse's wellbeing and health, allowing you to detect warning signs early on.
The Nightwatch Smart Halter also has a smart mode, in which the halter will learn your horse's normal physiological state and behavior over a period of 80 hours.
Whenever your horse's signs differ from this, the smart halter will calculate the difference and place it on a scale from 1 to 10. The lower the Equine Distress Index score, the closer to normal your horse is.
As the device uses top-end innovative technology, it comes with a hefty price tag. The purchase includes a one-year warranty and free lifetime access to the Nightwatch app.
The premium price band allows the buyer to use the halter on an unlimited number of horses, making it all the better value for money.
Find Nightwatch on the Google Play Store, App Store, and Nightwatch website.
CrossCountry App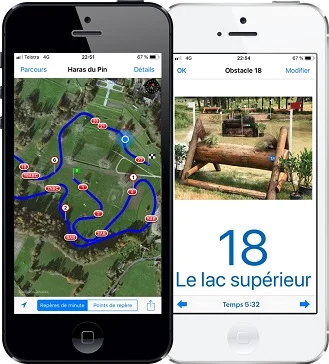 Popular among novice to elite event riders, the CrossCountry App is the ultimate course memorizing tool. Several accomplished equestrians use and recommend it, including Olympians Ingrid Klimke, Amanda Ross, and Chris Burton.
This handy little app lets you record your cross-country course as you walk it, so you can revise later. It also gives you access to a wide range of courses other users already recorded and uploaded from around the world.
While walking the course, you can take pictures of each jump and add them to your recorded map. You can also add in a name, comment, or striding if you wish. The CrossCountry App will automatically create a virtual guided tour of the course, so you will never miss a jump again!
If you know the exact length and optimal time for the course, you can input it to the app which will place out your minute markers.
When you next ride the course, the app will alert you with a beep 15 meters before each marker. This works even if your phone is locked in your pocket!
The Lite version of the CrossCountry app is available for free on both Android and iPhone. For priority support, print maps, and private sharing, you can purchase a subscription for $10/month. These extra features are a great tool for professional riders and course developers.
Download the app on the Google Play Store and CrossCountry App website.
Horse Riding Tracker
The Horse Riding Tracker is a user-friendly equestrian app that's great for tracking your trail or endurance rides. It gives you various useful metrics such as distance, duration, average and max speeds, and elevation.
With Horse Riding Tracker, you have the option to playback each ride on the map and compare the statistics. This way, you can easily monitor your horse's performance over time and make changes to your training routine. You can also add photos and comments to each session.
One unique feature of the app is that it gives you audio feedback on each mile or kilometer you ride. You can set it to keep you updated on distance and duration or just turn it off completely.
The app also integrates with other health and fitness apps on your device. This allows you to have the heart rate data and statistics of your rides all in one place.
The Horse Riding Tracker is free to use on Android or Apple devices, although it seems considerably more accurate on iPhones. The app is rated 4.7/5 stars in the Apple store with over 350 ratings.
There is also an optional subscription within the app that unlocks even more pro features.
Find Horse Riding Tracker here on the App Store.
Horse Rider SOS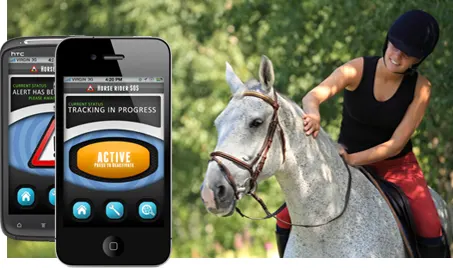 Despite our best efforts, horses will always be unpredictable animals that can inadvertently land you in dangerous situations. Horse Rider SOS is a rider safety app that will give you peace of mind when you're out and about on your horse.
The concept behind the app is really simple. All you have to do is press "Start" before you set off and the app will monitor your exact location. If you stop moving for a certain amount of time, the app will assume you have fallen off and send an alert to your chosen saviors.
In order to avoid false alarms, Horse Rider SOS lets you manually override the alert. You can enter how long you want the app to delay sending the alert. In the last 60 seconds of the delay time, the app will start to vibrate and siren to let you know it is about to begin the rescue process.
When setting up the app, it is important that you enable GPS and wi-fi in order for it to work. Make sure you have the volume turned up on your phone so you can hear when the alert is about to be sent. You can also add one or multiple "buddies" as your rescuers.
The Horse and Rider SOS website has a useful user manual for both Android and iPhone that will help you get started. With this handy app in your pocket, you will never have to worry about your rides again!
Find Horse Rider SOS on the App Store, and Horse Rider SOS website.
CourseWalk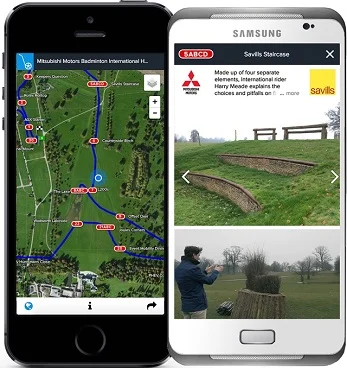 CourseWalk is an all-inclusive equestrian app for ambitious event riders. It allows you to create a map of your cross-country and show jumping courses and also lets you look up dressage tests and live scoring.
On CourseWalk, you can record every fence along with the routine and add additional details like pictures. All the fences can be reviewed in the photo gallery and you can take a virtual tour of the entire course. The app will also position your minute markers and automatically adjust them once you enter the optimum time.
Additional features include different colored lines for uphill, level, and downhill sections, elevation data, and offline usage. You can share your recorded course on MyCourseWalk.com, where you can view and download courses uploaded by others.
The app is also a great asset to course designers, who can create, print, and share maps with competitors through the app.
What's more, CourseWalk has an integrated feature that lets you analyze each ride. You can record your horse's speed and heart rate as you go, which will be overlaid onto the track.
CourseWalk is available for both Android and Apple devices at a cost of $9.99. It is rated 3.8/5 stars in the apple store and 4.3/5 stars in the google play store.
Find CourseWalk on the Google Play Store, App Store, and CourseWalk website.
Ridely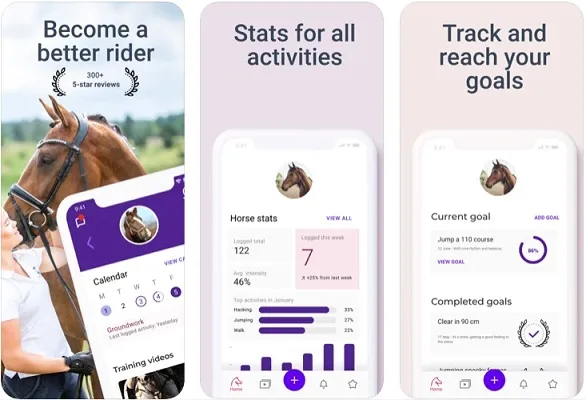 Ridely is an innovative Swedish equestrian app that adds structure to your training routine. Their mission is to help riders achieve their dream goals by setting milestones and providing stats on activities.
A unique feature of Ridely is that it includes training videos from experts in show jumping, dressage, and other disciplines. These educational videos aim to inspire riders and allow professionals to share their knowledge with a wide audience.
The app has an integrated calendar to help plan your week and stay on top of things. You can log all of your activities along with videos and photos and share them with your horse's co-rider or trainer.
You can also add tags to your training sessions and easily search for them in the calendar. Statistics are recorded on the intensity, time, and feeling (e.g. positive or negative) of every ride.
Ridely is a free app available from both apple and google play stores, with ratings of 4.7/5 and 4.6/5 stars respectively.
The premium version gives you the opportunity to submit a maximum 10-minute long video of your ride for consultation with an expert of your choice.
Find Ridely on the Google Play Store, App Store, and Ridely website.