Our readers support us. This post may contain affiliate links. We earn from qualifying purchases. Learn More
Hidalgo is one of the most beloved horse movies of our time. The movie follows Frank T. Hopkins (Viggo Mortensen) as he travels to Arabia to race his Mustang horse Hidalgo in the treacherous Ocean of Fire race.
Full of action and stunning horses, the movie became a favorite among many. Not only does the movie have beautiful scenery, but also many beautiful horses as well. It took a lot of hard work, from working with unruly stallions to working in tough desert climates, to create the film.
Here are eight facts about the Hidalgo movie.
1. Viggo Mortensen Bought TJ, the Main Horse Who Played Hidalgo
After filming was over, Viggo Mortensen purchased one of the horses used to play Hidalgo. RH Tecontender, better known as TJ, is a Paint stallion born in 1993.
Mortensen rode TJ several times throughout the filming of Hidalgo and became a big fan of the stallion. After the completion of filming, Mortensen purchased TJ and brought him back home to New Zealand. Mortensen also purchased two horses, Uraeus and Kenny, from the Lord of the Ring films.
2. Five Paint Horses Were Used to Play Hidalgo
A total of five horses played Hidalgo throughout the movie. Each one was registered with the American Paint Horse Association.
The horses used for Hidalgo were RH Tecontender (TJ), RJ Masterbug (RJ), Impressivelybetter (Oscar), Honky Tonkin Tuff (DC) and Ima Stage Mount Two (Doc). TJ did most of the tight shots, including the scene where Hidalgo threw a blanket over his owner during a locust infestation.
RJ did tricks such as picking up Mortensen's hat and bringing it to him. Due to his speed and agility, Oscar did jumping and racing scenes. DC did long shots of running scenes. Since he is fast and could turn on a dime, Doc did several action-packed scenes.
3. 550 Horses Were Used for the Final Horse Scene
The final scene with horses included a total of 550 horses. The filming of this scene took place in Browning, Montana. Since the horses had different owners, their hooves were branded so they could be told apart.
4. The Horse That Played Al-Hattal Was an Arabian Show Horse
The black horse that played Al-Hattal was a black Arabian stallion by the name of TC Bey Cedar. Also known as Beyley, the show horse traveled to Morrocco for filming and did all his stunts himself.
Beyley was purchased by Disney as they were impressed by his talent. After filming of the movie was finished and he returned from Morocco, Beyley was purchased as a half-share. Disney still had part ownership of him, with the plans to use him in other movies.
However, Beyley became injured in a pasture accident and Disney sold their share of him to the other owner. Beyley eventually moved to Kahuku Kai Horse Ranch in Hawaii where he stood at stud.
5. One of the Most Difficult Scenes to Film Was the Start of the Race
One of the hardest scenes to film in Hidalgo was the start of the race. During this scene, several of the horses began to fight.
Many of the horses became unruly when waiting, including high-strung stallions. The horses did not like being so closely packed together. In addition, there was a strong cross-wind during the beginning of the race, making the filming even more difficult.
Also read, 25 best horse movies list.
6. Viggo Mortensen Did Most of His Own Riding and Stunts
Throughout Hidalgo, Mortensen did a lot of his own riding and stunts. He did all sorts of things such as riding bareback, falling off and even jumping on a horse at a gallop.
Mortensen grew up riding as a kid, so he felt comfortable doing a lot of the riding scenes. He worked with trainer Rex Peterson and the stunt guy Mike Watson in order to prepare for filming. He rode all five of the Paint hosses that portrayed Hidalgo.
7. Viggo Mortensen Rode TJ to the Movie Premiere
For the movie premiere of Hidalgo, Mortensen showed up aboard TJ. He rode the paint stallion across the red carpet, stopping to take pictures and do interviews.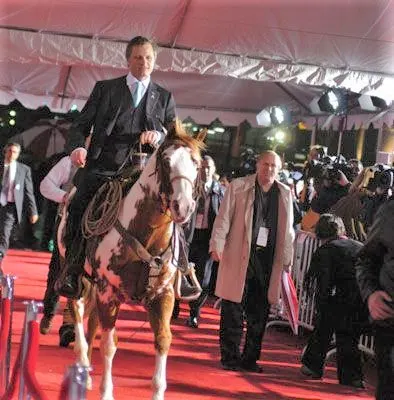 8. Viggo Mortensen and Zuleikha Robinson Almost Got in a Serious Riding Accident When Filming
During production, Mortensen and Robinson, who played Jazira, almost had a serious riding accident. The pair were riding double when all of sudden the horse they were on took off.
The horse was bolting straight towards a high wall that had two storage jars on top and trucks and equipment on the other side. Mortensen barely hung on behind Robinson. Robinson accidentally dropped the rein and Mortensen jumped off, grabbing them and stopping the horse.
Despite the scary situation that could have ended very badly, no one was hurt, not even the horse. Robinson was even able to laugh off the whole situation as it was happening.
Also, take our horse movies quiz which has a couple of Hidalgo questions!
FAQs
Where Was Hidalgo Filmed?
Hidalgo was filmed in California, South Dakota, Montana, Oklahoma, Glacier National Park, Kalispell and Morocco.
Is the Ocean of Fire a Real Race?
According to the Longriders Guild, the Saudi Arabian Government officially announced that the Ocean of Fire race has never actually happened. Arab historian Dr. Awad al-Badi stated that such a lengthy race would have been impossible.
"There is no record or reference to Hopkins with or without his mustangs ever having set foot on Arabian soil. The idea of a historic long-distance Arab horse race is pure nonsense and flies against all reason. Such an event in Arabia any time in the past is impossible simply from a technical, logistical, cultural and geopolitical point of view. It has never been part of our rich traditions and equestrian heritage," said al-Badi.