This post may contain affiliate links. We earn from qualifying purchases. Learn More
Regardless of how far you've watched the popular drama series about horses, you must have some questions about the characters or storylines. If you would rather know the answers right now than wait to find out, read on!
In this article, we gathered the most common questions about the show that have popped up over the years. Many of them concern Lou's relationships, what happens to Mallory, as well as the storyline of Amy and Ty.
However, if you're not a fan of spoilers and haven't seen all the seasons yet, we would suggest you proceed at your own risk.
Here are the most common Heartland FAQs and spoilers answered!
Do Lou and Peter Divorce on Heartland?
Lou and Peter begin to have major marriage problems in Heartland Season 8, causing Lou to question Peter's dedication to the family. More and more issues and disagreements arise that drive them further apart, ending in separation.
After repeatedly trying to work things out and failing, Lou and Peter do eventually divorce. They sign the papers in Season 10 Episode 10 "Together and Apart" and agree to always be there for their daughters.
Lou and Peter continue their co-parenting endeavor during the next few seasons with relative success.
Peter will even make an effort to be around more for the sake of his daughters, eventually becoming an integral part of the Bartlett-Fleming clan.
Do Lou and Mitch Get Together in Heartland?
When Mitch first showed up as the new ranch hand of Heartland, many fans were hoping he and Lou will end up like Amy and Ty. They make such a nice couple, after all. However, they are also quite different in many ways, which is why we're never quite sure where they stand.
Lou and Mitch do get together in Heartland Season 10, right after Lou and Peter sign the divorce papers. Their relationship will continue for the next few seasons, although not without major complications.
The couple has many ups and downs during the show. When they buy a ranch together in Season 13 Episode 6 "A Time to Remember", it seems like Lou and Mitch will grow old together.
By Season 14, they are engaged, however, by the end of the season they part ways one last time.
Do Lou and Peter Get Back Together on Heartland?
In Heartland Season 10, Lou and Peter decided that divorce is the only way they can both move forward. However, even after they sign the papers, Peter will still be there for Lou in his own way. The two of them occasionally share affectionate moments that could suggest they will get back together.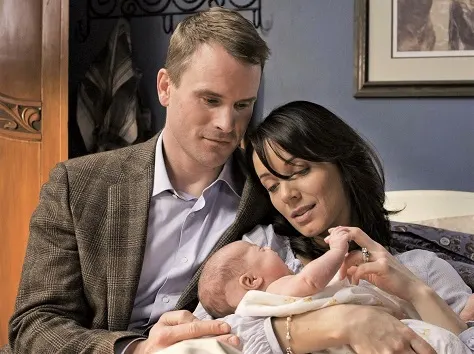 At the end of Heartland Season 15, Lou and Peter finally get back together. The two realized they still had feelings for each other shortly before Lou planned to marry Mitch.
After signing the divorce papers in Season 10, Lou moves on with her new boyfriend Mitch and Peter also has new relationships. However, things take an interesting turn in Season 14. Throughout the season, Peter is there to support Lou through times of crisis, while Mitch is mostly absent.
In the season finale, Lou ends things with Mitch and tells Peter she might still have feelings for him, who does the same. The two hook up in Season 15, which Lou is eager to keep a secret in an attempt to protect Katie.
She eventually decides to give Peter another chance thanks to reassurance from her family and friends.
In season 16, Lou and Peter declare their love for each other as they are now back together. They even say a recommitment to their vows as they start the next chapter of their relationship.
Also, read our fun actor guides on Gabriel Hogan (Peter Morris) and Michelle Morgan (Lou Fleming).
When Does Amy Give Birth on Heartland?
Amy told Ty she's pregnant in the Season 9 finale "Resolutions", ending the season on a cliffhanger. Season 10 sees her navigating through her pregnancy the best she can.
Even though Ty is in Mongolia for most of the season, Amy can rely on her family to support her through the difficulties.
Amy gives birth to baby Lyndy in Heartland Season 10 Episode 18 "Greater Expectations" with Ty by her side. She insisted on a home birth despite her family's concerns and delivers a healthy baby to everyone's joy.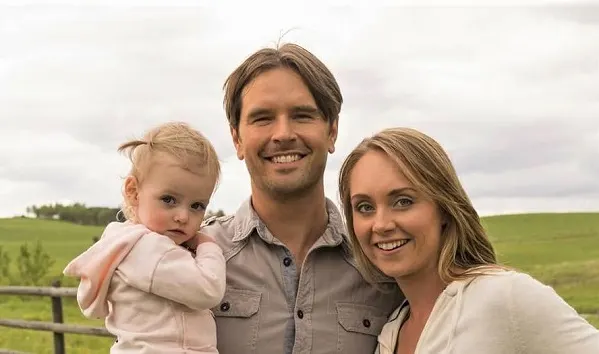 The coming seasons show Amy and Ty trying their best at parenting alongside their busy lives. And while they have slightly different approaches when it comes to raising Lyndy, they always work things out in the end.
Who shot Ty and Amy on Heartland?
In Season 13 Episode 10 "The Passing of the Torch", we witnessed Amy and Ty get shot by a poacher aiming at a wolf. The two were talking about building their house and raising Lyndy there right before the accident happened.
It was a poacher named Grady who shot Ty and Amy on Heartland. Grady was one of J. D. Werth's associates, who was Hudson's mayoral candidate rivaling Lou.
Werth asked Grady to shoot a wolf that has been wandering close to people's homes because of a housing project he was working on.
Unfortunately, Amy and Ty were in line with the wolf when Grady pulled the trigger and ended up injured.
Why Did Graham Wardle Leave Heartland?
In the devastating opening of Season 14, fans find out that Heartland star Graham Wardle will no longer be a regular on the show. In response to the heartbroken fans, the actor revealed there was nothing easy about his decision.
Graham Wardle left Heartland as he felt it was time to move in a different direction. He has been considering leaving the show for at least two years as he had little time to pursue his other passions while being on set.
While the actor's decision might appear selfish at first, we must take into account that Wardle has already dedicated half his life to being on Heartland. His desire to work on his own projects and explore other areas of life is therefore not wholly unreasonable.
In the Calgary Herald, Heartland lead actress Amber Marshall shared the following message to fans regarding the departure of Ty Borden: "This is a story that people might not want to see in the beginning. I think there's going to be a lot of people devastated by this. But I believe the journey through this season is so important for viewers to watch and to know that death is real".
Here is Graham Wardle explaining why he left Heartland:
Does Ty come back to Heartland?
Despite the yearning of fans, Ty doesn't come back to Heartland Season 15. The character's exit from the show is finally as the actor who plays him decided to move on from acting.
Contrary to the belief of some, Ty's character hasn't been killed off or written off the show. It was the actor who decided to leave, as he felt the urge to pursue different interests in life. The fact that Ty's death upset many fans is undeniable, however, we all must respect the actor's personal choices.
While Ty might not physically be on the screen, his memory lives on in the hearts of the characters that loved him. The Bartlett-Fleming clan will never forget how Ty shaped their lives and will continue to honor him in different ways.
As fans, we must also accept that tragedies happen in real life and embrace what the show has to offer.
Also read: 8 Best Amy Fleming and Ty Borden Love Moments on Heartland
Does Georgie Leave Heartland?
At the end of Season 14, Georgie and Quinn leave Heartland to train with elite show jumpers in Florida. While the character didn't return in Season 15, it is not known whether the actress left the show.
In the Season 14 finale, Georgie received an informal invitation to compete at the North American Youth Championships. This would've been a major next step toward Georgie's Olympic dreams. Interestingly, the new season brought no news about the character competing at such a major event.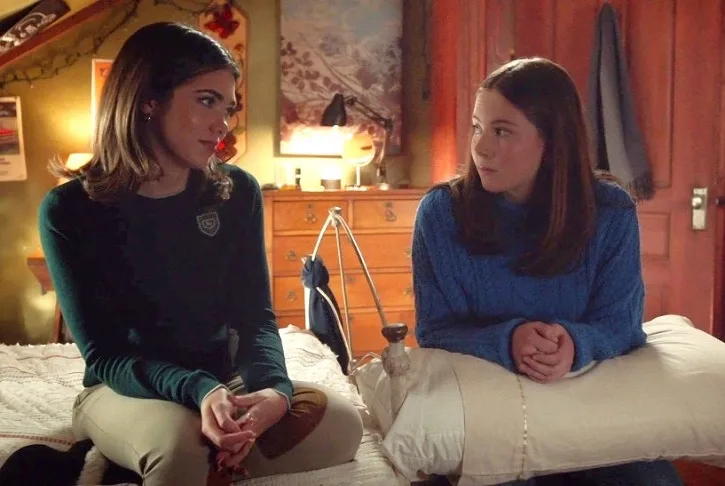 Fortunately, Georgie's absence was just a temporary pause for Alisha Newton as she filmed Devil in Ohio. Georgie made her return to Heartland in season 16.
Also, take our fun Heartland personality quiz to find out which character you are most like.
Does Georgie Return to Show Jumping in Heartland?
In season 16 of Heartland, Georgie receives an invitation to train with Eleanor Hinchcliff, who is located in Brussels. Eleanor is a world-class trainer who specializes in getting riders to return to jumping after accidents.
After careful consideration, Georgie decides to accept the offer. This means that we will likely see Georgie make the big move to Brussels in season 17.
When Georgie first made her return to Heartland in season 16 she revealed to Amy that she was quitting show jumping and taking time to figure out what is next for her. She tells Amy that the reason that she is quitting competing is that she keeps reliving her accident.
Amy is able to convince Georgie to get back in the saddle and try her hand at jumping again. Amy soon realizes that Georgie's problem is that she is too concerned about being perfect.
As Amy gets Georgie to open up more, she learns that Georgie still loves jumping but is not ready yet to get back into competing. After this realization, Georgie decides to accept the offer to train in Brussels.
Do Georgie and Quinn Get Engaged in Heartland?
In the season 16 finale, Quinn proposes to Georgie as he doesn't want her choice of moving to Brussels to tear apart their relationship. Quinn is left speechless after Quinn's proposal of marriage.
Before she can say anything, Lou interrupts saying that Amy wants the family to gather in the arena.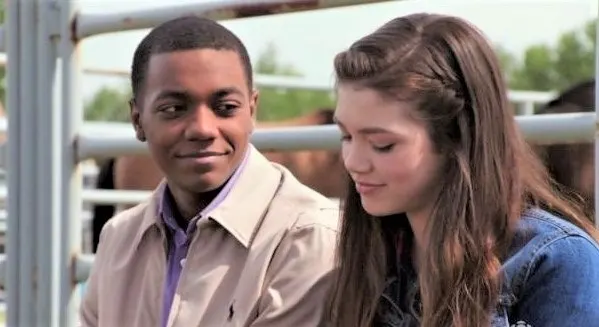 After the festivities are over, Quinn confronts Georgie about his proposal. Though she expresses her love for Quinn, she tells him that she is too young to get married.
After deciding to make the move to Brussels to train, Georgie invites Quinn to come with her. However, Quinn declines the offer as he tells her this is something she should do on her own.
Does Amy Remarry After Ty Heartland?
Amy has not remarried after the death of her husband, Ty. She has been focusing on raising their daughter Lyndy and on her career.
After his death, Amy decides to revamp the jumping course Ty made for her many years ago. During this time she also finds Ty's unopened anniversary gift which gives her a new sense of purpose.
Amy continues to stay busy with horses as well as helping out at the Youth Centre. She even takes on training a new horse with the help of Lyndy.
Originally, Amy's new love interest was set up to be Finn. Finn worked as a farrier and arrived at the Heartland Ranch with his grandfather and Shire horse.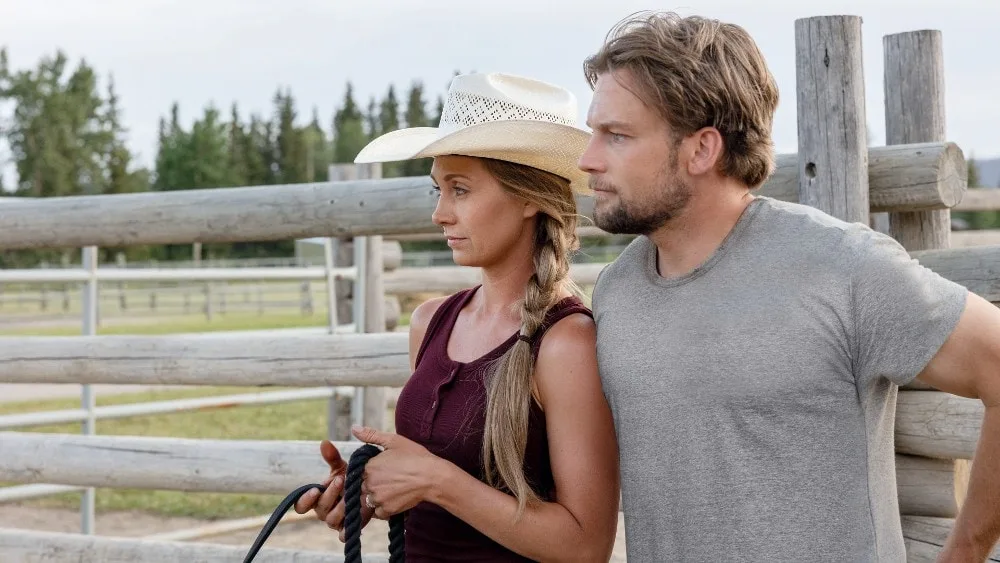 Finn's kindness and charm caught the attention of Amy and they soon began to bond. Many fans hoped that a relationship would blossom between Amy and Finn.
Sadly, Robert Cormier, the actor who plays Finn, passed away after an accident.
However, in season 16, Amy began to get closer to Sam, who could be Amy's new love interest in season 17.
Who is June Bartlett on Heartland?
June Bartlett (portrayed by Carol Huska) was Jack's younger sister in Heartland who tragically passed away when she was 17. Her story is told in Season 13 Episode 3 "Rearview Mirror" when Amy confronts Jack about his unusual behavior.
As we come to learn, Jack has always blamed himself for his sister's death. June fell off a wagon while Jack was out competing on the rodeo circuit. In Jack's mind, if he was home to watch out for his sister, the accident would've never happened.
Who Dies in Heartland?
Throughout Heartland, we have seen the deaths of a handful of characters. The most shocking death of the series was Ty Boden.
Ty dies early in Heartland Season 14 due to deep vein thrombosis that developed from his gunshot wound. His condition remained hidden until he collapsed while Amy was gentling a wild colt.
Ty's death came as a shocking blow to the entire Heartland family. It not only left Amy without a husband, but Lyndy without a father too. It will take the characters well over a year until they are finally ready to say goodbye to Ty and move on.
While Ty's departure was painful for all of us to watch, we must remember to do the same. This storyline contains some important life lessons and was beautifully executed by the Heartland cast & crew. Ty's memory will doubtless live on forever in the hearts of everyone who grew close to this lovable character.
In Heartland, we also learn of the death of June Bartlett. During a flashback scene, we learn Jack's sister June died in an accident when he was at a rodeo competition.
Other characters to die in the show include Brad Borden, Ty's father and Jack's old friend Will Vernon. In addition, Levon Hanley, the owner of The Hanley Place, also dies in the series.
Also, take our fun Heartland quiz.
When is Season 16 of Heartland Premiering in America?
As of June 1, 2023, season 16 of Heartland is now available to watch in America after premiering on UP Faith & Family. As of now, there is no word of when Heartland season 16 is available to watch on Netflix in America.
Season 16 of Heartland is available to watch on Netflix in the UK. In Canada, all seasons of Heartland are available to watch on CBC, Peacock TV, and CBC Gem.
Filming of season 17 of Heartland began in May so we can hope that the new season will premiere in the fall of 2023. It will likely be several months until it is available to watch in America and the UK.