Our readers support us. This post may contain affiliate links. We earn from qualifying purchases. Learn More
While it's slightly early to start thinking about Heartland Season 17, there is little doubt the show will be renewed for yet another season.
Heartland's popularity has rocketed over the past few seasons, with millions of fans worldwide demanding more content.
Still, it is impressive how far Heartland has come since the release of its first season in 2007. A few years ago, the show became the longest-running one-hour drama on Canadian television, and chances are it's not about to lose that title.
So when could we hear about Heartland's renewal for yet another season?
While we can't say for sure, given that the previous two seasons were both announced in early June, we can expect the next announcement to be made around this time in 2023.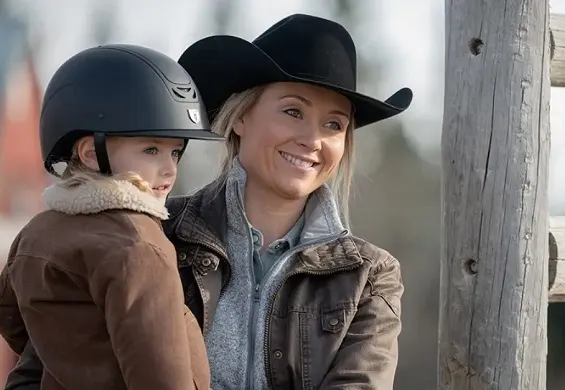 Although nothing's written in stone yet, Heartland's popularity seems to be growing at an exponential rate, which gives us hope for the continuation of the series.
Heartland Season 17 Release Date Speculation
Heartland Season 17 has not been officially renewed yet. However, if it is renewed, Heartland Season 17 will most likely be released in fall 2023. Both seasons 15 and 16 of the show were announced in June and released in October.
While that might sound like a long wait time, let's not forget that Heartland Season 16 is far from over. Besides, it wouldn't be unprecedented for the show to release two seasons in one year, as it happened with seasons 12 and 13.
As for the number of episodes, we can expect between 10-15 hour-long episodes in Heartland Season 17.
The show's parent channel CBC seems to be receptive to fans' pleas for more content, having recently extended the latest season with five more episodes.
Also, read our ultimate Heartland Season 16 guide.
How Likely is a Heartland Season 17?
When it comes to future seasons of Heartland, the stats give us plenty of reason for optimism. For once, the show has a high rating of 8.5/10 on IMDb based on 17k votes, but there are other promising signs for the future.
Heartland was the 5th most-streamed TV series in the United States last year. People spent an astounding 29.5 billion minutes watching the show, which is far above other popular series like Lucifer (18.3 billion minutes) and Squid Game (16.4 billion minutes).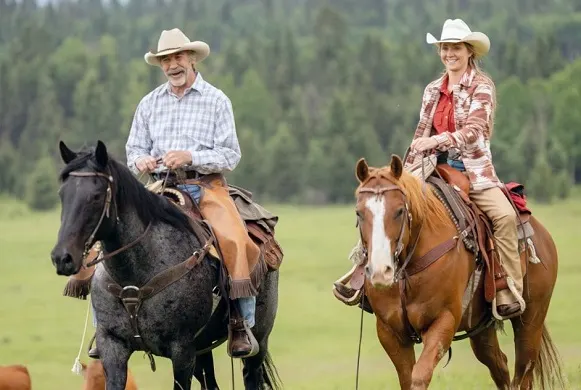 These stats are not at all surprising given the fact that Heartland can be enjoyed by the whole family without the parents having to worry about vulgar language, nudity, or violence.
What's more, Heartland was also the fifth most-streamed series on its mean streaming platform outside Canada, Up Faith & Family.
Angela Cannon, vice president, and channel manager at the service, said the show is an honored member of its streaming library.
"The fandom around Heartland is remarkable," she said. "Fans know that UP Faith & Family is truly the U.S. home for all things Heartland, and it is an honor and privilege to bring Heartland viewers the newest seasons of this fan-favorite series months before anyone else."
Also read: Where to Watch Heartland Season 15
Heartland Season 17 Plot Speculation
With Season 16 still airing, it's hard to tell what stories we'll be seeing in Heartland Season 17. However, whatever the new season will bring, one thing is certain: the beloved family drama will not disappoint.
One likely storyline is Lyndy playing an increasingly central role in the series as Amy's horse training assistant.
The family's youngest member already demonstrated her talent for working with horses in the latest season, both scaring and making her mother proud.
We'll also be seeing Lyndy's character unfold as she starts primary school and goes on new adventures with friends.
As Season 16 revealed, Amy is now open to a romantic relationship, and it is only a matter of time before she finds a new love. This might be an existing character like Sam, where Caleb already tried his matchmaking charm, or someone completely new.
We might also see Tim and Jessica step onto the next stage of their marriage and find their own place, to the great relief of Jack.
Who knows, Lou and Peter might get remarried and there could be romance developing between Katie and Logan. We'll just have to wait and see!
Also, take our fun Heartland quiz!
Heartland Season 17 Cast Speculation
As far as we know, there are unlikely to be major changes to the cast in Heartland Season 17. Most of our favorite actors will be carrying on the stories of the show, including:
Amber Marshall as Amy Fleming
Ruby and Emanuella Spencer as Lyndy Fleming
Michelle Morgan as Lou Fleming Morris
Gabriel Hogan as Peter Morris
Shaun Johnston as Jack Bartlett
Jessica Steen as Lisa Stillman
Chris Potter as Tim Fleming
Michelle Nolden as Jessica Cook
Kerry James as Caleb Odell
Baye McPherson as Katie Fleming-Morris
Ava Tran as Parker Yang
Drew Davies playing Logan and Shawn Roberts playing Sam Langston are also likely to return in the new season. The two actors were getting considerably more screen time in Season 16, indicating they might have a more central role to play in the show.
While Jessica Amlee (Mallory) and Jake Church (Jake) surprised fans with their return this season, we don't yet know if they're here to stay.
In the meantime, the absence of Alisha Newton (Georgie Fleming-Morris) remains a mystery and no announcement has been made regarding the actress' return.
Unfortunately, Robert Cormier (Finn) won't be returning to the show as the actor recently passed away due to injuries sustained in a fall.
The Heartland cast and crew expressed their deepest condolences to the actor's family and friends and dedicated Season 16 to his memory.
Also read: 10 TV Shows Like Heartland Fans Will Love
Is Georgie returning to Heartland?
According to Alisha Newton's Instagram account, Georgie will be returning to Heartland in Season 16. The actress has been posting photos and videos from the set with fellow cast members, leaving no doubt her character is back on the ranch.
Until recently, many feared Newton has left the show for good as Georgie was entirely absent from Season 15. However, as it turns out, she has just been taking a temporary break from Heartland due to other commitments.
These include filming the Netflix original series Devil in Ohio, the first season of which premiered on September 2, 2022. Moreover, we know the actress has been traveling a lot over the past year from her Instagram account, where she's been posting pictures from France and Spain.
Meanwhile, in the latest season of Heartland, Georgie has just suffered a serious fall at a show jumping event, which nearly left her paralyzed. We can expect her return to the ranch in the forthcoming episodes of Season 16, the content of which are still very much under the veil.
Eventually, we are also likely to see her boyfriend Quinn return to Heartland as well. While this may be a storyline for future seasons, Quinn could end up asking for Georgie's hand, granting fans their wish for a happy ending for the couple.