This post may contain affiliate links. We earn from qualifying purchases. Learn More
As anticipation builds for the upcoming Heartland season 17, fans are eagerly seeking every morsel of information about what the new season holds. This beloved television drama, with its rich tapestry of stories, continues to enchant audiences worldwide.
With season 17, viewers can expect to delve deeper into the life of Amber Marshall and the close-knit community at Heartland Ranch. New challenges, heartwarming celebrations, and unexpected twists await, revealing more layers of the characters we've grown to love.
In this comprehensive Heartland season 17 guide, we bring together the latest on the release date, trailers, cast details, and compelling plotlines.
Step into the world of Heartland once again, and prepare for a season that promises to both tug at heartstrings and uplift spirits.
Heartland Season 17 Release Date Speculation
Heartland Season 17 premiered on CBC and CBC Gem on October 1, 2023, in Canada. An advanced screening was also shown at the Calgary International Film Festival (CIFF) on September 28, 2023.
The new season has a total of 10 episodes and will be airing every Sunday until the final episode.
Season 17 is scheduled to air on Up Faith & Family and Up TV in the United States in 2024. Season 16 didn't air in the US until June of the next year, so it's reasonable to expect season 17 to come out sometime around May-June 2024.
The announcement of Heartland's renewal for season 17 was announced on the official Heartland on CBC Facebook page.
Also, the post included an official synopsis for the new season which reads:
"Amy and the rest of the Heartland family know better than most that while dreams can sometimes come true, more often life takes us in unexpected directions. Season 17 of Heartland is all about embracing the unexpected. It's all about new experiences and taking the path less traveled. In Season 17 the Bartlett-Fleming family will find themselves excited for the future and ready to embrace new adventures, challenges, and relationships. But no matter how things may change, Amy, Lou, Jack, and Tim will continue to fight for what they believe in while staying rooted in the land that has been in the Bartlett-Fleming family for generations."
Heartland Season 17 Trailer
The Heartland season 17 trailer is finally here and dropped on the 13th of September. See our first look at the new season!
Heartland Season 17 Plot Speculation
With Georgie moving to Brussels and a new horse at the ranch that has Lyndy's heart, there is plenty in store for season 17. Whatever the new season will bring, one thing is certain: the beloved family drama will not disappoint.
One likely storyline is Lyndy playing an increasingly central role in the series as Amy's horse training assistant. We will hopefully get to see more of Lyndy and the newest horse at the ranch, Xavier aka Theo.
The family's youngest member already demonstrated her talent for working with horses in the latest season, both scaring and making her mother proud.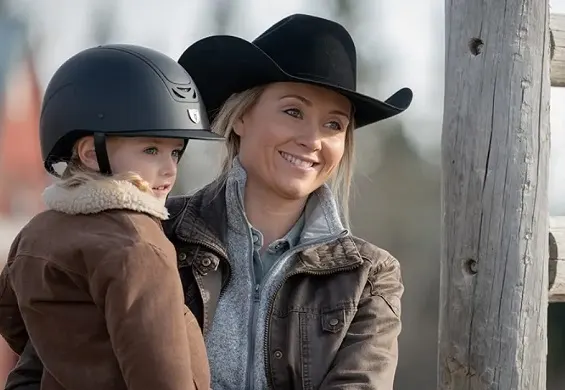 We'll also be seeing Lyndy's character unfold as she starts primary school and goes on new adventures with friends.
As Season 16 revealed, Amy is now open to a romantic relationship, and it is only a matter of time before she finds a new love. This might be an existing character like Sam, where Caleb already tried his matchmaking charm, or someone completely new.
We might also see Tim and Jessica step onto the next stage of their marriage and find their own place, to the great relief of Jack.
Who knows, Lou and Peter might get remarried and there could be romance developing between Katie and Logan. We'll just have to wait and see!
Heartland Season 17 Cast
As far as we know, there are unlikely to be major changes to the cast in Heartland Season 17. Most of our favorite actors will be carrying on the stories of the show.
Heartland season 17 cast:
Amber Marshall as Amy Fleming
Michelle Morgan as Lou Fleming Morris
Gabriel Hogan as Peter Morris
Shaun Johnston as Jack Bartlett
Jessica Steen as Lisa Stillman
Chris Potter as Tim Fleming
Alisha Newton as Georgie
Jordan Burtchett as Quinn
Ruby and Emanuella Spencer as Lyndy Fleming
Michelle Nolden as Jessica Cook
Kerry James as Caleb Odell
Baye McPherson as Katie Fleming-Morris
Ava Tran as Parker Yang
Drew Davies playing Logan and Shawn Roberts playing Sam Langston are also likely to return in the new season. The two actors were getting considerably more screen time in Season 16, indicating they might have a more central role to play in the show.
While Jessica Amlee (Mallory) and Jake Church (Jake) surprised fans with their return this season, we don't yet know if they're here to stay.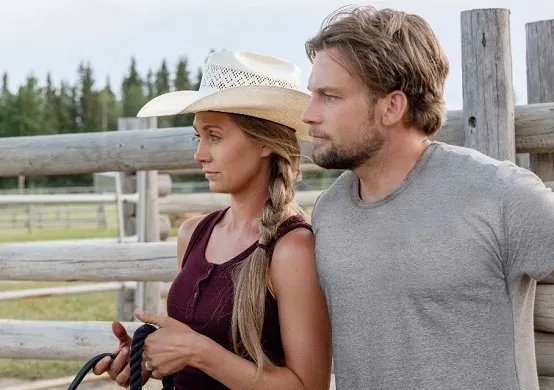 Unfortunately, Robert Cormier (Finn) won't be returning to the show as the actor recently passed away due to injuries sustained in a fall.
The Heartland cast and crew expressed their deepest condolences to the actor's family and friends and dedicated Season 16 to his memory.
How Many Episodes Will Heartland Season 17 Have?
We can expect Heartland Season 17 to have between 10-15 hour-long episodes.
The show's parent channel CBC seems to be receptive to fans' pleas for more content, having recently extended the latest season with five more episodes.
Will Ty Be in Heartland Season 17?
Ty Borden, portrayed by Graham Wardle, won't be returning to Heartland in season 17. Wardle exited after 14 seasons, leaving a significant impact, particularly in the season 14 premiere where Ty's death left Amy and Lyndy devastated.
While Wardle felt the need to explore new horizons, he cherishes his Heartland memories and hopes Ty's influence continues in upcoming episodes.
See our article on what Graham Wardle is up to since leaving Heartland.
Will There Be a Heartland Season 18?
The CBC has not yet announced if Heartland season 17 will be the last season. However, the show has been renewed for season 18, so it is likely that the show will continue for several more seasons.
Here's What the Cast Have Said About Season 17
The official Facebook post about the accountment of Heartland Season 17's renewal also included some comments from the main actors on their thoughts about the new season.
Amber Marshall said, "It is hard to believe I have been part of 250 Heartland episodes. When I look back and do the math, I've spent over 1700 days on set which is roughly 24,000 hours. I really can't imagine a better group of people to create something so special. We are all so proud of this show"
Michelle Morgan said, "Heartland entering the 17th season in an industry where a series is lucky to get a second or third season is hard to wrap your head around. I attribute the longevity of Heartland to a perfect alchemy of all the most important elements in television. We have a good story engine and great chemistry between the different actors on the set. We have a stunning and unique setting, a little piece of southern Alberta known as the foothills. We have many knowledgeable local cowboys and cowgirls to guide the show and keep it authentically grounded in the western world. But the most important element is that it is a multi-generational show that anyone in the family can watch and enjoy."
Shaun Johnston said, "250 episodes of Heartland! That sure is a beautiful thing. Working on Heartland has been the greatest gift in a professional lifetime for me. And having been in the Heartland family since the very first day of production all those many years back makes proud to say that I am honored, humbled, and privileged to be Jack Bartlett. Thank you CBC. And thank you, fans of Heartland".
Chris Potter said, "In 2007, Heartland presented an opportunity of great promise. Over the course of its seasons, the promise realized, Heartland has become a dream. A way of life for many of us involved in its ongoing creation. As we celebrate our 250th episode milestone it is with admiration for, and congratulations to, every person involved in making the show throughout the seasons. For me the dream goes on until I ride my horse into the Heartland sunset. What a ride it's been so far!"
Also, take our fun Heartland quiz and personality quiz on Which Heartland Character Are You?
Georgie's Return to Heartland
Georgie made her return to Heartland in season 16 episode 14. In the episode, Georgie returns to the ranch with Phoenix and reveals she is quitting show jumping and is figuring out what is next for herself.
Georgie later revealed to Amy that she didn't want to return to show jumping as she kept reliving the accident in her head. Amy convinces Georgie to get back in the saddle and try jumping again, which Georgie reluctantly agrees to.
After jumping Shadow, Amy realizes Georgie's problem is that she is too concerned about being perfect, taking the fun away from the sport. While Amy gets Georgie to open up more and reveals she still loves jumping, she is not ready to return to competing.
In the season finale, Georgie receives an offer from Eleanor Hinchcliff, a world-class trainer who specializes in getting riders to return to jumping after accidents. However, the catch is she is located in Brussels.
After heavy consideration, she decides to take up the offer. With Georgie headed to Brussels, we may not see much of her in season 17.
Until recently, many feared Newton has left the show for good as Georgie was entirely absent from Season 16. However, as it turns out, she has just been taking a temporary break from Heartland due to other commitments.
This includes filming the Netflix original series Devil in Ohio, the first season of which premiered on September 2, 2022. Moreover, we know the actress has been traveling a lot over the past year from her Instagram account, where she's been posting pictures from France and Spain.
What is In Store for Georgie and Quinn in Heartland?
In the Season 16 finale of Heartland, Georgie is faced with a tough decision about whether to accept an offer to ride in Brussels. While she debates about accepting the offer, Quinn doesn't want it to tear apart their relationship so he proposes.
After the proposal, Georgie is left speechless. Before she can say anything Lou interrupts saying that Amy wants the whole family to gather in the jumping ring.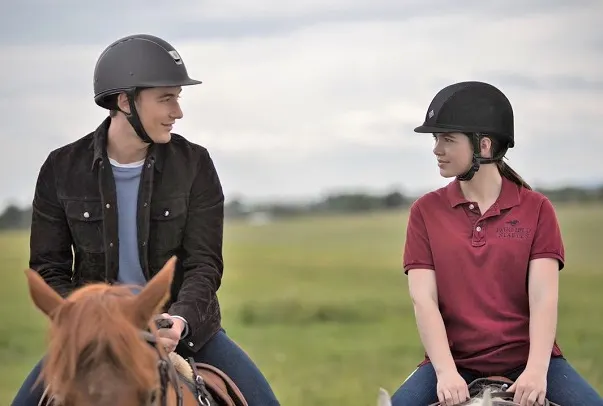 Once the festivities are over, Quinn confronts Georgie about not answering the question. While she expresses her love for Quinn, she thinks they are too young to marry and says they don't need a ring to confirm their love.
Quinn agrees with Georgie and tells Georgie she should go to Brussels. She decides it's the right thing for herself. Georgie invites Quinn to come along but he says this is something she should do on her own.
Georgie's decision could prove how strong her relationship with Quinn is, as they will have a long-distance relationship. On the other hand, being thousands of miles apart could prove to be more challenging than expected, putting a strain on their relationship.
For Georgie, we can hope that she will gain confidence moving to Brussels to train. The decision may reignite her spark for show jumping and be the boost she needs to get back at her goal for the Olympics.
Also read: 10 TV Shows Like Heartland Fans Will Love